With the growing interest in American-made tools, it's important to highlight the companies that employ American workers and produce high-quality products right here in the US. While it's impossible to capture every single company that fits this category, we will provide an alphabetical list of some notable brands that manufacture tools and equipment in the United States.
Aries
Let's start with Aries, a company that has been making a name for itself since 1933. Founded by Henry Ariens and his sons, Aries is known for developing the first American-made rotary tiller. While other manufacturers experimented with imported tillage machines, Aries stayed true to their roots. Today, the company is still owned and operated by the same family, and their headquarters are in Brillion, Wisconsin. With over 1,700 employees, Aries has grown into a multi-brand company, embodying the spirit of American craftsmanship.
Briggs & Stratton
Next on the list is Briggs & Stratton, the world's largest producer of gasoline engines for outdoor power equipment. Headquartered in Milwaukee, Wisconsin, Briggs & Stratton not only manufactures engines but also designs, manufactures, and sells a wide range of products under well-known brands like DeWalt, Craftsman, and Stanley Black & Decker. While 85% of their products are made in the US, they source components from both domestic and international suppliers. Briggs & Stratton has manufacturing plants in several states, including Georgia, Alabama, Missouri, and Wisconsin.
Channellock
Channellock has been a trusted name in hand tools since 1886. Founded by blacksmith George B. DeArment, the company is still family-owned and operated in Meadville, Pennsylvania. With over 130 years of experience, Channellock now manufactures over 75 different sizes and types of pliers. Their tools are made exclusively in Meadville and shipped to customers both in the US and around the world.
Cub Cadet
Since 1961, Cub Cadet has been designing and manufacturing lawn and garden equipment at manufacturing facilities in Ohio, Mississippi, and Tennessee. With their headquarters in Valley City, Ohio, Cub Cadet is known for providing advanced products, technologies, and services to agricultural and construction professionals. They offer a wide range of products, including utility vehicles, lawn tractors, and zero-turn mowers.
DeWalt, Craftsman, Stanley Black & Decker
Stanley Black & Decker is a powerhouse in the tool industry, with an impressive portfolio of brands. Some of their well-known brands include DeWalt, Craftsman, Stanley, and Black + Decker. While the company maintains manufacturing facilities across the globe, they have a significant presence in the US. In fact, they claim to have 48 US manufacturing plants, employing more than 18,000 American workers. They manufacture a wide variety of tools and equipment for professionals in the military, law enforcement, and construction industries.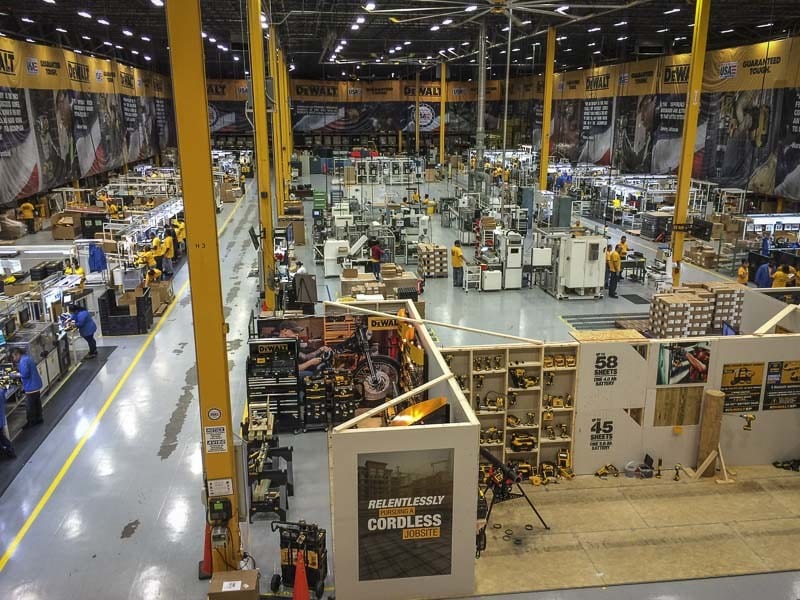 Estwing
Estwing has been a staple in the tool industry since 1923. Founded by the Estwing family, the company is known for manufacturing claw hammers, axes, and specialty tools in Rockford, Illinois. Every single blade and dado is made in the USA by their skilled workers, using materials sourced from foundries and companies in Wisconsin and Illinois. They have remained committed to their American roots and continue to provide craftsmen with high-quality tools.
Forrest Manufacturing Co.
Founded in 1946 by Albert Walter Forrest, Forrest Manufacturing Co. is headquartered in Clifton, New Jersey. This family-owned and operated company specializes in manufacturing blades and dado sets. They take pride in making every single blade and dado in the USA, showcasing their commitment to American craftsmanship.
FLIR Systems
FLIR Systems is a leading manufacturer of advanced thermal imaging products. With manufacturing and research and development facilities across the country, including California, Massachusetts, Montana, Oklahoma, Pennsylvania, Tennessee, and Indiana, FLIR employs over 1,600 Americans. They have been developing high-performance, low-cost thermal imaging systems since 1978, making them one of the largest manufacturers of advanced thermal imaging products in the United States.
General Electric (Generac)
Generac has been a pioneer in affordable home backup generators since 1959. Founded in Wisconsin, Generac claims to be the largest manufacturer of portable generators in North America. They have manufacturing facilities in multiple states, including Wisconsin, Alabama, and Missouri. Generac is committed to producing durable and reliable products for various applications, including residential, commercial, and industrial use.
Greenlee
Greenlee, a brand under Emerson Electric, has been manufacturing quality hand tools since 1862. With seven manufacturing plants, including facilities in Illinois and Kentucky, Greenlee is dedicated to producing top-notch tools for professionals. Their offerings include bending and drawing tools for electricians, metalworking products, and assemblies.
Hardcore Hammers
Hardcore Hammers is a company born out of frustration with the lack of durability in standard hammers. Started by two brothers from Kansas, Hardcore Hammers manufactures hammers, axes, and hatchets in Shawnee, Kansas. They source their steel from foundries and companies in Wisconsin and Illinois, while their American hickory handles are turned in Alabama and Arkansas. With a focus on durability and American craftsmanship, Hardcore Hammers has built a reputation for producing high-quality tools.
These are just a few examples of American-made tools and equipment. There are countless other companies across the country that share the same commitment to quality and manufacturing excellence. By supporting these brands, you are not only investing in reliable tools but also supporting American workers and the spirit of American craftsmanship.