If you've ever visited Makita's website, you've probably come across their frequent mentions of brushless motors. To understand what makes Makita brushless motors stand out from the competition, I had the opportunity to chat with Carlos Quintana, the Senior Product Manager for Makita Cordless Tools. Carlos provided some clear insights and here's what I learned:
Purposeful Design of Makita Brushless Motors
When Makita talks about dedicated motors, what they mean is that they carefully select a motor that perfectly matches the tool. Unlike some manufacturers who simply use any motor they can find, Makita takes into account not only what the tool is but, more importantly, what it does. They also consider the accessories the tool will use and the materials it will cut, drill, or fasten.
Let's take the Makita impact driver as an example. The Makita XDT16 boasts a highly compact tip-to-tail design, making it one of the most powerful and compact impact drivers on the market. In contrast, the Makita Subminiature Impact Driver features a longer but narrower design.
Both impact drivers are compatible with the same battery, but the ultra-compact design combines the lightweight and power of a 12V tool with a head profile that fits into tight spaces. To achieve this, Makita opted for a longer, narrower brushless motor design.
Other tools, such as the 18V X2 AWS Rotary Hammer, not only compete with corded models but often outperform them. Makita equips these tools with an 80mm internal rotor design, enabling them to drill faster than their corded counterparts.
Makita Brushless Inner Rotor and Outer Rotor Motors
Makita uses an 80mm outer rotor brushless motor for its 18V X2 chainsaw and cord trimmer. This compact design makes it narrower than inner rotor motors and lighter. As a result, Makita can deliver higher speed and torque in its direct-drive system.
While there are few downsides to using an outer rotor brushless motor, the inner rotor design offers more flexibility. It allows Makita to vary the length and diameter of the tool. For example, their performance tools, like the cordless SDS-Max rotary hammer, feature 80mm internal rotor brushless motors. The premium line, on the other hand, utilizes a 54mm inner rotor design. Additionally, Makita incorporates 44mm and 38mm inner rotor motors into their range of compact and ultra-compact models.

Note the difference in length and diameter of the Makita brushless motor from the outer rotor design (left) to the inner rotor (middle and right).
In short, Makita offers a variety of options to adjust the size, shape, and performance of their tools to align with their product team's vision.
The Importance of Makita Brushless Motor Magnets
What sets quality tools apart from their cheaper counterparts? Let's take a look at Makita's 80mm inner rotor brushless motor as an example. Unlike the more common 4 magnets found in motors, Makita utilizes 8 magnets for improved performance.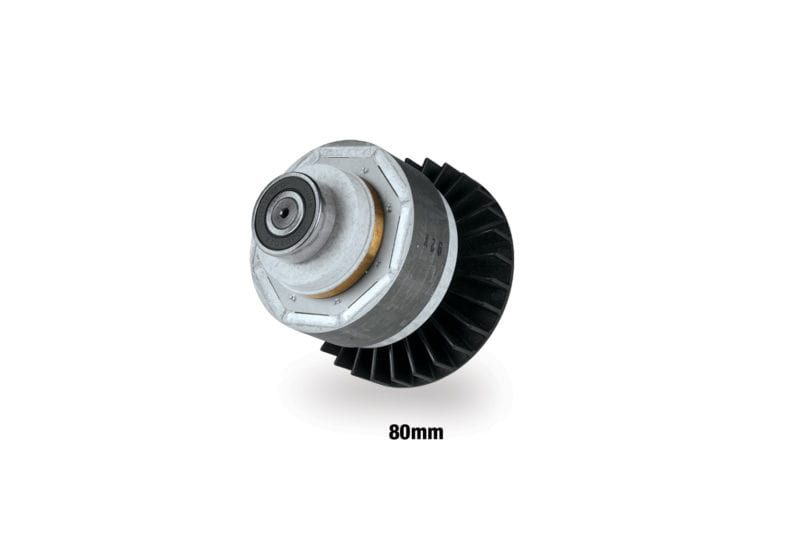 To ensure optimal functionality, these magnets are molded and embedded perfectly, then securely fixed in place with epoxy. Makita's commitment to quality is demonstrated by testing all their brushless motors at speeds of up to 30,000 RPM.
More Than Just a Motor
Presently, Makita's LXT series relies on at least 5 different BL motors to power their brushless tools. However, there's more to the equation. These brushless motors require a reliable power source, which is where the Makita 18V LXT battery pack comes in. With this battery platform, you have access to four levels of cordless tools. The ultra-compact line replaces the need for 12V tools, while the 18V X2 series doesn't require an upgrade to a 36V battery pack. In between, Makita offers compact premium 18V tools, giving you a complete range of battery systems to choose from.
In every brushless tool, you'll find a controller situated between the motor and the battery. This is where things get interesting. Each Makita brushless tool model features its own electronic controller, allowing for fine-tuning of the power curve between the battery and the motor. Although you have 5 motors to choose from, each tool will deliver a different performance because Makita's product team knows precisely how it should operate.
The Bottom Line
The next time someone mentions a Makita-specific brushless motor, don't dismiss it as mere marketing jargon. Makita's team of product managers and engineers invest considerable effort in equipping their tools with the perfect motor and fine-tuning the controls. This dedication ensures that you have an exceptional experience using a quality cordless tool.