New and improved technologies are revolutionizing cordless outdoor power equipment and tools. One such technology is the outer rotor brushless motor design, also known as external rotor motors. These motors have become increasingly popular in a variety of cordless tools, ranging from circular saws and chainsaws to trimmers and lawn mowers. But what exactly is an outer rotor brushless motor, and how does it differ from its inner rotor counterpart?
To shed light on this subject, we spoke to Carlos Quintana, senior product manager for Makita's cordless tools division, who shared valuable insights into the differences and benefits of each design.
General Design Differences for Outer Rotor Brushless Motors
The fundamental distinction between inner rotor and outer rotor brushless motors lies in their basic design. Both types of motors, whether brushed or brushless, rely on magnets to function. The stator's role in these motors is to generate the charge that either attracts or repels these magnets, resulting in the motor's rotation. In an inner rotor design, the stator is positioned on the outside, while the rotor is located on the inside. However, outer rotor brushless motors flip this arrangement, with the stator on the inside and the rotor on the outside.
If we were to compare two motors of the same power output and overall diameter, we would notice some notable differences. Despite having an equal magnetic surface area, the inner rotor design requires longer magnets due to the space constraints inside the rotor. In contrast, outer rotor brushless motors can have a wider diameter, which allows for a shorter overall motor length and a naturally reduced weight.
Outer Rotor Brushless Motor Efficiency
Inner rotor motors typically suffer from inherent wobbling, causing them to move slightly in and out of the stator, ultimately leading to reduced efficiency. However, some manufacturers have found ways to address this issue. For example, Makita has incorporated ridges in its rotors to enhance stability, resulting in an impressive 99% efficiency. However, not all motor manufacturers have adopted such measures.
On the other hand, outer rotor brushless motors do not face this wobbling problem and are inherently more efficient due to their design.
Balancing the Benefits of Each Design
Choosing an outer rotor design presents two main options. One approach involves reducing the motor's length and weight while maintaining the same power output, thereby increasing efficiency. Alternatively, one can opt to keep the weight constant and gain more power by maximizing efficiency. Of course, there is also the possibility of finding a balance between the two, shedding some weight while achieving a moderate increase in power. This balance is often seen in battery-powered lawnmowers, which benefit from the weight savings provided by a front brushless motor.
When comparing outer rotor brushless motors to inner rotor designs, it becomes evident that each design excels in different areas. The table below demonstrates the general differences between the two:
| | Outer rotor brushless | Inner rotor brushless |
| --- | --- | --- |
| Outer diameter | Wider | Narrower |
| Overall length | Thinner | Thicker |
| Torque | Higher* | Reduced* |
| Efficiency | Reduced | Higher |
| Cooling | Smaller | Bigger |
| Typical tool use | Large tools (e.g., lawnmowers) | Smaller tools (e.g., drills) |
*This statement is a generalization assuming all other parameters remain constant.
Most brushless tools utilize an inner rotor design to reduce their overall size, with Makita employing at least four brushless inner rotor designs: 80mm, 54mm, 44mm, and 38mm.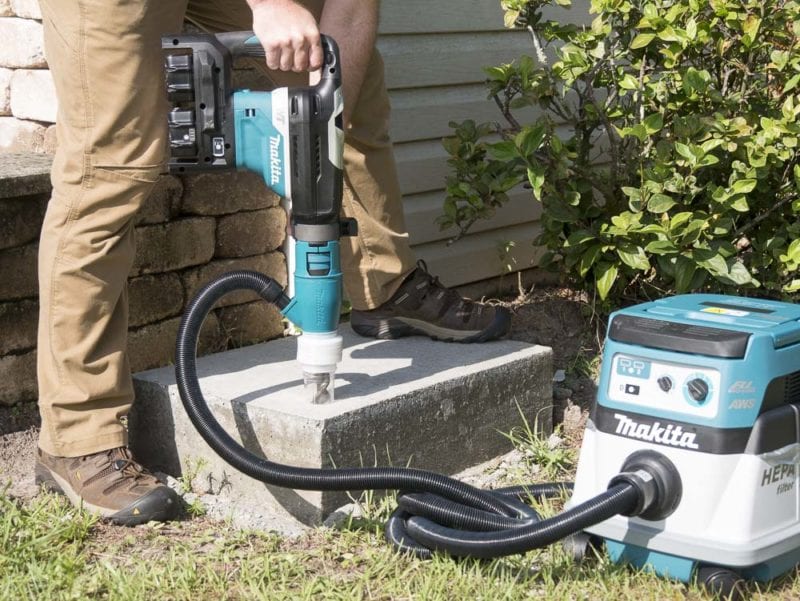 However, the Makita 18V X2 string trimmer and chainsaw feature a fifth design, incorporating an 80mm outer rotor brushless motor. These larger tools can accommodate the motor's larger diameter while reducing the overall footprint due to their narrower length.
This design profile enables Makita to install motors in direct drive tools, ensuring optimal power transfer efficiency.
As lithium-ion batteries continue to improve, we can expect to see more external rotor brushless motors. Manufacturers are striving to create cordless versions of traditional corded tools, leveraging the outer rotor design to achieve higher power and efficiency. The capabilities of battery power are still advancing, and the outer rotor design plays a crucial role in pushing these limits to their fullest potential.