Hearing conservation is a topic that is frequently discussed in various job sectors. Hearing loss is a gradual process, which is why many young people tend to overlook its importance. However, in reality, it is far from cute when someone's yelling damages their hearing. To help you grasp the concept of sound pressure level (SPL) and the decibel scale (dB scale), we have put together a concise guide that focuses on the key ideas.
Sound Pressure Level and the Decibel Scale
When it comes to the dB scale, there are two crucial points to remember: the actual SPL and the loudness of sound. We can provide you with numerous examples of decibel equivalences to give you an idea of how loud a specific level is.
How Sound Pressure Level Works
Sound pressure levels can cause real damage to our hearing, so it is essential to understand how they operate. For every 3 dB increase in sound pressure level, the intensity doubles. Similarly, for every 10 dB increase, the intensity increases by a factor of 10.
To illustrate this, let's consider a conversation at 60 decibels (60 dB). A conversation at 63 decibels is twice as intense, while one at 66 decibels is four times as intense. Additionally, a group of people talking at 70 decibels is ten times more intense.
Compared to 60 decibels of sound:
63 dB is twice as intense
66 dB is four times as intense
69 dB is eight times as intense
70 dB is ten times as intense
72 dB is twelve times as intense, and so on.
How Perceived Loudness Works
When it comes to determining the loudness of a sound, we can still use the decibel scale. Boosting the sound by 10 decibels makes it sound twice as loud.
Compared to 60 decibels of sound:
70 dB sounds twice as loud
80 decibels are four times as loud
90 dB sounds eight times as loud, and so on.
How Sound Pressure Level and the Decibel Scale Affect Jobs
OSHA regulations define the permissible noise exposure limits for different durations. For instance, you can work for 8 hours with an exposure to 90 decibels, or 1 hour with 105 decibels. Both of these values are the daily limits.
Hearing protection allows individuals to work for longer periods in noisy environments without violating these OSHA restrictions. When choosing hearing protection devices, pay attention to the NRR value, which indicates the noise reduction rating. It simply informs you of the number of decibels your device can lower.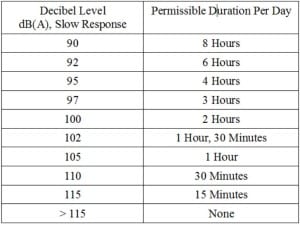 For example, if you work in an environment with a relatively constant 105 dB and use earmuffs with an NRR of 25, the effective exposure to your ears will only be 80 dB. It's that simple!
In conclusion, understanding sound pressure level and the decibel scale is crucial for preventing hearing loss. By being aware of these concepts, you can make informed decisions and take proper precautions to protect your hearing in various settings.