When you ask who makes the best tools, the answers vary. It's long been believed that the manufacturer with the best cordless drill doesn't necessarily make the best miter saw. The same can be said for every type of nailer. In fact, the best nailers in the various categories and styles we cover put many different manufacturers in the spotlight.
After reading our list, be sure to leave your comment below and let us know if you disagree with any of our picks.
Best Framing Nailers – Pneumatic
Metabo HPT NR90AES1 Framing Nailer
If it's not broken, don't fix it. Without a doubt, the best framing nailer has to be the Metabo HPT NR90AES1. Previously it was the Hitachi NR90AES1, which is simply the lightest framing nailer we've ever tested. We like the easy depth adjustment—with or without gloves. It also powers nails through the hardest materials, including LVL. You get excellent visibility at the nose, fast and reliable toe-off and very little recoil.
This nail gun nails 3-1/2" x 0.148" and features tool-free pattern changes. The only crazy thing is that it doesn't have a dry fire lockout or rafter hook. I know, silly in this day and age, but it's true. We still love it and recommend it as our pick for the best air nailer for framers. It features easy depth adjustment for a variety of materials and great overall power.
For the price (around $169), you'll be hard-pressed to beat this air-powered framing nailer.
we also recommend
Ridgid R350RHF Framing Nailer — $229
Max USA SN883RH3 Framing Nailer – $268
Best Framing Nailers – Battery Operated
Milwaukee FUEL 18V Cordless Framing Nailer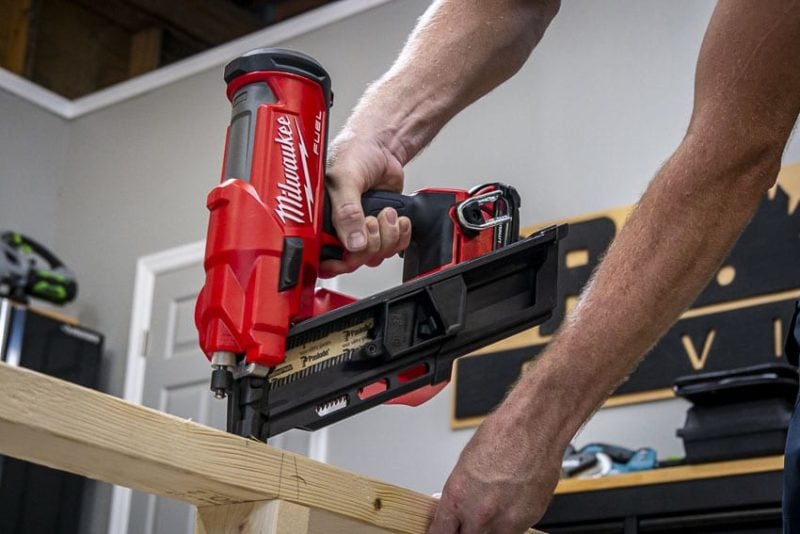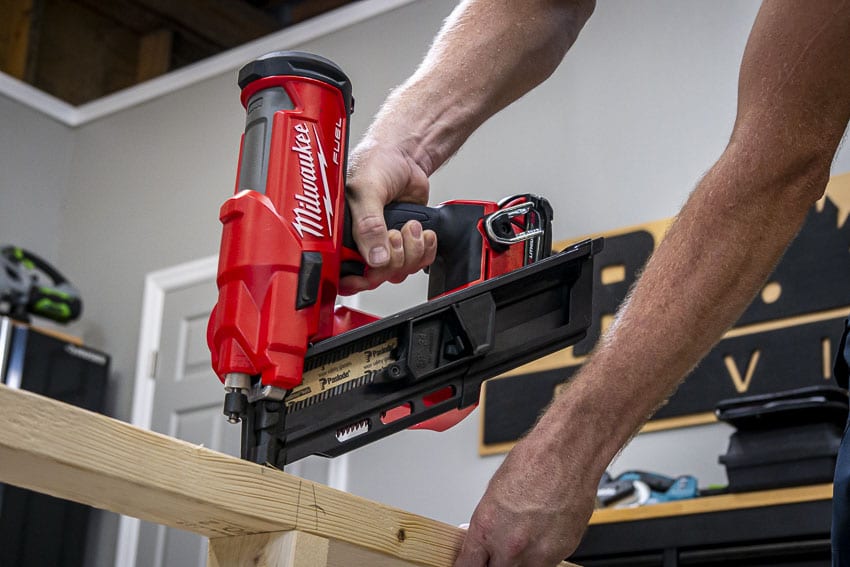 When it comes to air nailers vs cordless nailers, air nailers still win out in framing jobs. You can definitely find some great tools for punch lists, though. Available in 21° and 30°, the Milwaukee M18 FUEL Cordless Framing Nailer quickly impressed us. However, after testing these tools, the data quickly and clearly showed that these nailers dominated other battery-operated tools.
While a bit heavy, they offer so much power that the scales tip in their favor. Your shots have zero lag – even in bump mode. They consistently nail every shot, including in quick impact mode. We even like the folding rafter hooks and separate tool belt clip.
You can order an extended magazine with 2 full nails for either model. Of course, this makes the tool heavier — which is probably why most cordless nailers only hold one. Milwaukee clearly listened to its user base and gave them options. In the end, we found the depth adjustment to be easy to use, and we liked the electronic switch to toggle between firing modes.
Priced at $379 or $479, this kit is the best battery-only nailer around.
we also recommend
Metabo HPT 18V Cordless Framing Nailer — $229
Best Framing Nailers – Gas or Fuel Cell
Paslode CFN325XP Air Frame Nailer
While battery-powered nailers like our pick above are getting better, the Paslode CFN325XP replaces the CF325XP framing nailer and should still find favor with professionals. This is especially true when it comes to punch list work. This tool hit the market before any battery-only options.
We have an article on how fuel-fueled nailers work, but the tool drives its 30° nails when a small lithium-ion battery ignites the gas from the cartridge. It works much faster than DeWalt and Bostitch battery powered nailers with firing delay. You do experience a slight lag and gas smell. Of course, there's the added cost of a new gas cartridge every 1200 or so.
Overall, the Paslode Cordless XP framer remains a popular cordless choice among professional users. The lack of a bump mode and its limited capacity make it a tough sell as a primary tool, but it's a capable cordless option. At $349, we still think this is the best fuel-fueled nailer on the market.
The Best Nailers for the Job – Pneumatic
Metabo HPT NT50AE2M 18 Gauge Finishing Nailer
The Metabo HPT NT50AE2M 18-Gauge Finishing Nailer is a reliable performer. It lacks features like dry fire lockout and rotary air intake. It's the tradeoff you get for incredible value while getting the professional performance levels of the Metabo HPT. It's a great option for professionals to use as their primary finishing nailer.
This tool is unbeatable for its weight – only 2.2 lbs. After using it extensively under the Hitachi moniker, the rebranded tool doesn't disappoint. The $99 price point is also perfectly in line with the needs of anyone looking for pro-level performance. Carpenters, woodworkers, and anyone who does trim or cabinet work should love this tool.
For even more support, we also recommend:
Senco Finish Pro 30XP 15-Gauge Polishing Nailer — $315
Ridgid R250AFF 15-Gauge Angled Polish Nailer – $189
The Best Nailers for the Job – Battery Operated
Milwaukee M18 FUEL 18 Gauge Polishing Nailer
The second generation Milwaukee M18 FUEL 18ga brad nailer improves on the visibility and rate of fire of the first generation design. No small update, this polished nailer truly feels and operates like a brand new tool. It provides fast ignition with zero ramp-up delay. Similar to how the Metabo HPT cordless framing nailer operates, the battery is primed for each shot before the tool is fired. This removes any lag.
The tool also has a quick collision mode, although we found ourselves using it less often to get the job done. Still, the fast launch speed should satisfy anyone's needs. At $299 bare metal and $399 kit, it's not cheap. Then again, there's nothing good about it.
We also recommend:
Metabo HPT NT1850DESM 18-Gauge Finishing Nailer – $279
Best Nailer for Narrow Crown Sutures – Pneumatic
Senco SLS150Mg 18ga Crown Stapler
If it's not broken, don't fix it! The magnesium body of the Senco SLS150Mg 18-Gauge Crown Stapler keeps it light at just 2.6 lbs. A thumbwheel sets drive depth, and a simple selector switch toggles between shock-fire and continuous-fire modes. This finishing stapler accepts 18-gauge 1/4-inch crown staples ranging from 1/2-inch to 1-9/16-inch and holds 110 fasteners. (Included!) The air intake also swivels to help keep the air hose from getting tangled.
Released in 2013, you can still pick up this excellent stapler for less than $190 at most retailers. The tool also comes with Senco's 5-year limited warranty.
we also recommend
Metabo HPT 18ga Narrow Crown Stapler (N3804A5) – $159
The Best Battery-Powered Nailers for Narrow Crown Stitching
Milwaukee M18 FUEL Narrow Crown Stapler
Professional carpenters and tradespeople will love the Milwaukee M18 FUEL Narrow Crown Stapler. We got our hands on it for the first time in 2019, and it's impressive. Like the Metabo HPT Cordless Framing Nailer, the Milwaukee M18 Fuel 18 Gauge 1/4" Narrow Crown Cordless Stapler has zero firing delay when you pull the trigger. Even in impact mode, we saw about 4-5 staples per second. It fires almost as fast as you can move to the next location. The tool has no noticeable lag at all.
This Milwaukee M18 FUEL stapler is capable of sinking 1/4" narrow crown staples 1.5" – even into oak or cherry. The tool is also adjustable enough so you can not only cut through thinner materials like underlayment.
The battery-operated stapler retails for $299 bare-bones. You can also buy a kit with an M18 CP 2.0 battery and charger for $399.
also recommended
Ryobi P360 18V Narrow Crown Stapler – $169
Milwaukee M12 Crown Stapler – $189
Best Needle Nailers – Pneumatic
DeWalt 23 Gauge Needle Nailer
The DeWalt 23 Gauge Pin Nailer has truly replaced the venerable Porter-Cable PIN138 Pin Nailer that we have loved and used for years. Design aside, DeWalt has created a well-designed nailer that easily fits finer workpieces without having to fill the nail holes.
It's also great for attaching small trim pieces and reducing the amount of touch-ups needed before painting. We've used it to put the finishing touches on several projects and found it to be easy to use, lightweight and reliable. DeWalt includes a tool-less jam releaser—the first, to our knowledge, to use it in a pinner. You even get a reversible leash hook and tool-less depth adjustment.
The DeWalt DWFP2350K Nailer retails for about $169. The tool also comes with a 7-year limited warranty, a 1-year free service contract, and a 90-day money-back guarantee.
Best Battery Powered Pinners
Milwaukee M12 Needle Nailer
We find it hard not to like the Milwaukee M12 Cordless Nailer. It's lighter and more compact than any other cordless model we've used. When we say lighter and more compact – we mean it. Its performance has also been impeccable so far. While you can still use a pneumatic nailer for lighters, the Milwaukee M12 23-Gauge Pin Nailer is a no-brainer switch that can serve as a full-time pneumatic alternative for woodworking and woodworking projects.
The Milwaukee 2540-21 Needle Nailer retails for approximately $229 bare and $279 kit. This cordless 12V needle nailer also comes with a 3-year warranty.
we also like
Makita XTP02 18V Cordless Nailer — $189 (bare)
what to look for in a nail gun
Pneumatic or battery powered
When we consider what to look for in a nail gun, we start at the top. Do you want ultimate portability for small projects, or are you looking for the lightest tool for scalable use? As it stands, air nailers are still far ahead of battery-powered models. If you want a lightweight tool, grab a compressor and start.
For framers and roofers, the choice is obvious. Pneumatic tools remain sharp, delivering the smoothest and most consistent work experience. However, when you take the omission list seriously, things start to change. Now, battery-powered tools are starting to become more practical and convenient. We know several roofers who use DeWalt cordless roof nailers for their repairs. It speeds up setup and teardown.
switch shooting mode
With framing and roofing nailers, switching fire modes used to be a hassle. Even the best nail guns of the time required you to change the trigger to change modes. Most tools now have some form of tool-free mode change. Some companies do this with a slide switch or button near the trigger. Some battery-operated models use electronics to control the mode.
In either case, if you're constantly switching between bump-fir and sequential fire modes, make sure you get a tool that makes it easy to switch back and forth.
other features
Most nailers are in fashion. Rarely will anyone miss any important features. Make sure you get what you need though. In addition to the fire mode switch above, also look for the dry fire lockout. This prevents you from firing "blanks" when you run out of pegs. It can be frustrating at best. At worst, it can damage the material you're working on by creating the impression of a nail without actually shooting the nail out.
We'd also like to see adjustable rafter hooks on larger tools like framing nailers. Not so much for roof nailers. And for hardcover tackers, we care more about the belt hook for easy access.
On tools that you may be in various places behind the nailer, an adjustable vent can be helpful. I remember getting punched in the face repeatedly with a non-adjustable nailer while doing some siding work a few years ago.
spin me this
Beyond that, be sure to purchase swivel 1-4" NPT fittings for your nail gun. These make maneuvering around the hose much easier. We carry a bunch of them and put them on each tool as the tools come in. Some nailers include them by default – but only a few. It doesn't affect our decision or rating of the tool, but it's a good suggestion.
Weight and Ergonomics
The importance of weight to a nail gun cannot be overemphasized. The best nail guns are powerful. They just don't look like they have a lot of power. A good example is the difference between the cordless flywheel system used by DeWalt and the gas piston system used by Metabo HPT, Senco and Milwaukee Tool. Line these tools up and you'll quickly see that the DeWalt head looks huge in comparison.
price and value
Price matters. After all, if you're not going to use a tool every day, you probably don't need to spend that much. Everything is ready to go – if it nails it, you can get the job done. Having said that, quality matters, so we recommend considering all factors when trying to understand the price and value of a particular tool.
The value a tool provides will vary for everyone, depending on what matters most to you: features, performance, or price. Regardless, it's the sum of what you get compared to what you pay that determines your worth. That's how we look at things, and it really influences our final recommendations.
Ever looked at a "review" site, but you can't tell if they actually tested the tools, or if they were just "recommending" Amazon bestsellers? That's not us. We won't recommend anything unless we've actually used it ourselves, and we don't really care who the major retailers are. It's all about providing you with sound recommendations and our honest opinions on each product.
We've been in business since 2008, covering tools, writing reviews and industry news coverage for the construction, automotive and lawn care industries. Our professional reviewers work in the industry and have the skills and experience to see if a tool will perform well in the field.
Every year, we introduce and review more than 250 individual products. Our teams will use hundreds of other tools at media events and trade shows throughout the year.
We consult with innovators in tool technology and design to gain a broader understanding of where and how these products work.
We work with more than two dozen specialty contractors across the U.S. who review products for us on real job sites and consult with us on testing methods, categories, and weightings.
The end result is information you can trust because we collectively draw on editorial, scientific, and real-world professional experience every time we pick up and test a tool.