Why Your Home Needs a Generator
There are many reasons why you need a generator in your home. Most of these fall into the "emergency power supply" category. In Florida, summer thunderstorms and hurricanes are our main risk. In the north, Old Man Winter launches a freezing attack. Earthquakes hit other parts of the country, then Tornado Alley.
Any of these could result in a power outage for days or even weeks. In some cases, you need to keep medical equipment running or medications cold. Many people want to make sure that the food in their refrigerator and freezer doesn't spoil.
Larger tasks include heating and cooling your house. Some of us just want to get on with our family life as if the grid was up and running. Sometimes we want a generator to do double duty between emergency power and outdoor adventures.
No matter what your top priority is, having a generator in your home is a great option.
The Best Generators for Homes – Our Top Picks
Generac Guardian 19.5kW Home Backup Generator with Wi-Fi
The best generator for your home is the one you don't have to think about much and always have available. While no generator is completely maintenance-free, a whole home generator offers power and convenience that a portable unit can't match. If you can afford it (plan to pay about $2000 extra for installation), this is the right choice.
Of the currently available options, we recommend the Generac Guardian 19.5kW with Wi-Fi. It has the capacity to handle most homes, even large ones. Wi-Fi capability adds condition monitoring, maintenance alerts and more, all from your smartphone anywhere in the world.
Fuel is an important consideration when you're looking at one of these units over a portable generator. You'll need natural gas or liquid propane to run it.
With the included 200A transfer switch, the kit is $6147. For an extra $250 or so, you can also upgrade to larger models with starting power of a few kilowatts.
The best portable generators for home use
Honda Ultra Quiet Series Generator EU7000iS
Not everyone has the space or the budget to install an entire home backup generator. If that's you, there are also some great options. Our pick for the best portable generator is Honda's EU7000iS. Part of the Ultra Quiet range, it has a noise level of just 58 decibels. That's quiet for any generator, but even more impressive when you consider the performance and feature set.
Honda's GX390 engine produces 7000 watts peak (5500 watts continuous). As an inverter generator, it also cleans up power for your electronics. It features CO-Minder carbon monoxide detection, electric start, Bluetooth connectivity with various monitoring and control functions, and electronic fuel injection to keep you motivated. Additionally, it won a 2021 Pro Tool Gas Generator Innovation Award.
The best ones don't come cheap, which is a downside. This Honda generator costs $4999.
Great Value Pick: Ryobi 6500-Watt Portable Generator with Carbon Monoxide Shutdown
While not as quiet as the Honda, the Ryobi's 6500 watts (from 8125 starting watts) provides more usable power and has a carbon monoxide sensor for safety. Best of all, it's even more affordable at $949.
The best home backup generators
Generac Guardian Series Natural Gas/LPG Whole House Generator
Our top overall pick for the best generator for your home is part of the Generac Guardian series that we recommend as the best backup generator. The range is available in power ranging from 14kW to 26kW at very reasonable prices. Generac's Mobile Link also allows you to monitor system status from anywhere in the world using cellular data or WiFi.
Keep in mind that you will need a transfer switch, professional installation, and possibly an LPG tank if you don't already have one.
Click here to view Generac's sizing calculator and find your home's electrical needs.
Price: $4,697 – $6,997
Best Home Diesel Generators
Kubota 11,000W Lowboy II Diesel Generator GL11000
Diesel generators do not use gasoline like other equipment. You have to know where to buy diesel, but you're not fighting all the panic buying of all petrol. In our hurricane-prone region, gas stations rarely run out of diesel before all three grades of gasoline are used up.
If that's the way you want to go, we recommend Generac's electric-start XD5000E, but it's getting harder to find. Another quality option is Kubota's GL11000 Lowboy II. While it doesn't have the portability of the Generac design, this 11,000-watt diesel generator is designed for heavy-duty use on industrial jobsites.
Between that and the color scheme, it's hard to use it as a home generator. But if diesel is a must in your books and you don't want to go the backup generator route, the Kubota is a compelling option.
Price: $7999
best home propane generator
DuroMax 8500/10000 Watt Dual Fuel Electric Start Portable Generator (XP10000DX)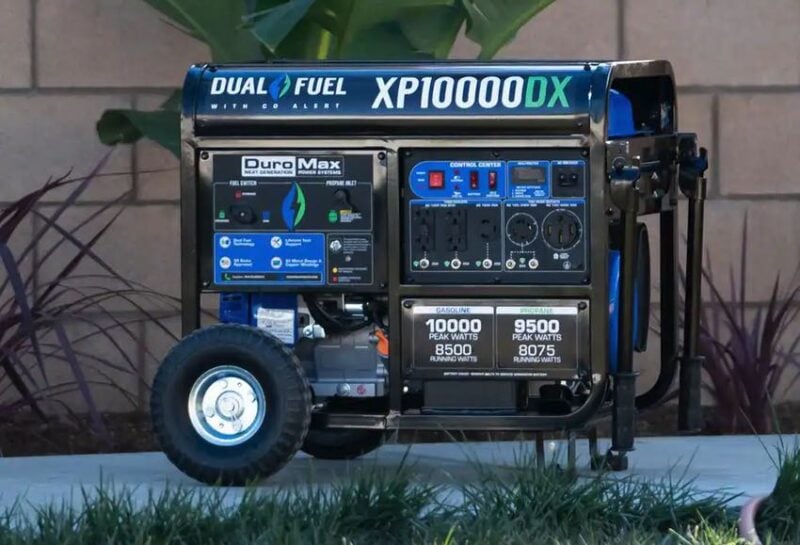 When you're shopping for the best propane generator for your home, choose a dual-fuel design instead of propane alone. They are more common and you can choose to use gasoline or propane.
Our top pick is from DuroMax. Their XP10000DX has 8500 watts continuous (8075 propane) and 10000 watts cranked (9500 propane). Those monster numbers representing portable generators! They actually have one with more power available, but this model runs 2 hours longer on its 8.3 gallon tank. Run time and fuel efficiency certainly come into play when it comes to emergency power.
Price: $1299
Great Value Pick: DuroMax 3500-Watt Electric Starter-Generator XP4400EH
By sacrificing a few watts, you can save a lot of money and still enjoy the benefits of a dual fuel generator. Starting with the DuroMax XP4400EH, you can get 3500 watts of continuous power and electricity for just $549.
EGO Nexus Power Station
When it comes to battery-powered inverters, we have more options than ever before, some of which are capable of working with solar panels. What we love about EGO's Nexus Power Station is its modular battery design—you can remove the battery pack and replace it with a new one when you don't have time to recharge. With 2000 watts of continuous power and 3000 watts of cranking power, you can get a decent amount of power when the lights go out.
For portable devices like Nexus, charging via solar is still a long process. These units are best for temporary outages or tailgating and camping that lasts a few hours.
Price: $1499 with four 5.0Ah batteries. Solar panels sold separately.
The Best Small Inverter Generators for Home Use
Honda 3200W ultra-quiet inverter generator EU3200i
Inverter generators have several advantages. They tend to be smaller, more fuel-efficient, quieter, and friendlier to your sensitive electronics. Our top pick for portable generators is an inverter generator, so we think it's also the best in the inverter category.
The Honda 3200 watt EU3200i (running at 2600 watts) is powered by a Honda GX130 fuel-injected engine that can run for over 8.5 hours on just 1.2 gallons of gas. Like all Honda generators, COMinder CO detection is built in. It's also RV ready, has side-by-side capability, and connects via Bluetooth to the Honda My Generator app on your phone. Plus, it's rated at only 54-58 decibels (depending on load).
Price: $2599
Great Value Pick: Ryobi 2300-Watt Inverter Generator with Bluetooth (RYi2322VNM)
At $649, Ryobi's 2300-watt inverter generator (1800 watts continuous) is a solid value. Bluetooth connectivity to your phone, CO detection, ultra-quiet operation and a compact frame highlight a model that's happy to travel wherever your adventures take you.
generator safety
Generators make our lives easier, but they can also be deadly. Never run a gas, propane or diesel generator inside ! If they can be concentrated high enough, they create emissions that will kill you.
Always make sure to run the generator in an area with adequate airflow. Opening windows or garage doors is not enough. The air must be able to dissipate the smoke and keep it away from the generator so they are not concentrated in one area.
Many portable generators are now equipped with CO sensors that automatically shut down the engine if the smoke gets too high. However, they can be turned off when there is no immediate danger. Make sure to place the generator so that the breeze can blow through the exhaust rather than being concentrated on the downwind side.
Here are some other safety tips:
Be careful with hot engine parts
Always use the correct gauge extension cord to power your
Don't overload your generator
Do not store fuel near fire sources (including your generator)
Protect Your Generator from Rain and Snow
how we choose
electricity demand
Having enough power is our number one goal. Not only do you need to plan for the operating load, but also the inrush power required for each item you run.
What size generator do you need? It depends on what devices you plan to power. With some simple math and planning, you can come up with some simple guidelines for making solid choices.
reliability
Most generators you buy from quality brands and reputable retailers will do just fine as long as you take care of generator maintenance. Even the ones with OEM branded engines have the potential to give you years of service if you use them regularly.
When you're shopping for the best home generator, keep in mind that many people only use them in emergencies. That means they need to be up and running reliably, even if they sit idly in your garage 98 percent of the year.
If this sounds like you, one of the best things you can do is pull out the generator and start it once a month. Always use fuel stabilizer and try to run the tank dry when you know it won't be used for a while.
price and value
Shop for the best generator for your home that fits your budget. In our opinion, if it comes down to choice, getting better quality rather than higher wattage is the way to go. Ask yourself which features you really need, and be willing to give up some of them in order to get a unit with a premium engine for a better price.
noise level
If you plan to use your home generator for camping, RV trips, tailgates, or other outdoor activities, you may want to choose a quieter model. These are usually under 3000 watts, but we're starting to see more powerful models that promise quiet operation.
features to look for
Bluetooth Connectivity: Monitor fuel level, shut down generator and view other diagnostics from your phone
Electric start: keeps battery charged, eliminates pull-start
Electronic Fuel Injection (EFI): better startup and efficiency, fewer maintenance issues
240V Plug: If you want to run more demanding projects
Total Harmonic Disturbance (THD): How "clean" the power supply to run electronic equipment is
Carbon monoxide sensor: shuts off engine if carbon monoxide levels are too high
Fuel capacity: The larger the tank, the longer the refueling interval
Portability: How to Transport Your Generator From the Warehouse to Where You Want to Use It
Be sure to check out our tips on buying a portable generator!
Ever check out a "review" site, but you can't tell if they've actually tested anything, or if they're just "recommending" Amazon bestsellers? That's not us. We won't recommend anything unless we actually use it ourselves, and we don't really care who the major retailers are. It's all about providing you with sound recommendations and our honest opinions on each product.
We've been in business since 2008, covering tools for the construction and lawn care industries, writing reviews and covering industry news. Our professional reviewers work in the industry and have the skills and experience to see if a tool will perform well in the field.
Every year, we introduce and review more than 350 individual products. Our teams will use hundreds of other tools at media events and trade shows throughout the year.
Pro Tool Reviews consults with innovators in tool technology and design to gain a broader understanding of where and how these products work.
We work with over two dozen professional contractors across the U.S. who review products for us on real job sites. We consult them extensively on test methods, categories and practical applications.
Our site will provide our readers with over 500 new pieces of content for free this year. This includes objective evaluations of individual tools and products.
The end result is information you can trust because we collectively draw on editorial, scientific, and real-world professional experience every time we pick up and test a tool.