Why Having a Generator in Your Home is Essential
Power outages can happen unexpectedly, and having a generator in your home is crucial for various reasons. From thunderstorms and hurricanes to freezing winter weather and earthquakes, there are many situations that can result in days or even weeks without electricity. During these times, a generator can provide you with emergency power to keep essential appliances and medical equipment running. It also ensures that your food stays fresh in the refrigerator and freezer.
Additionally, a generator can be useful for heating and cooling your house, allowing you to maintain a comfortable environment for your family. Some people even use generators for outdoor adventures, as they can provide power for camping and other recreational activities. Regardless of your specific needs, having a generator in your home is an excellent option to ensure you're always prepared for unexpected power outages.
The Best Generators for Homes – Our Top Picks
Generac Guardian 19.5kW Home Backup Generator with Wi-Fi
When it comes to home generators, the Generac Guardian 19.5kW with Wi-Fi is our top recommendation. This generator offers the perfect combination of power and convenience. While no generator is entirely maintenance-free, a whole-home generator provides hassle-free operation that portable units can't match. With the capacity to handle most homes, including larger ones, the Generac Guardian ensures that you don't have to worry about power outages disrupting your daily life.
One of the standout features of this generator is its Wi-Fi capability, which allows you to monitor its condition, receive maintenance alerts, and more, all from your smartphone, no matter where you are in the world. To run this generator, you'll need either natural gas or liquid propane. The kit comes with a 200A transfer switch and is priced at $6147. For a few hundred dollars more, you can upgrade to larger models with even greater starting power.
The Best Portable Generators for Home Use
Honda Ultra Quiet Series Generator EU7000iS
Not everyone has the space or budget to install a whole-home backup generator. In such cases, portable generators are an excellent alternative. Our top pick for the best portable generator is the Honda Ultra Quiet Series Generator EU7000iS. This generator stands out for its exceptional performance and impressive features. With a noise level of just 58 decibels, it's one of the quietest generators available.
Powered by Honda's GX390 engine, this inverter generator produces 7000 watts peak power (5500 watts continuous) and ensures reliable and clean power for your electronics. It also comes with CO-Minder carbon monoxide detection, electric start, Bluetooth connectivity for monitoring and control, and electronic fuel injection for improved efficiency. The Honda EU7000iS won the 2021 Pro Tool Gas Generator Innovation Award and is priced at $4999.
For those looking for a more budget-friendly option, the Ryobi 6500-Watt Portable Generator with Carbon Monoxide Shutdown is an excellent choice. While not as quiet as the Honda, it provides more usable power at a lower price point of $949.
The Best Home Backup Generators
Generac Guardian Series Natural Gas/LPG Whole House Generator
For the best overall home backup generator, we recommend the Generac Guardian Series. This range of generators offers a wide range of power options, from 14kW to 26kW, at reasonable prices. The Generac Guardian Series stands out for its reliability and efficiency. With Generac's Mobile Link, you can monitor the system status from anywhere in the world using cellular data or Wi-Fi.
To install this generator, you'll need a transfer switch, professional installation, and possibly an LPG tank if you don't already have one. Generac's sizing calculator can help you determine your home's electrical needs. The price for the Generac Guardian Series ranges from $4,697 to $6,997.
The Best Home Diesel Generators
Kubota 11,000W Lowboy II Diesel Generator GL11000
If you prefer diesel generators, the Kubota 11,000W Lowboy II Diesel Generator GL11000 is an excellent choice. While primarily designed for heavy-duty industrial use, it can also serve as a solid home generator option for those who prefer diesel fuel. Although less portable than other designs, it offers impressive power and durability.
Keep in mind that finding diesel fuel is generally easier during emergencies compared to gasoline. The Kubota GL11000 is priced at $7999.
The Best Home Propane Generator
DuroMax 8500/10000 Watt Dual Fuel Electric Start Portable Generator (XP10000DX)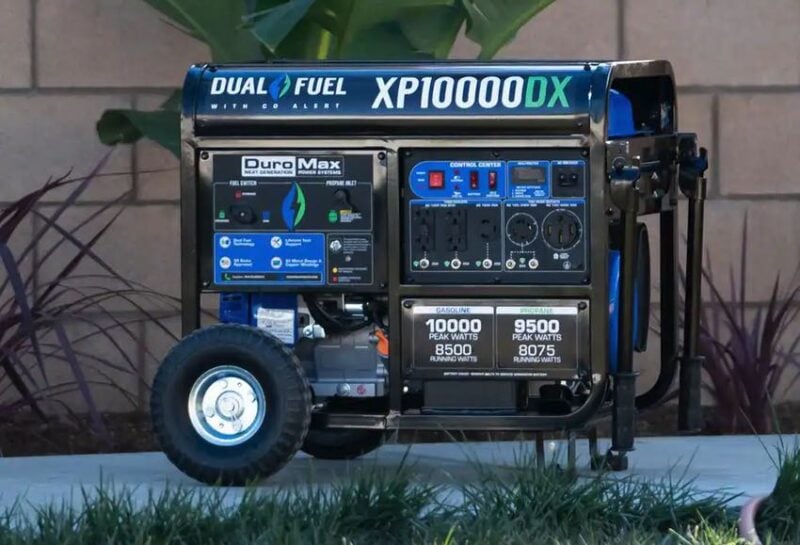 When it comes to propane generators, a dual-fuel design is preferable as it allows you to use both gasoline and propane. Our top pick for a home propane generator is the DuroMax 8500/10000 Watt Dual Fuel Electric Start Portable Generator (XP10000DX). This generator offers the flexibility of using either gasoline or propane, making it a versatile backup power solution.
With 8500 watts continuous power (8075 watts on propane) and 10000 watts peak power (9500 watts on propane), the DuroMax XP10000DX provides ample power for your home during outages. With a large fuel tank and efficient operation, it ensures extended run times. The price for this generator is $1299.
For those looking for a more affordable option, the DuroMax 3500-Watt Electric Starter-Generator XP4400EH at $549 is a great value choice.
The Best Small Inverter Generators for Home Use
Honda 3200W Ultra-Quiet Inverter Generator EU3200i
If you're in need of a small inverter generator for your home, the Honda 3200W Ultra-Quiet Inverter Generator EU3200i is our top recommendation. Inverter generators are known for their compact size, fuel efficiency, and low noise levels. The Honda EU3200i is powered by a fuel-injected Honda GX130 engine, providing 3200 watts of running power and over 8.5 hours of runtime on just 1.2 gallons of gas.
With its RV-ready capability, Bluetooth connectivity, and quiet operation at 54-58 decibels, this generator is perfect for various applications. The price for the Honda EU3200i is $2599.
For a more budget-friendly option, the Ryobi 2300-Watt Inverter Generator with Bluetooth (RYi2322VNM) is available at $649.
Generator Safety
Safety is of paramount importance when using generators. To ensure your well-being, it's crucial to follow these safety guidelines:
Never run a gas, propane, or diesel generator inside as the emissions can be lethal. Ensure the generator is operated in an area with adequate airflow to dissipate smoke and prevent concentration.
Be cautious of hot engine parts.
Always use the correct gauge extension cord for powering your devices.
Avoid overloading your generator.
Store fuel away from fire sources, including the generator itself.
Protect your generator from rain and snow.
How We Choose
At Pro Tool Reviews, we take pride in providing trustworthy and unbiased recommendations. Our team consists of professional reviewers with industry experience who thoroughly test and evaluate each product. We collaborate with innovators in tool technology and design to gain a deeper understanding of the products we review.
We consult with over two dozen professional contractors across the U.S., who provide us with valuable insights and real-world feedback on product performance. Our commitment to providing reliable information is evident through our extensive content library of over 500 pieces of free content each year.
When it comes to choosing the best home generators, our selection process considers factors such as power needs, reliability, price, value, noise level, and essential features like Bluetooth connectivity, electric start, and carbon monoxide sensors.
Remember, investing in a quality generator that suits your specific needs is essential for ensuring a reliable source of backup power during emergencies. Stay prepared and enjoy peace of mind with the best home generator for your requirements.