Let our team help you choose from a wide range of great angle grinders
When we set out to determine the best angle grinder, it might not seem like a very difficult task. However, when we got our team together, it quickly became apparent that there were a lot of great models out there. Angle grinders are the core tool, and almost every brand has multiple models.
While we have done our best to narrow it down based on our experience, we cannot master all models. So if you have a grinder you like, let us and your fellow readers know what makes it stand out in the comments section.
How to choose the right angle grinder
Choosing the right angle grinder for the job is mostly about size and performance. Angle grinders fall into three main categories (small, medium, and large), and it all comes down to which size wheel is right for the area you need to grind, cut, or polish.
When the wheel touches the material, it has to get the job done. An underpowered grinder might cut 1/4-inch steel or grind a weld, but a higher-powered grinder will do it much faster.
From there, it's about convenience and functionality. By far the most convenient way is to cut the cord and run on battery power. The best cordless angle grinders are comparable to corded models—even up to 9-inch models! The tradeoff is higher cost and limited runtime. Electronic controls, on the other hand, offer cordless grinders some features not commonly found on corded grinders.
Here are some additional features to consider:
electronic brake
Auto Recoil Off
Advanced Vibration Control System
Compatible guard for handling concrete/masonry
Brushless motor (for cordless and corded models)
Smart Control/Tracking
Total of three side handle mounting points
Read about the uses of angle grinders and how cordless technology affects them here.
Best Angle Grinder Overall | Our Top Picks
DeWalt 60V Max FlexVolt 6" Angle Grinder DCG418
At the end of the day, the tool you use the most is the one that fits the way you work best because you use it a lot. In our shop, we buy the most DeWalt's second generation FlexVolt angle grinders. It has the performance we need (equivalent to 13 amps, 9000 RPM) and safety features (kickback control and electronic braking) along with the convenience of cordless operation.
One of the things that sets it apart from similar high-performance sanders is the ergonomic design of the handle. It's slim and has triggers instead of paddles or slide switches.
Price: $229.00 bare, $319.00 (1 x 3.0Ah battery) and $469.00 (2 x 3.0Ah batteries) kit options
best cordless angle grinder
With DeWalt's #1 overall rating, this model is also our #1 choice for the best cordless angle grinder. We strongly recommend the following three options:
Best Cordless Small Angle Grinders (4-Inch and 5-Inch)
Milwaukee M18 Fuel 5 inch one button angle grinder 2883/2882
Milwaukee's newest flagship small angle grinder has great power and the braking and kickback control we're looking for. Capable of using 4 1/2 or 5 inch wheels, both styles have a top speed of 8500 RPM.
The 2883 (slide lock) and 2882 (paddle switches) also include one-touch. While there are no control settings, it does offer tracking and inventory management, making it a great choice for construction firms and shops that like help tracking tools from cribs.
Price: $219 bare, $469 kit (2 x 6.0Ah high output batteries)
Best Cordless Medium Angle Grinder (6-Inch)
Bosch Spitfire ProFactor 18V Connected-Ready X-Lock 6" Angle Grinder GWX18V-13CN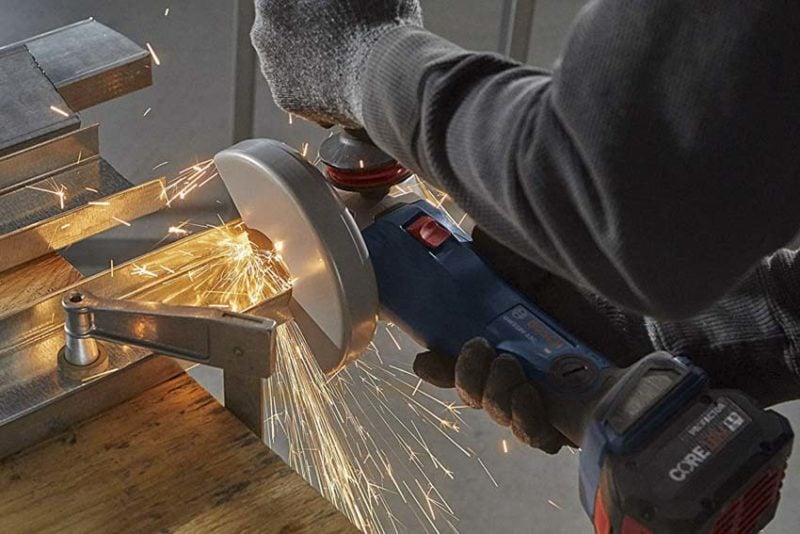 There's a lot going on with Bosch's GWX18V-13CN angle grinder. It's capable of using 5- to 6-inch wheels, and with a completely tool-free X-Lock interface, you can say goodbye to monkey wrenches! A 13-amp corded equivalent, the grinder's BiTurbo brushless motor spins at up to 8500 RPM.
In addition to electronic braking, recoil control, drop control and restart protection, this model is also connected ready. Simply add the Bosch Connectivity Module for smart tracking and diagnostic communication.
This grinder is also available as the GWS18V-13CN without X-Lock.
Price: $249 bare, $399 kit (1 x 8.0Ah Core18V battery)
Best Cordless Angle Grinders (7 Inch & 9 Inch)
Makita 40V max XGT AWS ready 9 inch angle grinder GAG10
Ironically, cordless large angle grinder units are pretty small. Among the major brands, your choices are Makita, Metabo, and Milwaukee. Neither of them are bad choices. However, our pick for the best cordless large angle grinder is the GAG10 from Makita.
It runs off a single 40V Max XGT battery instead of two 18V batteries, it has kickback and brake safety features and adds restart protection along with AWS. Makita's auto-start wireless system automatically turns on your vacuum when you pull the trigger, making it an excellent choice for concrete and masonry work in addition to standard metalworking.
In terms of performance, expect to run the 7- or 9-inch wheels at up to 6600 RPM. The tool also has a separate rear handle to help absorb vibration and reduce hand and arm fatigue.
Price: $309 bare, $469 (1 x 4.0Ah battery)
best corded angle grinder
To get the kickback control and electronic braking we've been talking about, the best way to get them is to use the electronic controls that come with brushless motors. In recent years, several brands have introduced corded brushless angle grinders with these extra safety features.
That's a big deal on our team, and you don't have carbon brushes to replace. If these features aren't a big deal for you, you may find that the cord angle grinder that's right for you is a little different than what we recommend.
Best Small Angle Grinders (4-Inch and 5-Inch)
Metabo HPT AC Brushless 5 Inch Angle Grinder G13BYEQ
Metabo HPT earns our award for best corded small angle grinder with its 5-inch AC brushless G13BYEQ. It uses a 12 amp brushless motor to spin the wheels up to 10,000 RPM. Paddle switches and an electronic brake ensure the motor stops quickly if your hands let go for any reason, and it has built-in kickback control that we prefer on grinders.
Price: $159
Best Medium Angle Grinder (6 Inch)
DeWalt Brushless 6" Angle Grinder DWE43244N
For your medium grinder, we like the 5"/6" DWE43244N from DeWalt. This is a corded paddle switch grinder that utilizes a brushless motor. As part of the DeWalt Performance & Protect series, it features an electronic clutch and electronic brake with kickback control.
For those working at heights, there is a lanyard attachment hook just below where the rope enters the housing.
For steering performance, the motor runs at 13 amps and produces a steady 1800 watts of power at speeds up to 9000 RPM.
Price: $249
Best Large Angle Grinders (7 Inch and 9 Inch)
Metabo 9 Inch Angle Grinder WEPB 24-230 MVT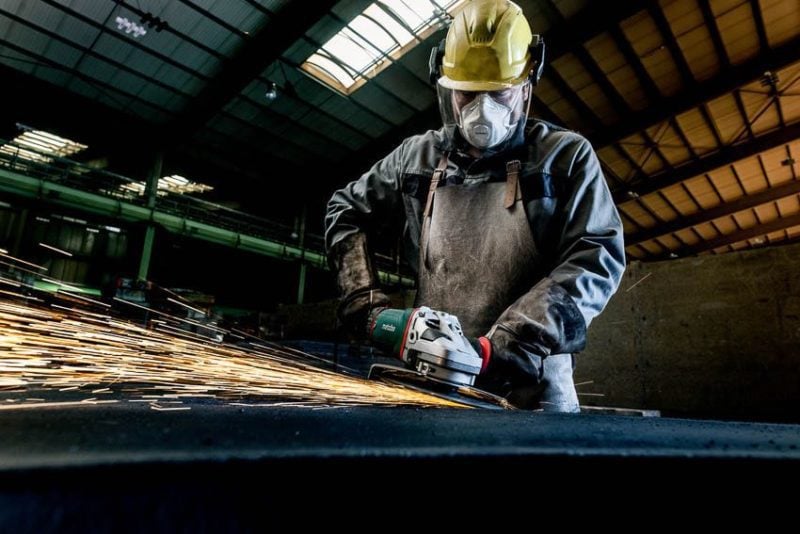 When it comes time to go big, we prefer the Metabo as the best corded large angle grinder. We particularly like the WEPB 24-230 MVT for several reasons. This 15 amp grinder is well built and can handle wheels up to 9 inches at speeds up to 6600 RPM. Although it's not a brushless model, it does have a mechanical disc brake that kicks in if the brake switch is released, the wheels lock, or even if the power is accidentally lost.
The "MVT" designation on this grinder stands for Metabo VibraTech and includes an internal damping system and a vibration-damping side handle.
We also really like the mouse tail handle design. Grinders of all sizes can have fairly wide handles, which can be difficult for small to medium hands to use. Metabo's rattail handles provide a more ergonomic grip for hands of all sizes.
Price: $359.99
cordless
Ryobi 18V One+ HP Brushless 4 1/2" Angle Grinder PBLAG01
Ryobi has taken a quantum leap in performance with its line of HP brushless and cordless tools, and the group's paddle switch angle grinders are no exception. Paired with a high-performance battery, the brushless motor is capable of 9200 RPM using 4 1/2-inch wheels.
This is one of the few grinders where the wheel can be removed without tools. Ryobi's FixTec Flange Nut has a flip up section that you can grab with your fingers and turn to loosen or tighten. You can use an adjustable wrench as a backup if the nut happens to be too tight.
Although this model is more expensive than some of the more budget-friendly options available, its performance makes it a great value.
Price: $129 bare, $179 kit (1 x 4.0Ah high-performance battery)
corded
Skil 8 Amp 5 Inch Cord Angle Grinder AG242001
Skil takes your basic grinder needs up a notch with its AG242001. Our top pick for the best corded budget angle grinder, this 5-inch paddle switch grinder is more powerful than its competition, with an 8-amp motor that produces an impressive 12,000 RPM.
It also has three handle positions and the adjustable wrench is stored inside the side handle so you are less likely to lose it.
Price: $49.99
best angle grinder brands
You can ask a professional which brand of angle grinder is the best and you will get a variety of answers. When we see grinders doing the toughest jobs all the time, no brand does it quite like Metabo. The quality of engineering and design and the incredibly deep line that covers all grinder needs make Metabo a top choice time and time again. They're more expensive than other specialty brands, but that's what we've come to expect at this level.
More options from brands we trust
Best Craftsman Angle Grinder
Craftsman's CMCG450 is a 4 1/2" brushless model that's an excellent value for less than $100 bare-bones. It's built to meet the needs of the serious DIYer, and has a 3-position side handle and an adjustable wrench that can be conveniently stored inside.
Price: $99 bare metal
Best Flex Angle Grinder
Although Flex has been around as a brand for a long time, its 24V cordless system is one of the newest on the market. Their 5-inch brushless variable-speed grinder doesn't have the first-gen feel, though. With legitimate pro-grade performance and a comfortable design, recoil control reduces the risk of injury when strapping, while side handles absorb vibration. It's also the best value in the professional small angle grinder category.
The grinder is available with a slide switch or a paddle switch.
Price: $179 bare, $199 kit (1 x 5.0Ah battery)
the best HART tool angle grinder
While the Ryobi is our pick for the best affordable cordless grinder, the HART tool makes a good case for being another high-value option for the HPAG25. Their brushless model has the same 9200 RPM as the Ryobi and has a three position side handle. The best part is the price — it's only $119 bare-bones.
The downside is that it's not sold as a kit with battery and charger. You'll need more than a sander, though, so invest in a brushless drill and impact driver combo to get you started.
Price: $119
Learn more from Hart Tools.
Best Kobalt Angle Grinder
Kobalt's top grinder is the cordless and brushless KAG 424B-03 (kit is KAG 1724A-03). It's a 5-inch model with paddle switches that covers all the basic functions you'll need, plus a few extras. It has a three-position handle, and the adjustable wrench is stored inside the handle, so you can use it when you need it.
Kobalt's most important story is performance. The brushless motor and 6-cell 24V max battery system keep your grinding wheel running at speeds up to 8500 RPM with enough power to support it.
Price: $129 bare, $219 kit (1 x 4.0Ah battery)
best porter cable angle grinder
Porter-Cable is back and Tractor Supply is in charge of the entire line! For both corded and cordless options, our top pick is Porter-Cable's Corded 7.5 Amp Grinder. It uses 4 1/2" wheels and a 3 position side handle. Best of all is the price — at just $39.99 and backed by a 3-year warranty, it's one of the best angle grinders around if you're on a budget.
Price: $39.99
Best Ridgid Angle Grinders
Ridgid has a wide selection of angle grinders, both corded and cordless. If you're looking for something with bigger wheels and more muscle that won't break the bank, check out the R10202. Its 15-amp motor delivers power to 7-inch wheels at up to 8000 RPM.
This model not only has 3-position side handles, but also a rotating 3-position mouse tail main handle design. Either way you cut, you'll be able to position your hands in a natural, comfortable position so you can focus on cutting rather than grasping. Plus, this powerful grinder retails for under $150.
Price: $149
best angle grinder for wood carving
Most people wouldn't think of an angle grinder for wood carving work, but there are accessories made just for this purpose. One of the most useful tools is essentially a wheel with chainsaw teeth on the edge. You can also use flap discs as you would metal.
Most wood carving wheels are 4 or 4 1/2 inches, so a small angle grinder is your best bet, and we highly recommend models with kickback controls. The trick here is to make sure your grinder isn't underpowered, as this can be a very aggressive application. If you have a spare battery and a fast charger, wireless charging can be a convenient option. However, we prefer the unlimited runtime of a corded grinder.
If you haven't thought of a grinder yet, Metabo HPT's G13BYEQ is our pick for the best corded small angle grinder.
Price: $259
best angle grinder for tile cutting
If you're cutting tile, granite, or other masonry with your angle grinder, you'll need a dust cover and a vacuum attached. The collection system keeps dust from entering your lungs while pulling it away from your cutting wire.
There are several add-on guards you can buy to replace your grinder's guard. Our top recommendation is DeWalt's DWE46125 Small Angle Grinder Cutting Guard ($84). If you're looking for an all-in-one solution, DeWalt's DWE46123 includes a cutting guard with grinder in one package for $219.
Price: $84 (shield only), $219 (grinder and shroud)
best concrete angle grinder
Similar to tile cutting, the best concrete angle grinders have plenty of muscle behind them, a guard to help collect dust, and unlimited run time on corded AC power.
Check out Makita's PC5010CX1 5-Inch Grinder with Concrete Guard as an all-in-one tool. Its 12 amp motor has 1400 watts of power, and it has a shock spring system to reduce work fatigue.
If you're looking for the absolute best in industrial grade concrete cutting and polishing, check out what US Saws has to offer. The Mark III Dust Buggy is ideal for cleaning up seams. For floor prep, the TC-7 Vertical Edge Trimmer lets you work on edges close to walls, where a large concrete polisher isn't the best choice. BTW, both use a Metabo grinder to get the job done.
Price: $289
The best angle grinder for cutting metal can actually be any of the grinders we recommend. It all depends on your expectations for performance, features and budget. What makes a big difference here is choosing the right accessories for the job.
You have two main choices: grinding or diamond wheels. Grinding wheels are much cheaper, while diamond wheels last much longer. If you do a cost-per-cut analysis, if you don't mind the upfront cost, diamond wheels will end up being more cost-effective.
If wheels are more your thing, we like the performance and longevity of Makita's, and they offer standard and X-Lock wheels. Another one to watch is DeWalt's Elite Series.
For diamond cut-off wheels, it's hard to beat Diablo on standard and X-Lock arbors. We also regularly use Lenox MetalMax diamond cut-off wheels.
Angle Grinder Safety Tips
Angle grinders can spin at 10,000 RPM or more. When something goes wrong on the business end, the consequences can be catastrophic, sending shrapnel into your face and body, injuring bystanders, or damaging materials and equipment around you. Here are some angle grinder safety tips to prevent it:
Always wear eye protection – no excuses!
Consider wearing a metalworking apron
wear cut resistant gloves
Never work without guards
Use brake grinders whenever possible
Get a grinder with kickback control
Consider using paddle switches instead of on/off switches
Wait until the wheel stops moving before putting down the grinder
how we choose
As we considered the dozens of quality grinders available, we prioritized a few things to help us come up with our recommendations.
Performance
At the end of the day, performance is still the number one priority. We're looking for a grinder with enough torque to keep its RPM high and keep working fast when things get tough.
size and weight
Given the choice, our team chooses the lightest, most compact tool that can still get the job done with confidence.
security features
Brake grinders with kickback control are the two most important safety features we look for. Any other innovations that improve safety also get high marks.
Additional features
After safety features, other design elements that make the job easier contribute to the grinder's overall score.
price and value
We take value very seriously. It's not about spending the least amount of money, it's about getting the most out of the angle grinder that fits your budget.
Ever looked at a "review" site, but you can't tell if they actually tested the tools, or if they were just "recommending" Amazon bestsellers? That's not us. We won't recommend anything unless we've actually used it ourselves, and we don't really care who the major retailers are. It's all about providing you with sound recommendations and our honest opinions on each product.
We've been in business since 2008, covering tools, writing reviews and industry news coverage for the construction, automotive and lawn care industries. Our professional reviewers work in the industry and have the skills and experience to see if a tool will perform well in the field.
Every year, we introduce and review more than 250 individual products. Our teams will use hundreds of other tools at media events and trade shows throughout the year.
We consult with innovators in tool technology and design to gain a broader understanding of where and how these products work.
We work with more than two dozen specialty contractors across the U.S. who review products for us on real job sites and consult with us on testing methods, categories, and weightings.
This year we're giving readers over 500 completely free new pieces of content, including objective reviews of tools and products.
The end result is information you can trust because we collectively draw on editorial, scientific, and real-world professional experience every time we pick up and test a tool.