Let Our Experts Help You Sort Through the Multitude of Excellent Angle Grinder Choices
When it comes to selecting the best angle grinder, the task might seem simple at first. However, once our team got together, we quickly realized that there are numerous outstanding models available. Almost every brand offers multiple options, making it a challenging task to narrow down the choices.
While we have done our best to select the top angle grinders based on our expertise, we acknowledge that we haven't tested all models. If you have a grinder that you love, feel free to share your thoughts and recommendations in the comments section.
How to Choose the Right Angle Grinder
Choosing the right angle grinder mainly depends on size and performance. Angle grinders are categorized into three main sizes: small, medium, and large. The size of the wheel determines which grinder is suitable for grinding, cutting, or polishing in specific areas.
It's crucial that the grinder has enough power to effectively tackle the task at hand. While an underpowered grinder may be able to cut 1/4-inch steel or grind a weld, a higher-powered grinder will accomplish the job much faster.
Additionally, convenience and functionality play a role in the decision-making process. Cordless angle grinders are becoming increasingly popular due to their portability and ease of use. The best cordless angle grinders can rival the performance of corded models, even for larger wheel sizes. However, keep in mind that cordless models tend to come at a higher cost and offer limited runtime.
Other features to consider include electronic brake, auto recoil off, advanced vibration control system, compatible guard for handling concrete/masonry, brushless motor (for both cordless and corded models), smart control/tracking, and multiple side handle mounting points.
Best Angle Grinder Overall | Our Top Picks
DeWalt 60V Max FlexVolt 6″ Angle Grinder DCG418
When it comes to the most frequently used tool, we rely on DeWalt's second generation FlexVolt angle grinders in our shop. These grinders offer exceptional performance, equivalent to 13 amps and 9000 RPM. They also incorporate essential safety features such as kickback control and electronic braking. The added convenience of cordless operation makes them an excellent choice.
Price: $229.00 bare, $319.00 (1 x 3.0Ah battery), and $469.00 (2 x 3.0Ah batteries) kit options
Best Cordless Angle Grinder
With DeWalt's top rating in the overall category, it's no surprise that they also offer the best cordless angle grinder. We highly recommend the following three options:
Best Cordless Small Angle Grinders (4-Inch and 5-Inch)
Milwaukee M18 Fuel 5 inch one button angle grinder 2883/2882
Milwaukee's newest flagship small angle grinder provides excellent power, braking, and kickback control. It can accommodate both 4 1/2 and 5-inch wheels, with a top speed of 8500 RPM. The 2883 (slide lock) and 2882 (paddle switches) models also feature one-touch functionality, making them ideal for construction firms and shops that require efficient tool tracking.
Price: $219 bare, $469 kit (2 x 6.0Ah high output batteries)
Best Cordless Medium Angle Grinder (6-Inch)
Bosch Spitfire ProFactor 18V Connected-Ready X-Lock 6″ Angle Grinder GWX18V-13CN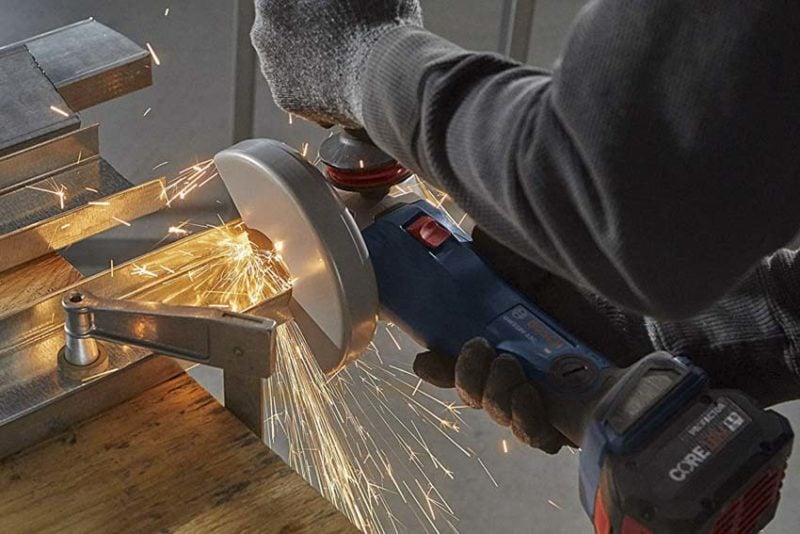 Bosch's GWX18V-13CN angle grinder boasts a tool-free X-Lock interface, capable of using 5- to 6-inch wheels. With a powerful brushless motor and a maximum speed of 8500 RPM, this grinder offers exceptional performance. Its electronic braking, recoil control, drop control, restart protection, and connected-ready feature make it stand out from the competition.
Price: $249 bare, $399 kit (1 x 8.0Ah Core18V battery)
Best Cordless Angle Grinders (7 Inch & 9 Inch)
Makita 40V max XGT AWS ready 9 inch angle grinder GAG10
Despite their size, cordless large angle grinders offer excellent portability. Among the major brands, Makita, Metabo, and Milwaukee provide reliable options in this category. Our top pick for the best cordless large angle grinder is the GAG10 from Makita.
Powered by a single 40V Max XGT battery instead of two 18V batteries, this grinder features kickback and brake safety features, along with AWS (auto-start wireless system) compatibility. With a speed of up to 6600 RPM and a separate rear handle for reduced vibration, it is a versatile choice for various applications.
Price: $309 bare, $469 (1 x 4.0Ah battery)
Best Corded Angle Grinder
To obtain the safety features we mentioned earlier, it's crucial to choose a grinder with electronic controls and brushless motors. In recent years, several brands have introduced corded brushless angle grinders with these additional safety features.
Our top recommendations for the best corded angle grinders are as follows:
Best Small Angle Grinders (4-Inch and 5-Inch)
Metabo HPT AC Brushless 5 Inch Angle Grinder G13BYEQ
Metabo HPT's 5-inch AC brushless G13BYEQ angle grinder is our top choice for corded small angle grinders. It features a 12 amp brushless motor, capable of spinning the wheels at speeds up to 10,000 RPM. With paddle switches, electronic brake, and kickback control, this grinder provides optimal control and safety.
Price: $159
Best Medium Angle Grinder (6 Inch)
DeWalt Brushless 6″ Angle Grinder DWE43244N
DeWalt's 5″/6″ DWE43244N angle grinder is our top pick for the best corded medium angle grinder. It features a brushless motor, electronic clutch, electronic brake, and kickback control as part of the DeWalt Performance & Protect series. With a motor running at 13 amps and producing 1800 watts of power, it guarantees reliable performance.
Price: $249
Best Large Angle Grinders (7 Inch and 9 Inch)
Metabo 9 Inch Angle Grinder WEPB 24-230 MVT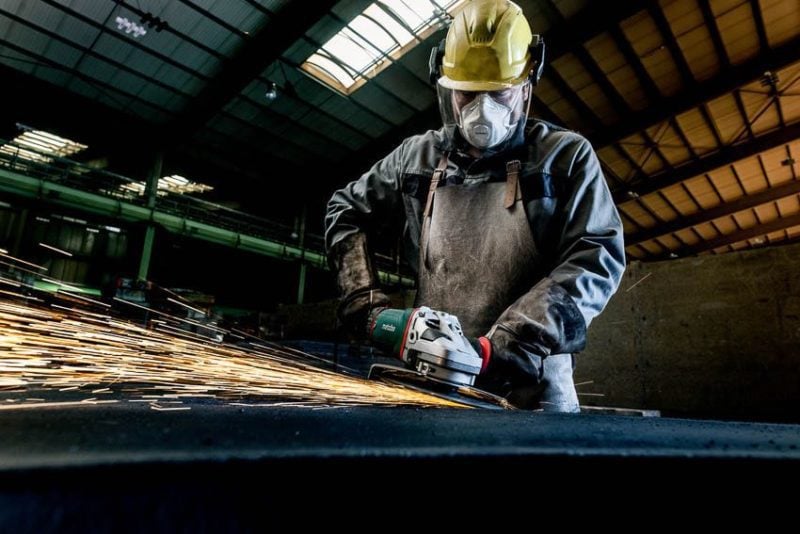 For heavy-duty tasks, the Metabo WEPB 24-230 MVT is our top choice for the best corded large angle grinder. With a 15 amp motor, it can handle 9-inch wheels at speeds up to 6600 RPM. The grinder also features a mechanical disc brake, Metabo VibraTech for vibration damping, and a comfortable rattail handle design.
Price: $359.99
Best Angle Grinder Brands
Metabo is known for providing exceptional quality and engineering. Their extensive grinder line covers all the necessary needs, making them a top choice for professionals. Although their products come at a higher price point, their performance and durability justify the investment.
More Options from Brands We Trust
Best Craftsman Angle Grinder
Craftsman's CMCG450 is a 4 1/2″ brushless angle grinder that offers excellent value for less than $100. Designed to meet the needs of DIY enthusiasts, it features a 3-position side handle and a conveniently stored adjustable wrench.
Price: $99 bare metal
Best Flex Angle Grinder
Flex's 24V cordless system provides professional-grade performance, including their 5-inch brushless variable-speed angle grinder. With recoil control and comfortable design, it offers exceptional value in the professional small angle grinder category.
Price: $179 bare, $199 kit (1 x 5.0Ah battery)
The Best HART Tool Angle Grinder
HART's brushless angle grinder, HPAG25, delivers excellent performance at an affordable price. With features like a three-position side handle and a price of only $119 for the bare tool, it is a great value option.
Price: $119
Best Kobalt Angle Grinder
Kobalt's cordless and brushless KAG 424B-03 (kit is KAG 1724A-03) is a 5-inch angle grinder that offers versatility and convenience. With a three-position handle and an adjustable wrench stored within the handle, it delivers excellent performance and portability.
Price: $129 bare, $219 kit (1 x 4.0Ah battery)
Best Porter Cable Angle Grinder
Porter-Cable's Corded 7.5 Amp Grinder is our top pick for the best Porter Cable angle grinder. With its affordability and reliable performance, it stands out among budget-friendly options. The grinder features a 3-position side handle and a rotating 3-position mouse tail main handle design for enhanced ergonomics.
Price: $39.99
Best Ridgid Angle Grinders
Ridgid offers a wide range of reliable angle grinders, both corded and cordless. For a bigger wheel size and added power without breaking the bank, we recommend the R10202. This grinder provides optimal control with its 3-position side handles and 3-position mouse tail main handle design, all at an affordable price.
Price: $149
Best Angle Grinder for Wood Carving
Surprisingly, angle grinders can be used for wood carving with specific accessories. One useful tool for wood carving is a wheel with chainsaw teeth on the edge. Flap discs can also be used for wood carving. The most suitable angle grinder for wood carving is generally a small one with kickback controls. Ensure that the grinder is powerful enough for aggressive applications. Although wireless charging is convenient, corded grinders provide unlimited runtime, making them ideal for wood carving tasks.
Price: $259
Best Angle Grinder for Tile Cutting
When cutting tile, granite, or other masonry materials, it's crucial to use a dust cover and attach a vacuum for dust collection. These measures protect against dust inhalation and keep the working area clean. DeWalt offers excellent options with their cutting guards, either separately or as part of a grinder-shroud combination.
Price: $84 (shield only), $219 (grinder and shroud)
Best Concrete Angle Grinder
Similar to tile cutting, cutting and polishing concrete requires a grinder with ample power, a dust collection guard, and unlimited runtime on corded AC power. Makita's PC5010CX1 5-Inch Grinder with Concrete Guard combines all these features into a single tool. With a powerful 12 amp motor and a shock spring system, it guarantees optimal performance. For industrial-grade concrete cutting and polishing, US Saws offers the Mark III Dust Buggy and the TC-7 Vertical Edge Trimmer, both utilizing Metabo grinders.
Price: $289
Angle Grinder Safety Tips
Angle grinders can reach speeds of 10,000 RPM or higher, making safety precautions crucial. To prevent accidents, follow these tips:
Always wear proper eye protection.
Consider wearing a metalworking apron and cut-resistant gloves.
Never work without guards.
Opt for grinders with brake systems when available.
Choose grinders with kickback control.
Use paddle switches instead of on/off switches for added safety.
Allow the wheel to come to a complete stop before setting the grinder down.
How We Choose
Our recommendations are the result of thorough testing and evaluation. We prioritize performance, size and weight, safety features, additional functionalities, and price. Our experienced team has firsthand experience with the tools we recommend and ensures that our recommendations are trustworthy and reliable.
Unlike other review sites that simply recommend Amazon bestsellers, we take the time to test tools ourselves and consult with industry professionals. Our extensive network of experts and contractors provides valuable insights, ensuring that we offer accurate and unbiased information.
With over a decade of experience in the industry, we have built a reputation for delivering objective reviews and comprehensive coverage. Our dedication to providing valuable content means you can trust our recommendations and rely on our expertise when selecting the best angle grinder for your needs.