Key Factors to Consider when Choosing an Air Compressor
Choosing the right air compressor for your needs requires some essential knowledge. It's not just about finding the best one – you need to understand key concepts such as CFM, circulation rate, and form factor. In the case of a home garage, upright tanks are recommended, but there are also portable options available. Before making a decision, it's important to have a clear understanding of your specific requirements.
Air Compressor Type
The first step is determining the type of air compressor you want. Some prefer a stationary cylinder that stays in one place, while others prefer something more portable. If you choose a stationary compressor, the longer air hose allows for greater mobility. However, if you plan on using it on the go, a stationary tank won't be suitable. Keep in mind that stand air compressors take up permanent space in your garage, limiting storage flexibility.
A variety of air compressor types.
A suitable compromise may be a larger 4-8 gallon jobsite air compressor. These come in various styles, some offering ample airflow and short cycle times for faster tank refills. If you opt for portability, you'll have to choose between a "hot dog" style air tank or a "pancake" style air compressor. Hot dog compressors work best in the garage due to their wheels (models with 4 gallons or more). On the other hand, pancake compressors lack wheels and have a low center of gravity, making them ideal for use on rooftops or in situations where rolling is not desired.
Airflow or Cubic Feet per Minute (CFM)
The required airflow or CFM depends on the tools you plan to use. For light tasks such as finishing nailers, you don't need a significant amount of airflow. However, if you want the best air compressor for your home garage, consider air tools like impact drivers, air ratchets, and air sanders, which require a higher CFM. For example, a small hardcover stapler only requires 0.3-0.5 CFM at 90 PSI, while an air ratchet may need 3-7 CFM depending on its size. If you intend to use an air sander, you'll need 11 to 13 CFM or more. To accommodate higher CFM needs, choose a compressor with a larger tank.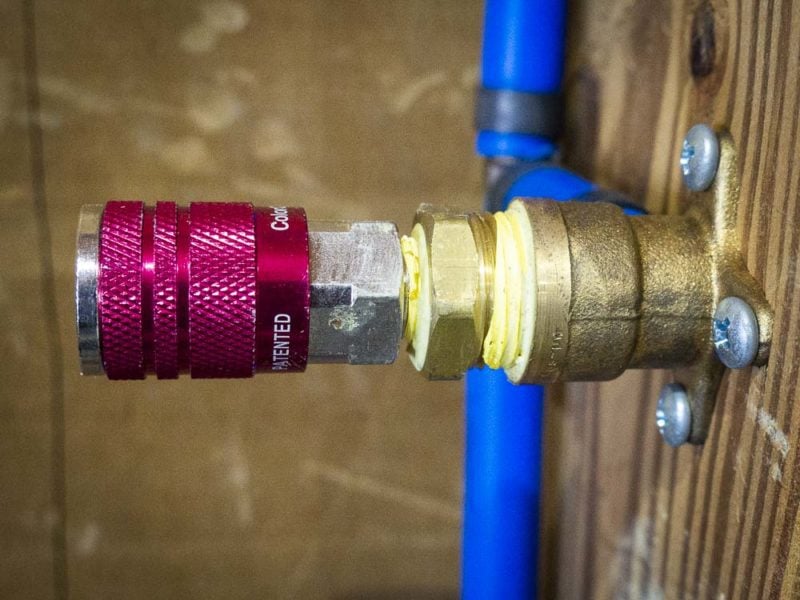 An NPT globe valve.
Pressure or PSI
Most air compressors can handle the air pressure requirements of basic air tools. Many tools perform well around 90 PSI, while others, like framing nailers, require higher pressure for maximum performance. It's worth noting that CFM rates decrease as air pressure increases. If you plan to use pressure-resistant tools such as tire inflators, grease guns, or framing nailers, ensure your compressor can meet the required pressure.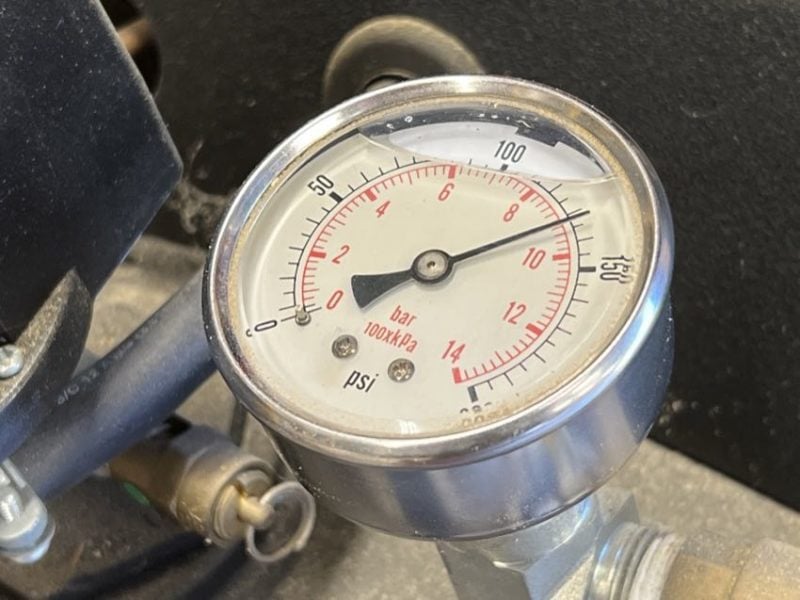 A pressure PSI compressor.
Duty Cycle Time
Duty cycle refers to the time between two consecutive compressor refills. Compressors without air tanks run at a 100% duty cycle, continuously delivering the specified pressure at the rated PSI. However, even compressors with a 100% duty cycle need breaks. It's important to choose a compressor that can provide the necessary pressure and volume of air for your tools. For continuous tools like air ratchets and grinders, faster tank fill rates or larger tanks are required.
Best Tank Sizes for a Home Garage
For home garages, 60-80-gallon tanks are recommended. Although larger tanks are available, 60-80 gallons are sufficient for most applications in a garage or small workshop. If you prefer a highly portable option, an 8 or 10-gallon model may be more suitable. These models are typically trolley-style or have a portable upright tank design. There are also oversized "hot dog" style compressors available.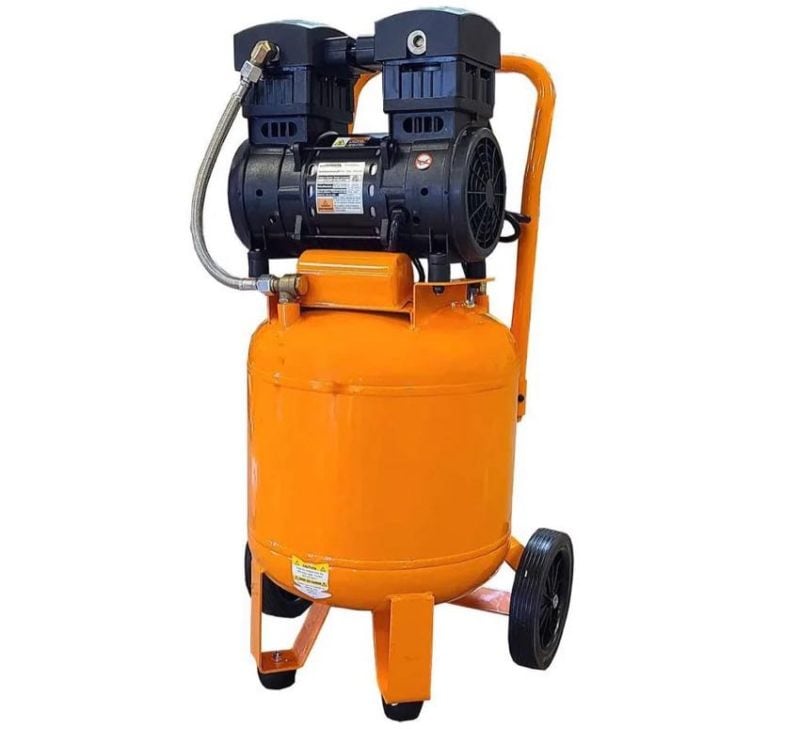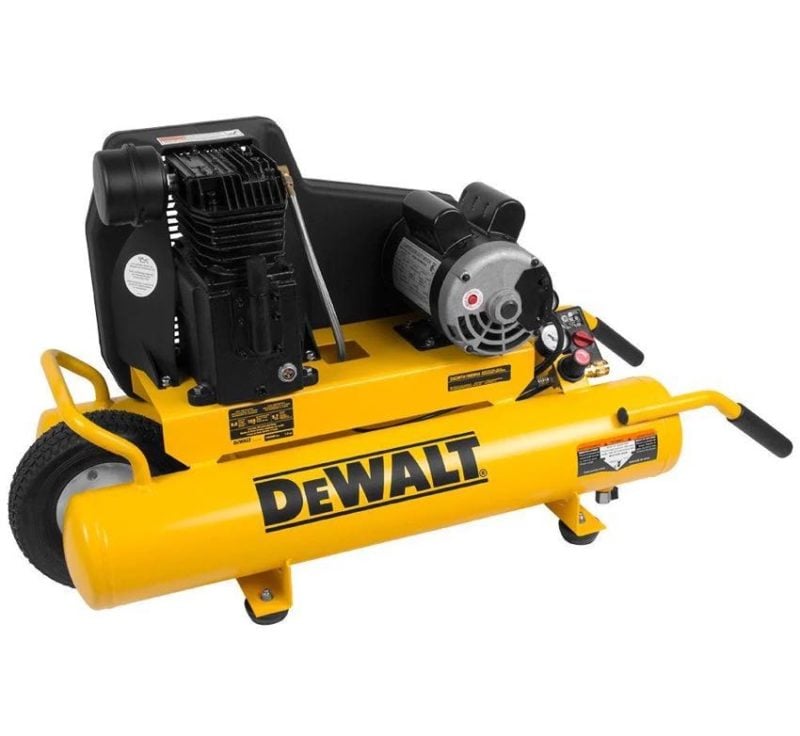 Different air compressor tank types.
If the above options seem too large for your needs, a portable hot dog or pancake air compressor with a 4-6 gallon capacity may be the perfect solution for your home garage.
The Best Home Garage Air Compressor Overall – Our Top Picks
Campbell Hausfeld 2-Stage 60 Gallon: Stationary Electric Air Compressor
Campbell Hausfeld consistently offers excellent value for air compressors. Our top pick for the best home garage air compressor overall is their 2-stage 60-gallon compressor (model XC602100) priced at around $999. This 240V single-phase compressor provides a maximum PSI of 175 and delivers 7.6 SCFM at 90 PSI.
Campbell Hausfeld is a reputable company known for its wide range of solutions, from budget-friendly options to tall 80-gallon compressors. They specialize in pneumatic products, as well as other tools like welders. The XC602100 model is assembled in the USA using global materials and comes with a 3-year limited warranty.
Ideal for: Air ratchets, nailers, and medium-demand air tools.
Ingersoll Rand 80-Gallon 5 HP 230V Single Phase Air Compressor
Ingersoll Rand is a trusted manufacturer known for reliable and high-quality stationary air compressors. Our recommended model is the 80-gallon 5 HP 230V single-phase air compressor. While we suggest the 2475N5 model with an air delivery of 17.8 SCFM, there are various options available, including 40 amp models with an output exceeding 24 SCFM. Ingersoll Rand offers both single-phase and three-phase options. Their products are also assembled in the USA.
Priced at approximately $2,570, this industrial-grade compressor features a cast-iron pump and high-quality bearings. It comes with a 1-year warranty.
Ideal for: Air ratchets, grinders, polishers, and demanding air tools.
The Best Portable Air Compressors for Your Home Garage
Rolair VT25BIG 2.5HP 5.3-Gallon Compressor with Folding Handle
The Rolair VT25BIG is our top pick for the best high-output portable air compressor. Priced below $400, this 2.5HP compressor boasts a 5.3-gallon capacity and a 100% duty cycle motor. It provides excellent air delivery and comes with a balanced, well-designed frame, making it highly portable. The folding handle adds to its convenience.
The Rolair VT25BIG is suitable for running lightweight air tools such as nailers and less demanding air tools.
Ideal for: Smaller air ratchets, nailers, and less demanding air tools.
Best 30 Gallon Air Compressors for the Home Garage
Husky C304H or Craftsman CMXECXM301 Portable Vertical Compressor
For those aiming to save space, a 30-gallon air compressor is a suitable choice. Our top picks in this category are the Husky C304H and Craftsman CMXECXM301 models. Both offer a 30-gallon capacity and provide 6.2 SCFM at 90 PSI. The Husky model and the Craftsman model are similarly priced, and both use 2 HP motors with a maximum PSI of 175. These compressors are likely from the same factory, offering comparable performance and value.
Ideal for: Air ratchets, nailers, and medium-demand air tools.
Air Compressor Maintenance Tips
Regular maintenance is crucial for keeping your air compressor running smoothly over the long term. It's advisable to check certain components more frequently if your environment is particularly dusty and dirty. Here's an outline of the recommended maintenance schedule for oil-filled compressors:
| | Daily | Weekly | Monthly | Every 100 Hours |
| --- | --- | --- | --- | --- |
| Check safety valve | | ✔ | | |
| Drainage channels | ✔ | | | |
| Check pump oil level | ✔ | | | |
| Check air filter | | | ✔ | |
| Replace pump oil | | | | ✔ |
| Check for oil leaks | | ✔ | | |
| Check drive belt | | ✔ | | |
| Check belt tension | | | ✔ | |
| Check pulley alignment | | | | ✔ |
| Check for abnormal noise/vibration | ✔ | | | |
| Air leak check | ✔ | | | |
| Clean look | | ✔ | | |
Note: Manufacturers may recommend more frequent inspections for air filters and drive belts for legal reasons. Our recommendations are slightly more relaxed to accommodate non-commercial use.
It's also essential to change the pump oil after the first 20 hours of use to ensure optimal performance.
How We Choose
Our product selections are based on a combination of factors and our team's collective experience as professional reviewers. We don't rely solely on popularity or external recommendations; instead, we thoroughly test and use the products ourselves.
We consider various options and features that make an air compressor easy to use and maintain. Additionally, we compare fuel tank capacity, airflow, noise output, and duty cycle among similar models to identify standout options.
Value is another important consideration. We prioritize affordability without compromising on build quality or performance. You can trust our recommendations because they are based on real-world experience and in-depth knowledge of the industry.
Our team has been reviewing tools since 2008, covering a wide range of products and gaining extensive experience. We work closely with specialty contractors who provide us with valuable insights based on their real-world use of tools.
In conclusion, the air compressors recommended in this article are reliable choices for your home garage.