We all have friends, fathers, brothers, uncles, sons or significant others who love to work on projects. Finding a great gift can be a challenge for the person in your life who likes to tinker, repair, fix, or otherwise work with their own hands. do not be afraid. We've put together a list of the 24 best tool gifts for DIYers in 2022. If you can't find something to blow their minds here, you won't find it anywhere!
Editor's note: Be sure to check out our best tool deals page for the latest discounts and promotions.
Table of contents
Best Tool Gifts for DIYers Under $25
Best Tool Gifts for DIYers Under $50
Best Tool Gifts for DIYers Under $100 (or so)
Our Favorite DIY Tools
Looking for more DIY tool gift ideas?
Milwaukee 10-Piece Titanium Nitride Blaster Bit Set
These bits can handle everything from wood to metal. Titanium nitride coatings are ideal for thinner steels and non-hardening metals. They also have excellent chip evacuation and don't heat up as quickly as other drills we've used. The Quad-Edge bit might seem like a gimmick, but in our tests, it drilled holes 30% faster than other split-point bits. Maybe that's why it made it to our list of the best drills.
---
Klein-Kurve Wire Strippers
Any handyman needs a great pair of wire strippers, and we love the ergonomics and feel of the Klein Kurve. Klein makes about two dozen different wire strippers for every possible occasion. We think this tool is one of the best tool gifts for DIYers of all types. It provides you with the most common wire sizes and features a comfortable curved handle. Best of all – it's made in the USA!
---
MagLite Mini PRO LED Flashlight
MagLite makes some great flashlights. For everyday task use, their SP2P01H LED Flashlight will get the job done. Powered by a few AA batteries, this simple light emits up to 332 lumens and lasts for up to 2.5 hours. Of course, for longer runtimes, turn it down and you can run this flashlight for multiple 8 hour workdays. We love its adjustable beam, IPX4 rating, and 1-meter drop-tested durability.
---
Irwin 5WR Vise-Grip Multi-Purpose Pliers
The Irwin Vise-Grip 5" Curved Jaw Locking Multi-Pliers add some variety to traditional tools. They include wire cutter functionality as well as folding stainless steel serrated blades. You even get a screwdriver with a detachable bit in its 1/4-inch bit holder. This three-tool design lets your favorite DIYer do more with less. Lastly, it comes with a lifetime warranty.
---
Home-It Mop and Broom Holders
Who doesn't love organization? We love that for less than $15, you can buy everything from brooms and mops to rakes and shovels, from floors to walls. The system uses gravity to instantly lock the tool in place by creating tension through floating clamp balls. You'll get 7.5 lbs of support per position. Any DIYer loves organizing in a simple way, so this is an easy win when looking for an inexpensive yet convenient gift.
---
Franklin T6 ProSensor Stud Finder
Stud finders come in all shapes and sizes. Some are very complicated to use. The Franklin Prosensor T6 is an accurate, compact full stud finder that works intuitively. You don't need a user manual. The simplicity and one-handed use of the controls combined with accurate readouts in drywall make it one of the best tool gifts for the DIY enthusiast.
---
Smith & Wesson SWPENMP2BK 5.8" Aircraft Aluminum Tactical Pen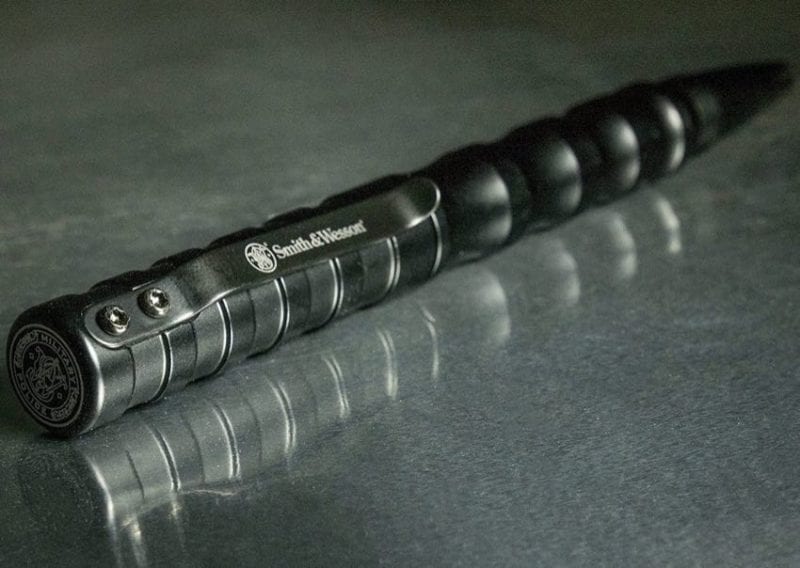 Tactical pens are great self-defense weapons and, in most cases, can be carried with you. We prefer traditional designs that aren't overly functional. Forget penlights—just give us a regular tactical pen with an aerospace aluminum body and refillable ink.
---
Gerber Prybrid Utility Knife
While the main feature of the Gerber Prybrid Utility Multi-Tool Knife revolves around its integrated pry bar, this unique utility/EDC knife offers so much more. Gerber managed to cram 8 different tools into a sub-$25 package that's more compact than most utility knives.
---
NOCO GENIUS2 2A Automatic Intelligent 6V/12V Battery Charger
We have used this tool extensively to charge a dead car, truck, SUV and motorcycle battery. One feature that really stands out is its ability to use "Force Mode". Where other chargers fail, the NOCO Genius 2 lets you force the charger to drip juice into the battery until it comes back to life. Then the normal charging process takes over. We literally brought batteries back from the dead with this smart charger!
---
Bosch GLM20 Laser Rangefinder
The GLM 20 laser distance meter builds on the simple but accurate GLM 15. Then they added backlit screens and increased the range from 50 feet to 65 feet. Bosch also passes in addition to feet and inches.
---
Milwaukee Hole Dozer Bi-Metal Hole Saw Kit (9 Pieces)
Milwaukee manufactures these Hole Dozer hole saws in the USA. This 9-piece set gives you a variety of sizes from 3/4 to 1-1/2 inches. The Milwaukee Hole Dozer Hole Saw also features a unique slot design that allows you to completely remove the plug. We also like the quick-change arbor, which allows for quick, tool-free changes. Pick up an extra 2-1/8" hole saw and you can handle door panels too.
---
Bestek 300W 12V Vehicle Power Inverter
When my Ridgid power inverter fell to dust, I picked up a Bestek 300W 12V power inverter. It has two 120V outlets and two 0-2.4A Hi-Speed USB charging ports and has been providing perfect on-the-road power for over a year – I use it every two weeks for about 6 hours straight. You may not have heard of Bestek, but they've grown very well.
---
Ryobi PCL406B 18V 5″ Random Orbit Sander
I don't know how you can be more convenient than a cordless orbital sander. The Ryobi 18V PCL406B sander showcases its second generation cordless sander. This 5-inch random orbital sander reduces vibration by up to 40% compared to previous models. With an onboard dust collector and multiple gripping areas—we love the simple design of this sander. Since the Ryobi ONE+ system already has over 250 cordless tools, your favorite DIYer probably already has the 18V batteries and chargers he needs. If not, you can buy a starter kit for very little money.
---
Klein MM400 Digital Multimeter
Every DIYer needs a good basic digital multimeter. The Klein MM400 Autoranging Multimeter lets you measure different voltage ranges without manual adjustments. It measures AC/DC voltage and current as well as resistance. However, it also adds the ability to measure temperature, capacitance, frequency, duty cycle and even test diodes and continuity. For the price, this multimeter covers all the bases.
---
Hart 20V Cordless Rotary Tool
Hart Tools has some pretty impressive products – all of which are sold at Walmart. Notably, they have a 20V cordless rotary tool that includes a 33 piece accessory kit. You can use this tool to perform various tasks and projects. Plus, since it's cordless, you can take it anywhere. You'll still need to buy the battery and charger ($58), but at $69 bare-bones, it's a great, affordable gift.
---
DeWalt DW08802CG Green Crosshair Laser Level
For a simple but effective layout tool, you probably can't beat the DeWalt DW08802CG Green Crosshair Laser Level. You'll benefit from a brighter green laser that's easier to view indoors. You also get a very simple tool without much complexity.
---
Makita DMP180ZX 18V Cordless Inflator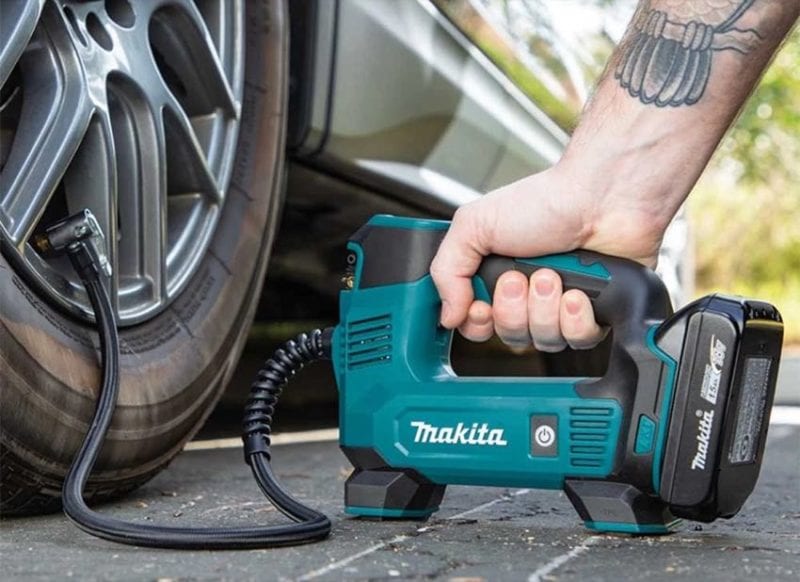 The Makita DMP180ZX 18V Cordless Inflator lets you quickly inflate car tires or sports equipment. This 12V Max cordless inflator features a backlit digital LCD screen so you can dial in the auto-stop function when the tool reaches your desired pressure. The kit version of the tool includes two 2.0Ah batteries. For anyone already on the Makita battery platform, this tool is an easy recommendation for just $99.
---
Bora Portamate PM-4500T Speedhorse
The Portamate PM-4500T Speedhorse is by far the easiest sawhorse we have used. Speedhorse sawhorses made by Portamate can support up to 1500 lbs. each. You also get a 2×4 support arm that converts 2 sawhorses into a sturdy workbench. Using a lever on the side, the legs can be unfolded like magic or folded away with ease. Convenient carrying handles allow you to quickly move them to and from your garage, truck, or shed. A pair can be had for less than $160 (and much less when they're on sale).
Another great recommendation: Toughbuilt C700 Metal Sawhorse
---
EGO PowerLoad Telescoping Aluminum Axle Mower
The EGO Powerload Telescopic Aluminum Shaft String Trimmer has an aluminum shaft that adjusts to your height. This makes it super adaptable – but also incredibly lightweight. We recommend this trimmer to everyone. From the unusual automatic power cord loading to the durability of this tool – this remains our favorite cord cutter to date. The kit costs about $219 ($159 bare), and makes a great DIY gift too.
---
Greenworks CS60L212 60V 16″ Cordless Chainsaw Kit
If you've never used a battery-operated chainsaw, buckle up. We really like the performance boost this Greenworks 60V 16" chainsaw has over the first generation. This newer saw goes far beyond what the average homeowner needs. It gets into a level of performance that larger owners can take advantage of. From storm cleanup to regular tree maintenance, we love this saw.
---
Skil CB739601 20V 4 Tool Kit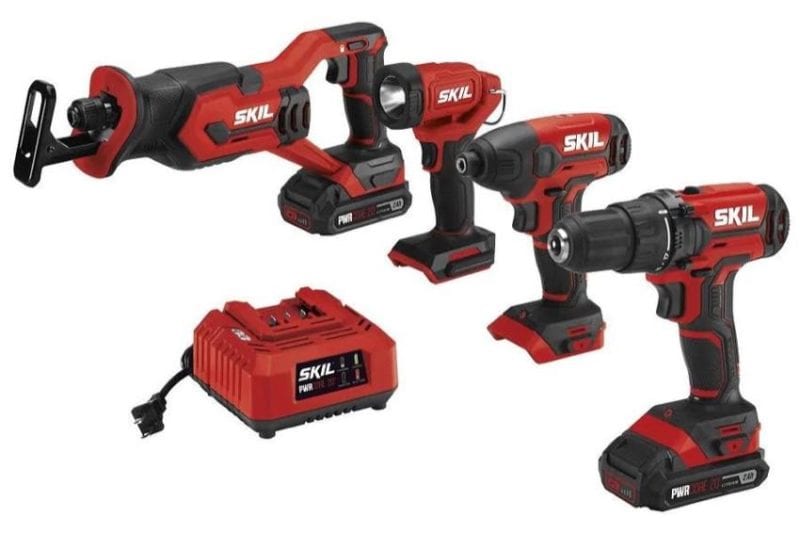 This is probably the best starter kit of DIYer tools on the market right now. For less than $180, you get three core Skil cordless tools, an LED flashlight, two batteries, and a charger. The three main tools include a 1/2-inch drill, a 1/4-inch impact driver, and a 1-inch stroke reciprocating saw. Whether your day involves installing shelves, loosening strong bolts, or tearing down walls, this kit can get the job done. With the two included batteries, you should have almost unlimited runtime depending on the task at hand.
---
Metabo HPT 8-1/2″ Sliding Compound Miter Saw C8FSESM
When this saw was branded Hitachi, it was at the top of our recommendation list. Now the company has changed its name to Metabo HPT. As it turns out – it didn't affect our favorite tool in the slightest. The Metbo HPT C8FSESM Miter Saw weighs only 36.2 lbs. At $329, it's not cheap. However, it's the most portable and easy-to-use miter saw we've ever used. We recommend it to everyone – from DIYers to trimmers, framers, and even woodworkers who insist on the highest quality, most precise cuts.
---
Milwaukee Cordless Framing Nailers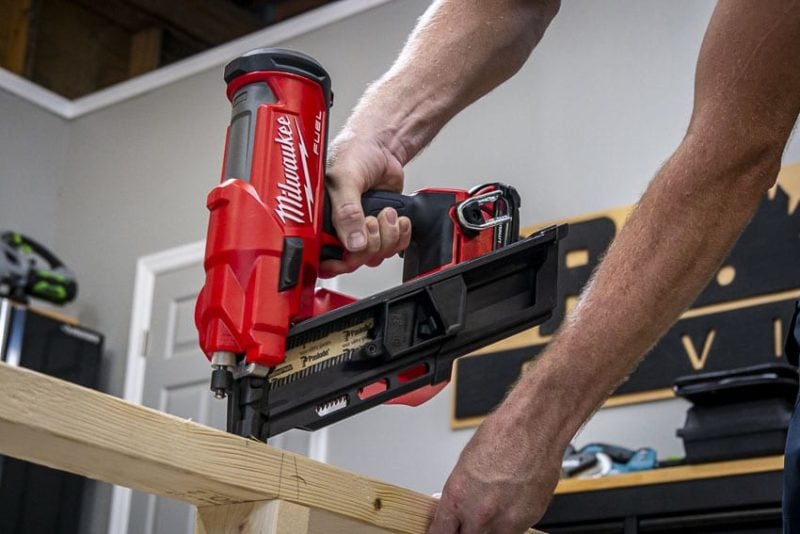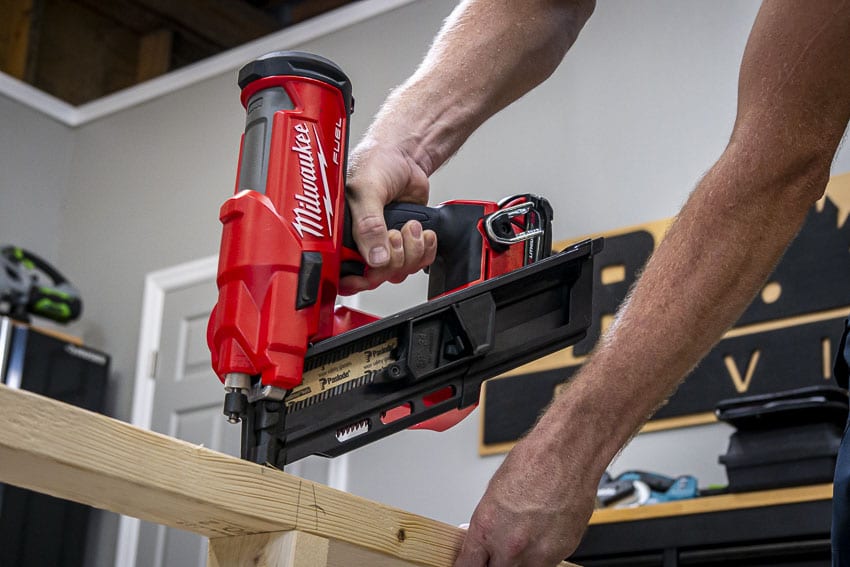 We love the cord-free freedom you get from the Milwaukee M18 FUEL Framing Nailer. From simple repairs to construction projects in the workshop, this 18V battery powered nailer has the power and runtime to get it done. Unlike some battery-operated nailers on the market, this one uses a battery-powered "preload" firing mechanism. That means when you pull the trigger – you get results. It doesn't have to "speed up" before the first shot. The result is a battery-powered nailer with the responsiveness and power of an air tool.
---
If you have a favorite DIY tool gift for the handyman or lady in your world, please leave a comment below. We're always looking for more ideas. Also, be sure to check out our great tool reviews, head-to-head comparisons, and great guides to training apprentices on Youtube.