It looks good, but how does it compare to my Stabila? Asking any carpenter to try a new level may be his first thought. Although there are several grades on the market, the Stabila appears to be the battle-tested champion. Only a few years into the North American market and unfamiliar to many merchants, can the Sola level "level" the playing field in its Big Red 3 form?
We'll find out. I've been installing cabinets and furnishing a spectacular new home for the past two years, but there's still so much to do.
advantage
60% magnification for easy-to-read vials
Excellent accuracy of 0.0003 in/in
shortcoming
recommend
By focusing on high precision and visibility, the Sola Big Red 3 offers an excellent general purpose level for almost any Pro.
main features
Aluminum profiles with ribs
Patented Sola Focus vial
Shatterproof Acrylic Block Vials with Magnifying Glass (+60%) and 30 Year Leakproof Guarantee
Sola Glow in the Dark Backing for Dim Light
Shock absorbing end cap
Performance
Sola Big Red 3 has always been the European name, the US market only buys the model under the Big Red name. The Big Red 3 is available in Standard, Magnetic and Digital. One of the most striking claims made by Sola is that this is the "world's most accurate box beam level", with an accuracy class of 0.30 mm/m. In US measurements, that translates to 0.0003 in/in – 40% more accurate than our 0.0005 in/in baseline Pro standard.
Of note, the vial is slightly less accurate in the inverted position (0.0005 in/in). These accuracy levels are the same as the Sola Big Red models currently available in the US market.
So what else sets this Sola level apart?
It must be a very large vial with a shaded end rather than a line. They are easier to see. Manufacturers of spirit levels have experimented with color combinations and contrast to improve visibility. But Sola had a bright idea: make the vials and bubbles bigger.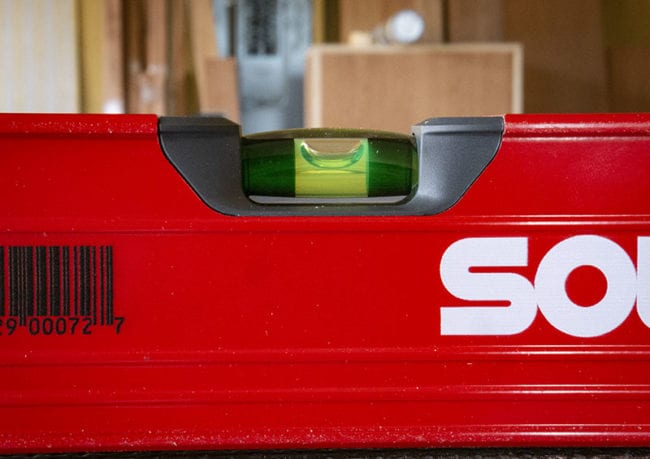 The shaded area that replaces the traditional bubble line hugs the end of the bubble tightly. Not only is this a stark contrast, but there is also very little room for user error. I tested Sola's accuracy with my Stabila and found it to be perfectly accurate.
Difficult to handle
Although this Sola Big Red 3 level is short, I wish it had a handle like its longer brother. My 16" Stabila has one I use all the time. I'd even swap out my Stabila for this Sola level that has that feature. There are a few things that I don't think I'll say at the start of this review. You don't have to get bigger to get them, though. Sola designed handles starting with a 32-inch length.
I prefer the rubber end caps on the Sola to my Stabila. I kept them although I saw some pros remove them. Stabila's rubber bumpers degrade and crumble. I haven't used the Sola long enough to observe the long-term performance of its end caps, but it seems to be made of a stronger material.
I don't usually need those rare earth magnets since I mostly work with wood. But I often use metal door frames and the like. It's nice to have magnets in those cases, and the Sola's are strong enough. What's more: Dirt, dust, and metal filings around the magnets on this level are easy to remove. With my Stabila, I'm finding it a bit difficult to do this.
price and value
The 48-inch model of the Sola Big Red 3 is about $80. We expect the 24" to be closer to $50, which is a lot less than the Stabila 37424 Type 196 (which has two handles, by the way). But it's a lot more than the $35 Empire em75.24. The question is whether the strength of the Sola vial and its other attributes dictate this price.
As a premium level, it does.
the bottom line
Accuracy and visibility are two things a high level needs, and the Sola Level Big Red 3 excels at both. With a simple upgrade to the handle, this model can seriously run on a Stabila for my needs as a carpenter.
Sola Level Big Red 3 Specifications
Item No.: Sola Big Red 3 24″
Material: aluminum
Surface: epoxy resin coating
Weight: 1.9 lbs
Measurement tolerance standard position: 0.30 mm/m (0.017°, 0.0003 in/in)
Measurement tolerance for reverse measurement: 0.50 mm/m (0.029°, 0.0005 in/in)
Number of horizontal bottles: 1
Number of vertical vials: 2
Price: $80 (48" model pricing – 24" pricing TBD)
Warranty: 30-year vial leak warranty