The Snapper Commercial Lawn Mower: Uniting Quality, Performance, and Value
When gas lawn mowers are marketed as commercial models, we expect top-notch performance and quality. Our gas and battery-powered lawn mower reviews tested 24 different models, including commercial competitors. One standout is the CRP218520 Snapper Commercial lawn mower, crafted by a brand with a rich history in mowing technology.
Advantages
Sturdy Build
Impressive Cut Quality
Effortlessly Handles Rapid Growth
Ninja Mulching Blade Boosts Cutting Power
Shortcomings
Drive Handle Cover Tends to Come Off
Engaging and disengaging the Drive Handle Requires Effort
Smaller Fuel Tank Compared to Other Commercial Mowers
Shootout Results
The CRP218520 Snapper Commercial Lawn Mower offers exceptional value in the commercial gas segment. It boasts the cutting power to handle various conditions and exhibits a durable construction. Although its mechanical drive system may appear dated, it is easy to maintain and repair. With a price tag that can save you $500 or more when compared to higher-end models, this lawn mower deserves serious consideration.
Home Gas Lawn Mower Rank: #3
Performance
To reach our conclusions, we conducted a range of tests, and you are welcome to dive into the details in our lawn mower shootout.
Cutting Force
When evaluating performance, it's crucial to note that while the other commercial models we tested employed Honda's GXV160 engine, the Snapper utilizes a 190cc Briggs & Stratton Professional Series engine.
We first conducted a no-load test to measure the mower's cutting speed. The Snapper Commercial's 21″ blade maintained a speed of 2797 RPM, reaching a tip speed of 174.7 MPH without any strain.
Compared to our other options for commercial gas-powered lawn mowers, this model was the slowest. However, the speed is still sufficient for cutting. Before making any judgments, it's essential to consider how it performs under load.
Battery-powered motors often direct more power to the blades in light-load situations, leading to increased tip speed. In the case of gas engines, the tip speed remains similar to the no-load speed.
However, subjecting the Snapper Commercial mower to a heavier load can affect its tip speed. Under increased pressure, this model experienced a drop of 8.9 MPH, the largest decrease we observed, resulting in a speed of 165.7 MPH. Although the blade can still cut effectively at this speed, the engine tends to stall more frequently compared to other commercial models.
Torture Test
In our torture test, we mowed a straight line through 5 weeks' worth of overgrown grass while walking at a consistent 2.5 MPH. We measured the distance covered while the mower was stationary.
It's important to note that it's impossible to measure a lawnmower's performance entirely objectively due to numerous variables. Hence, we did not factor these results into our final scores.
In our test, the Snapper Commercial mower became slowed down after mowing just 13 feet. The winner of this test managed to mow an additional 100 feet, while one of our battery-operated mowers mowed over 60 feet. Nevertheless, this mower effortlessly cuts through two weeks of growth almost as easily as it manages one week of growth.
To summarize, when dealing with overgrown grass, start with the highest cutting height possible and gradually reduce it until you have the situation under control. For grass that is only a week or ten days old, regular mowing will suffice.
Cutting Area
Ideally, you want to complete your mowing job without having to refuel midway. Although refueling is not as inconvenient as recharging a battery, it still takes time and disrupts your workflow. To assess performance in this category, we measured the cut area achieved on a single tank of fuel.
The Snapper Commercial comes equipped with a single 36-ounce fuel tank, which limits its mowing capacity when compared to other commercial mowers. Nonetheless, the tank allows for over an hour of runtime.
With its 21-inch blades, this mower can cover 26,022 square feet or approximately 0.60 acres before requiring a refuel.
Fuel Efficiency
While cutting area is an important consideration, fuel efficiency is equally crucial. How much fuel does the engine consume? Does it sip or guzzle gas?
Running on a tank for 68 minutes, the Snapper Commercial can cut approximately 2.12 acres per gallon of fuel. This falls within the range of 1.88 – 2.57 acres per gallon that we tested.
Interestingly, residential mowers tend to be much more fuel-efficient, achieving a range of 2.11 – 3.02 acres per gallon.
Feature Set
Variable Self-Propelled
The Snapper Commercial lawn mower stands out with its unique drivetrain, offering a variable travel speed of up to 4 MPH. This feature is made possible by a mechanical disk transfer system. The disc moves left or right against the flywheel, becoming faster the further it moves from the flywheel, and slower when closer. To set your desired pace, simply adjust the lever on the left.
To engage the drive system, hold down another lever against the handle. Although this setup is functional and reasonably comfortable, it does have some drawbacks. After every turn, you need to release the drive and then re-engage it. This inconvenience could be avoided if the mower had front-wheel drive.
The rubber cover on the lever also tends to come off. For long-term use, it might be wise to secure it with electrical tape to prevent it from sliding around.
Deck Material
For a mower claiming to be commercial-grade, a steel deck is a must. The Snapper Commercial does not disappoint, featuring a robust steel deck.
While examining the deck, it's worth mentioning the unconventional design of the Ninja Mulching Blade. This X-shaped blade offers better suction and a larger cutting surface area than standard blades. In practice, this unique design allowed us to effortlessly mow through two weeks of growth without any slowdown.
Height Adjustment and Range
The Snapper Commercial lawn mower provides seven height adjustment stops, ranging from 1.375 inches to 4.25 inches. This extensive range should effectively handle most types of grass.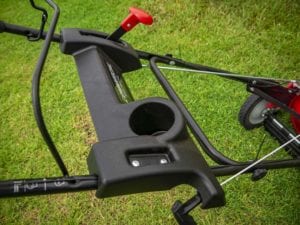 We appreciate the one-point height adjustments, although they are less common on gas mowers. Single-point adjustments require the weight of the mower to facilitate height adjustment. Snapper Commercial, like other commercial competitors, opts for individual height adjustments on each of its four wheels. While it takes more time to adjust the height, this design choice results in a more durable and stable mower.
Discharge Option
The Snapper Commercial focuses primarily on coverage, featuring a Ninja Mulching style blade. Bagging is offered as a secondary option, and if you prefer side discharge, you can purchase the chute separately.
Additional Features
Value
The eXmark and Honda models retail for over $1000, whereas the Snapper Commercial is priced at $799 (and often even less online). This is where the story begins and ends. The Snapper offers a confident cut and a well-built machine at a $500 lower price point compared to high-end Honda models.
Furthermore, this mower comes with a 3-year warranty for residential use and a 1-year warranty for commercial use.
The Bottom Line
The CRP218520 Snapper Commercial Lawn Mower is an excellent investment in the commercial gas lawn mower segment. Boasting cutting power that can tackle almost any condition and exhibiting solid construction, this mower is well worth considering. Although its mechanical drive system may appear outdated, it is user-friendly and easy to maintain. With a price that can save you $500 or more compared to higher-end models, the Snapper Commercial is a top contender.
Snapper Commercial Gas Lawn Mower Manufacturer Specifications
Model Number: Snapper CRP218520
Engine: Briggs & Stratton 190cc Pro Series
Engine Torque: 8.5 ft-lbs
Fuel Capacity: 36 oz
Start: Recoil
Blade: 21″ Ninja Cover Blade
Drive Mode: Rear Wheel Disc Drive
Maximum Speed: 4 MPH
Cutting Height: 1.25″ – 4″
Price: $799
Warranty: 3 years residential, 1 year commercial
Please note that the article does not contain contact information, external details, or unrelated content.