Introduction
Skilsaw has recently introduced its groundbreaking Worm Drive Miter Saw at STAFDA 2018. This innovative product has generated a lot of excitement among our team, as corded power tools seem to be dwindling in popularity. We have previously reviewed the Skilsaw Portable Job Site Table Saw and the Heavy Duty Worm Drive Table Saw, with the latter being our preferred model.
Advantages and Disadvantages
Pros
Impressive cutting force
Exceptional accuracy
Highly visible bevel gauge
Shadow cut line indicator
Sturdy rails
Lightweight for a full-featured 12″ miter saw
Cons
Fence extension swings left and right
Spare blade experiences slight vibration
Dust removal could be improved
Editor's note: For more recommendations, check out our best miter saws article.
Skilsaw SPT88-01 Worm Gear Saw: Impressive Crosscutting
We have included and highly recommended the Skilsaw SPT88-01 in our comprehensive review of the best 12″ miter saws. This saw can effortlessly handle a remarkable 4 x 14 90° crosscut. With a tilt capacity of 48° to the left and right, it fulfills all expectations.
The Skilsaw SPT88-01 features an LED shadow cut line indicator, which we prefer over laser-guided systems. Lasers often dim in daylight and can be prone to calibration issues. The shaded cutting line provided by the LED ensures clear visibility of the blade marks on the material.
Lightweight Design for Enhanced Portability
Weighing in at just 51 pounds, the Skilsaw SPT88-01 claims to be the lightest in its class. After comparing it to other major professional-grade brands of 12″ sliding miter saws, which range from 51-65 lbs, it is evident that this is indeed a lightweight powerhouse. Its portability is excellent, especially when it is fully mitered and locked into place.
The Power of Worm Drive Gearing and Motor
The Skilsaw SPT88-01 is equipped with a 15 amp dual field motor, which is what one would expect from a 10 or 12-inch miter saw. Skilsaw's dual-field design ensures that the motor runs cooler, enhancing its longevity and reducing the risk of overheating.
Pro tip: Regularly check the oil level in the worm drive mechanism of the saw. Unlike standard miter saws, worm drive saws require oil. It is recommended to replace the oil after the first 10 hours of use and every 60 hours thereafter or annually.
Skilsaw Worm Drive Miter Saw: Cutting Performance
The 15 amp motor of the Skilsaw SPT88-01 spins the blade at an impressive 4,000 RPM. The worm drive gearing provides additional torque, resulting in a unique cutting experience compared to belt-driven models. The absence of a belt drive makes the Skilsaw saw feel different, offering greater power and agility.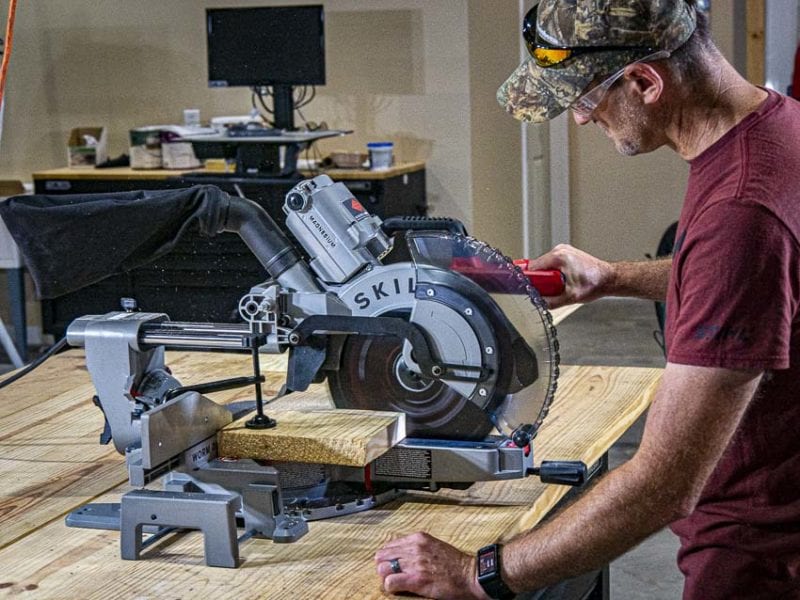 Finding the Perfect Cutting Speed and Power
It is important to allow the motor and blade to do the work when operating the Skilsaw SPT88-01. Forcing the blade through the material can lead to suboptimal results. This saw maintains its high RPM more effectively than many belt-driven models we've used. However, excessive force can introduce chatter and blade deflection.
When using the stock 60T blade on 2X wood, some native chatter is present. However, the resulting cut is as expected. By switching to a Guhdo 100T fine polish blade, the noise is significantly reduced. Allow the blade and motor to work harmoniously for the best results.
Compared to the direct-drive cutting action of the Makita 10-inch miter saw, the Skilsaw SPT88-01 offers superior gap-closing capabilities.
Skilsaw Worm Drive Miter Saw: Cutting Accuracy
Out of the box, the Skilsaw SPT88-01 may be slightly off the slope by about 1/2º to 1º. We recommend calibrating the saw before use. For best results, check the accuracy with a square at the start of each workday. Fortunately, it only takes a few minutes to rectify any deviations.
Some reviews have raised concerns about the squareness of the fence and tables. However, upon inspection using the Empire Level rafter grid, we found that our sample fully conformed to the standards. While the fence extension can be swung from side to side, it remains square during the cutting process. Simply tighten the bolts to secure it in place.
Regarding table extensions, we found ours to be level according to our rafter squares. However, excessive weight on one side may cause a slight tilt. This should not be a major issue, as the extension is primarily used to secure materials that extend beyond a few feet.
Bevel Cuts with the Skilsaw Worm Drive Miter Saw
The Skilsaw SPT88-01 utilizes a sliding step system for its miter stops. These stops are easy to use and highly visible. However, sawdust can accumulate on them during cutting. If you frequently make miter cuts, it is advisable to clear any sawdust build-up for optimal performance.
The bevel lock is located at the back, although we prefer front locks. However, back locks are the prevailing design in this type of miter saw. Even other top-tier models from different brands feature this configuration.
Handling Miter Cuts with the Skilsaw SPT88-01
The miter adjustment of the Skilsaw SPT88-01 is standard, featuring a front lock and detent overlay. The brakes are sturdy, and thus far, we have not noticed any plate wear that compromises accuracy.
A Smooth Rail System
The Skilsaw Worm Drive Miter Saw employs a 2-rail system that aligns with the saw rather than being offset. This design choice ensures stability and eliminates wobbling, resulting in a smooth cutting experience. However, it should be noted that this design requires additional space for the rails.
Another unintended advantage of the rail and worm drive motor configuration is improved visibility of the bevel gauge.
Dust Collection Considerations
The onboard dust collection of the Skilsaw SPT88-01 is satisfactory. However, for minimal mess, it is advisable to connect a vacuum to the saw. Despite this, it is still necessary to perform occasional cleanup around the saw. While some saws may have more effective dust removal systems, we have yet to encounter a job site model that eliminates the need for cleaning up afterward.
Pricing and Comparison
Professional-grade 12-inch dual-bevel sliding compound miter saws typically start at around $369 and increase in price from there. Skilsaw positions itself as a high-quality brand with a retail price of $629, similar to other top-tier models. Here is a comparison with other flagship miter saws:
Metabo HPT C12RSH2M: $449.97
DeWalt DWS780: $499.00
Skilsaw SPT88-01: $629
Makita LS1219L: $627.18
Bosch GCM12SD: $592.71
Milwaukee 6955: $699.00
While there are many players in the miter saw market, compromising on features can lead to cost savings. However, for those seeking the utmost in quality, the prices of Skilsaw miter saws align with those of other top brands.
Skilsaw Worm Drive Miter Saw: Specifications
Model: Skilsaw SPT88-01
Motor: 15 amps
No-load speed: 4000 RPM
Blade Diameter: 12″
Bevel range: 0° – approximately 45°
Bevel stops: 0°, 22.5°, 33.9°, 45°, 48°
Miter range: Right 60°, Left 50°
Miter stops: 0°, 15°, 22.5°, 31.6°, 45°, 50° left, 60° right
90° cutting capacity: 4 x 14
Weight: 51 lbs
Price: $629
Warranty: 1 year
The Bottom Line
While the Skilsaw Worm Drive Miter Saw could benefit from some improvements, it is undeniably a capable and precise tool. Its lightweight design sets it apart, making it highly portable on job sites. This saw is ideal for framers, remodelers, carpenters, joiners, and pruning carpenters. However, it is crucial to monitor the oil level due to its worm drive mechanism. Upgrading the blade is recommended for fine woodworking purposes.