The Skil MS6305-00 10-Inch Miter Saw offers an almost unheard of blend of capacity, power, usability, and value. Our crew used it when they added two floors to a 1915 bungalow downtown. Having used dozens of similar tools over the past 20+ years, this 10-inch Skil surpasses many others while remaining extremely affordable in the process.
Editor's note: Check out our best miter saw review article for our top picks. The Skil MS6305-00 should join the ranks soon once we run the numbers and crunch the results.
Skil 10" Miter Saw Key Features
We can go over all the features in detail, but anyone with experience with a miter saw will find the Skil MS6305-00 very familiar. You get a lot of adjustability, such as a double bevel and a two-way 51-degree miter.
The saw cuts 2×12 lumber at 90 degrees, and even 4×4 lumber with plenty of capacity. It's sure to make you wonder why you're lugging around a larger 12" miter saw.
We found it easy to carry the Skil miter saw to and from the job site every day. It weighs only 48.8 lbs. This is closer to the lower end of the weight we typically see on 10" sliding compound miter saws. We think the cast aluminum base saves a lot of weight.
You can get a quick idea of its weight by comparing it to the following saws (many of which are twice the price of this saw):
Bosch CM10GD 10" Axial Slide Miter Saw – 64.0 lbs.
Makita LS1019L 10″ Sliding Miter Saw – 57.9 lbs.
DeWalt DW717 10″ Sliding Miter Saw – 51 lbs.
Metabo HPT C10FSHCT 10″ Sliding Miter Saw – 45.2 lbs.
Ridgid R4113 10″ Sliding Miter Saw – 32 lbs.
It's easy to carry with the integrated handle, and we like how well-balanced it is when locked in the fully mitered position.
replace the blade
As I mentioned before, we used this saw extensively on a two story addition project. We added it to an old frame house that was built shortly after the turn of the century – last century, that's it! We cut a lot on the saw and actually had to replace the 10" miter saw blade.
Skil allows you to quickly change blades using an on-board wrench that is stored securely at the bottom of the saw. Built-in storage for tools means you won't have to hunt around for tools when you need a new blade. You can use a stud wrench to loosen the blade bolt cover screw and remove the blade bolt itself.
During blade changes, the guard initially supports itself. Ultimately, however, when you unscrew the anti-thread set bolt and replace the blade, you want to get your hands on it. The whole process took us less than a minute.
Skil 10 in. Miter Saw Integrated Material Support
Skills include sliding fences left and right. These offer a range of versatility. Use them for nested crown cuts (up to 6.5 inches), and slide them out of the way when performing more dramatic bevel and compound cuts. Skil will even punch holes in the fence to help secure sacrificial or secondary fences if needed.
For wider boards, the 10" miter saw gives you table extensions on both sides. These provide additional support when needed. You can also lock each extension table in any position – from fully closed to fully open. Oddly, while the clamps and sliding fences are adjusted using tool-free knobs, the extensions are locked using Allen screws. These are compatible with the included blade replacement wrench.
We can't help but mention again the really handy material gripper, it's fast, efficient and works just fine.
Cut with a 10" Skil. miter saw
The Skil 10-Inch Miter Saw works exactly as we expected it to. Cuts immediately without preheating. We noticed that the blade deflected slightly during use, so that helps ensure you keep your arm in control while cutting and avoid pulling it to either side. That's not uncommon for a saw at this price point.
We also felt about 1/32" of play on the miter detents (the Skil has a total of 9 stops). Oddly, you don't get any bevel stoppers – although the scale is marked with normal crown stops.
We love the LED shaded cut line indicator. This is our preferred cutting wire style and it offers a better solution than laser. You can see the cutting lines as shadows in all but the most direct sunlight.
Cutting ability and sliding action
We quickly noticed the capacity of this saw during our use. We found that we could cut 2x as much material at a full 45 degree bevel in either direction. The saw also cuts 2×12 at 90 degrees. Feed it a 4×4 and it does the same.
When you look at this capacity, there are only a few selected uses that would lead most professionals to use a 12" miter saw. For the rest of us, a 10 inch saw like this is the solution to 95% of the problems you're likely to have on the job site.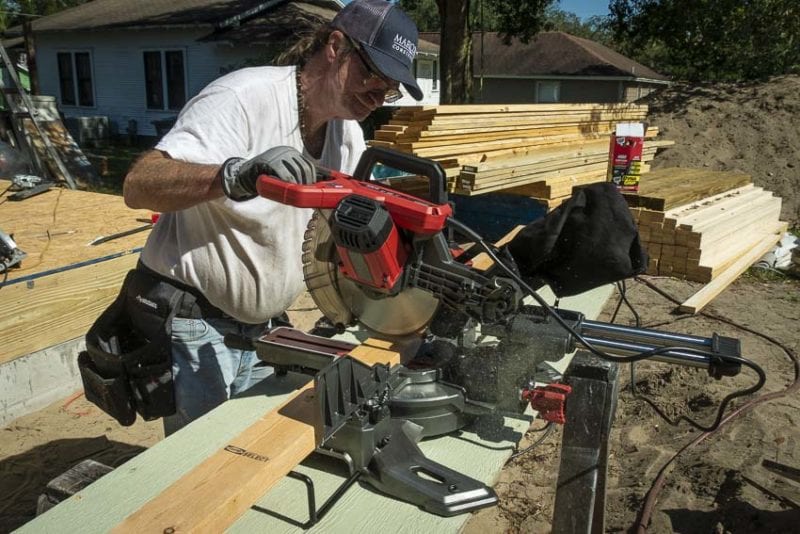 The slide mechanism on the Skil MS6305-00 Miter Saw makes it very deep. We measured approximately 40-1/2 inches from front to back when fully extended. That makes this saw best for outdoor use—or as we did with a pair of sawhorses. If you're using it in a store, make sure you have sufficient permissions.
Another thing worth noting is the guards. Skil found it perfectly. Unlike some DeWalt saws we've used, the guard stays out of the way and doesn't catch your thumb when going up and down.
We also like the clear line-of-sight visibility of this saw. Between that and the LED cutting line, our workflow was smooth and fast with dozens of cuts.
Skills 10 Inch Miter Saw Cutting Power
The power of the Skil MS6305-00 is astounding. You can push it through any 2X material without hesitation. The 15 amp motor never bogged us down and we made a lot of cuts in the hot Florida sun.
We also found the sliding mechanism to be very smooth. This may have something to do with using good quality linear bearings. When you push it a little, it glides almost freely.
The handle feels natural to us, but it definitely benefits right-handers. It's not uncommon, and most lefties are used to finding workarounds. Most of the time they just cut with their right hand. The security is good without overcomplicating the cutting process.
Skilsaw MS6305-00 Specifications
Motor: 15 amps
Speed (No Load): 4800 RPM
Blade: 10" (254mm)
Blade Arbor: 5/8"
maximum. Miter: Right 50°, Left 50°
maximum. Bevel: Right 45°, Left 48°
Miter detent (left): 0°, 15°, 22.5°, 31.6°, 45°
Miter detent (right): 0°, 15°, 22.5°, 31.6°, 45°
Bevel stops: 0°, 45°, 48° left and 45° right
Maximum crosscut (90°): 2×12 (1-1/2 x 11-1/4), 4×6 (3-1/2 x 5-1/2)
Maximum crosscut (45°): 2×8 (1-1/2 x 7-1/4)
Nesting Crown: 6.25 in.
Baseboard (against fence): 4.5 in.
Cord Length: 6 feet
Weight: 48.8 lbs.
Warranty: 3 years
Conclusions and Recommendations
For $250, the Skil 10-Inch Miter Saw is a very good saw with the features you want. Ten years ago, $250 would have bought a simple tool. Somehow, the Skil packs power, versatility, ergonomics, and convenience into a really good power tool that breaks every value record in our book.
No matter how long you use this Skil saw, it will make you really value the capacity of the 10 inch model. It absolutely eliminates most of the need for a 12" saw.
final thoughts
Honestly, I started my review of the Skil MS6305-00 10" Miter Saw with the wrong foot. First, for some reason, I thought the saw cost over $450. After discovering that I exceeded my $200 estimate, I gained an even greater appreciation for this well-built tool.
It's hard to express enough how pleasantly surprised it is to find a tool at this price that offers all the features of the Skil MS6305-00. There are other dual-bevel sliding miter saws for less than $250, but they lack… the attention to detail you find here.
The Skil MS6305-00 10 Inch Miter Saw is one of the best performing values on the market today. You'll be hard-pressed to find any better place to drop your $250 that will give you more value. You can find a more precise saw for detail work, but you'll almost certainly pay more. For framing and basic woodworking, this saw outperforms anything else in its price range.