Introduction
When it comes to miter saws, the Skil MS6305-00 10-Inch Miter Saw stands out from the crowd. It combines capacity, power, usability, and value like no other. Our team recently put it to the test during a two-floor addition to a historic 1915 bungalow. With over two decades of experience using similar tools, we were blown away by the performance of this 10-inch Skil saw. And the best part? It's remarkably affordable.
Skil 10-Inch Miter Saw Key Features
Let's dive into the features of the Skil MS6305-00. If you're familiar with miter saws, you'll find this one quite familiar. It's loaded with adjustable options, including a double bevel and a two-way 51-degree miter.
With this saw, you can effortlessly cut 2×12 lumber at 90 degrees and even tackle 4×4 lumber. You'll wonder why you ever bothered lugging around a larger 12-inch miter saw.
Portability is also a key feature of the Skil miter saw. Weighing in at only 48.8 lbs, it's on the lighter side compared to other 10-inch sliding compound miter saws. The cast aluminum base not only adds to its durability but also helps reduce weight.
Replacing the Blade
During our extensive use of the Skil MS6305-00 on a two-story addition project, we even had to replace the 10-inch miter saw blade. What sets Skil apart is the convenient on-board wrench stored securely at the bottom of the saw. No more hunting around for tools when you need a new blade. Replacing the blade is a breeze – just use a stud wrench to loosen the blade bolt cover screw and remove the blade bolt itself.
Skil 10-Inch Miter Saw Integrated Material Support
The Skil MS6305-00 offers sliding fences that provide versatility. They're perfect for nested crown cuts up to 6.5 inches, and you can easily slide them out of the way to perform more intricate bevel and compound cuts. Skil even includes holes in the fence for securing sacrificial or secondary fences when necessary.
For wider boards, this 10-inch miter saw features table extensions on both sides. These extensions provide additional support, and you can lock them in any position you need. While the clamps and sliding fences can be adjusted without tools, the extensions are locked using Allen screws, which conveniently work with the included blade replacement wrench.
We can't ignore the handy material gripper either – it's fast, efficient, and gets the job done.
Making Cuts with the Skil 10-Inch Miter Saw
The Skil 10-Inch Miter Saw performs exactly as expected. It cuts effortlessly without any preheating necessary. The blade may deflect slightly during use, but that's typical for saws in this price range.
You'll notice a slight play in the miter detents (9 stops in total). However, it lacks bevel stoppers, but the scale does have normal crown stops marked. Despite this, the LED shaded cut line indicator is a game-changer. Regardless of the lighting conditions, you can clearly see the cutting lines as shadows.
Cut Capacity and Sliding Action
The Skil MS6305-00 has impressive cutting capacity. It can handle twice as much material when making a full 45-degree bevel cut in either direction. This saw effortlessly cuts 2×12 lumber at 90 degrees, and even has the strength to handle 4×4 lumber. In fact, for most professionals, a 10-inch saw like this covers 95% of their job site needs, making a 12-inch saw unnecessary.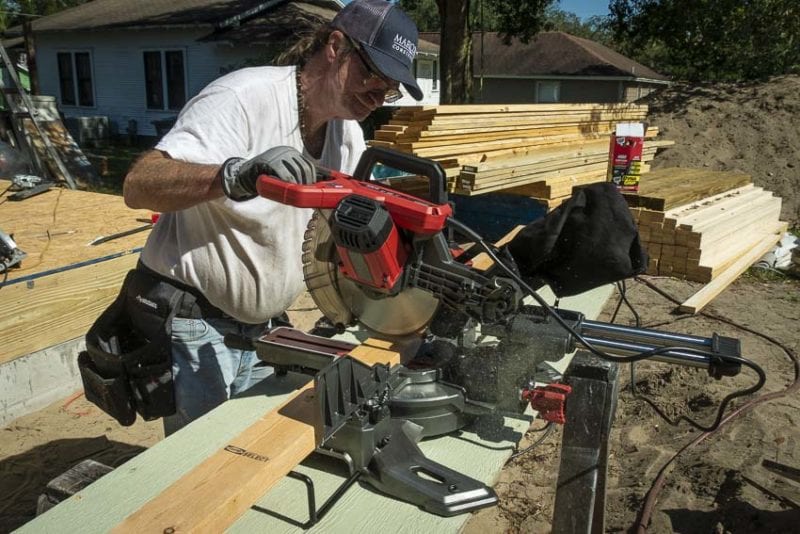 The sliding mechanism on the Skil MS6305-00 provides excellent depth, measuring approximately 40.5 inches when fully extended. It's perfect for outdoor use or can be paired with sawhorses. If you plan on using it in a store, make sure you have the necessary permissions.
The guard on this saw is incredibly well-designed. Unlike some DeWalt saws we've used, it stays out of the way and won't catch your thumb when moving up and down.
Skil 10-Inch Miter Saw Cutting Power
The power of the Skil MS6305-00 is truly impressive. It effortlessly cuts through any 2x material without hesitation. The 15 amp motor never bogs down, even when working under the scorching Florida sun. The sliding mechanism operates smoothly, thanks to the high-quality linear bearings. It glides freely with minimal effort.
The handle feels comfortable and natural, especially for right-handed users. Although lefties may need to make some adjustments, it won't hinder their productivity. The security features strike a good balance without complicating the cutting process.
Skil MS6305-00 Specifications
Motor: 15 amps
Speed (No Load): 4800 RPM
Blade: 10″ (254mm)
Blade Arbor: 5/8″
Maximum Miter: Right 50°, Left 50°
Maximum Bevel: Right 45°, Left 48°
Miter Detent (left): 0°, 15°, 22.5°, 31.6°, 45°
Miter Detent (right): 0°, 15°, 22.5°, 31.6°, 45°
Bevel Stops: 0°, 45°, 48° left and 45° right
Maximum Crosscut (90°): 2×12 (1-1/2 x 11-1/4), 4×6 (3-1/2 x 5-1/2)
Maximum Crosscut (45°): 2×8 (1-1/2 x 7-1/4)
Nesting Crown: 6.25 in.
Baseboard (against fence): 4.5 in.
Cord Length: 6 feet
Weight: 48.8 lbs.
Warranty: 3 years
Conclusions and Recommendations
At just $250, the Skil 10-Inch Miter Saw is an incredible value. In the past, this price range only offered basic tools. However, Skil manages to pack power, versatility, ergonomics, and convenience into this saw, setting a new standard for value.
Once you experience the capabilities of the 10-inch model, you'll realize it easily outperforms most 12-inch saws. Whether you're a professional framer or a woodworking enthusiast, the Skil MS6305-00 is the ideal choice within its price range.
Final Thoughts
To be honest, I started this review with the wrong assumptions about the Skil MS6305-00 10-Inch Miter Saw. I mistakenly believed it to be over $450. However, upon discovering its actual price, I gained an even greater appreciation for this well-built tool.
Finding a miter saw with all the features of the Skil MS6305-00 at this price point is truly remarkable. The attention to detail sets it apart from other dual-bevel sliding miter saws under $250.
When it comes to value, the Skil MS6305-00 10 Inch Miter Saw reigns supreme. You'd be hard-pressed to find a better tool in this price range. While there may be more precise saws available for detail work, they'll undoubtedly come at a higher cost. For framing and basic woodworking, this saw outperforms anything else within its price range.