Introduction
Between entry-level pressure washers and larger commercial models, you'll find the Simpson 3400 PSI Pressure Washer from the PowerShot series. This review aims to determine if it is suitable for homeowners or professionals, or even both.
Pros
Equipped with a Honda GS190 engine, ensuring reliable power.
Compact frame design saves storage space.
Features post-pump chemical injection for convenient use.
Engine and pump are easily accessible for maintenance.
Offers excellent value for money.
Cons
Handle position may be a bit low for taller individuals.
Axial lobe pumps limit professional usage.
Check out our best pressure washers article for our top picks.
Power Plant
One of the main highlights of the Simpson 3400 PSI Pressure Washer is its Honda engine. Unlike many other models, it utilizes the Honda GS190 engine, which falls between the commercial GX series and the domestic GC series in terms of durability and price. With a displacement of 187 cc, this manual recoil start engine provides reliable power for years to come.
Pump
Simpson combines the Honda GS190 engine with an AAA axial lobe pump to deliver the necessary pressure. The water control twist valve allows you to adjust the water flow as needed. This interesting pairing is chosen to cater to lighter use, while commercial pressure washers designed for heavy-duty tasks typically utilize triplex pumps.
Overall, the power plant and pump of the Simpson 3400 PSI Pressure Washer meet the needs of homeowners who require frequent cleaning and professionals who use pressure washers on a limited basis.
Performance
With a motor and pump capable of generating 3400 PSI of pressure and 2.3 gallons per minute (GPM) of water flow, this pressure washer strikes a good balance between entry-level models and more powerful ones with larger engines and triplex pumps. It can handle a wide range of cleaning tasks, including fences, concrete, paint preparation, roofs, and vehicle/equipment cleaning.
The main difference between the Simpson 3400 PSI Pressure Washer and higher PSI models lies in its cleaning speed, rather than its cleaning capability.
Accessories
In addition to the pressure washer itself, you receive a set of standard nozzles, a wand, and a 25-foot long, 5/16″ MorFlex hose. The hose is durable and non-marring, connecting seamlessly with standard 2-piece wands. The quick-connect nozzle set includes 0º, 15º, 25º, 40º, and a soap dispenser nozzle, conveniently stored on a plate near the top of the handle.
Additional Field Notes
Chemical Injection
Unlike many other pressure washers on the market, the Simpson 3400 PSI Pressure Washer doesn't feature a detergent tank. Instead, it employs a solution injection point on the output side of the pump. This thoughtful design ensures that the chemicals used don't pass through the pump assembly, making cleaning between different chemicals a breeze.
Hose and Gun Management
Transporting the hose and gun separately from the equipment is recommended. While the anchor points on the frame do a good job of holding the accessories in place, they tend to pop open during transportation.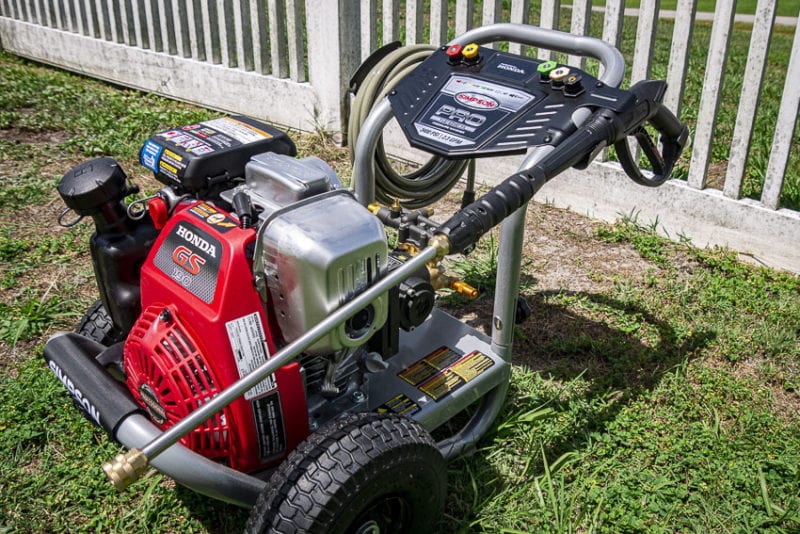 Compact Frame
The pressure washer's steel frame is remarkably compact, offering advantages and a few trade-offs. While the smaller frame size saves space, it requires the user to bend a bit more when grabbing the handle. Additionally, it doesn't provide the same level of protection as a full roll cage. However, the easy accessibility of the engine and pump, along with the space-saving benefits, make up for these drawbacks. To further reduce its footprint during storage, the handle can be flipped to sit over the center instead of protruding from the back.
Pneumatic Tire
Simpson incorporates 10-inch pneumatic tires into the design, which are wider than those found on cheaper models. While the difference may not be noticeable on concrete, it greatly facilitates maneuvering the pressure washer on grass and soil.
Price
The Simpson PS61044 3400 PSI Pressure Washer is priced at $599 at Lowe's. This falls in line with expectations, being approximately $150 more than entry-level models and $150 less than comparable commercial models driven by Honda GX engines and triplex pumps.
The Bottom Line
The Simpson PowerShot PS61044 3400 PSI Pressure Washer is ideal for homeowners seeking an effective cleaning solution and professionals in need of an affordable light-to-medium-duty model. However, for professionals who extensively use pressure washers for several hours each day, upgrading to a model equipped with a Honda GX engine and triplex pump is recommended.
Simpson PowerShot 3400 PSI Pressure Washer Specifications
Model: Simpson PS61044
Rated Pressure: 3400 PSI
Gallons Per Minute: 2.3 GPM
Engine: Honda GS190
Displacement: 187 cubic centimeters
Horsepower: 5
Pump Type: Axial Cam
Fuel Capacity: 0.475 Gallons
Hose Diameter: 5/16″
Nozzle Type: Pro-style tips with quick disconnect
Warranty: 3-Year Limited Commercial Engine Warranty + 2-Year Simpson Engine Protection Plan | 5-Year Limited Pump Warranty | 10-Year Limited Frame Warranty | 90-Day Limited Parts Warranty
Price: $599 at Lowe's
Check out Simpson's full range of pressure washers on their website.