Readers—both professionals and tool enthusiasts—ask us about two major brands the most: Ryobi and DeWalt. In the Ryobi vs. DeWalt debate, however, the question isn't which brand is more specialized. The real question is whether Pros can do what they need with less expensive, budget-friendly tools than more advanced models. So instead of discussing who makes the best tools between these brands, we plan to discuss both brands to discuss the differences that professionals should consider based on the type of work they do and their needs.
Along the way, we also plan to cover the history of the DeWalt and Ryobi brands, including their size, number of employees, and parent company. We also want to check what tools each company makes and where they are made. Both Ryobi and DeWalt have significant presence in the retail space. Our job is to help readers understand where each brand fits in the 'ecosphere' tool…
Looking for a DeWalt vs. Ryobi head-to-head? Check out these reviews!
best cordless impact driver
Skil vs Ryobi vs Craftsman hammer drill
Craftsman vs Ryobi hammer drill
DeWalt FlexVolt and Metabo HPT MultiVolt
Ryobi and DeWalt's Company History
Rima Corporation History
Ryobi Limited is a Japan-based manufacturer of components for the automotive, electronics and telecommunications industries. It also sells printing equipment, construction products and power tools. In 2018, Kyocera Corporation acquired the power tool business of Japan's Ryobi Limited.
The Ryobi we think of in the US is actually Ryobi Power Tools and Ryobi Outdoor Power Equipment. Both are brands of Techtronic Industries and are used under license from Ryobi Limited.
Techtronic Industries (also known as One World Technologies) is also the parent company behind Milwaukee Electric Tool, AEG (AEG Powertools, licensed from Electrolux), Homelite, Hoover US, Hart Tools, Oreck, Dirt Devil, and Vax. Since 1996, the Ryobi brand has been operating in the US as a subsidiary of Techtronic Industries (TTI), a Hong Kong company founded in 1985.
Ryobi manufactures corded and cordless power tools, and in 2021 launched ONE+ HP brushless tools. They also make hand tools and accessories like saw blades and drill/driver bits.
Around 2008, Ryobi did one thing no other manufacturer had done. They have introduced lithium-ion battery technology while maintaining perfect backwards compatibility with every tool they make . DeWalt tried this…but failed, and had to switch from the short-lived Li-Ion stem group to an all-new slide group design when the XR tools came out in 2013.
Dewalt Company History
DeWalt is an American corporation, representing a global brand of power tools for the construction, manufacturing, and woodworking industries. The DeWalt brand is actually owned by Stanley Black & Decker. The parent company also owns Irwin Tools, Craftsman, Lenox, Porter-Cable, Proto, Bostitch, Vidmar, and many more.
DeWalt was officially founded in 1923 by Raymond E. DeWalt (inventor of the radial arm saw). Ultimately, the company was sold to Black & Decker in 1960. Nothing exciting happened until 2004, when Black and Decker bought Porter-Cable and merged it with DeWalt of Jackson, Tennessee.
DeWalt expanded into hand tool production in 2011 and added machine tools in 2013. Three years later, in 2016, DeWalt introduced the FlexVolt, the construction industry's first hybrid voltage battery pack. It operates in 60V Max (series) or 20V Max (parallel) mode depending on whether it is placed in a 60V FlexVolt or 20V Max tool.
Ryobi vs DeWalt main spot
Ryobi Tool Manufacturing
Internationally, Ryobi and its parent company, TTI, manufacture most of their cordless power tools and battery-operated products overseas. The company has factories in China, Vietnam, Mexico, Germany, Czech Republic and the United States.
In 2016, Ryobi Limited invested $97.5 million in its US subsidiary, Ryobi Die Casting USA, to purchase and equip a 350,000 sq. ft. facility adjacent to its campus in Shelbyville, Indiana. However, the plant does not produce Ryobi power tools under a brand agreement with TTI.
Domestically, Ryobi designs and manufactures all of their tools in Anderson, South Carolina. They also assemble multiple tool lines in their 1,000,000 square foot manufacturing facility and warehouse. This includes their latest line of lawnmowers.
Made by DeWalt
Like most power tool companies, DeWalt manufactures most of its inventory overseas. However, the company has recently made some progress in bringing more manufacturing back to the US — at least in part. In December 2013, DeWalt announced that it would assemble certain products domestically using globally sourced components imported from Brazil, China, the Czech Republic, Italy, Mexico, the United Kingdom and the United States. You've probably seen or used some of these products with the "Made in the USA Using Global Materials" label.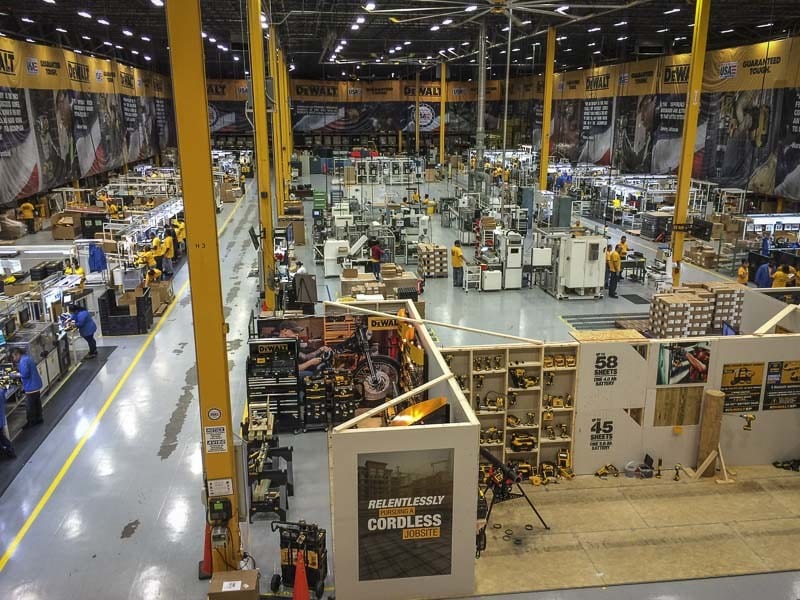 Fast forward to 2015 and DeWalt operates seven manufacturing plants across the country to manufacture DeWalt tools and products. These facilities are located in New Britain, Connecticut; Hampstead, Maryland; Shelbyville, Kentucky; Greenfield, Indiana; Cheero, South Carolina; Charlotte, North Carolina; and Jackson, Tennessee.
If you go back to the parent company, Stanley Black & Decker, the US manufacturing is much larger, claiming 48 US manufacturing plants. The company maintains these facilities in about two dozen states.
Overseas manufacturing still dominates the bulk of DeWalt's power tools, primarily in Brazil, China, Czech Republic, Italy, Mexico, and the United Kingdom. Given their growth, the Ryobi vs. DeWalt debate leans toward the latter if you want to find tools that are at least partially produced in the US.
DeWalt vs Ryobi headcount comparison
For a company owned by the parent company, it can be difficult to estimate its size. DeWalt claims on its LinkedIn page that it employs more than 10,000 people across its facilities. Since all of Stanley Black & Decker's brands use about 6 times that number, 10,000 seems like a relatively believable number.
Worldwide, Ryobi's parent company, TTI, employs more than 22,000 people. Domestically, the company has more than 4,000 employees. At its Anderson County facility, the latest $100 million expansion will conclude in 2022, bringing an additional 525 jobs to the region. This follows an investment of $85 million in 2015 that created 216 new jobs.
What are the parent companies behind Ryobi and DeWalt?
Technological Industries (TTI)
The parent company of Ryobi Power Tools is Techtronic Industries (TTI). TTI was established in Hong Kong in 1985, and it includes the following brands:
Milwaukee Power Tools
electron gun
empire
Rich (licensed)
Ryobi (licensed)
hart tool
Emperor's Blade
dagger
redneck
Hoover America
Orek
vaccine
dirt devil
TTI designs, manufactures and sells everything from power tools and outdoor power equipment to layout and measurement tools, appliances, and even floor care products. TTI's brands manufacture products for tradesman, consumer and industrial users in the home, construction, maintenance and industrial markets.
TTI is listed on the Hong Kong Stock Exchange under the stock code TTI (669). On June 17, 2020, TTI was valued at HK$76.050 (US$9.81) per share, with a market capitalization of HK$13.925 or US$17.9 billion. In 2020, TTI's revenue was $9.8 billion with a gross margin of 38.3%, and its success was attributed to increased strategic investments in new products, manufacturing capabilities, geographic expansion, and field marketing initiatives.
Stanley Black & Decker (SBD)
Behind DeWalt is Stanley Black & Decker, Inc (SBD). SBD includes the following brands:
stanley
Dewalt
Black + Decker
artisan
Owen Tools
baud cable
Facon
Lenox
lista
Mac tools
Widmar
Bostic
Nitro alcohol
prototype
Paladin
Pengo
SBD, formerly known as The Stanley Works, is a Fortune 500 company headquartered in the United States. They manufacture tools, accessories and fasteners for the industrial, construction, home improvement and outdoor power equipment markets, as well as supply safety products. Headquartered in New Britain, Connecticut, Stanley Black & Decker was formed in 2010 through the merger of Stanley Works and Black & Decker.
As of 2019, Stanley Black & Decker employed approximately 61,000 people in 60 different countries. Stanley Black & Decker is listed on the New York Stock Exchange under the ticker symbol SWK, with a valuation of $135.31 per share on June 17, 2020, and a market capitalization of $21.37 billion. The company had revenue of $14.4 billion and an operating margin of 13.5%. It attributed its recent growth primarily to success in tools and storage, as well as industrial acquisitions.
Ryobi vs DeWalt Line Depth
When comparing the general cost of tools between Ryobi and DeWalt, you quickly realize that both companies make a lot of tools. Ryobi Tool has over 225 tools in its 18V ONE+ line alone, with an additional 50 or more 40V tools.
DeWalt has over 200 products in its 20V Max line before adding its new FlexVolt tool line (there are about three dozen or more in that category so far) or its corded offerings.
Obviously, both brands are dedicated to building tools, however, DeWalt definitely favors professional contractors and tradesmen, while Ryobi goes after the DIY market and industries that don't require the highest power or torque. We see many Ryobi tools being used in the HVAC industry as well as those doing hole punch lists and basic home repairs.
Both brands also cover a huge range of accessories – from blades and drills to hole saws and specialty fasteners. However, DeWalt leads the way here, with a wider and deeper range of accessories covering a wider range of tools. They also have more options when it comes to saw blades and grinding wheels.
DeWalt has a decisive edge in the fastener category. Its parent company acquired Powers Fasteners and Infastech in 2012. Ryobi does not manufacture any fasteners, and we are not aware of any plans for them to expand into this area.
Overall, after reviewing and using hundreds of tools from both companies, Ryobi Tools clearly cost less than comparable DeWalt power tools. Usually half. This mostly has to do with the target audience. The Ryobi is aimed at users who don't need maximum torque or top speed. They are less likely to drive the toughest fasteners or use their tools for hours at a time, but instead use their tools on a regular or occasional basis. But there are exceptions.
DeWalt also tends to include larger, more advanced batteries in its cordless kits. Most tools sold by Ryobi come without batteries. In fact, Ryobi sees this as an advantage, since you can buy an initial combo kit and then add tools for cheap until you have a sizable collection.
DeWalt offers their professionals compact entry-level tools, so you have some options when it comes to their core tools. Ryobi has done something similar with the brushed, compact brushless and brushless tools offered in several major products. Overall, the DeWalt gives Pro users more options depending on the features and functionality they need and/or want, while the Ryobi leads the budget category.
Select Ryobi vs. DeWalt pricing example:
Ryobi ONE+ HP Brushless 1/2" Hammer Drill Kit – $179
DeWalt 20V Max XR Brushless Tool Connection Hammer Drill Kit – $369
Ryobi ONE+ HP Brushless Hammer Drill/Impact Combo Kit — $199
DeWalt 20V Max XR Tool Connection 2 Tool Combo Kit – $499
Ryobi ONE+ HP Compact Brushless 1/2" Drill Kit – $89
DeWalt 20V Max XR Compact Brushless Drill/Driver Kit – $179
Ryobi ONE+ HP Brushless 7-1/4″ Circular Saw Kit – $189
DeWalt 20V 7-1/4″ Circular Saw Kit w/FlexVolt Advantage – $199
In the example above, you can see that in some places the DeWalt tool costs twice as much as the Ryobi tool. In other cases, you can get a full-size DeWalt 20V circular saw kit for just $10 more than the Ryobi.
DeWalt vs Ryobi Warranty and Service
Most of Ryobi's cordless power tools, chargers and batteries, including their 20V outdoor power supply units, come with a 3-year limited warranty. Some professional tools include different warranties – but the company notes this on its warranty page. Notably, Ryobi hand tools come with a limited lifetime warranty. Their 40V cordless outdoor products come with a 5-year limited tool warranty and a 3-year battery warranty.
You do not need to register Ryobi Tools to receive warranty coverage or service. However, if you cannot produce a receipt, the company uses the date of manufacture. To get the most out of your warranty, we always recommend that you register the tool so you can record the date of purchase. This applies to DeWalt or Ryobi power tools.
DeWalt offers a 3-year limited warranty on most cordless power tools with a 1-year free service contract and a 90-day money back guarantee. DeWalt Mechanics Tools are backed by a lifetime warranty. This means that if any DeWalt machine tool fails for any reason, the company will replace it — even without proof of purchase. All other DeWalt hand tools come with a limited lifetime warranty against defects. Finally, some select DeWalt air tools come with a 7-year warranty, a 1-year service agreement, and a 3-day money-back guarantee.
View more DeWalt warranty information here.
So let's look at brand reputation. Both Ryobi and DeWalt have a reputation for making great tools. They just serve different markets. DeWalt is one of the go-to brands for the professional tradesman. Their "yellow black" coloration is well known throughout the industry.
Dominating the consumer and DIY markets, Ryobi makes tools for more than just residential and commercial construction. With inflators, fans, sprayers, soldering stations, rotary tools, and Bluetooth radios, Ryobi has something for anyone and everyone. However, they do lack many of the higher end trade-focused products such as crimpers, cutters and threaders. Electricians and plumbers who handle jobs that require these tools may want to stick with a brand that can cover a range of specialty tools to make their jobs easier.
Ryobi also utilizes DeWalt's short-lived 18V XRP tool, which uses a lithium-ion battery pack. That puts Big Yellow about 2 years behind. The company eventually switched to a sliding battery pack. By then, however, Ryobi had really expanded its ONE+ line with new tools that take advantage of the higher power Li-ion cells.
Finally, with its impressive line of 20V and 60V FlexVolt tools, DeWalt makes some of the most innovative tools for the construction industry. If this seems like a big seesaw back and forth, it's only because both companies have an incredible advantage — targeting different audiences directly.
Figure out which camp you fit in with, choose accordingly, and you'll do just fine.
Both DeWalt and Ryobi have long embraced brushless tool technology. DeWalt was first to market with their brushless tools, immediately taking advantage of the ability to better control the speed of the drill and driver through electronics. Ryobi has only moved to brushless in the last few years.
DeWalt Tool Connection
When comparing Ryobi to DeWalt, we also can't ignore the existence of DeWalt Tool Connect. While the sophisticated Milwaukee ONE-KEY is offered by another TTI brand, Ryobi currently has no plans to incorporate such technology. If you want some level of tool tracking and inventory control, DeWalt easily wins this race.
Dewalt vs Ryobi drill
If you're trying to compare DeWalt vs Ryobi bits, cost is probably your biggest consideration. You also need to understand the type of work you typically perform. Do you need to consistently drill through double-stacked headers for conduit and cable, or use a hole saw and a self-feeding drill? If so, a DeWalt drill like the DeWalt DCD997 can handle more torque for a longer period of time than something like the Ryobi HP brushless hammer drill. It also holds up well under load, meaning it won't slow down once you give it a task. DeWalt will also drill holes faster in concrete.
Be sure to check out our article on the best DeWalt drill bits
However, the strength of the Ryobi HP brushless drill is speed . It ranked high on our test track—meaning it rips through everything we throw at it!
If you're only going to drill holes 1/2" or smaller or deal with the occasional Tapcon, the Ryobi can definitely handle it. It can also handle heavier use when it's not your day job. The Ryobi HP brushless drill is about half the price of a DeWalt drill — so you might start to see traction with some users. When we evaluate the best cordless drills, we always look at value—and the Ryobi definitely delivers on that.
Ryobi vs DeWalt hammer drill size difference
Interestingly, Ryobi makes a smaller impact drill than DeWalt – almost half an inch less in length. Measuring the two tools revealed that the Ryobi was almost a pound lighter. You can definitely feel the difference when you pick up each tool, although the Ryobi certainly doesn't feel cheap.
How about a compact or 12V model?
If you want a more compact tool, DeWalt has a number of options for you. They have compact reciprocating saws, compact drills, and compact (atomic) impact drivers. With Ryobi Tools, you can choose from their line of compact HP brushless tools, but no 12V models exist. They do, however, have a one-handed reciprocating saw, mini 4-inch circular saw, and other space-saving tools.
For "yellow" compact tools, check out DeWalt Atomic tools, which promise smaller sizes and more affordable prices. Overall, DeWalt has a wider selection of true compact tools. Ryobi puts value over scale. As a result, their tools are usually a bit longer and slightly heavier than those of the pricier brands.
Ryobi vs DeWalt impact driver
If the above hammer comparisons indicate anything, these tools are still fiercely competitive. When comparing Ryobi and DeWalt impact drivers, two things immediately jump out. From our best impact driver comparisons, we know that the DeWalt DCF850 is over 1 1/2 inches shorter than the Ryobi. We also know that DEWALT has a significant advantage in both speed and test torque.
We do like the chuck-based triple LED lights that DeWalt used—it illuminates the work area more clearly. While the DeWalt DCF850 has 3 speeds, the Ryobi gives you 3 speeds plus an assist mode that helps with tightening and removing fasteners.
Both tools performed well in this matchup, and we expect — based on those two tools alone — that it's going to be a tough call. In reality, the choice depends more on which product line you choose as a professional or home user.
Ryobi vs DeWalt Impact Wrench
The Ryobi High Torque Impact Wrench performed very well in our tests. As such, it's a close match for the DeWalt DCF899 Impact Wrench in terms of power and speed.
Let's consider some other considerations for Ryobi vs. DeWalt impact wrenches. First, if you want a bigger tool, DeWalt makes the DCF897 3/4" impact wrench. However, Ryobi stops at 1/2" tools. Second, Ryobi offers something that DeWalt doesn't – Automatic mode for speed control when tightening and loosening nuts and bolts.
Switching to medium torque, the Ryobi P262 Impact Wrench delivers up to 450 foot-pounds of tightening torque. Compare that to the 330 foot-pounds of the DeWalt DCF896 1/2" Impact Wrench.
DeWalt has a more compact option with other Atomic impact wrenches. No matter how you cut it, even the smallest Ryobi 3/8-inch impact driver protrudes nearly 1/2 inch more than the smallest DeWalt 1/2-inch DCF922 Atomic Impact Driver.
DeWalt vs Ryobi Circular Saw
When it comes to purchasing DeWalt vs. Ryobi circular saws, we have to say that DeWalt gets a clear endorsement for professional-grade performance. Ryobi makes an excellent 7-1/4" cordless saw, but it doesn't have the professional feel of any of DeWalt's good products. Ryobi doesn't yet have a rear handle saw, although they have right blade (7-1/4") and left blade (6-1/2") models.
The price of these tools is almost as big as their physical characteristics. The DeWalt 60V DCS578 adds nearly two pounds to the Ryobi PBLCS300B's weight, making it a heavier tool. DeWalt also uses an aluminum sole, while the Ryobi uses stamped steel. Believe it or not, the Ryobi actually has better cutting sight.
It's important to note that of the two brands, only DeWalt has the powerful DCS520 track saw. They also have the DWS520 if you want a wired model.
Ryobi Miter Saw vs DeWalt
Once again, Ryobi has several great value miter saws. In terms of overall performance, however, DeWalt unquestionably wins this category. In the Ryobi vs. DeWalt miter saw debate, you first need to decide what kind of work you intend to do.
When we wrote our best 12-inch miter saw article, we quickly noticed models with excellent fence clearance and above-average capacity. The DeWalt DWS716XPS Miter Saw remains our favorite. We love the LED cutting wire, which lets you see the cut even in broad daylight. The saw can also cut 6-1/2" vertical bases and 6-5/8" vertical nested crown moldings.
Like DeWalt, Ryobi has a variety of miter saws to choose from—ranging from 7-1/4 inches to 12 inches. They also have sliding and non-sliding options as well as basic stands. However, neither of their options offered innovative features or a tall tailgate cutting intricate crown molding. Instead, Ryobi prioritizes value. Their most entry-level wire saw is only $99.
How about a cordless miter saw?
We're glad you asked this question (even if you didn't technically ask it!) With a cordless saw, we like the Ryobi PBT01B 7-1/4″ Sliding Miter Saw. If you already have the battery and charger, the price It's only $10 more than their wired model, and it's about the same price.
The DeWalt FlexVolt DHS790 performs really well – truly as a corded replacement. Built on the platform of the acclaimed DWS780 miter saw, the tool has plenty of power and has an adapter available that lets you run it on AC power if needed.
Finally, if you want a compact model, it's hard to beat the cordless DeWalt DCS361B, capable of cutting 175 2x4s from a single 4Ah 20V Max battery.
Conclusion – Is Ryobi better than DeWalt?
Ok, we introduced the company's history, dynamics, technology and products. After that, it really comes down to doing some research of your own and seeing who you want to support with your hard earned money. The question of whether Ryobi is better than DeWalt comes down to who you are and how you intend to use your tools. However, from our perspective, we see two solid companies serving two very different markets. Both companies offer a host of tool innovations — just in different ways. If you trade and plan to use trading-specific tools all day long, DeWalt is the better choice. If your trade doesn't require very specialized plumbing and electrical tools, and you're not using your tools to the maximum – Ryobi can save you a lot of money.
Disagree with the conclusion or have your own opinion? Leave them in the comments below!