The Ryobi LINK Modular Storage System combines several different aspects of tool storage into what appears to be a highly versatile portable solution. Featuring Ryobi's green and black color scheme, the modular LINK system includes wall storage cabinets, rolling tool storage cabinets and more. We think it packs the seal and portability of tools and accessories. Overall, this looks to be Ryobi's answer to the Milwaukee Packout, but clearly leans more towards Prosumer.
So, what can we learn from the Ryobi LINK modular storage system announcement? First off – the system appears to span several different aspects of tool storage. Go through Ryobi's teaser video frame by frame, and here's our pick.
The first thing we actually see is the scrolling toolbox – initially only a "wheel" is shown. We did, however, get a bigger sneak peek later in the trailer. This rolling tool box on wheels looks like a mix of aluminum, plastic, and steel, allowing you to safely transport tools and accessories without adding a ton of weight. The Ryobi LINK Rolling Toolbox features oversized wheels, extending handles and up to three or more interlocking tool storage compartments.
We're guessing the bottom case isn't removable, but rather a single unit connected to the wheels and foldable handle. This will match what we've seen in competing products from other manufacturers.
Ryobi LINK Wall Mount Tool Storage
Based on flying "Lego-like" pieces that snap together horizontally, Ryobi LINK also includes tool racks and wall-mounted storage solutions. Stacked horizontally, we can see options for mounting ladders, shovels, OPE equipment and more. Combined vertically, you can mount entire Ryobi LINK toolboxes to the wall or secure them to work van shelves.
The system appears to be entirely modular – on a scale we've never seen before. The modules clip and lock together and are secured to a wall or surface using screws. It looks like a very flexible system – we like having options.
Given the presence of metal coat hangers, tool racks, metal shelves, tool boxes, etc. – the individual modules also seem to be connected together. This allows you to expand your storage solution to any size you need for your garage, shed, vehicle or workshop.
As if to prove the point, Ryobi showed a LINK system that is 8 units high and 3 units wide. This is larger than our Packout Wall, which holds a variety of our most commonly used accessories and fasteners.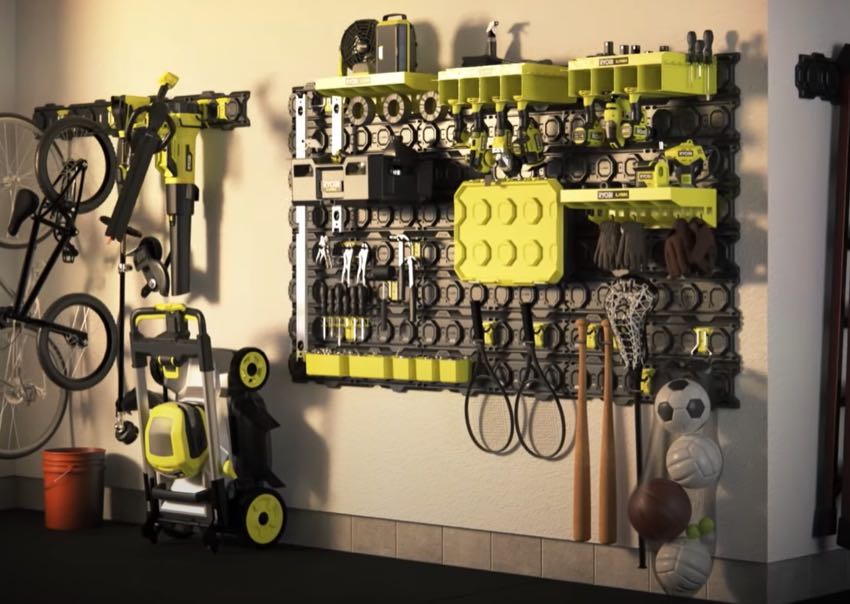 Ryobi LINK Tool Holders and Tool Racks
We couldn't help but notice the metal Ryobi LINK tool rack with integrated shelves and side shelves. These can support up to four tools upside down – with or without batteries inserted.
The top shelf easily holds the Ryobi cordless fan as well as a light and spare batteries. They show drill storage inside the front tray. The side brackets are great for hanging screwdrivers and/or nut drivers.
Another shelving unit gives you a nice flat surface to store tools or accessories with hooks underneath for your gloves or anything else you might have on hooks.
We've also found some unique trays that also mount to wall systems that look great for fixing screws or nails. You also have a tool holder or screwdriver, hammer, wrench and more.
Of course, the whole series is mounted on those highly configurable Ryobi LINK wall mounts.
Heavy Steel Knife Holder
You can mount our found heavy duty steel tool rack anywhere on the system. These look great for hanging blow dryers, hedge trimmers – anything you can hang from a hook or two. From what we've seen, they can also hold a decent amount of weight.
Ryobi LINK Modular Tool Organizer
No Ryobi LINK modular tool storage system would be complete without enough tool storage box options. We're sure to see what appear to be small and mid-sized boxes here as part of the initial lineup.
These boxes use the latest heavy duty clasps that we love. These improve on some of the first generation steel buckles we've seen in products like the DeWalt TStak system. At first glance, the boxes look durable, and the design should allow them to feature easy interior divisions.
You also can't beat the cool color scheme. I've always been a fan of black tools and tool boxes – they look cool. Add to that the ability for these boxes to have to be mounted directly to the Ryobi LINK wall mount, and you have a truly expandable system for the garage, workshop or even your work truck.
What's next?
The tagline of the Ryobi LINK modular storage system is "Own Your Space". Considering the breadth and depth of the system at launch – I'd say they have garages, workshops, work cars, trailers…it looks like a system that can handle any application you throw at it. Ryobi is definitely planning a ton of products and accessories in the lineup. It is hoped that the system will continue to expand in the future and evolve with more flexible solutions. Look for these products arriving at The Home Depot in fall 2021.
See more here.