Three New Models with Varied Deck Sizes
Ryobi has recently unveiled three new models of their 80V zero-turn ride-on mowers, each equipped with innovative features and available in different deck sizes. The lineup includes 30″, 42″, and 54″ decks, ensuring there's a suitable option for every lawn size.
Intuitive Steering with the I-Drive Joystick
One notable change in these mowers is the absence of traditional steering wheels or lap sticks. Instead, Ryobi has developed an iDrive joystick that allows for quick and easy maneuvering. It may take some getting used to, but if you enjoy playing video games, you'll likely feel at home. The sensitivity and control have been finely tuned, offering precise steering and the ability to execute sharp turns effortlessly.
Convenient Features of Traditional Riding Mowers
The Ryobi 80V Zero Turn Mowers retain the convenience of traditional riding mowers. To activate the blades, simply pull up on the red knob, just like you would with a gas-powered mower. The machines are also keyed, ensuring only authorized users can start them. The deck height is adjustable from 1.5 to 4.5 inches using the side tie rods. Other handy features include LED headlights, a USB port for charging devices, and multiple cup holders.
Power-Packed with the Ryobi 80V Battery Pack
The new Ryobi 80V Zero Turn Mowers are powered by a lithium-ion suitcase-style battery pack. The 80V battery pack contains 100 individual battery cells and provides ample power for the mowers. The 42-inch and 54-inch models can accommodate up to three 80V batteries and four 40V auxiliary batteries, while the 30-inch mower supports two 80V batteries and two 40V auxiliary batteries.
LCD Control Panel for Customizable Settings
The Ryobi 80V Zero Turn Mowers feature an LCD control panel where you can adjust the blade and drive speeds independently. The panel also displays the remaining battery life and runtime. Additionally, it indicates whether the mower is in motion or if the parking brake is engaged. The control panel offers a user-friendly interface to tailor the mowing experience to your preferences.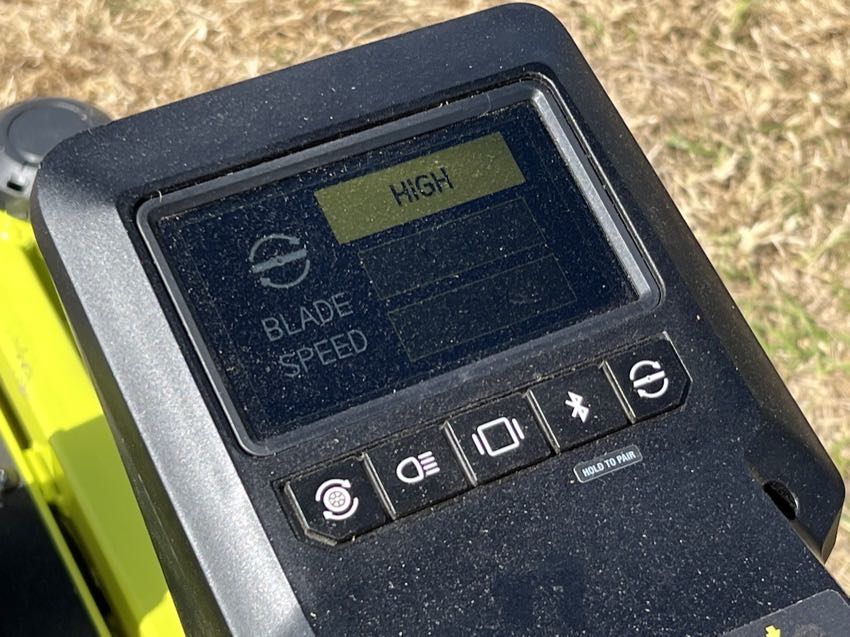 Quality Decks for Optimal Performance
Ryobi has taken care to provide durable and efficient decks for their Zero Turn Mowers. The 54-inch model boasts a fabricated steel deck, while the 30-inch and 42-inch models feature stamped steel designs. The 54-inch model also incorporates a cross-cut blade system, resulting in a finer grass cut during bagging and mulching.
Bagging Options for Enhanced Performance
Ryobi plans to offer various bagging systems for the 80V Zero Turn Mowers. One exciting feature includes the "Bagger Boost" system, available for the 30″ and 42″ models. With the push of a button, the Bagger Boost sends a powerful gust of air into the bagger chute, helping to clear clogs and grass clippings. This feature eliminates the need for manual clearing, saving time and effort.
Selecting the Right Ryobi 80V Zero Turn Mower
When choosing among the Ryobi 80V Zero Turn Mowers, consider your specific needs and lawn size. The Z30Li model, priced at $4,000, is ideal for smaller yards and can handle up to an acre. It offers easy maneuverability and features a bagging system that fits perfectly without expanding the footprint.
The Z42Li model, priced at $5,000, provides a mid-range option, doubling the mowing area to 2 acres. It comes with additional batteries and battery ports for extended run time.
For those with larger lawns, the flagship Z54Li model, priced at $6,000, offers a 54-inch fabricated steel deck and can handle up to 4 acres of mowing area.
Ryobi 80V Zero Turn Mower: Advancing Battery-Powered Technology
Ryobi is at the forefront of innovation in the lawn mower industry, and their 80V Zero Turn Mowers are a testament to that. By incorporating joystick control, air suspension seats, and powerful battery packs, Ryobi is revolutionizing the battery-powered mowing experience. These mowers require minimal learning curve and deliver outstanding performance. While the prices may be higher, the benefits they offer make them a worthwhile investment. Pre-order your Ryobi 80V Zero Turn Mower today to experience the future of lawn care.
Shared Specifications for All Ryobi 80V Zero Turn Mowers:
LCD control panel with customizable settings
iDrive joystick drive control
Plug-in fast charger for easy charging
Power supply: 80V battery pack with LCD power display
40V battery compatibility
Armrests for added comfort
USB charging port and multiple cup holders
Golf Cart Parking Brake
1.5″ to 4.5″ adjustable deck height
LED headlights
Key start
Ryobi Z30Li 80V Zero Turn Riding Mower Specifications:
30″ stamped steel deck
Maximum cutting area: 1 acre
Batteries: 2 x 80V Li-ion batteries
Spare 40V battery interface: 2
Charging time (with fast charger): 2 hours
Price: $4,999
Ryobi Z42Li 80V Zero Turn Riding Mower Specifications:
42″ stamped steel deck
Maximum cutting area: 2 acres
Batteries: 3 x 80V Li-ion batteries
Spare 40V battery interface: 4
Charging time (with fast charger): 3 hours
Price: $5,999
Ryobi Z54Li 80V Zero Turn Riding Mower Specifications:
54″ fabricated steel deck
Maximum cutting area: 4 acres
Batteries: 3 x 80V Li-ion batteries
Spare 40V battery interface: 4
Charging time (with fast charger): 4 hours
Price: $6,999