Battery-powered lawn mowers have been around for a few years (feels really weird to say that!), and technology continues to trickle out of gasoline models. So the next step has to be a cordless self-propelled lawn mower. They just don't show up that fast. Since there are only a few to choose from, I'm taking a closer look at the Ryobi 40V Self-Propelled Lawn Mower.
Ryobi's 40V Brushless Lawn Mower Features
Ryobi's 40V brushless lawn mower has a very functional design, and you'll notice most of the same features appear on the self-propelled model. That's positive, as there's nothing to complain about with this design.
Brushless Motor
If you're mowing more than a small city, you'll need a brushless motor to extend the run time of your cordless lawn mower. It is non-negotiable if one battery is required to power the drive and motor. Ryobi ensures you get the benefits of brushless motors.
self-propelled drive
As the name suggests, the Ryobi 40V Self-Propelled Lawn Mower has a self-propelled drive, but how well does it work? The controls are pretty simple – there's a slider you can use to determine how fast you want to cut. I almost never put it above the forward third, and if your grass is at a level where you can mow at that speed then it has plenty of top speed.
What I don't like is that the controls slide too easily. When I turn the mower around tall obstacles like trees, I tend to slam it forward. Rather than infinitely controlling the slider, I'd rather have it snap into place so it's not so easy to bump into place.
folding storage
With the forward-folding telescoping handle, storage space is minimal as you can stand the Ryobi 40V Self-Propelled Lawn Mower upright in the corner of a shed or garage. In order to fold the mower, you need to lower the mower all the way down so that the lever is out of the way. You'll also need to remove the battery before folding. You can put them in the folded position if you really try hard, but it's not worth the hassle.
One thing to keep in mind is that there are sensors in multiple places around the mower. So if you're all set and it doesn't start, first check the locking clips at the pivot and telescoping points to make sure they're fully engaged. The mower will not run without locking anything.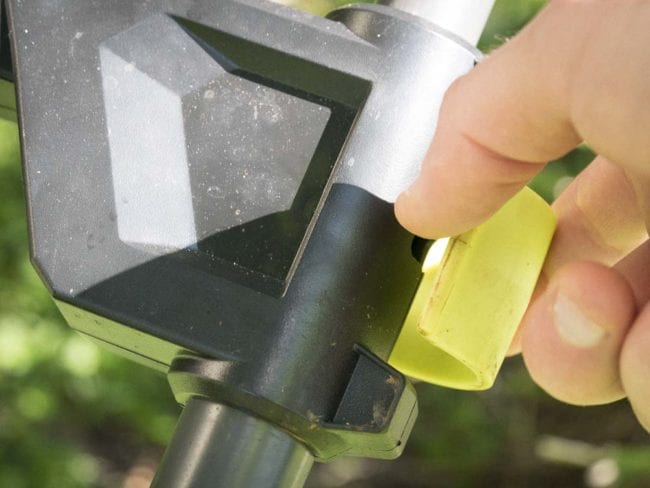 There is a known issue with the microprocessor switch on the frame of the Ryobi 40V Brushless Mower. I haven't had this problem with this model yet.
Single point height adjustment
There are seven cutting height positions on the single-point adjustment lever, ranging from 1-1/2 inches to 3-3/4 inches. It is very easy to use and ensures that all four wheels keep the deck at the same height. This helps maintain an even cut.
backup battery storage
Depending on the size of your lawn and whether the grass was wet when you mowed, you may need a backup battery. There's storage next to the main battery connection, so if you do need to switch it's only 5 seconds away.
shortcoming
After using it for over 8 weeks, I've only come across a couple of things that I would like to see improved. The first is the aforementioned drive speed slider. The other is that there is no side discharge option. You can cover or bag it, but not on its side. That comes into play if the grass is too tall to cover and you don't want to bag it.
Performance
to cut
I usually mow at 3 inches and now my lawn is pretty thick. When it comes to cut quality, the Ryobi 40V Self-Propelled Lawn Mower leaves a nice, even cut. That's important for a clean look, but it's not the case with some other mowers I've used. No matter which lawn mower you use, keeping the blades sharp is key to maintaining a clean cut.
I prefer mulch to bagging simply because of the amount of grass I mow each week. However, if I leave the lawn out for more than 7 days, I run into several areas where it is difficult to fully mow and effectively cover the lawn. If the grass is wet it will create a nice layer of sticky grass under the deck. This is where I wish there was a side discharge option, not just covering or bagging.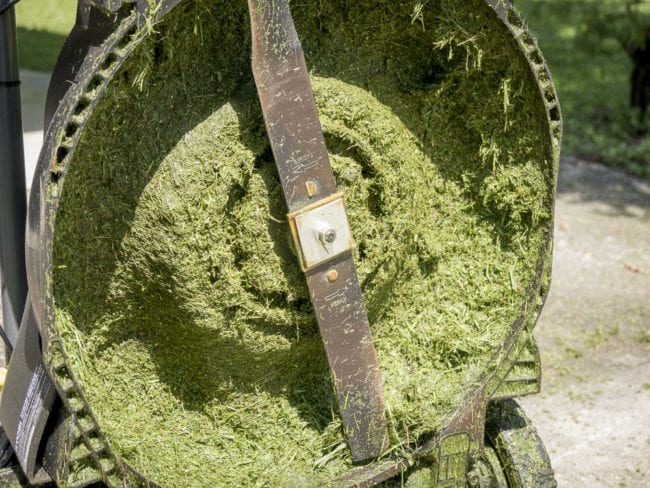 It's also on slightly higher or slightly wet grass that the difference between battery power and gas power starts to show. A gas lawn mower in the same price range will cut more confidently. But that's not to say there isn't enough power. You only need to mow once a week during the growing season—the same rate you need to keep your lawn looking great.
run
One of the reasons cordless self-propelled lawn mowers are challenging is that you have to transfer battery power from the blades to the wheels. The ability to do so is not the issue, the battery capacity is. I get about 45 minutes of run time on the 5.0 AH battery on Ryobi's brushless lawn mower. The self-propelled model descends in only 5 minutes under ideal conditions (a week's worth of hay). For a 1/4 acre, if you keep moving, the lawn can be done on a single charge.
However, wet grass is not your friend. Since most of us like to mow in the morning when the grass still has some moisture, you need a second battery. I use Ryobi's 40V Jet Fan Blower's 3.0 Ah battery pack as a backup for the last 5-10 minutes of cutting that I usually don't reach.
However, if you leave the grass alone for more than a week (it can grow 5 to 6 inches per week during the Florida summer), you will need two batteries and time to charge one. On top of that, battery capacity limitations mean you'll need to stick to your standard weekly maintenance routine on hay if you want to get work done on the included battery.
the bottom line
The Ryobi 40V Self-Propelled Lawn Mower features a great physical design for easy adjustment and storage. There's enough power in the motor to handle weekly maintenance cuts, but more than a week's worth of lawn will make it worth the money both in terms of cutting full width and in its ability to complete cuts on a single charge. There's enough drive speed that I never even get it halfway.
For most users, the only downside is relatively minor. You can bag or mulch, but there is no side discharge. It is also possible to change the speed control effortlessly to get yourself into higher speeds. Beyond that, the limit really depends on how tall you let the grass grow and how wet it is when you mow.
This model is suitable for 1/4 acre and smaller. You can actually do 1/3 of an acre, but then you'll need an extra battery. Pricing is better than EGO's model at $349.00, but you give up some battery capacity and an arguably deeper tool collection.
Ryobi 40V Self-Propelled Lawn Mower Key Features
Gas powered brushless motor
Rear-wheel drive for traversing terrain
Collapsible design for easy upright storage
Load Sensing Technology – Maximizing Power and Efficiency
Includes 40 Volt 5 Ah battery for extended run time
7 positions, single point height adjustment
2-in-1 Covered Sleeve Bag
Adjustable telescopic handle
Easy to press the start button
High-intensity LED headlights
Lightweight and easy to store
Ryobi 40V Self-Propelled Lawn Mower Specifications
Model: Rimei RY40190
Battery: 40V 5.0 AH high capacity Li-ion battery
Deck Size: 20″
Mowing functions: mulching and bagging
Cutting Height: 1.5 – 3.75″
Rear wheel size: 10″
Front wheel size: 8″
Drive type: rear wheel self-propelled
Weight: 55 lbs
Includes: 40V 5.0 Ah Li-Ion Battery, 40V Battery Charger, Grass Bag, Start Key, Mulch Plug, Operator Manual
Warranty: 5-year limited
Price: $349
amazon shopping