The Ryobi HP Brushless 1/2″ Impact Wrench Provides Users with a Legitimate Medium Torque Option
Ryobi has been offering impact wrenches on their 18V One+ line for quite some time now. However, they lacked a genuine mid-torque option. With a downsized design and significant internal upgrades, we took the Ryobi 18V One+ HP Brushless Impact Wrench out for a spin at the equipment depot.
Pros and Cons of the Ryobi HP Brushless 1/2″ Impact Wrench
Pros
Significantly smaller and lighter than its predecessor, the P261
Remarkably improved power output
Three standard modes and an auxiliary mode
Triple-beam LEDs surrounding the square driver
Cons
The Ryobi Impact Wrench offers users 450 ft-lbs of tightening torque and 600 ft-lbs of breakaway torque on the P262 model, with a top speed of 2800 RPM. Its three standard speeds, along with an automatic mode, provide excellent control.
The automatic mode automatically stops the tightening motion after a few impacts, allowing you to install a nut or bolt and finish with a torque wrench. Instead of starting at full speed, it begins slowly and then rapidly accelerates until the fasteners loosen, stopping automatically.
I met up with Eli Mosely at the ranch to see how the Ryobi Impact Wrench would perform in the equipment barn. Like many ranches, they rely on fixing and maintaining equipment to keep it running smoothly. From front loaders and dozers to flatbeds and sprinklers, there are plenty of options, but not many shiny new bolts.
We started by tackling some rusty lug nuts that probably hadn't been touched since the last tire change, which was many years ago. Feeling challenged, we used Mode 3 on the P262 and effortlessly removed those stubborn nuts. This level of performance holds true for all types of trailers.
When it comes to engines, hatches, and other parts of heavy equipment, we needed more finesse to avoid overtightening. In these cases, we mostly stuck to Mode 1, allowing the wrench to set each bolt under careful control. Auto mode proved to be more useful when working on the wheels.
Once we were done, all our fasteners were secure, and we didn't break any heads or damage any threads. This is precisely what you want from an impact wrench, and the Ryobi P262 delivers.
Ryobi 18V One+ HP Brushless 1/2″ Impact Wrench Design Notes
Size and Weight
With the brushless upgrade, the Ryobi P262 enjoys a smaller form factor on top of its enhanced performance. It measures 7.2 inches from tip to tail, which is about three-quarters of an inch smaller than its predecessor.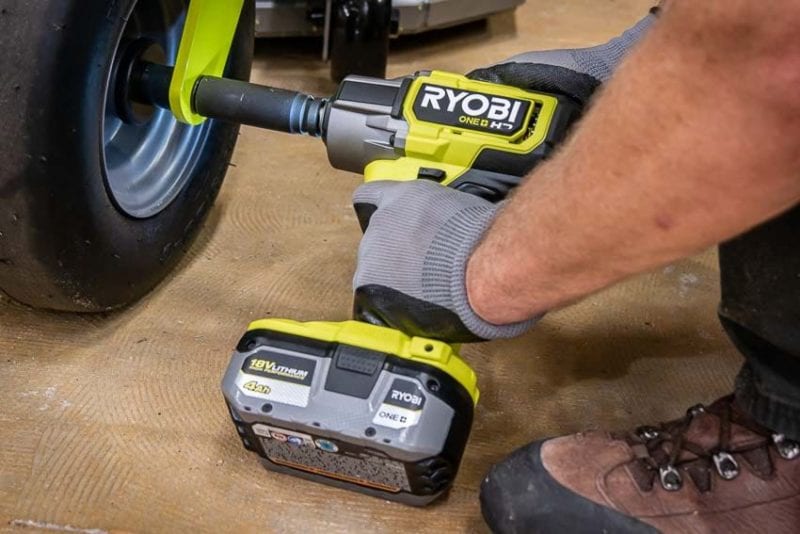 There's also a noticeable weight reduction. The bare impact wrench weighs 3.7 lbs, and when coupled with the 4Ah high-performance battery, it reaches 5.3 lbs.
In terms of size and weight, the tool is perfectly suited for the medium torque class, and the Ryobi 18V One+ HP Brushless Impact Wrench now performs even better than before.
Additional Features
Brushless Motor
3 standard speeds, plus automatic mode
Triple-beam LED lights surrounding the driver
1/2″ Anvil with Friction Ring
Die Casting Gearbox
Ryobi 18V One+ HP Brushless 1/2″ Impact Wrench Prices
The P262 is available for purchase at The Home Depot for $159 (bare tool). This is about $40 more expensive than the previous brushed model, but the design and performance improvements make it well worth the investment. Unfortunately, there are no kit options currently available.
The Bottom Line
The Ryobi 18V One+ HP Brushless 1/2″ Impact Wrench is an excellent choice for moderate torque applications. It can handle almost anything you throw its way, from your passenger car to loosening seriously corroded bolts. Combined with the HP Compact 3/8″ Impact Wrench for Light Duty Applications, you can efficiently complete a wide range of construction and automotive tasks without breaking the bank.
Ryobi 18V One+ HP Brushless Impact Wrench Specifications
Model: Ryobi P262
Anvil: 1/2″ with friction ring
Maximum speed: 2800 RPM
Torque: 600 ft-lbs (breakaway)/450 ft-lbs (fastening)
Impact per minute: 0-3,200 IPM
Length: 7.2 inches
Weight: 3.7 lbs bare, 4.3 lbs with 4.0Ah high-performance battery
Warranty: 3 years
Price: $159