There are many good options for off-the-shelf work boots. For some, though, the single-use consumer-goods mentality is fading. We had the chance to put on a pair of Nicks BuilderPro handcrafted boots for review and see for ourselves what a difference it would make in a pair we thought would last a long time.
With most work boots, you'll be rummaging through boxes on shelves, or hoping an online retailer has your size in stock. At Nicks, every pair of boots is handcrafted after you order them. It's not a fully customizable process, but there are plenty of options.
Because the boots are handmade, delivery time needs to be considered. Material availability, the amount of labor required, order requirements and other elements of the build chain all play a role. Give yourself enough time and patience before you need to replace your boots – the end product will be worth it. Here are the lead times as we write this:
Standard lead time: 16 – 24 weeks
Fast Shipping and Bestsellers: 8 – 12 weeks
Size Exchange and Boot Warranty: 3 – 5 weeks
Boots in stock: 3 – 5 business days
If you want the most options, use BuilderPro custom configuration to get what you want. Here are the choices you can make:
Assembly method
Boot length (dimensions)
width
Last
high
Upper Leather (Color)
Lower Leather (Color)
Hardware Configuration
inside linebacker patch
midsole thickness
toe structure
toe style
Lineman's Handle
sole sewing thread
heel stack
outsole
edge color
heel profile
fit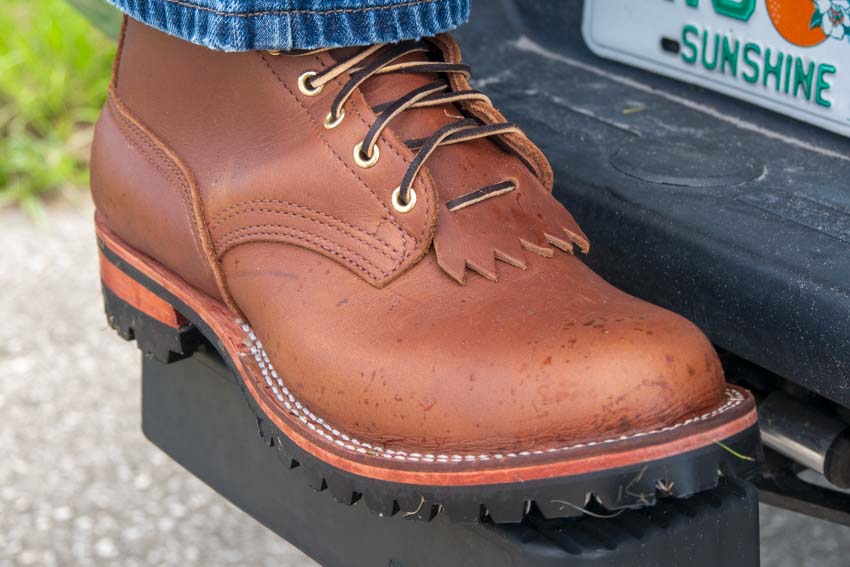 I'm a size 12 1/2, which means I usually have to choose between a 12 and 13 for most boot brands. However, Knicks are available in sizes 3.5 to 14.5 with 1/2 sizes covering the entire range. You're not limited to medium (D) and wide (EE) widths, either. There are nearly a dozen widths to choose from, from AA to FFFF.
While chatting with Nicks' Lucas Grasberger, he told me he's never been able to find another brand with more stock options than they carry.
I'm happy with the 12 1/2 medium width regular arch and it fits great. That said, Nicks does recommend ordering boots 1/2 size smaller than normal. If the size doesn't quite fit, you can replace them as long as they are like new.
first impression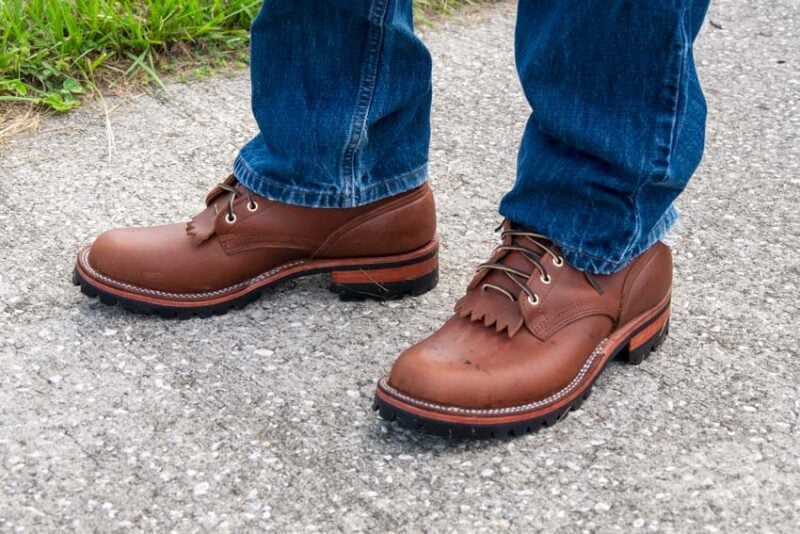 When you're ready to open your Nicks box for the first time, close your eyes and savor the scent of natural leather. It doesn't get any better than this.
When I slip, my first thought is "blessed arch support, here you come". In terms of full foot support, I can't recall anything better than my feet.
The boot has a leather insole. If you're like me on the wrong side of 200 lbs and the wrong side of 40, you'll want to add an insole with some extra cushioning. That could be something off the shelf or a custom orthotic; this is your call.
The leather laces are long. Once you've determined how much extra length you want, go ahead and trim off the excess with a pair of scissors.
break in
To their credit, most modern off-the-shelf boots work for a long time right out of the box without much break-in period. Not so with Knicks' handcrafted boots, though. Given the quality of the materials and construction, plan to spend at least a few weeks breaking them in.
The leather begins to relax as it is stretched, and the sole develops the flexibility needed to move with the foot. Plus, it molds to the shape of your foot better than other boots during the break-in period. Persevere, though—it'll all be worth it once they hit your stride.
Wearing Nicks BuilderPro Boots
Once you've passed the break-in period, you're ready to race. Well, anyway, let's go to the construction site. If you've never worn a boot of this quality before, there are a few things you should be aware of.
The leather is thicker than most. At 7 – 8 ounces, it's almost double the industry standard for uppers. Boots have no fiberboard, cork or synthetic fibers. All in oak tanned leather, sourced in the USA. This all adds to durability, but also makes the boot heavier. Boots are also fully rebuildable and repairable.
The heel and aggressive Vibram V-100 lug sole make the BuilderPro a great choice for jobsites where you spend a lot of time in the soil. If you mostly walk on concrete, steel, and other hard surfaces, you may want to wear low heels or switch to wedges.
The style of boots will vary depending on your choice, but in general, it has an overall aggressive yet professional look. The outsole gives the boot an aggressive look, while the smooth upper slides easily over dress boots. If you're in the upper echelons of a construction firm, it looks good in the board room, with all the stability and grip you need on the job site.
Nicks BuilderPro Handmade Boots Prices
The price of the boots depends on your choice. The configuration I'm using runs $555.00. Most pre-configured top-selling version sells for $545.
One thing to keep in mind when considering investing in handcrafted boots is that Knicks is an American company based in Spokane, Washington. Some of their boot makers have been with them for decades, and the company itself has been around for almost 60 years. More than 98% of the materials they use come directly from the United States. Even the leather comes from tanneries in the United States.
the bottom line
Going from off-the-shelf boots to quality handmade boots is a big change, and there are a few things you need to consider. If you're looking for a relationship with your work boots, not just a short-term fling, we highly recommend you take a look at Nicks BuilderPro or their other handmade boot options and see for yourself.
Click here to visit the Nicks Handmade Boots website.