When Milwaukee originally released the RedLithium batteries in 2010, they replaced the original M12 and M18 lithium-ion battery packs. Not content to simply accept a fancy name without understanding the technology behind it, we started our research. In short, Milwaukee RedLithium battery technology combines advanced electronics with temperature flexibility and control to produce reliable, consistent power.
To get the best information possible, we interviewed Paul Fry. He served as Senior Vice President of Product Management at Milwaukee Electric Tool Company. Paul has been using Milwaukee RedLithium technology since the beginning. If we really want to understand what makes RedLithium batteries special, Paul can help.
The early days of Milwaukee RedLithium battery technology…
So Milwaukee Tool actually brought in some guys from MIT when the lithium-ion era was just getting started. They wanted to get into the business of making actual batteries. Seriously, they're working on actual batteries to make them work for cordless power tools. That's actually pretty crazy, because it means Milwaukee had battery production facilities at one point. They also hold multiple patents for lithium-ion batteries.
This is highly unusual, to say the least. Before Li-ion, the whole industry bought their Ni-Cd batteries from one of two places. In most cases, they also have the manufacturer make the battery pack. This leads to less elegant solutions that cannot withstand much abuse.
Still… for NiCad it works… most of the time.
Milwaukee Lithium-Ion Battery Schedule
We are often asked when Milwaukee will introduce or release the M18 and M12 batteries to the market? Below is the Milwaukee lithium-ion battery timeline for each major product launch. We don't have an exhaustive list, but we've covered key milestones so you can see how things have progressed over the years.
2005 – Milwaukee Tool V28 lithium-ion battery released
2008 – Milwaukee M18 lithium-ion battery launched
2009 – Milwaukee M12 (12V) compact tool and battery introduced
2010 – Milwaukee switches V28 series to M28 batteries (with more battery intelligence)
2010 – Milwaukee RedLithium battery technology launch
2012 – M18 FUEL brushless 18V tool released by Milwaukee Tool
2012/13 – Milwaukee Tool announces and releases the M12 FUEL brushless 12V tool and premium battery
2018 – Milwaukee M18 high output battery announced with 21700 (2170) cells
2019 – Milwaukee MX FUEL tools and batteries released
2022 – First Milwaukee 36V tool released (uses two M18 batteries simultaneously) – Milwaukee M18 FUEL Mower
How Lithium Ion Batteries Are Different from NiCd and NiMH
NiCd and NiMH battery packs are inexpensive to manufacture. You don't have electronics. These battery packs do not require significant temperature monitoring. Charging doesn't require much intelligence either.
Lithium-ion battery technology changed all that overnight. Batteries are suddenly "smart".
When Milwaukee switched to lithium-ion as a platform, they had to change the way traditional batteries were made. At the time, there were only a few battery manufacturers in the market capable of meeting these challenges. Now there are about 7 mainstream companies:
Tesla – While they work closely with Panasonic, the Gigafactory is the largest lithium-ion manufacturing facility in the world. It is also located in the United States.
Panasonic – located in Japan, US and China
LG – Lithium-ion manufacturing plants in Poland, US, Korea and China
Samsung SDI – Manufacture of lithium-ion cells and battery packs in South Korea, China and Hungary
CATL – Chinese lithium-ion battery manufacturer
BYD – brand and battery manufacturer with factories in China and Brazil
Grepow – Based in China, Grepow manufactures consumer electronics batteries for remote control devices, drones, and other items.
Increased packaging complexity
In addition to the increasing number of manufacturers, the complexity of battery packs is also increasing. Since lithium-ion batteries require manufacturers to turn their attention to making better battery packs, it relieves the pressure of having to develop actual batteries . Right now, battery manufacturing is handled by some major manufacturers who are doing a good job.
Like many top tool makers, Milwaukee designs its own actual battery packs. Because of their early start, they have more experience with lithium-ion batteries than most. Milwaukee Tool's theory is that you can take the best battery in the world, but without great electronics and protection, you end up with a poor battery pack.
Check out our article on all Milwaukee M18 battery comparisons
Leverage technology and talent
Milwaukee Tool quickly went from trying to make batteries to realizing they could keep these battery geniuses on staff. They quickly turned their energies to pushing partner manufacturers to maintain an optimal battery structure. At the same time, they adjusted the technology and characteristics of the battery pack to meet user expectations.
These teams continue to control the production of the battery packs themselves, with a particular focus on the development of tools, battery packs and charger electronics. The original lithium-ion battery pack had some electronics. Eventually, Milwaukee deployed additional electronics to monitor and enforce the new circuit. These analyze the signals between the battery and the tool and from the battery to the charger.
RedLithium technology begins to take shape.
According to Milwaukee Tool, when considering battery technology, there are ultimately three main areas to focus on:
Battery Pack Construction
The actual lithium-ion cells in the battery pack
Electronics in battery packs (and in tools and chargers)
Smart Milwaukee Red Lithium Battery
The transition from "dumb" to "smart" batteries coincided with the advent of lithium-ion batteries. Batteries have evolved from virtually no electronics to systems that monitor every aspect of the battery pack's charging and discharging functions. For example, during charging, the battery pack must talk to the charger, or overcharging may occur.
What is overcharging? If the battery is charged beyond its capacity, the battery will fail and stop working (or worse). Conversely, you can also allow the battery pack to exceed its temperature limit during tool use. This happens when the current draw exceeds the limit. This will melt your motor and release "magic smoke". It also damages the battery at the same time.
To avoid this, near-constant communication occurs during charging and discharging. The system monitors and adjusts the battery as well as the motor for optimal use and safety.
Editor's note: Overcharging is when the battery pack is overloaded from the charger (power goes into the battery). An overload is when the tool is being used (battery dead) and the current draw is too high (eg when the drill bit is too large or the torque is sustained too high). In these cases, a well-designed tool will shut itself off to protect the tool and battery. A good battery tool system can monitor both aspects of energy usage.
How Milwaukee RedLithium Technology Increases Uptime
The other side of the equation involves runtime. With the advent of lithium-ion batteries, Milwaukee began providing discharge protection for the battery pack itself. This eliminates the need to fully discharge the battery by, for example, holding down the trigger.
For anyone who has worked with NiCd or even NiMH, you are familiar with the memory effect and the tendency of batteries to lose their charge potential over time. Draining it is a common and popular way to regain your battery's full potential (or at least as much as possible). What the user is really doing is "destroying the voltage of the battery pack". Ultimately, this will harm the battery.
Electronics prevent the tool from discharging the battery to its full capacity. This prevents it from losing the ability to fully charge. When the Milwaukee tool is stopped, its battery actually has a little charge left. The electronics stepped in and said "time to charge the tool, stop working – you're done."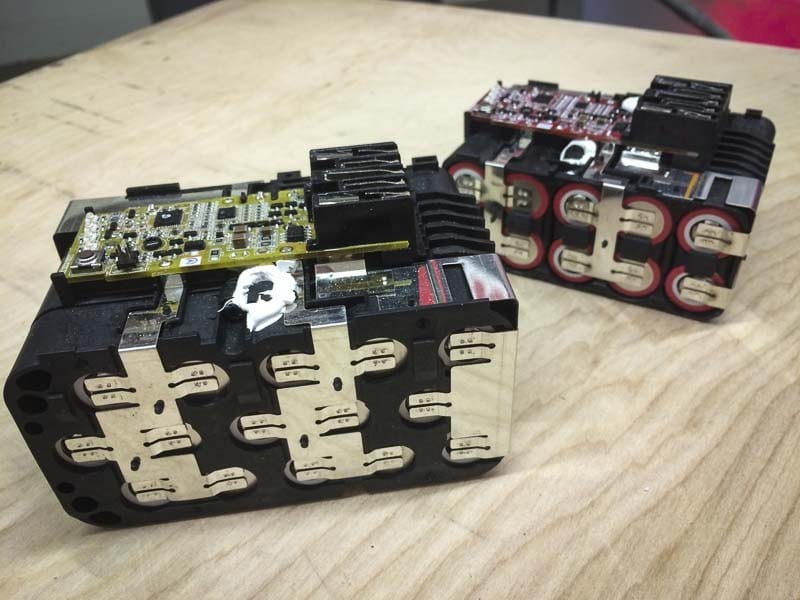 Thermal Protection in Milwaukee RedLithium Battery Technology
Thermal protection provides an equally important function for the electronics in Li-ion battery packs. This comes into play when cutting a pile of lumber or any application that uses a lot of torque or "trigger time". In such a use case, you can easily raise the battery pack above its temperature threshold.
Milwaukee RedLithium electronics cut off the battery pack when an excessive threshold is reached. We found it interesting to observe that Milwaukee's original Li-Ion cells also contained electronic overload and thermal protection. Those early batteries would die earlier than the newer RedLithium models. Run time and torque capability take another leap forward with the advent of RedLithium high output batteries.
According to Paul, the electronics haven't changed much.
However, battery technology has advanced by leaps and bounds.
Cell building and chemistry working together
The latest Milwaukee RedLithium battery packs keep the overall battery cool due to changes in battery structure and chemistry. The new potential and ability of batteries to add loads enables electronics to adjust, recognize and react accordingly.
Remember those numbers above? That's where all this growth comes from. This is true, not just marketing or different ways of measuring performance. The new RedLithium batteries actually build up heat more slowly, so they run longer before protection kicks in.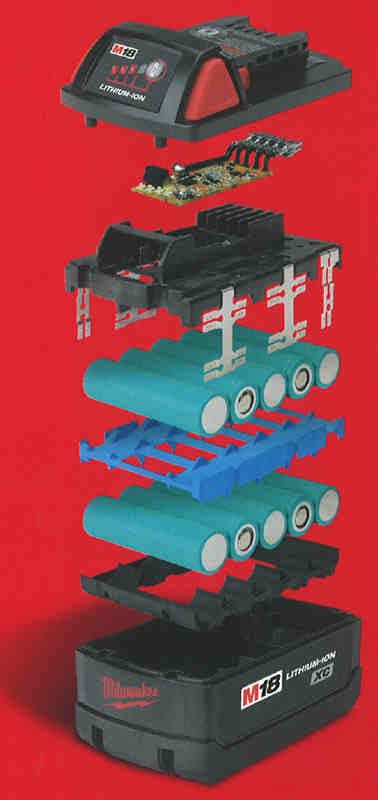 Here's how RedLithium differs from its predecessor in terms of performance (these are the "latest" numbers):
Run time increased by 40%
20% faster
20% more torque
non-attenuating power supply
Here's how the actual durability of RedLithium battery packs varies:
Operates down to 0°F/-18°C
20% lower operating temperature
Charge times increased by up to 50%
no memory effect
Now look at the values assigned to the latest RedLithium high output pack:
Power increased by 50%
50% lower operating temperature
Putting the brains into the intelligence behind battery packs
So the battery pack talks to the tool. The tool talks to the battery pack. Of course, when it comes to discharging or using power tools, on-tool protection and monitoring are key. But each tool has to know what's going on with its battery — what's its temperature, its charge level, etc. That way, every tool in Milwaukee will react and respond appropriately, and you won't get a "one size fits all" approach to battery management and performance. This basically means that it is now also possible to set different thresholds for different packets.
It's really a two way street. If Milwaukee had simply set the overload threshold in the pack, the pack would perform the same whether you were using a flashlight or a circular saw. That's not the case with RedLithium (or the original Li-Ion battery for that matter).
Slim Packs vs XC Fat Packs
Initially, Milwaukee RedLithium battery technology set limits on battery packs. For example, they do this so users can't use the Slim backpack with a cordless circular saw. These restrictions were necessary at the time. Milwaukee wants to be able to provide users with a satisfying experience. Pairing an early slim bag with a higher torque tool results in a saw with slower cut times, more frequent stalls and significantly shorter run times.
Currently, RedLithium battery packs can withstand higher temperatures and dissipate heat more easily due to advanced battery structures and electronics. With this, the "feel" of the tool is maintained, even with less run time and torque. Since the tools won't run out anytime soon, Milwaukee has opened up all tools to use newer batteries.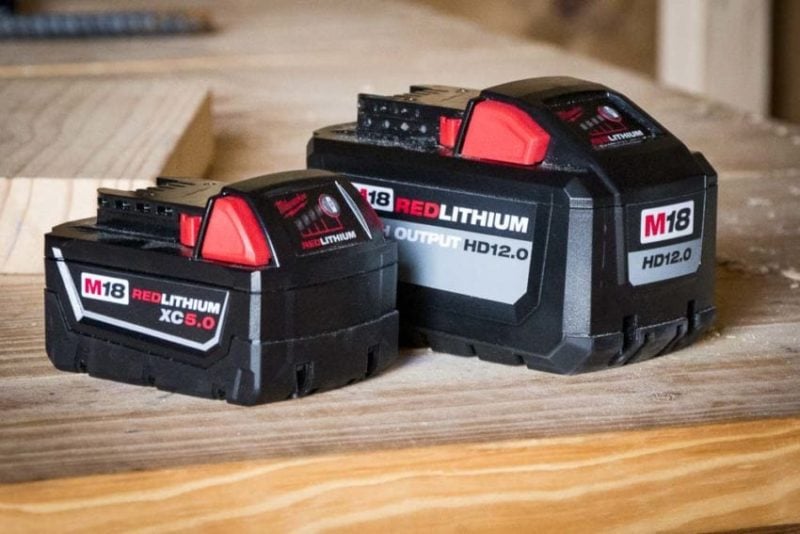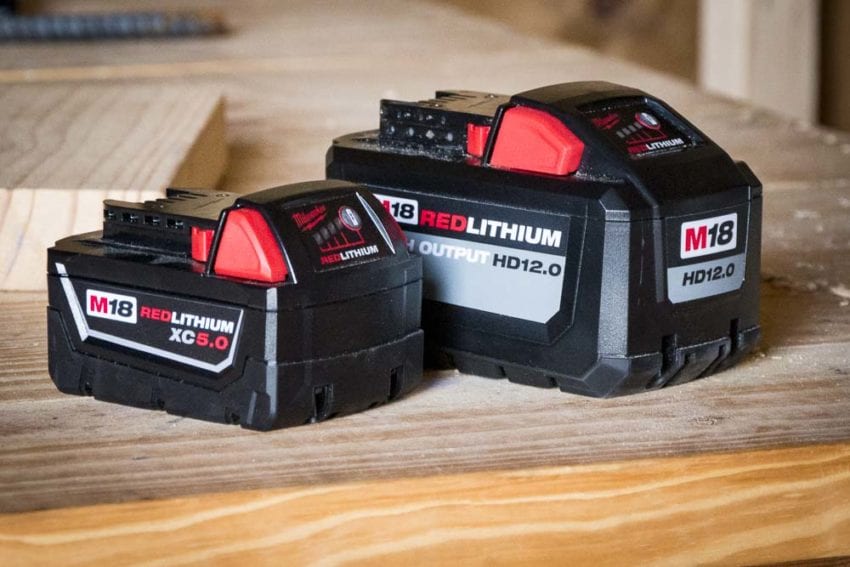 Milwaukee RedLithium high output battery technology goes one step further. When used in demanding tools, the high output CP3.0 ultra-slim battery provides more power and more efficient runtime than the original RedLithium XC battery pack. The larger XC8.0 and HD12.0 battery packs provide power levels that match or even exceed those of 120V corded tools.
Another feature of comparing older and newer Milwaukee RedLithium batteries has to do with heat dissipation and thermal management achieving major gains. The net effect is – the harder you push the tool, the more you realize the increase in runtime. This is a factor of how well the power curve is achieved under load.
Bigger battery pack still delivers more power
Don't think that means your Slim pack will generate the same torque as your cordless drill or high powered hammer. There is still a noticeable power difference between a 5-cell battery pack and a 10-cell battery pack powering the tool. Electronic devices set up and manage some of them. However, the tool also has a natural current draw. While it may be limited by the battery pack electronics in terms of amperage per second, it still has an effect on total power.
To demonstrate how having more cells can lead to better battery efficiency, we need to set up a scenario. This applies to Milwaukee RedLithium battery technology as well as other tool batteries. Assume the battery pack needs to supply 20A to the tool. This will generate 360W of power.
Since we're not talking runtime, we're not going to talk about how long the battery can sustain that load. However, it is not uncommon or excessive to supply a power tool with current or power under a reasonable load.
Let's do some simple math
This is the equation for an 18V slim battery pack with five 3.6V cells. The total load we applied to this battery pack was 360W. For reference, power is expressed in watts (volt-amperes), current in amperes, and voltage in volts. Our concern is to see how each cell in the pack behaves independently under static load:
P (power) = I (current) x V (voltage)

360W = I x 18V (5 batteries)

72W = I x 3.6V (1 cell)

I = 20A (for each of 5 cells connected in series)
Each cell in this ultra-thin battery pack needs to provide 20A and 72W of power. We know this because 360W/5 (batteries) = 72W, and each battery provides a rated nominal 3.6V in series. (20A = 72W / 3.6V)
What happens when we use a 2 layer 18V battery pack with two stacks of 5 cells (total of 10 cells), all the power is distributed across two parallel layers of series cells. Since each cell is still rated at 3.6V, this means that each cell only needs to deliver 10A. In general, currents are additive in parallel circuits.
Less current draw equates to less heat generated by the cell and battery pack, increasing the potential efficiency and performance of the pack. Often this results in a runtime benefit that outweighs the mathematical multiplier of simply having more cells available.
Adding more rows of cells in parallel means each cell needs to supply less current to the pack to output the same amount of total current. In addition to having longer run times, these larger battery packs can often deliver more power while generating less heat.
The ability of the battery to power the motor can greatly affect the runtime or torque difference. This greater current capacity "tightens" the motor curve (at higher speeds under load). This is where larger 10- and 15-cell battery packs yield more torque and other advancements.
*NOTE: We've received a lot of feedback on the raw math used to calculate the current for various battery packs in series and parallel. While our mathematics is intended to account for the differences between the current draws of various battery packs, it does not take into account the fact that current remains constant across a series of batteries. Therefore, we further simplified the equation and eliminated some incorrect examples. If you provide us with feedback – thank you for your contribution to help us clarify more precisely the issues involved.
Milwaukee Red Lithium USB Battery
Oddly, the bigger battery doesn't get all the attention. Smaller batteries also benefit from advanced technology. The RedLithium USB battery is a good example. These advanced batteries are now found in headlights and flashlights. They offer rechargeable and replaceable batteries for devices that previously required non-removable batteries or standard alkaline batteries.
What's in store for the future of lithium-ion
We asked about the future of lithium-ion, specifically the potential use of prismatic batteries as they develop. The bottom line is that battery technology (and Milwaukee RedLithium battery technology) will continue to improve, albeit slowly. It's best to remember that cells are only 1/3 of the equation. You can have the best battery but no electronics and literally ruin a tool. So your battery pack is probably poorly constructed and will shatter when dropped, spilling all your advanced electronics and battery technology on the ground… not good either. If you lose just one weld on the battery pack, you lose the whole thing. Lithium-ion batteries give you unbiased credit!
Increased ampere-hour capacity and power density continue to improve. We've got new battery packs that contain denser, larger 21700 cells. Also, better battery impedance leads to faster charging, etc). Given that the iPad does drive more advances in Prism technology, we may see some movement there, but for now, Prism technology is unlikely to be used in power tools anytime soon. They often have cooling issues and other considerations that prevent their use.
So while tool batteries may look no different in the near future, they will certainly last longer and charge faster. That's pretty cool for professionals and home users alike.
Editor's Note #2 : Here is a list of phrases that do not appear in this Milwaukee RedLithium battery technical article:
"Paul seemed really excited to talk to us about his new battery"
"We run our tool through a series of tests…"
"Milwaukee really put a lot of stuff into RedLithium…"