Milwaukee Top-Off Power Supply simultaneously charges and powers electronic devices
Charging and powering your devices on the job site just got easier with the Milwaukee M18 Top-Off 175W Power Supply (2846-20). When connected to any M18 battery, this power source provides fast, simultaneous power to your phone, tablet and more.
10 second summary
Model: Milwaukee 2846-20
Compatible with any Milwaukee M18 battery
Simultaneously powered by 120V AC outlet, USB-C port and USB-A port
Charge 3 devices simultaneously
no throttle
Maintains full power even when all ports are in use
metal rafter hook
Available in 2020
Price: $99
Portable Power for All Your Devices
The Milwaukee M18 Top-Off Power Supply delivers 175 watts of continuous power to up to three devices at once. It includes a 120V AC outlet, a USB-C PD port, and a USB-A port. Best of all, you can charge all three devices simultaneously. Milwaukee power supplies provide power to each port without throttling output. Convenient buttons activate and deactivate the USB and 120V outlets.
The Milwaukee M18 power supply is also the first to integrate a USB-C Power Delivery charging port on a power tool battery platform. This type of USB charging is faster than traditional chargers and can deliver up to 45W of power. It charges compatible devices up to 75% faster than conventional 5W chargers. All you need is a USB-C charging cable to enjoy the speed boost.
Compare Milwaukee Power Solutions
Below is a comparison of various Milwaukee power solutions.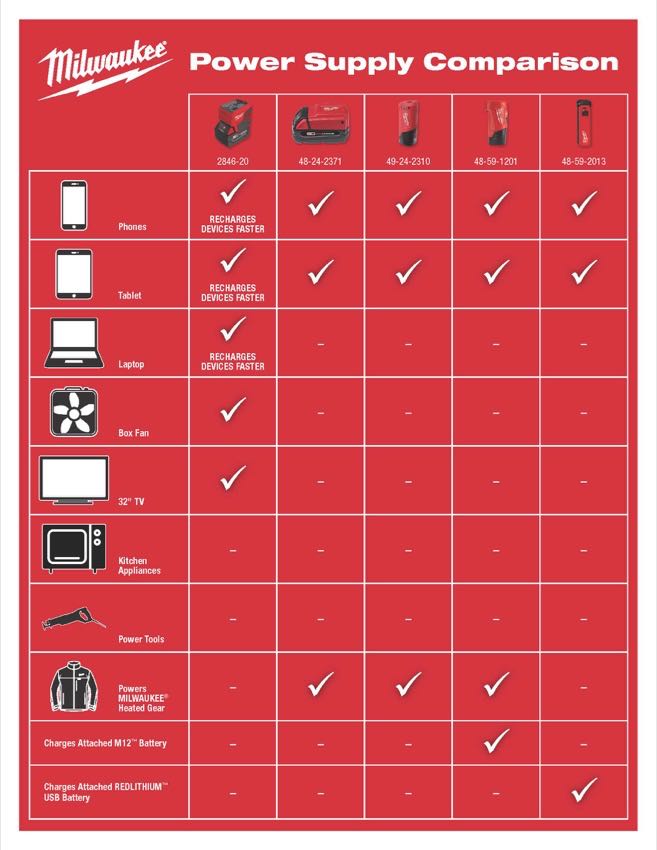 Of all the features, the one that impresses us the most is the parallel power supply. Unlike most multiport power supplies, the Milwaukee Top-Off maintains full power even when all ports and plugs are in use. For example, if you have a laptop, tablet, and phone, all three devices will charge at full speed. While this drains the battery faster – that's the point.
The Milwaukee M18 power supply comes with metal rafter hooks so you can hang it from a wheelbarrow, lumber or other jobsite material. You can set up your charging station and keep all your valuable electronics close at hand without having to hunt for wall outlets out of sight. It provides a convenience that also helps keep your equipment from "leaving" the job site.
Battery Options, Pricing and Availability
Of course, you'll want to have a battery that's good for all-day charging. While this power will work with all Milwaukee M18 batteries, you'll get more action from the brand's higher capacity models. For example, a top-of-the-line HD12.0 battery can keep multiple devices powered throughout the day, while a slim 2.0Ah battery pack might only be good for powering up in a pinch or keeping your phone or tablet running strong.
You can find Milwaukee's full range of battery options by clicking here.
Milwaukee plans to release the M18 Top-Off Power Supply in November 2020. It retails for $99 and comes with the company's 5-year warranty.
Milwaukee M18 Top-Off Power Specifications
Model: Milwaukee 2846-20
AC 120V socket
USB-C PD (45W) port
USB-A (2.4A) port
Weight: 0.8 lbs. (bare tools)
Warranty: 5 years
Price: $99