Milwaukee M18 Advanced Battery: Redefining Power and Performance
When Milwaukee first introduced the 9.0Ah High Demand battery, they were already hinting at the future of battery technology. Today, we are witnessing the groundbreaking capabilities of the Milwaukee M18 Advanced Battery, known as the "Milwaukee M18 High Output" batteries. These batteries are revolutionizing power delivery, surpassing the performance of standard batteries.
Milwaukee M18 Advanced Battery Design: Power Meets Efficiency
The foundation of advanced batteries lies in the upgrade of the 18650 cell, with popular options such as the 20700 and 21700. These numbers denote the physical dimensions of the cells – 18mm x 65mm, 20mm x 70mm, or 21mm x 70mm. Milwaukee utilizes the 21700 cells, providing enhanced power output.
Efficient energy transfer from the battery to the motor is crucial. To achieve this, Milwaukee employs thicker wires and improved connections, effectively lowering resistance (ohms). Furthermore, careful consideration is given to dissipating the heat generated during energy transfer.
When all these elements come together, the Milwaukee M18 High Output Battery not only delivers remarkable power but is also sturdier in construction compared to standard battery packs. As a result, Milwaukee achieves an impressive 50% more power than other M18 RedLithium batteries while running 50% cooler.
You may notice that the M18 High Output Battery has a slightly larger form factor than other M18 RedLithium batteries. This is due to the incorporation of larger cells and a superior battery pack design. However, rest assured that they are fully compatible with regular M18 batteries, maintaining the same connections.
The increased power capacity of the Milwaukee M18 High Output Battery allows for the creation of more powerful tools. Unleashing the full potential of tools like the M18 Fuel Super Sawzall, new circular saws, rear handle saws, large angle grinders, and 1″ impact wrenches would have seemed unimaginable just a few years ago.
The compatibility of the M18 High Output Battery with any M18 or M18 Fuel tool is indeed impressive. While impact drivers may experience a slight performance boost due to the advanced package design, the true advantage lies in maximizing capacity while reducing the load. Powerful tools, in particular, benefit greatly from these advancements, surpassing the performance of traditional corded tools in many cases.
Unleash Your Tools: Get Supercharged
Another remarkable feature of the Milwaukee M18 Premium Battery is its rapid charging capability. The Milwaukee Super Charger lives up to its name, charging a 216 Wh, 12Ah high output battery in just one hour.
While standard M18 battery packs cannot handle such fast charging speeds, they are still fully compatible. Placing a 5.0XC battery on a supercharger will ensure it charges at the optimized rate, safeguarding the battery.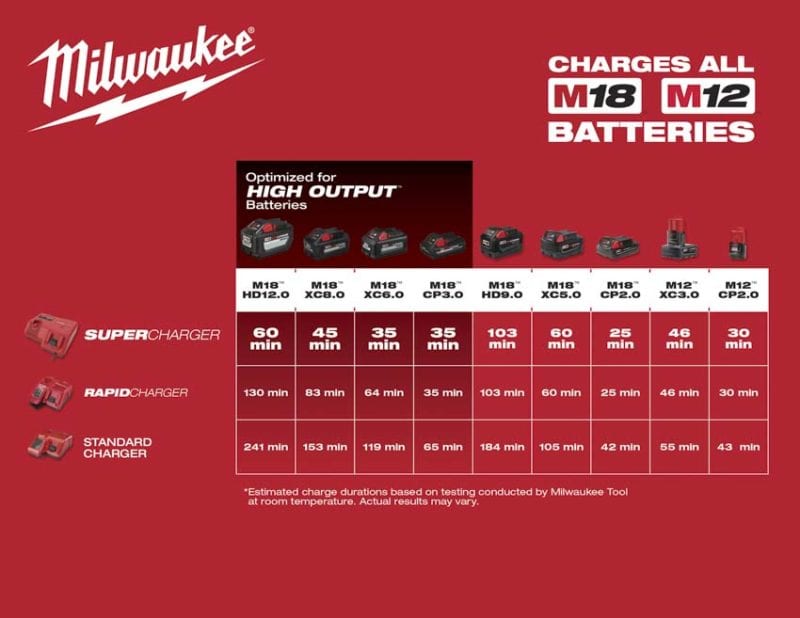 Similar to standard batteries, premium Milwaukee high output batteries are available in 1P, 2P, and 3P options. The "P" signifies parallel, indicating the number of rows of cells within the battery. 1P consists of a single row of 5 cells, 2P has two rows of 5 cells, and so on.
Here are the options available:
CP3.0 High Output ($119): 1P compact battery – ideal for lighter tools like impact drivers.
XC6.0 High Output ($169): 2P Battery – a versatile battery suitable for any tool.
XC8.0 High Output ($199): 2P battery – a general-purpose battery with extended runtime compared to the XC6.0.
HD12.0 High Output ($249): 3P Batteries – high-capacity batteries designed for the most demanding tools, such as table saws, miter saws, and large angle grinders.
With the Milwaukee M18 High Output Battery, unleash the true potential of your tools, enjoy faster charging times, and achieve unparalleled performance. Upgrade to the future of battery technology and experience the power of Milwaukee.