The Milwaukee M18 Fuel Cordless Framing Nailers are set to launch in June 2020, with models available in both 21 degree and 30 degree angles. These nailers offer exceptional performance and versatility, making them ideal for a variety of projects. In this article, we will explore the advantages and limitations of the Milwaukee M18 Fuel Cordless Framing Nailers, as well as provide our recommendations based on our experience with the product.
Advantages
Zero lag, even in bump-and-shoot mode
Consistently sinks nails with every shot, even at high shooting speeds
Optional extended magazine holds 2 full nails, increasing efficiency
Conveniently located depth adjustment knob for easy adjustment
Works well with different types of strips, including paper and wire-trimmed strips
Launches full head offset and shear nails
Simple electronic switch to change from sequential to bump ignition
Includes folding rafter hook and separate belt clip for added convenience
Limitations
Weighs 11.3 lbs with magazine and 5.0Ah battery, which may feel heavy during prolonged use
Slightly larger than pneumatic framing nailers
More plastic used in construction, lacks metal backsplash
Our Recommendation
If you're looking for a powerful and reliable cordless framing nailer, the Milwaukee M18 Fuel Cordless Framing Nailer is a great option. Its drive power and nailing speed are unmatched, and it is suitable for a wide range of applications. However, it's important to consider the weight of the nailer, as it can be challenging to use for extended periods. Overall, we highly recommend it for remodeling contractors, repairs, and punch list work. The freedom from a compressor and hoses allows for increased productivity and convenience.
First Impression
We had the opportunity to test the Milwaukee M18 Fuel Cordless Framing Nailer at NPS 2019, and we were immediately impressed. The nailer delivered exceptional performance, quickly driving 3-inch nails into laminate engineered lumber. It easily fired up to 3 nails per second, similar to what we would expect from an air-powered framing nailer.
When we pulled the trigger, the nail was instantly driven into the workpiece. The nailer exhibited zero delay, providing a user experience similar to that of an air tool.
Roofing Made Easy
After obtaining a more durable model, we put the Milwaukee M18 Fuel Cordless Framing Nailer to the test during a roofing project. We needed to replace plywood and some sections of wood, and this nailer proved to be the perfect tool for the job. The depth adjustment feature allowed us to fine-tune the nail depth, ensuring a secure and professional finish.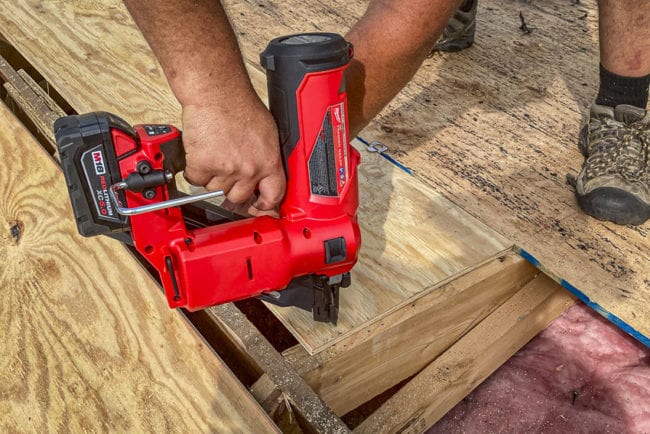 The Milwaukee M18 Fuel Cordless Framing Nailer excelled at this task, providing consistent power and precision. It never jammed or misfired, making it a reliable choice for demanding projects.
Enjoy the Freedom
One of the major advantages of the Milwaukee M18 Fuel Cordless Framing Nailer is its cord-free operation. This allows for greater mobility and flexibility on the job site. By running solely on the M18 battery platform, it eliminates the need for an air cartridge. This means all-day usability, as you can simply swap out a battery pack while the other one charges. No more trips to the store for ink cartridges.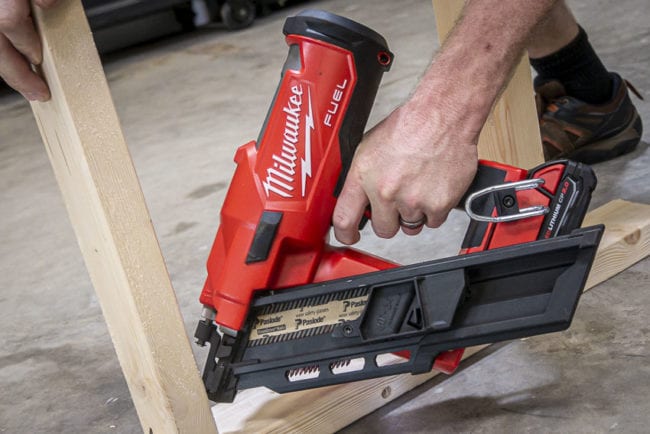 The compact design of the nailer is another standout feature. With a width of 14.1 inches, it easily fits between studs, making close-up nailing a breeze. The extended magazine adds some bulk and length, but it is still comparable to a compact air nailer. The absence of a trailing hose allows for smooth movement from one section of stud to another, without the worry of getting tangled.
Extended Capacity Magazine
Milwaukee offers an optional extended capacity magazine for the Milwaukee M18 Fuel Cordless Framing Nailer, a feature not commonly found in other battery-powered nailers. This extended magazine allows for greater efficiency as it holds up to two full nail strips, significantly reducing the need for reloading.
The extended magazine is priced at $69 and is a worthwhile investment considering the ergonomics and work speed of this tool. The standard magazine for the 21-degree framing nailer holds up to 45 nails, while the 30-degree magazine holds up to 51 nails. With the extended magazine, both the Milwaukee 2744-21 21° Nailer and 2745-21 30° Nailer can hold up to 83 nails, offering unparalleled efficiency and reducing the need for frequent reloading.
It is worth mentioning that magazines are not interchangeable between angles, as the driver systems are specific to each style. Therefore, it is important to ensure you purchase the correct magazine that matches the angle of your nailer.
Battery Life
Both the Milwaukee 2744-21 and 2745-21 models can sink between 500 and 700 nails on a single 5.0Ah battery. Actual battery life may vary depending on nail size and the material being fastened. However, this battery performance is sufficient for a typical workday, and swapping out a few batteries can ensure uninterrupted workflow.
Weight
It's important to note that the Milwaukee M18 Fuel Cordless Framing Nailer is a heavy-duty tool, weighing in at 11.3 lbs with the magazine and 5.0Ah battery attached. The weight is noticeable, particularly when nailing above your head. However, the nailer is well-balanced and easy to handle despite its heft.
Additional Features
The Milwaukee M18 Fuel Cordless Framing Nailer is packed with several useful features that enhance its overall functionality:
Rubber bumpers protect the tool when placed down
Dry fire lockout prevents firing when the nail supply is low
Includes a no-mar tip to prevent damage to the work surface
Pricing
The Milwaukee M18 Fuel Cordless Framing Nailer is competitively priced at $349 for the bare tool. It can also be purchased as a kit for $449, which includes a 5.0Ah battery and charger.
The Bottom Line
In conclusion, the Milwaukee M18 Fuel Cordless Framing Nailer is a reliable and efficient tool for any framing project. Its outstanding performance and cord-free operation make it a go-to choice for contractors and DIY enthusiasts alike. Despite its weight, the nailer offers a well-balanced design and exceptional power. We highly recommend the Milwaukee M18 Fuel Cordless Framing Nailer for its convenience, versatility, and overall performance.
Milwaukee Cordless Framing Nailer Specifications
Milwaukee 2744-21 21° Framing Nailer
Models: 2744-21 (kit), 2744-20 (tool only)
Nail Size: 2″ – 3-1/2″
Nail Diameter: 0.113″ – 0.148″
Magazine capacity: 45 nails
RedLithium XC5.0 battery: Up to 700 nails per charge
Sequential and contact drive modes
Dry fire lockout, leash hook, rafter hook, and LED work light
Kit Includes: M18 FUEL 21° Framing Nailer, M18 RedLithium XC5.0 Battery Pack, Charger, and Carrying Case
Price: $349 (tool only), $449 (kit)
M18 FUEL 21° Framing Nailer Extended Magazine
Model: 48-08-2744
Magazine capacity: 83 nails
Nail Size: 2″ – 3-1/2″
Nail Diameter: 0.113″ – 0.148″
Price: $69
Milwaukee 2745-21 30° Framing Nailer
Models: 2745-21 (kit), 2745-20 (tool only)
Nail Size: 2″ – 3-1/2″
Nail Diameter: 0.113″ – 0.131″
Magazine capacity: 51 nails
RedLithium XC5.0 battery: Up to 700 nails per charge
Sequential and contact drive modes
Dry fire lockout, leash hook, rafter hook, and LED work light
Kit Includes: M18 FUEL 30° Framing Nailer, M18 RedLithium XC5.0 Battery Pack, Charger, and Carrying Case
Price: $349 (tool only), $449 (kit)
M18 FUEL 30° Framing Nailer Extended Magazine
Model: 48-08-2745
Magazine capacity: 105 nails
Nail Size: 2″ – 3-1/2″
Nail Diameter: 0.113″ – 0.131″
Price: $69