Introduction
When the Milwaukee M18 Fuel Wireless Compact Router was first introduced, there was a lot of excitement among woodworking enthusiasts. Now that we've had the opportunity to use it extensively, let's take a closer look at how it compares to other cordless options in the market.
Advantages of the Milwaukee M18 Fuel Cordless Compact Router
Impressive power output
Quick stop bit at power-off
Excellent line of sight while drilling
Well-designed drop-in and offset mounts
Exceptional ergonomics
Second fastest bit speed
Variable speed dial for more control
Comes with a 5-year warranty
No Obvious Shortcomings
As of now, we haven't noticed any apparent disadvantages with this router.
Performance and Power
The M18 Fuel compact router boasts an impressive speed of 31,000 RPM, making it one of the fastest cordless routers available. Milwaukee claims that it delivers 1 1/4 HP, which is quite remarkable for a trim router. In our testing, we found that it translates well into real-world cutting ability, making it one of the most powerful cordless routers we've ever used.
We were particularly impressed with its performance when working with different bits, including cut off, round, and slot bits. Despite its compact size, it delivered on its power claims. We also tested the router on various edge routing tasks, cutting dadoes, notches, and even freehand designs, and it consistently delivered exceptional results.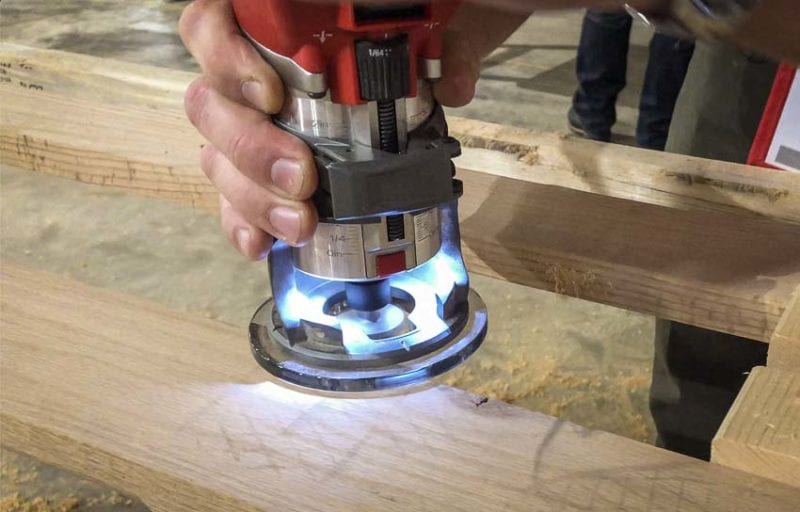 Variable Speed and Control
The Milwaukee M18 Fuel Cordless Compact Router features a variable speed dial that allows you to adjust the speed according to your needs. The dial is conveniently located on the side, making it easily accessible along with the power switch.
Battery Life and Weight
With the Milwaukee M18 5Ah battery, you can expect to do 250 straight-foot turns in red oak. For smaller projects, we recommend using the 3.0Ah high-output battery as it helps keep the weight down without compromising performance. The router weighs 3.01 pounds without the battery and 4.63 pounds with the 5.0Ah battery. If you prefer using the 3.0Ah H2O battery pack, the weight drops to 4.36 lbs.
It's worth noting that the battery does make the router slightly top-heavy, but this is a common issue with cordless routers. We would suggest avoiding the use of the 12.0Ah HO pack to maintain better balance.
Design and Ergonomics
When it comes to design, the Milwaukee M18 Fuel Cordless Compact Router stands out. It feels great in the hand, offering a smooth and firm grip without being too bulky. While there are a few models that we slightly prefer, overall, the combination of Milwaukee's barrel diameter and overmolding makes this tool very comfortable to use.
Bit Depth Adjustments
The router allows for both macro and 1/64-inch fine adjustments, giving you precise control over the depth of your cuts. Milwaukee has etched the dimensions into the barrel, ensuring they won't wear off over time. The fine-tuning dial is located below the power switch and operates smoothly. Additionally, there is a push-button macro release on the clip, making it easy to switch mounts or make large adjustments.
Excellent Visibility
Milwaukee has done an outstanding job with the vision on their base, providing clear and thin lines for accurate routing. The front of the router features a pair of LEDs that effectively illuminate your work area. Despite the absence of a third LED or more symmetrical placement on the sides or back, the overall visibility remains excellent.
Pricing
The Milwaukee M18 Fuel Cordless Compact Router is available at a competitive price of $179 for the bare-bones version. This includes a 4″ round base plate, 5 3/4″ formwork sub base, a 1/4″ collet, and a collet wrench. Milwaukee offers various bare tool, base, and combination kit configurations, allowing you to choose the option that best suits your needs. You can also purchase the cut-in and offset mounts individually, priced at $109 and $99, respectively.
The Bottom Line
Although the Milwaukee M18 Fuel Wireless Compact Router took a while to hit the market compared to its competitors, it was worth the wait. Milwaukee has addressed the shortcomings of other cordless routers and offers a highly capable and complete product. While we hold other models in high regard, we believe that Milwaukee provides the best cordless routers currently available.
Specifications:
Model: Milwaukee 2723
Power: Milwaukee M18 RedLithium battery
No-load speed: 31,000 RPM (high), 10,000 RPM (low)
Estimated Run Time: 250 linear feet of loop on red oak
Power Equivalent: 1-1/4 HP
Weight: 3.01 lbs with stationary base
Height: 6.86 inches naked
Warranty: 5 years
Price: $179 (tools only)