The Milwaukee M18 Fuel rechargeable air compressor has been highly anticipated and is finally here. Carpenters have put its per-charge claim to the test, driving 1,600 18-gauge nails. Some users have even used a Milwaukee battery-operated air compressor with an impact wrench and for tire inflation. As a professional plumber, I may not be the usual reviewer for the 2840-20 compressor, but I have some thoughts. First, I can use it on the job site without electricity. In fact, my team and I have successfully used it to vent and air test PEX heaters on multiple pipes.
Pros and Cons
Advantages
The compressor has a compact, rugged, and convenient design, complete with a carrying handle and roll cage.
It operates quietly, with a noise level of only 68dB.
It saves time by allowing you to work without a power source.
With a maximum pressure of 135 PSI and 1.2 SCFM @ 90 PSI, it is sufficient for many light-duty tasks.
Shortcomings
At 31.2 pounds, it is slightly heavier than some of its competitors.
Check out our Best Air Compressors article to see our top picks for a variety of applications and uses.
Milwaukee M18 Fuel Compact Compressor for Discharge Heater
Even in situations where there is electricity available, we usually manually bleed the heater. However, with the Milwaukee M18 Fuel Compact Quiet Compressor, I can simply let it do all the work. Its compact design and convenient carrying handle make it an excellent compressor for the job site. I particularly appreciate the protective roll cage, which makes it easy to store in the van and move around.
A co-worker of mine "borrowed" a Milwaukee cordless air compressor to stress test a new sewer line. Instead of using a hand pump, he used the 2840-20. The compressor worked exceptionally well, allowing him to work much faster and with less effort than the traditional method. He spoke highly of it and made it difficult for me to get it back!
Milwaukee Chargeable Air Compressors for Pressure Testing
Typically, we pressure test repiping jobs for at least 15 minutes using a 150 PSI compressor. This ensures that the pipeline is ready for use. In our area, street pressure is 75 PSI, so we need additional peace of mind. While the Milwaukee M18 Fuel Compact Quiet Compressor didn't quite pass our maximum pressure test of 150 PSI, it easily meets the rough PSI levels needed. If there is no power available at the job site, the Milwaukee compressor can be used as a very close alternative.
To test the pressure, we connect the line to a Milwaukee battery-operated air compressor using a hose spigot with a gauge. The 2-gallon water tank ensures there is enough volume for the task. We pump it up and then inspect the gauges. We usually perform this test during lunchtime, giving us ample time to sit down. When we return to the job site, we check if the pressure remains the same. If it does, we know we're good to go!
The convenience of a wireless air compressor and the ability to work on job sites without power comes with some tradeoffs in terms of charging time. The Milwaukee M18 Fuel Cordless Air Compressor takes around 90 seconds to charge. However, this is still much faster than doing the task manually!
Woodworking with the Milwaukee 2840-20
Although I work primarily as a plumber, I also engage in a lot of carpentry. Recently, I transformed my kitchen into a "tasty factory" (my wife's words). For some trim jobs, I use the Milwaukee M18 Fuel Compact Quiet Compressor. It helps me drive 2″ brad nails effortlessly, as the nailer never runs out of air supply.
The convenience of using a battery-powered compressor that operates quietly cannot be overstated. Milwaukee's noise output is significantly lower than that of noisy pancake compressors. We measured a sound pressure level of only 72 dBA with a decibel meter. If I were a professional carpenter, I would want this compressor for every trim job, whether there is power available or not!
Price
Milwaukee Battery-Operated Air Compressor (bare metal): $349
Milwaukee Battery-Operated Air Compressor Kit with 12.0 High Output Battery: $548
Milwaukee Battery-Operated Air Compressor Kit with 12.0 High Output Battery and Charger: $598
Comparing these prices to other options on the market:
Ridgid 18V Kit with (2) 2.0 batteries and charger (1 gallon): $297
DeWalt FlexVolt 60V Max Kit with (2) 6.0 batteries and charger (2.5 gallons) DCC2560T1: $299
Milwaukee Battery Powered Air Compressor Bottom Line
The Milwaukee M18 Fuel Compact Quiet Compressor is the cordless tool that Milwaukee fans have been eagerly waiting for. It is quiet, powerful, especially with the 12.0 battery, takes up minimal space, and is easy to carry. Carpenters will undoubtedly benefit from its functionality, and professionals like plumbers can also take advantage of it, just like I do.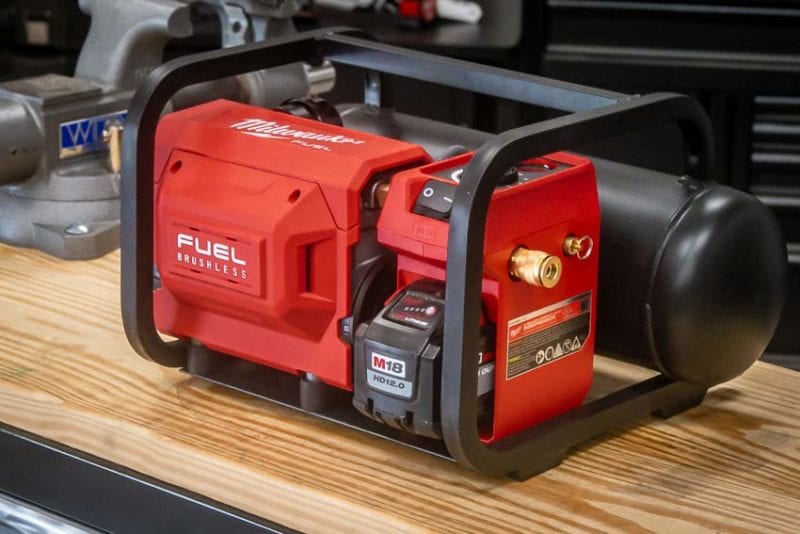 Specifications
Model:

2840-20 (bare metal)
2840-20BAT (with 12.0 high output battery)
2840-20KIT (with 12.0 high output battery and charger)

Sound output: 68dB(A) SPL
Fuel tank capacity: 2 gallons
Maximum Pressure: 135 PSI
SCFM: 1.2 @ 90 PSI
Pump Type: Oil Free
Regulator: Singleturn
Dimensions (L x W x H): 16.25 x 18.62 x 10.6 inches
Weight: 31.2 lbs.
Price:

2840-20 (bare metal): $349
2840-20BAT (with 12.0 high output battery): $548
2840-20KIT (with 12.0 high output battery and charger): $598