Milwaukee Compact Brushless Combo Kit Offers Brushless Benefits at a More Affordable Price
Milwaukee first launched its compact brushless line around 2016. These are drills and impact drivers with brushless motors, not part of the M18 Fuel series. They tend to be smaller and use less power, but still offer the added runtime and long life benefits of brushless motors. Even better, they cost less and are still covered by Milwaukee's 5-year warranty. The Milwaukee M18 Compact Brushless Combo Kit (Milwaukee 2892-22CT) is a new addition to the series and includes a drill and impact driver.
advantage
Both tools are very light and compact in their class
Neither tool was able to maintain speed in our tests
Less expensive than M18 fuel kit ($249)
Brushless Motor
shortcoming
Drill results below expectations in our soft torque test
basic feature set
Milwaukee M18 Compact Brushless Drill
Performance
In our 18V cordless drill battle, the compact model had to drive a 3/4" auger bit and a 1-1/2" self-feed drill for a speed test. The Milwaukee moved the auger at 1171 RPM – 71% of the 1665 RPM no-load speed we measured on the tachometer.
With the low speed self-feed drill, it averaged 408 RPM, which is 73% of its no-load speed of 556 RPM.
These are mixed results. In the high-speed test, Milwaukee was near the bottom of the pack. However, it finished in the top five in the low-speed test.
Perhaps the bigger payoff is in efficiency — its percentage of no-load speed. While some bits have a higher percentage, this shows us that the motor isn't working hard enough to move those bits. We believe you can handle anything other compact rigs can. You might just sacrifice a little speed.
The flip side of performance is torque. It is important to note that our torque test is a soft torque test. Check out our best cordless drills article for more test details.
In this test, Milwaukee averaged just 121 inch-pounds. Soft torque is typically 50% – 60% of hard torque, so we would expect it to be closer to 250 in-lbs. I don't have a solid answer as to why it's lower, but Milwaukee isn't alone. Seven other compact drills also range from 120 in-lbs to 130 in-lbs.
feature set
For both tools in this combined suite, the feature set is pretty basic. The Milwaukee 2801 Cordless Drill has a 2-speed brushless motor with 18+1 clutch, a full metal chuck, LED light and a reversible belt hook. It's basic, but functional, and really everything you need to punch holes and drive fasteners effectively.
body structure
We measured the Milwaukee M18 Compact Brushless Drill at 7.78 inches tall and 6.63 inches long. Outside of the two subcompact drills we tested, it's the most compact 18V compact drill.
Barely, it's 2.45 lbs and 3.43 lbs with a 2.0 Ah battery on our scale. It's an impressive feat, too, and only two of the subcompact and Skil's compact models weigh less.
Having a lighter weight and compact footprint makes it a very pleasant drill to use. That said, the 3rd generation M18 fuel and impact drill models are very compact in their own right.
Ratings
Speed under load: 3.5
Torque: 2.0
Feature Set: 4.0
Weight: 4.2
Footprint: 4.8
Overall: 4.2/5.0
Milwaukee M18 Compact Brushless Drill Driver Specifications
Model: Milwaukee 2801
Power: Milwaukee M18 RedLithium battery
Chuck: 1/2″
No-load speed: 0–500/0–1800 RPM
Torque: 500 in-lbs
Weight: 2.5 lbs
Height: 7.75″
Length: 6.5″
Milwaukee M18 Compact Brushless Impact Driver
Performance
The Milwaukee Compact Brushless Impact Driver drives 1/4" beam screws at an average of 450 RPM, which is only 30 RPM slower than the Gen 3 M18 Fuel model. Fast enough for fasteners without the motor feeling like it's overheating or stalling Danger.
Before we get into torque, it's important to note that the values we record do not reflect the manufacturer's testing to specification. However, it does give us a repeatable test for comparison.
Milwaukee specifies 1600 inch-pounds of torque for this model, which we really think is the sweet spot for an impact driver. It gives you enough speed and torque to drive smaller fasteners down to 1/4" or so without damaging the socket adapter every time you use a hex fastener.
For tightening torque, we saw a solid 2088 in-lbs average. Gen 3 M18 Fuel is the highest at 2656 in-lbs. But what's really impressive is how hard it counters . While the M18 Fuel model always topped 3600 foot-pounds, the Milwaukee 2850 topped 4500 inch-pounds.
feature set
If the feature set of a drill is light, the feature set of an impact driver is even lighter. It features a single speed brushless motor, LED lights and a reversible leash hitch. This feature set is fine if you're the kind of pro who puts the impact driver on high and pulls the trigger for smaller screws.
body structure
Milwaukee's Gen 3 M18 Fuel Impact Driver already has one of the most compact designs around, but the Milwaukee 2850 is no slouch in this area. At just 5.00 inches long and 7.69 inches tall, it's the third smallest overall.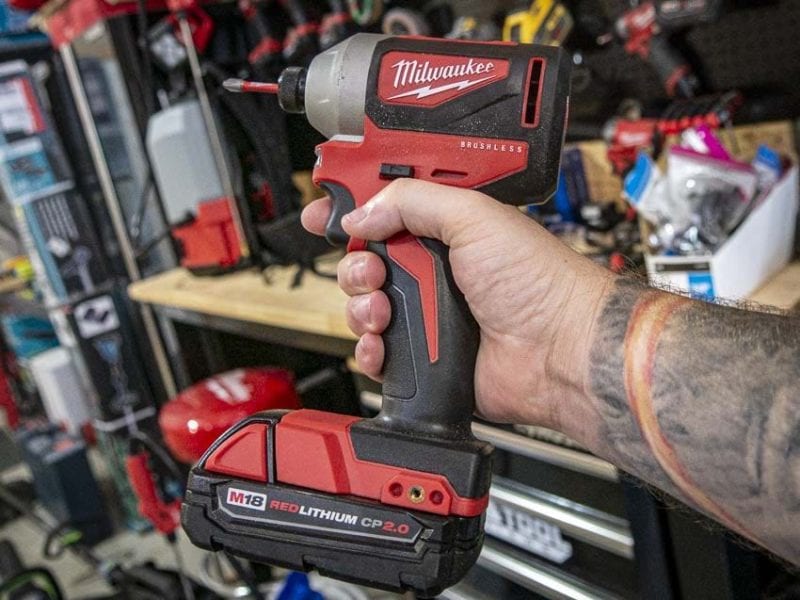 It's also solid in the weight department. As bare-bones, it weighs 2.1 pounds versus 3.0 pounds (with the compact battery), just 0.1 pound behind the leaders.
Ratings
Speed under load: 3.5
Torque: 4.3
Feature Set: 4.1
Weight: 4.8
Footprint: 4.5
Overall: 4.2/5.0
Milwaukee M18 Compact Brushless Impact Driver Specifications
Model: Milwaukee 2850
Power: Milwaukee M18 RedLithium battery
Chuck: 1/4″ hex
No-load speed: 0–3400 RPM
Torque: 1600 in-lbs
Impact rate: 0–4200 IPM
Weight: 2 lbs
Height: 7.75″
Length: 5.1″
There are several ways you can get your hands on this kit. The Milwaukee 2892-22CT comes with two 2.0 Ah batteries and a soft case for $249.99. Some retailers are also offering it in Packout, and we've seen it for around $349.
Personally I would choose the Packout option. Even if you're not currently building a Packout system, it's nice to have a hard case.
If you are considering individual tools, here are your options:
2801-20 (loose drill driver): $99.99
2801-22CT (power drill with two 2.0 Ah batteries): $207.14
2850-20 (naked impact driver): $69.99
2850-21P (impact driver with one 2.0 Ah battery): $123.99
2850-22CT (impact driver with two 2.0 Ah batteries): $139.89
Upgrading from a single tool kit to a full 2-tool combo is only $50 at most retailers, giving you the versatility of a drill and drive combo kit at the same time.
the bottom line
The 2892-22CT Milwaukee M18 Compact Brushless Combo Kit is a very comprehensive drill and impact driver set. Its rather mundane feature set is offset by quality performance in its class, with a weight and footprint approaching the most compact of the two tools.
The kit costs around $250, which is a pretty good deal for Milwaukee fans. Its cost is affordable for serious DIYers, and it has the performance of professionals who don't need a lot of power. Since both tools come with brushless motors and Milwaukee's 5-year warranty, that's a win.