When traditional hedge trimmers fall short and a full-size chainsaw feels like overkill, the Milwaukee M12 Fuel Hatchet Pruning Saw steps in as the perfect solution. This mini chainsaw is specifically designed to tackle small branches with ease, making garden pruning tasks a breeze.
Unleashing the Power of the Milwaukee M12 Fuel Hatchet
With the Milwaukee M12 Fuel Hatchet, you can effortlessly cut branches up to 3 inches thick, a job that would be too much for a hedge trimmer and too little for a cumbersome chainsaw. The compact size of the Hatchet, fitted with a 6-inch Oregon rod and chain, makes it the ideal tool for this pruning task. Take a look at the image below to see it in action.
Milwaukee has equipped the Hatchet with a brushless motor, ensuring top-notch performance. The chainsaw features a whole house chain with a cutter on each link, increasing cutting efficiency compared to skip tooth designs. Replacing the chain is a breeze with a 6-inch, 28-link, 3/8-inch spacing, 0.43 gauge replacement. Check out the close-up image of the chain below.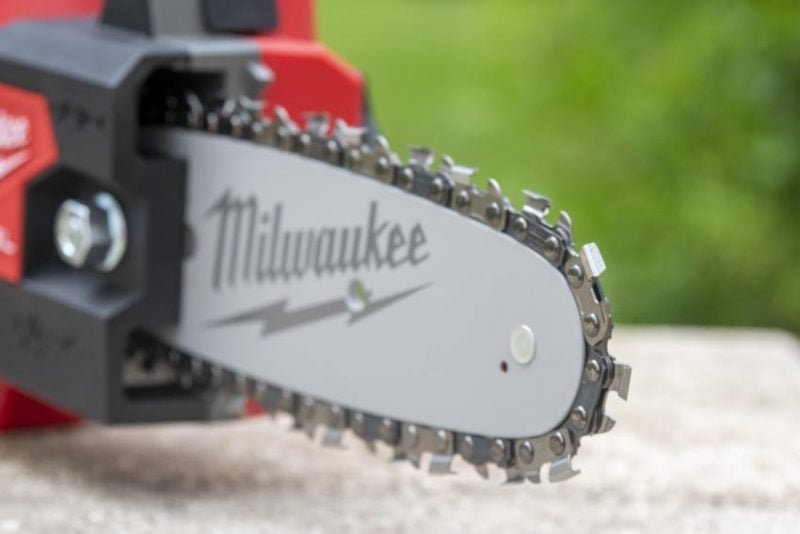 The Milwaukee M12 Fuel Hatchet comes equipped with a variable speed trigger, allowing you to control cutting speeds up to an impressive 984 feet per minute (fpm). Not only does it outperform traditional handsaws, but it also reduces fatigue while delivering outstanding results.
Unmatched Runtime and Advantages Over Reciprocating Saws
With the Milwaukee M12 Fuel Hatchet, you can make approximately 120 cuts on 2-inch oak using the 4.0Ah battery included in the kit. This makes it the perfect companion for a full day of landscaping work when used in conjunction with a hedge trimmer for branches under 3/4 inch and a chainsaw for branches over 3 inches.
You might be wondering, why not use a reciprocating saw with a pruning blade instead? While a reciprocating saw is an excellent choice, especially the one-handed Milwaukee M18 Fuel Hackzall, there are distinct advantages to switching to the Milwaukee M12 Fuel Hatchet. Designed specifically for pruning work, it excels at cutting thicker and harder wood. It is also lighter, more compact, and faster than reciprocating saws. Additionally, the Hatchet offers a more comfortable pruning experience by reducing vibration. Trust us, once you experience the Milwaukee M12 Fuel Hatchet, you won't want to go back.
Design Notes: The Foundation, Size, and Weight
The Milwaukee M12 Fuel Hatchet is based on the design of the M12 Fuel Hackzall. However, it features a 6-inch bar and chain, as well as a handguard for added protection and a two-handed grip. Take a closer look at the sleek design in the image below.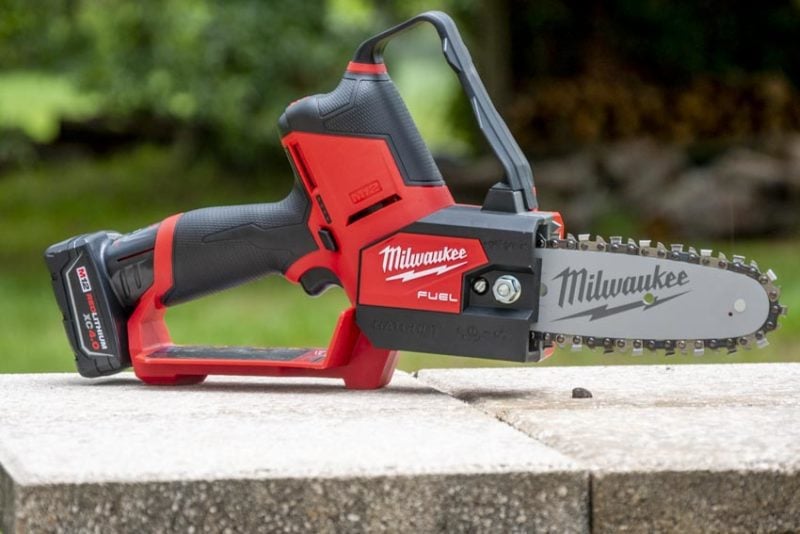 In terms of size, the Hatchet measures 18.5 inches in length, compact enough to maneuver around branches with ease. Its weight is also impressive, weighing in at just 4.85 lbs with the 4.0Ah battery.
Flex Spike, Chain Tension, and Automatic Oiler
Featuring metal bucking spikes, the Milwaukee M12 Fuel Hatchet ensures stability and control during your cuts. Unlike other lightweight saws that use plastic spikes, Milwaukee prioritizes durability.
Chain tensioning is made more secure with the Hatchet's single stud design, eliminating the need for a tool-less chain tensioner. This reduces the need for frequent re-tightening, keeping you focused on the job at hand. Additionally, the onboard scraper makes adjustments more convenient.
What sets the Milwaukee M12 Fuel Hatchet apart from the competition, such as the Stihl GTA 26 Garden Pruner, is its automatic oiler. Gone are the days of manually oiling the chain before each use. The translucent oil tank allows for quick and easy oil level checks.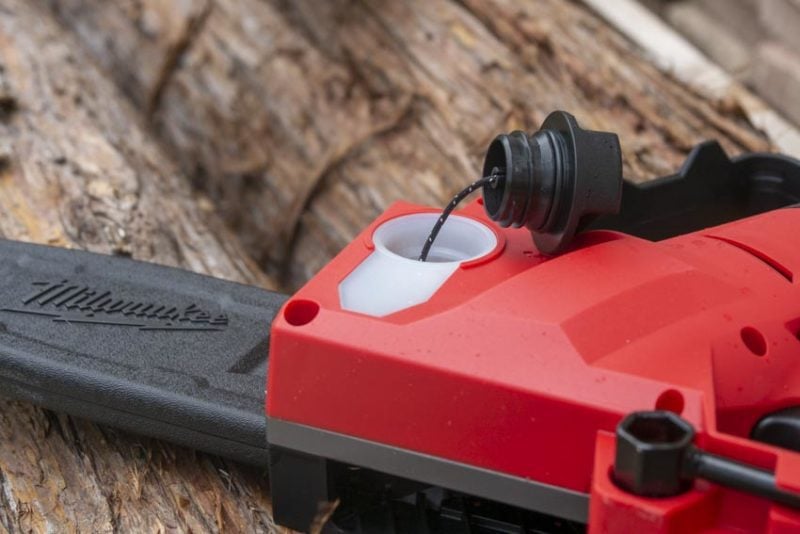 If you already own an M12 battery, you can opt for the bare tool version, the Milwaukee 2527-20, priced at $179. Alternatively, you can choose the 2527-21 kit, which includes the 4.0Ah battery and charger, priced at $249. Milwaukee stands by the quality of the M12 Fuel Hatchet, offering a 3-year limited warranty.
The Final Verdict
In a market where mini chainsaws, cordless loppers, and pruning saws are few and far between, the Milwaukee M12 Fuel Hatchet reigns supreme. It combines superior performance, thoughtful design, and unmatched versatility. Despite its slightly bulkier size compared to other options, it offers the best performance and a comprehensive package. When it comes to cordless pruning saws, the Milwaukee M12 Fuel Hatchet is the undisputed champion.
Milwaukee M12 Fuel Hatchet Pruning Saw Specifications:
Models: Milwaukee 2527-21 (kit); 2527-20 (bare)
Bar Size: 6 inches
Chain: 0.043″ x 3/8″
Chain Speed: 984 fpm
Fuel Dispenser: Automatic
Dimensions (L x H x W): 18.5 x 9.1 x 3.8 inches
Weight: 4.85 lbs (with battery)
Warranty: 3-year limited
Price: $249 (kit); $179 (bare)