Milwaukee 13 Amp Super Sawzall: The Ultimate Wood Treatment Tool
Earning the prestigious title of "Super Sawzall" in Milwaukee's lineup of reciprocating saws is no small feat. The Milwaukee 13-amp Super Sawzall, the smallest model to receive this distinction, showcases exceptional performance. To truly assess its capabilities, we put it to the test against other 13-amp options in its class.
Pros:
Unmatched wood cutting speed in its category
Excellent vibration control
Compact size, the smallest in its class
Proudly made in America
Cons:
Slightly higher price compared to other models in its class
Milwaukee 13 Amp Super Sawzall Cutting Speed
We subjected this power-packed saw to three different speed tests: studded wood, 2″ EMT, and #5 rebar. For complete details on our testing methodology, refer to our comprehensive reciprocating saw comparison page.
Equipped with a 3000 SPM speed and a 1.25″ stroke length, the Milwaukee Super Sawzall delivers exceptionally swift cuts. Its orbital action is especially advantageous for wood cutting.
In our studded wood test, the Milwaukee 6536-21 blew away the competition, averaging an impressive 8.30 seconds through 2 x 10 PT with 5 framing studs. This was over four seconds faster than the second-place Kobalt and nearly 12 seconds ahead of Skilsaw.
While the Milwaukee saw's cutting speed dipped slightly in metal cutting, it remained far from sluggish. It averaged 5.49 seconds in cutting 2″ EMT, just over a second behind the Kobalt.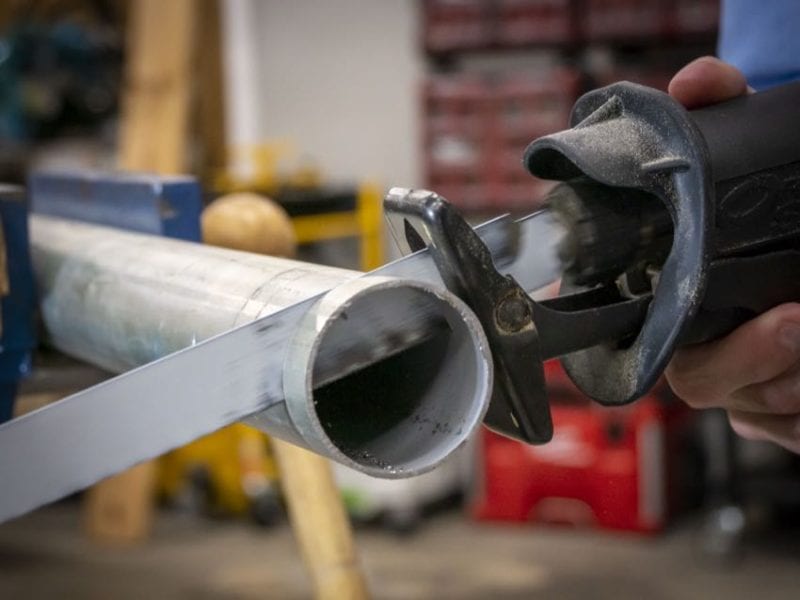 When tackling thicker rebar, it placed third with an average time of 8.27 seconds. Although it fell short by about two and a half seconds compared to the leading Kobalt, it still performed admirably.
Overall, the Milwaukee 13-amp Super Sawzall cuts wood with the precision and efficiency of a 15-amp class saw, making it perfectly suited for wood-focused projects.
Vibration Control
Milwaukee has implemented an incredibly effective balancing system in this model, resulting in impressive vibration control. Only Skilsaw's Buzzkill design scored slightly higher in our vibration control tests, making it a close competition.
Size and Weight
A reciprocating saw in the 13-amp class typically shares similar dimensions with its 15-amp counterpart. The Milwaukee 13-amp Super Sawzall, for example, maintains the exact same length as its 15-amp version—19.9 inches. It is only 0.1 inches longer than the Kobalt and a full 2 inches shorter than the Skilsaw in this category.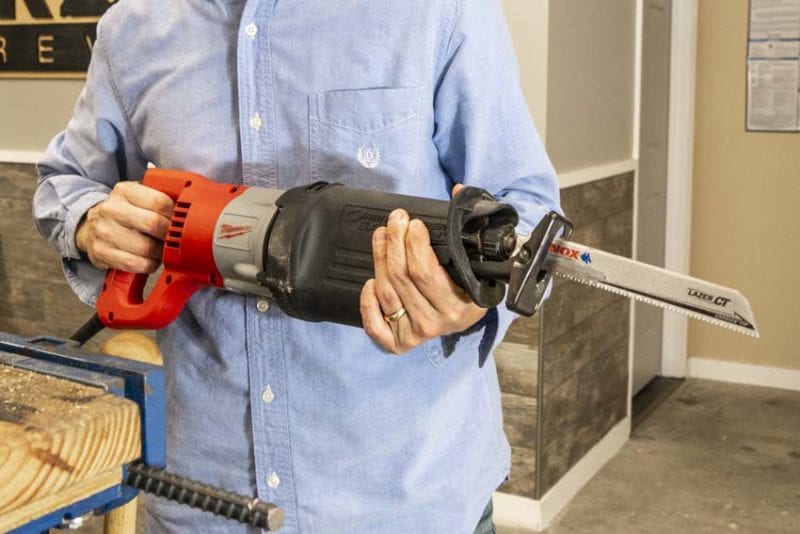 Likewise, at 9.4 lbs, the Milwaukee saw is very close in weight to its 15-amp counterpart (9.6 lbs). However, it stands out as the lightest option in its class, weighing only 0.1 lbs less than the Skilsaw.
Additional Features
Apart from its orbital action and balancing system, the Milwaukee Super Sawzall's feature set primarily revolves around a swivel, tool-free adjustable shoe. It's worth noting that chainsaws within this power class and the 10 – 12 amp range tend to have more limited sets of features. However, there are a few features found on other chainsaws:
Variable speed dial
Lever blade release
Blade ejection
Rafter hook
LED light
In reality, Milwaukee includes the most significant features that directly impact cutting speed and vibration. While the additional features are nice to have, many users can live without them.
Price
The Milwaukee 13-amp Super Sawzall, priced at $189, stands as the most expensive reciprocating saw in its class. This may seem slightly misleading, considering its size and weight are comparable to the 15-amp model, with only a $10 difference. Moreover, it is proudly made in the USA, making it an appealing option for those seeking exceptional quality.
The Bottom Line
The Milwaukee 6536-21 is an outstanding 13 amp reciprocating saw, positioning itself near the top tier of its class. However, before making a purchase, you may want to consider the 15-amp Super Sawzall, which offers a slight boost in performance and features for an additional $10.
Choose the Milwaukee 13-amp Super Sawzall if you're seeking unparalleled wood cutting speed in its category or take pride in using a reciprocating saw made in the USA. If you're willing to spend a bit more for enhanced performance and features, upgrade to the 15-amp Super Sawzall.
Milwaukee 13 Amp Super Sawzall Specifications
Model: Milwaukee 6536-21
Strokes per minute: 3000
Stroke Length: 1.25″
Weight: 14.4 lbs
Cable Length: 96″
Warranty: 5 years
Price: $189