Makita XRU18 String Trimmer Aims to Redefine Gas Power
Makita is keen on revolutionizing the battery-operated lawn care industry by providing a range of options that cater to everyone's needs. The Makita XRU18 18V X2 Cord Trimmer is a prime example of their commitment to delivering top-notch features, especially for professionals who demand more than just a standard trimmer.
Advantages
Impressive performance equivalent to a 30cc gas-powered trimmer
Convenient left/right spin buttons for quick tangle resolution
Equipped with 36V performance without the need for a different battery platform
Can handle trim wire rated up to 0.105″
Shortcoming
Relatively shorter run times at higher speeds
A Tremendous Amount of Power
The Makita XRU18 String Trimmer utilizes two 18V XLT batteries, providing a combined power supply of 36V. The best part is that if you already own other tools from Makita's 18V platform, there's no need to purchase a new battery platform. This string trimmer serves as yet another reason to invest in Makita's extensive line of battery-operated tools.
The Makita XRU18 String Trimmer offers three different speeds, and our tests primarily focused on the highest setting. At full speed, the brushless motor delivers an impressive 5805 RPM. Considering the 17″ cutting strip, this trimmer boasts one of the best tip speeds we've encountered.
Thanks to its larger cutting diameter, you can clear areas faster. While a 15″ trimmer is great for edging, there are times when you need to tidy up spaces between posts or other areas where a smaller trimmer isn't suitable.
What sets this trimmer apart is its sheer power. Makita claims that the XRU18 has the same power as a 30cc gas engine. While other battery string trimmers may compete with its no-load speed, very few models match the enthusiasm with which the XRU18 plows through grass and weeds. Even when faced with thicker areas, the XRU18 remained unfazed and showed no signs of slowing down.
Moreover, this trimmer can handle a 0.095-inch line. If you require more cutting power, it is rated to handle up to 0.105 inches, though keep in mind that it may reduce runtime.
Runtime
Running at full speed, we achieved a runtime of nearly 13.5 minutes on a full charge from the 5.0Ah battery under no-load conditions. While this may be shorter than most models, it's crucial to note that no other trimmer matches the power of the Makita XRU18.
Pros intending to use this string trimmer on multiple properties throughout the day might find this runtime limiting. However, utilizing auto mode, low or medium trim speeds, or a Makita battery pack can significantly improve the situation.
Also, don't underestimate Makita's chargers. The dual-port Rapid Optimum charger included in the kit can fully recharge the 5.0Ah batteries in just 45 minutes. With a bit of planning and two sets of batteries, you can stay productive all day long.
Making Noise
To measure the sound produced by the string trimmers, we used an SPL meter set at the operator's ear height. The Makita XRU18 String Trimmer registered 85 dB(A), which is considered fairly quiet compared to other battery-operated trimmers we've tested. This is an impressive feat, considering the wide cutting width and tip speed it offers.
At this decibel level, you can comfortably work in noise-restricted neighborhoods or early in the morning without disturbing others. According to NIOSH standards, you can use this tool for up to 8 hours without the need for hearing protection.
Makita XRU18 18V X2 String Trimmer Design Instructions
Controls and Modes
If you appreciate having control over your tools, you'll love the options available on the Makita XRU18 Cord Trimmer. The three-speed settings come in handy when balancing power and runtime. The mid-speed setting is not a simple high/low setting but rather an optimal trim position. It delivers better power compared to most brands' low speeds while significantly extending runtime.
The automatic Torque Drive mode is reminiscent of a continuously variable transmission in vehicles. It automatically adjusts the power output to maintain the trimmer head's speed under load. If you prefer a plug-and-play experience without worrying about speed control, this mode is perfect for you.
The trimmer also features a reverse rotation function. Once activated, the trimmer head rotates in the opposite direction for a few seconds, untangling any tangles. This feature is particularly useful for trimming ground cover or vines.
The control setup is identical to Makita's XRU15, making it the brand's most versatile engine for users who don't require the power of a 30cc engine.
The Guard
Significantly, the Makita XRU18 is equipped with an elongated guard over the trimmer head. While personal preferences may vary, most professionals prefer thinner guards compared to wider ones aimed at consumers. The slim guard offers excellent visibility around the head, particularly when tilting the trimmer for trimming applications. Additionally, it provides better access to tight spaces, such as mowing around air conditioning units.
However, the tradeoff is an increased chance of debris hitting the user. It's worth noting that most professionals wear appropriate protective gear, such as long pants, to mitigate this risk.
Weight
We have already discussed the benefits of the dual-battery system and the power of the Makita XRU18. But these features come at a price—the trimmer's weight. Without the battery, the trimmer weighs 10.8 pounds, making it the heaviest model in our recent cordless weed eater roundup. When equipped with the two 5.0Ah batteries included in the kit, the weight increases to 13.55 lbs. Comparatively, other higher voltage options generally have lighter single-cell batteries compared to the Makita's two cells.
However, this weight is not a significant concern if you are transitioning from using a gas trimmer. In fact, the XRU18's weight distribution complements that of a gas trimmer powered by a ~30cc engine. The engine and fuel are positioned at the rear, providing a familiar feel.
If you prefer a lighter X2 trimmer, consider the Makita XRU15. It is lighter and shifts the motor's weight toward the front. Alternatively, the 18V Makita XRU12 offers even greater weight savings, with the entire tool weighing just 8.6 lbs when the battery is installed.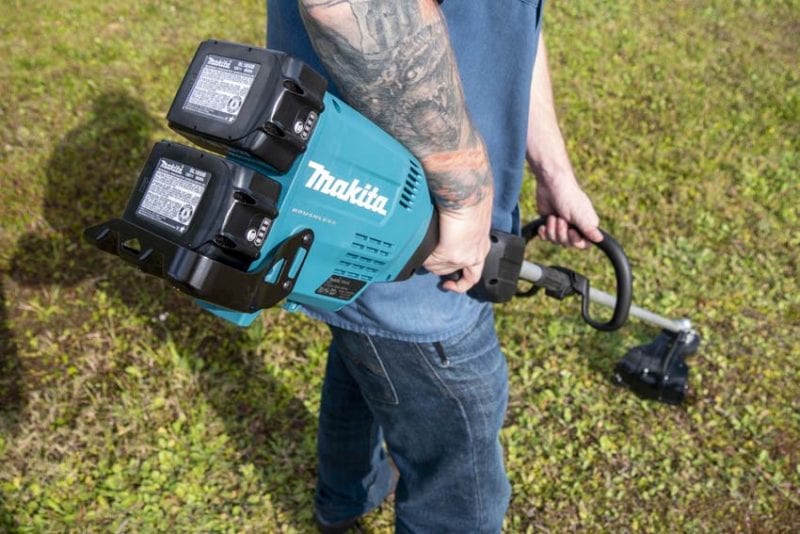 Makita XRU18 18V X2 String Trimmer Price
The Makita XRU18 is available as a bare unit for approximately $412.99. For the complete package, including two 5.0Ah batteries and a charger, the trimmer costs $531.99. It also comes with a 3-year warranty.
The Bottom Line
The Makita XRU18 18V X2 Cord Trimmer is a genuine alternative to gas-powered trimmers. While it may require some learning to optimize uptime, once you get the hang of it, you can say goodbye to mixed fuel, pull starting, and gas engine maintenance.
Makita XRU18 Cord Trimmer Specifications
Power: 2 x Makita 18V LXT batteries
Cutting diameter: 17 inches
No-load speed: 0-4,000/4,600/5,800 rpm
Arbor: M10 x 1.25 LH
Length: 72-1/4 inches
Weight: 13.55 lbs. (with battery)
Shaft Material: Steel
Warranty: 3-year limited
Price: $339 (bare); $469 (with two 5.0Ah batteries and charger)