The Makita XDT16 is a complete kit with solid performance and compact design
The Makita XDT16 Cordless Impact Driver is designed to pack amazing performance into a deceptively compact design. We tested it against the top cordless impact drivers available to see how well it keeps up with the top names in the business.
advantage
Incredibly compact and light
excellent driving speed
advanced control
shortcoming
Some users may want more torque
Makita XDT16 Cordless Impact Driver Performance
According to the specifications, this Makita impact driver can provide up to 3,600 maximum RPM, 3800 IPM and 1,600 in-lbs of torque.
In practice, this is a fast impact driver that maintains speed better than most of its competitors. Tested with ledger screws and it consistently drives them faster than the higher speed shocks listed.
It did drop the rating when we tested it with the GRK Fasteners 8" RSS Screws, though. The brushless motor doesn't feel like it's struggling at all, it just can't keep up with some more powerful models and takes about 8.5 seconds to fully drive a screw in a stacked OSB.
Flipping over to our impact driver test track, the XDT16 completed our line of drywall screws, self-tapping screws, drilled holes, and beam screws in 1:59. That was enough to maintain the lead for several months until the Flex and Makita's own XGT model finally took the lead by a few seconds.
Speaking of power, the 1,600 inch-pounds of torque don't look all that impressive compared to some of the numbers we're seeing today. That said, you need to determine what you can expect from your shock driver. Once we got to higher torque ratings, we started seeing these tools break socket adapters quite often. Considering the Makita is capable of driving some of the toughest screws we've used, its power level is definitely more than enough to do the job it was designed to do.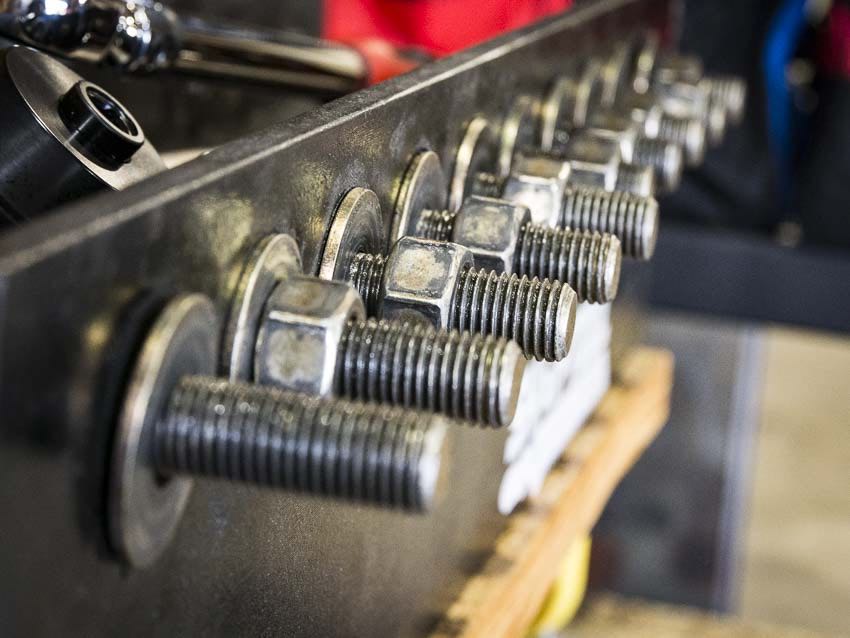 Makita XDT16 Cordless Impact Driver Design Instructions
size and weight
As a bare tool, Makita's flagship impact driver weighs less than 2 pounds. With the 2.0Ah battery connected, it still packs in at 2.9 pounds. It's one of only a few impact drivers we've tested that weighs less than 3 pounds with batteries, and none can match the Makita's performance.
With an overall length of 4.6 inches, this is one of the most compact 18V/20V max impact drivers you can get your hands on. DeWalt's 20V Max Atomic DCF850 is about 1/2 inch shorter and about 1 mm shorter than Milwaukee's 2857.
Use this impact driver to easily fit into tight places and reduce fatigue.
control
The Makita XDT16 has an advanced control system with 4 standard modes, 4 automatic smart modes and a programmable mode switch.
Assist mode helps eliminate screw camming and cross-threading by driving at low speed until actual tightening begins. Once it feels the screw in, it accelerates to full speed.
When you're using self-tapping screws in thick or thin metal, the two tightening modes help start faster and back off at the end so you don't snip the head off.
Finally, the Reverse Rotation Auto Stop mode stops rotation and impact should a fastener loosen. This is handy when you're working on an engine or overhead bolts and want to unscrew them by hand.
Use the "A" button to cycle through the four assist modes.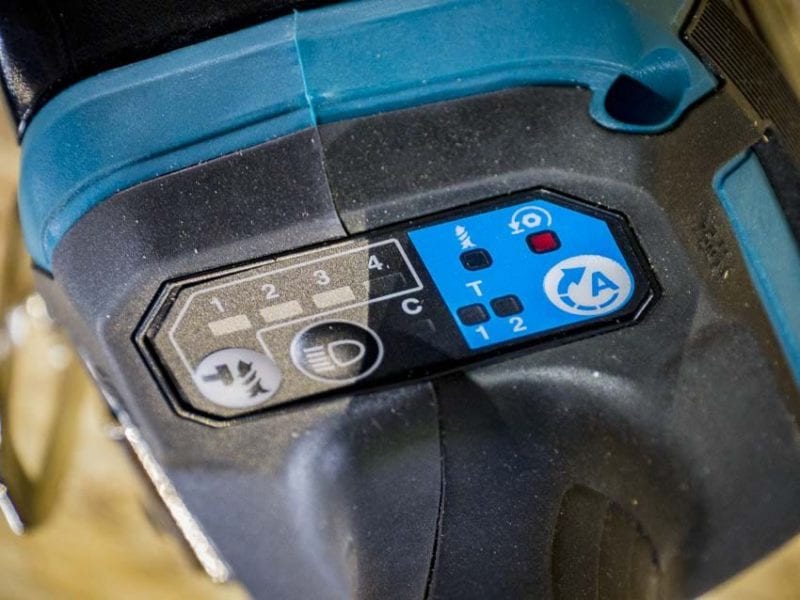 There is also a quick mode toggle button above the trigger. You can use it to cycle between the four standard speed modes or program it the way you like best.
To program the buttons, put the impact driver into the mode you want to save. Press and hold the quick mode toggle button and mode change button (hammer and drill icon) until you see the "C" LED blink green. Now the button will cycle back to this mode from any other mode.
To clear it and return to the standard mode cycle, press and hold the light button and the programmable button until the panel flashes.
You can turn it on or off by holding down the quick mode toggle button and the assist ("A") button.
The quick mode switch is useful if you only want to work between one speed mode and one assist mode, or if you want to switch between two speeds with one hand. You can set it however you want, so you can use any combination of the two modes you want.
other features
Brushless Motor
Dual LED lights on chuck
belt hook
This tool replaces Makita's previous top-of-the-line impact driver, the XDT12. This is a premium tool, and the price reflects that. The kit includes two 5.0Ah batteries for $349, two 2.0Ah batteries for $299, or $195 bare.
the bottom line
The Makita XDT16 Brushless Impact Driver is one of the best tools in its class, thanks to its lightweight and compact design. The advanced controls can take some getting used to, but once you do they are very useful. If you're driving larger lumber, lag or crosshead screws most of the time, keep looking for something with more torque. But for the vast majority of professional contractors, it's one of the best options.
Makita XDT16 18V LXT Brushless Impact Driver Specifications
Model: Makita XDT16
Power supply: 18V LXT lithium-ion battery
Speed (No Load): 0-1100/2100/3200/3600 RPM
Torque (Max): 1600 in-lbs.
Impact rate: 0-1100/2600/3600/3800 IPM
Weight (bare): 1.9 lbs.
Weight (Battery): 2.9 lbs.
Dimensions (L x H): 4.6 x 7.4 inches
Warranty: 3-year limited
Price: $359 (XDT16T kit with 5Ah battery), $299 (XDT16R kit with 2Ah battery), $195 (XDT16Z bare)