Combining Style and Comfort, Keen Utility Cincinnati Work Boot Shines
We had the chance to check out the Keen Utility Cincinnati work boot at the World of Concrete 2020. While the design caught our attention, we were unable to try it on at the event. However, a pair arrived shortly after, and we couldn't be more impressed with the comfort and style it offered.
Pros: What Makes the Keen Utility Cincinnati Stand Out
Unmatched comfort, even on concrete and asphalt surfaces
Innovative combination of wedge design and traditional work boot outsole for maximum traction and comfort
Excellent arch support for those long hours on your feet
True-to-size fit for hassle-free ordering
Fashion-forward appearance that combines style and functionality
Durable welt structure for added strength and longevity
Cons: Are There Any Downsides?
No major disadvantages to report
Design: Going Beyond a Simple Description
While the Keen Utility Cincinnati is often described as a 6″ wedge welt work boot with a carbon fiber toe, its design goes far beyond that. The unique wedge design provides increased ground contact area, making it ideal for working on concrete, steel, and asphalt surfaces.
One potential tradeoff is the relatively shallow outsole tread, which may wear out quickly. However, Keen has thoughtfully incorporated a more aggressive, worksite-friendly outsole that combines both styles to offer exceptional comfort, durability, and traction.
The lower part of the shoe is firmly attached to the upper and features a welted construction all the way around the boot. With additional reinforcement at the toe, this welted design provides exceptional strength, even if it takes a bit longer to break in.
The Cincinnati work boot showcases a sleek look, particularly around the toe area, with thicker welt-style stitching. It's worth noting that there is no toe box, so keep this in mind if you rely on a toe box for added protection.
The side material of the boot is secured by thinner double and triple stitches, all in a lighter color compared to the medium brown boot.
Additional Design Features
Medium height of 6 inches
Dedicated carbon fiber safety toes for both left and right feet
Keen.Dry waterproof and breathable membrane
Leather that resists damage from chemicals commonly found in agricultural environments
Oil-resistant and non-slip outsole for secure footing
Certifications: Meeting Industry Standards
Conforms to ASTM F1677-96 MARK II anti-skid test standard
Meets ASTM F2412-17 and F2413-17 MI/75 C/75 EH Standards
Conforms to ASTM F2913-17 SATRA anti-skid test standard
Comfort: A Work Boot You Can Count on
When working on various soil types, sacrificing some comfort for added safety may be necessary. However, the Keen Utility Cincinnati work boot offers the best of both worlds. Its wedge design provides increased surface contact, distributing weight more evenly and ensuring greater comfort on concrete and asphalt surfaces.
In addition to the wedge design, Keen incorporates an air-filled PU midsole that enhances overall comfort on hard surfaces.
The midsole is not only softer but also lighter than denser alternatives. While these boots are not weightless, they are noticeably lighter than other 6″ boots on the market.
Furthermore, the Keen Utility Cincinnati features a removable insole made of dual-density polyurethane material, topped with an air pillow pad for added cushioning.
These are safety toe boots, so some weight is to be expected for extra protection. However, Keen Utility addresses this by incorporating carbon fiber, ensuring that your feet stay protected without unnecessary added weight.
The Cincinnati work boot offers better arch support compared to other Keen Utility models, helping to fight fatigue and foot pain after long hours on the job.
Fit: Finding the Perfect Size
Finding the right fit can be a challenge, especially when there are no half sizes available after size 12. However, the Keen Utility Cincinnati stays true to size, so there's no need to size down. If in doubt, we recommend ordering your usual size.
The boot features a roomy toe box without the bulky appearance found in earlier Keen work boot designs. The midsection provides a snug fit, while allowing some movement for the heel. Rest assured, this extra space does not compromise safety or lead to blisters, even when worn with normal boot socks.
Pricing: A Worthwhile Investment
With a price tag of $185, the Keen Utility Cincinnati work boots fall within the higher range. However, considering the premium features, fit, and comfort they offer, they can certainly hold their own against other quality brands in the market.
The Bottom Line: The Ultimate Work Boot for Hard Surfaces
The Keen Utility Cincinnati work boot is a perfect companion for those spending long hours on concrete, asphalt, steel, and other hard surfaces. Its unique combination of wedge design, soft midsole, and aggressive outsole sets it apart from other work boots on the market.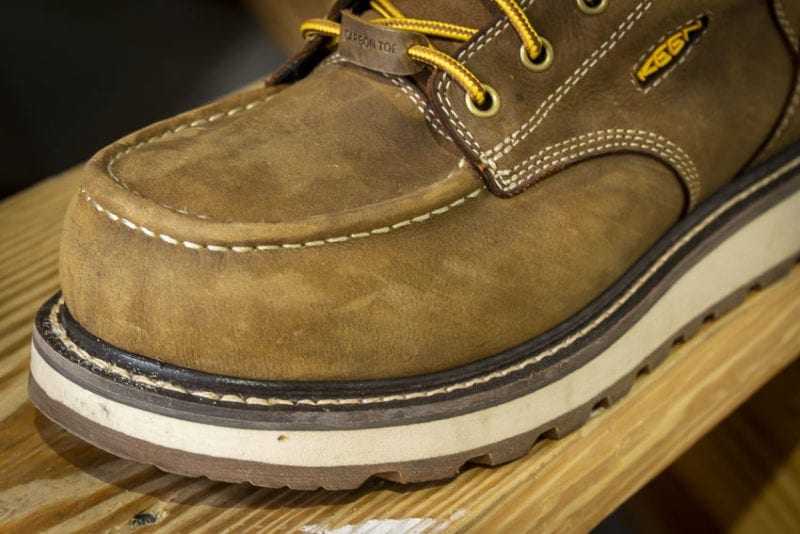 In our opinion, the Keen Utility Cincinnati is the best work boot from Keen Utility for tackling tough jobs on hard surfaces. Say goodbye to discomfort and hello to style, durability, and unbeatable traction.