As you learn more about your needs and/or passions for a tool, you're sure to encounter impact tools quickly. Forgive me, they're both impactful tools (well, it's not in my system right now), and comparing impact drivers and impact wrenches can help you choose the right tool for the job at hand.
Instead of reading, why not watch? Check out our YouTube video!
Impact Drivers vs. Impact Wrenches: A 10-Second Summary
Impact drivers are screwdriver specialists. Uses one fastener for Slotted, Phillips, Square, Torx and other heads where screwdriver bits are required. You can also use socket adapters for lightweight hex head fasteners.
Turn to a higher powered impact wrench for tightening and loosening nuts and bolts. It also helps with longer, thicker fasteners, such as wood screws.
Driving method of impact driver and impact wrench
One of the main differences between these impact tools is the drive method. Impact drivers use a 1/4" hex collet, which accepts 1/4" hex shank bits. Impact wrenches typically use a square drive that connects to a socket. There's also the 7/16" hex impact wrench that utility workers often carry.
While the range of sizes and performance levels is quite reasonable, impact drivers only come in a few different styles, all of which have 1/4-inch hex collets. In addition to the standard pistol grip form factor, you can also find right-angle impact drivers to reach into tight spaces, and even fun little pressure-actuated palm models.
Impact wrenches cover a wider range of performance levels and are available in more specialized versions. The smallest impact wrenches have a 1/4-inch square drive, while 3/8-inch drives are more common on compacts.
For performance, the 1/2-inch impact wrench is probably the most common size, with just about every craftsman who uses this tool having one.
When you need extra power, look no further than 3/4-inch and 1-inch drives. These are primarily industrial grade and heavy equipment tools with a level of power that many professionals outside of a specific industry will never need.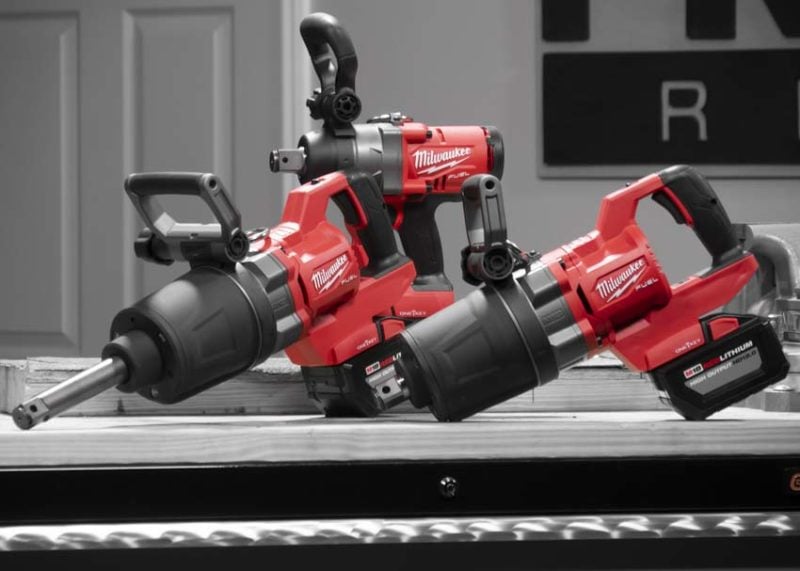 When you're shopping for an impact wrench, look for terms like compact, medium torque, and high torque. These classifications give you a reasonable idea of the power levels, although there is no fixed power level defined for each class. For most weekend warriors and even construction professionals, compactness and mid-range torque is all you need.
Here is a good example of the styles of impact wrenches available:
pistol grip
Stubby (short head, for reaching into tight places)
right angle
Ratchet (low power version to replace manual ratchet)
Utility Impact Wrench (7/16" Hex Collet)
Impact Driver & Impact Wrench Power Supply
If you really want a corded impact driver, you can get one, but the vast majority of construction sites today are cordless. 12V and 18V/20V Max are the most common, but there are some other voltages as well.
Impact wrenches are also available in corded and cordless versions. But that classic impact wrench sound from a mechanic shop or race track is powered by air. Most tradesmen use cordless models, while mechanics rely heavily on pneumatic models. Batteries are becoming more and more common in auto shops, though.
Keep in mind that while air impact wrenches tend to be less expensive, you'll also need a compressor and hose. Add it to your costing if you haven't already.
The difference between using an impact driver and an impact wrench
You can quickly determine which impact tool to use based on the drive method. In general, impact drivers are screwdriver specialists. When you're working with fasteners that require a bit, such as slotted, Phillips, square, or Torx, an impact driver is the right tool for the job. It is also capable of drilling with drill bits with compatible shanks.
Use an impact wrench when you are working with hex head fasteners such as nuts and bolts or wood screws. You don't insert the drill into the head, you use the socket to grab it.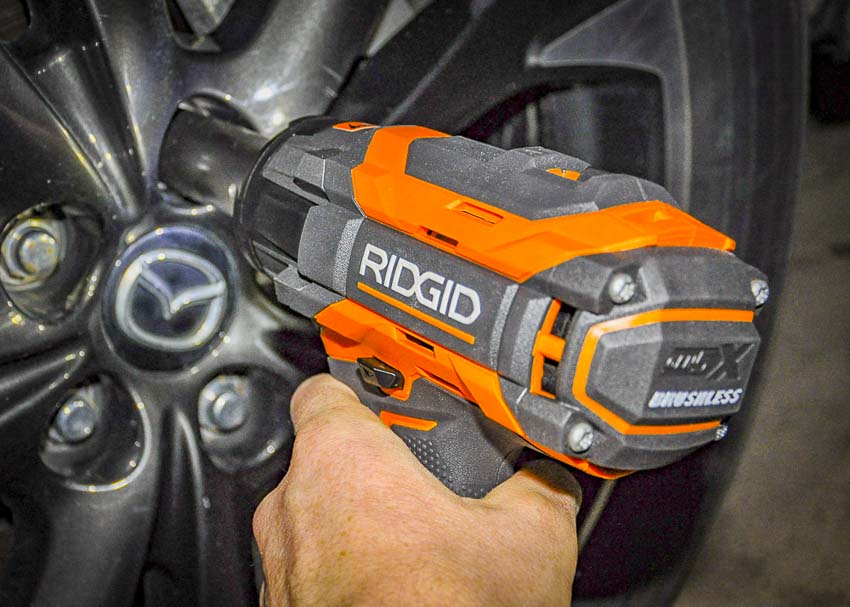 However, there are some exceptions to this rule. You can use a socket adapter and nut driver bit with an impact driver to use hex head fasteners. You can also find adapters that allow your impact wrench to accept a 1/4-inch drill bit.
Just because you can get an adapter doesn't mean it will work for every application. Too much force will shear off the fastener head and break the bit. Too little power can strain the tool's motor and can cause it to burn out, or not get the job done at all.
In most cases, you can get more power (torque) from an impact wrench than from an impact driver. However, some 18V/20V max class impact drivers are more powerful than compact impact wrenches, especially on the 12V platform. You can almost always get more power out of your impact wrench when you toss your compact impact wrench aside.
You can find impact drivers with over 2000 in-lbs (167 ft-lbs) of torque, and we've found anything over 1600 in-lbs (125 ft-lbs) to be a prime tool for professional use.
Pro tip: Impact drivers are usually expressed in inch-pounds (in-lbs), while impact wrenches are expressed in foot-pounds (ft-lbs). Just like with linear inches and feet, if you are comparing values, divide by 12 to convert in-lbs to ft-lbs, or multiply by 12 to convert ft-lbs to in-lbs.
Impact wrenches, on the other hand, start at about 100 foot-pounds (1200 in-lbs) of torque and are capable of over 1000 foot-pounds (12,000 in-lbs) of torque.
As a gauge, an impact wrench with 200 foot-pounds of torque might have all the force needed to change a passenger car tire. A medium-torque impact wrench with at least 400 foot-pounds of torque will do most of what a mechanic needs.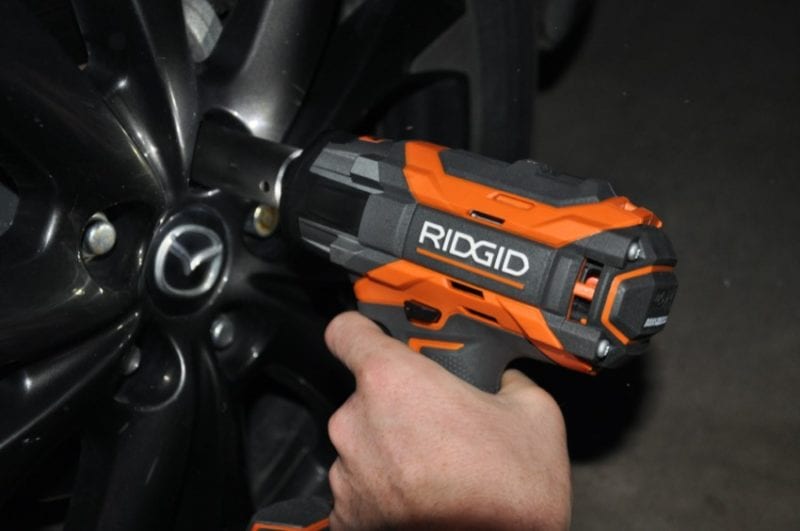 Pro tip: Most manufacturers sell a "nut breaking torque," or how much tightening force an impact wrench can remove. Actual tightening torques are lower, so check the specs in the manual to make sure the one you're considering has enough power for your needs.
Speed difference between driver and wrench
Speed is another matter. Impact drivers tend to have higher speeds, with the best impact drivers topping out at 3600 RPM or more. A good cordless impact wrench is usually below 2000 RPM.
If you have pneumatic (air) impact wrenches in your shop, the trend will change. A good medium torque impact wrench can go up to 8,000 RPM or more.
Impact Driver and Impact Wrench Sizes
As we mentioned before, there are impact drivers and impact wrenches that are built on the exact same foundation but with different drivers. Beyond that, an impact driver is almost always more compact and lighter than a cordless impact wrench from the same manufacturer. Air impact wrenches can be lighter, though.
With impact wrenches, the size and weight of the tool typically increases with power levels. Drive size can also give you clues. 1/4" drivers are only used in compact models, while 1/2" drivers are more commonly found in much larger medium and high torque impact wrenches. 3/4" and 1" models will be larger.
Final Thoughts on Impact Drivers vs. Impact Wrenches
In a perfect world, we would have all types of impact drivers and impact wrenches, so we would always have access to the right tool for the job. If you're just starting out and are mainly looking at more construction or woodworking projects, get the 18V/20V Max Impact Driver first.
If changing transmissions is your goal, start with the 18V/20V Max Medium Torque 1/2" Impact Wrench.
If your budget has room, buy from the same brand. This allows you to use the same battery for both tools and save money by adding other bare tools when building your collection.