Pop quiz, hot spots: What's the main difference between an impact driver and a hammer drill? If you're stumped, you're not alone. Answer: mechanisms and applications . Now let's dive into the issue of impact drivers vs impact drills.
10 second summary
Impact drivers apply rotational impact through the hammer and anvil mechanism
Hammer drills apply forward impact through a system of teeth and bearings or spine discs
Impact drivers are the right tool for driving screws and other fasteners
A hammer drill is the right tool for drilling holes in masonry
For larger fasteners, you move from an impact driver to an impact wrench
For larger holes in concrete, swap out your drill hammer for a rotary hammer
Impact driver and hammer drill mechanism
impact drive mechanism
Hammer and anvil designs help impact drivers do their job. Most effects have two hammers, although some have three. When the tool's motor turns the spring-loaded hammer plate, the spring compresses, and the hammer plate and anvil push apart. For a fraction of a second, there is space between the plate and the potential energy in the spring.
In this space, the hammer and the anvil slide past each other, and then slam into each other again under the action of the kinetic energy of the spring. This creates a lot of torque (and a little downward force) when the hammer hits the anvil and transfers energy through the bit to turn the fastener. The impact driver quickly repeats the process. We look at the tool's impacts per minute (IPM), or blows per minute (BPM), to measure impact rates up to 4000 IPM in 18V impact drivers.
hammer drill mechanism
In a way, hammer drill mechanics are a difference of degree rather than kind. But this difference produces forward force and less torque than an impact driver.
Hammer drills also use two plates, but swap out the hammer and anvil to design a mechanism that looks like the way two checkers are stacked on top of each other ( King me!) .
Here are some other excellent images.
When you start drilling, the teeth slide up and over opposing teeth, or bearings, to create a motion that pushes forward and slides back. This is converted to a cutting function by the drill, and the plates interlock for a fraction of a second before separating again, turning the drill rapidly.
Hammer drills typically have impact rates in the tens of thousands of BPM (point of preference – we prefer IPM for impact drivers and BPM for hammer drills, although some manufacturers vary). Some easily top 30,000 BPM.
Impact driver and impact drill application
Impact driver application
The mechanism of an impact driver produces a rotary impact, ideal for driving a variety of screws and hex bolts. Impulse torque drives and removes tough fasteners when the static torque of the drill would cause it to disengage or come to a complete stop.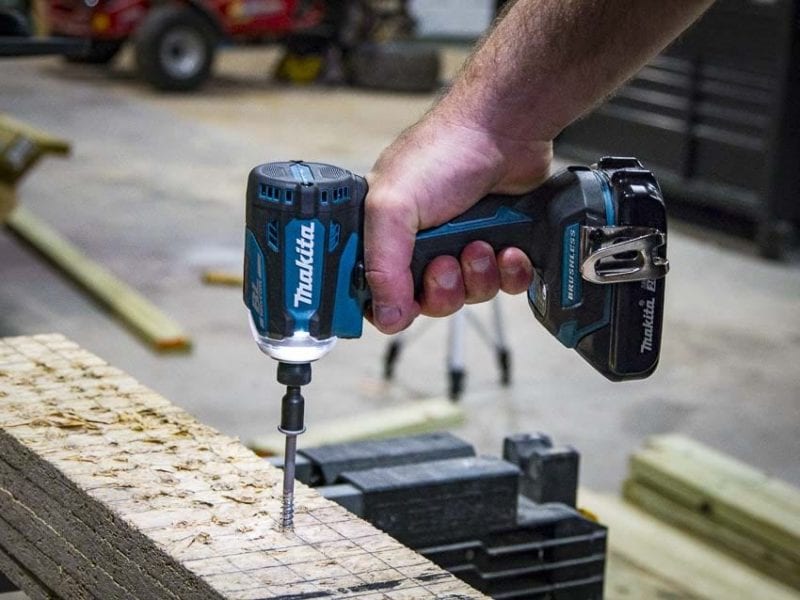 You can also drill with an impact driver and a hex shank bit, but it's not the best option. A stubby impact driver has a very different profile than a hammer drill (which looks like a regular drill/driver) and you can easily tell the difference.
When you reach the limits of your impact driver, you'll move up to an impact wrench.
Love impact drivers? The Makita XDT16 recently won our Best Impact Driver Comparison Review!
Hammer Drill Application
A hammer drill is the right tool for drilling holes in masonry (brick, stone, block, concrete) to set anchors and make holes for outlet boxes. With a masonry drill, the hammer drill chips as it turns to penetrate the material. It has a more compact and lightweight design than a rotary hammer and is ideal for drilling holes up to 1/2 inch or so in masonry, but it does not include a dust collection device to prevent inhalation of silica dust.
A traditional impact drill is not the right tool for driving screws. As we just mentioned, hammer drills often look just like traditional drill bits. However, most modern cordless hammer drills allow you to choose between drill, drive, and hammer drill modes, so you can use one tool for all three functions.
Upgrade Rotary Hammer to Rotary Hammer
When you've reached the limits of your hammer drill, it's time to upgrade to a rotary hammer. People sometimes confuse a rotary hammer with a rotary hammer, and even use the name hammer drill. It is true that a rotary hammer is also suitable for masonry, but it is larger, used for larger jobs, and uses a different mechanism: piston and air pressure. More details in a future article!
We hope you have benefited from our crash course on impact drivers and impact drills. Feel free to ask us any questions in the comments below and we'll do our best to help!
Like the rotary hammers featured in this article? This is Makita XPH07!