Understanding the Fundamental Differences
In the past, all you needed was a drill, but now impact drivers offer a wide range of options that many aren't familiar with. Lately, we've received numerous inquiries about the disparity between impact drivers and drills. Knowing when and how to use each tool is crucial. Moreover, the confusion surrounding impact drivers versus impact drills further complicates the matter. It's important to recognize that these tools employ different mechanisms to achieve their objectives and even require different applications. Professionals often carry both tools for maximum efficiency.
A Comprehensive Guide for the Advanced User
As experienced tool users, we're here to provide you with basic answers as well as in-depth insights. Whether you're contemplating purchasing a two-tool combo kit or sticking with a basic drill, understanding how manufacturers design and differentiate these tools will help you make an informed decision.
At the very least, we can equip you with enough knowledge to confidently navigate through deals at Acme Tools, Home Depot, or Lowe's!
Drills: The Ultimate Rotators
Drills, with their rotating chuck at the front, used to require a key to change bits. However, most modern drills now feature keyless chucks, eliminating the need for that peculiar 90-degree bent key. To use a keyless chuck, simply grasp and rotate it to tighten or loosen bits. For utmost grip and versatility, opt for a robust ratchet chuck capable of accommodating various drill bit shapes, including smooth ones.
Numerous drills possess multiple speed and torque settings, but for now, let's focus on the primary differences.
Impact Drivers: When Torque Matters
Imagine struggling to loosen a stubborn bolt with a wrench. No matter how hard you pull or lean, it simply won't budge. In such situations, you might resort to grabbing a hammer and striking the wrench handle. This sudden jolt provides an extra burst of torque.
This is precisely what impact drivers do—except they can execute this action thousands of times per minute.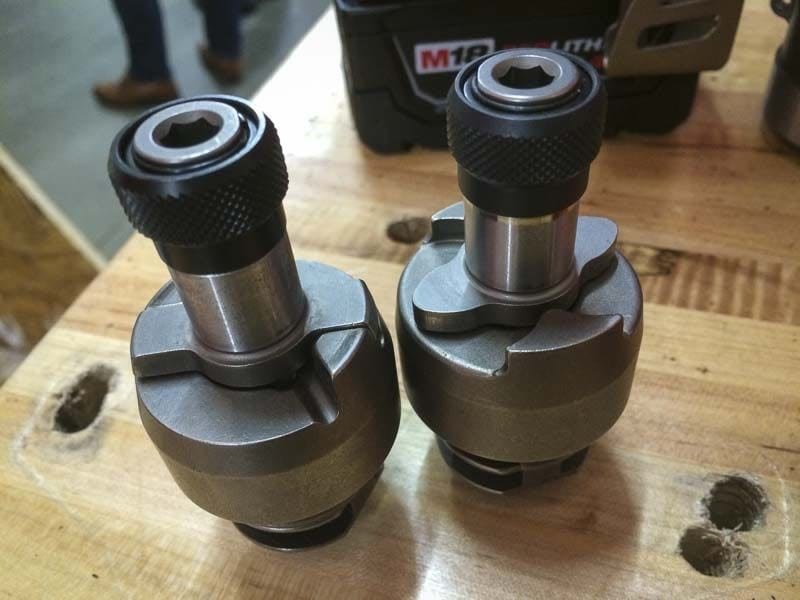 When faced with a jammed or immovable object, the internal mechanism of an impact driver automatically initiates a "slamming" motion to continue driving screws or loosen/tighten bolts.
Due to their exceptional torque, impact drivers are significantly more potent than drills. They effortlessly loosen stubborn bolts and screws or drive them deeper into materials.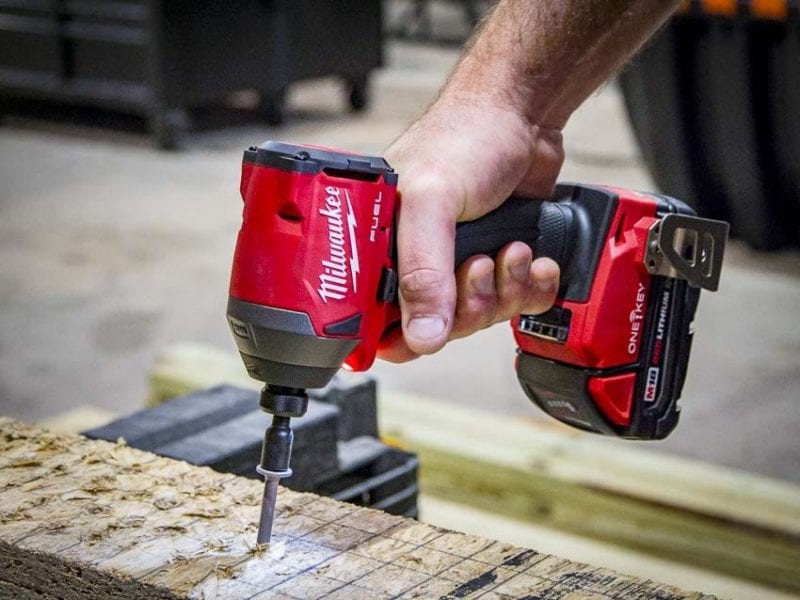 Drills: Swift Speed Comes at a Compromise
As the impact driver's anvil repeatedly pounds the chuck into rotation, it experiences a decrease in efficiency. Conversely, drills provide constant force to the chuck, driving fasteners smoothly without any pauses or pulsations. Consequently, impact drivers tend to drive fasteners at a slower pace while offering enhanced torque.
We have witnessed this phenomenon repeatedly in our head-to-head comparisons between drills and impact drivers. Almost every time, a proficient drill drives screws faster than an impact driver. However, exceptions arise when the required torque surpasses the drill's power, causing it to slow down. In these circumstances, the impact driver continues driving the fastener without any hindrance.
Impact Drivers and Drill Chucks
Impact drivers utilize 1/4″ quick-lock hex chucks, allowing for easy insertion and automatic locking of hex bits. Some compact designs necessitate pulling out a flange to insert and release bits. While this system offers a more compact design, enabling access to tighter spaces, it requires specific hexagonal bits. Unfortunately, round drill bits won't fit these impact driver hex chucks.
Until recently, drills were the preferred choice for drilling holes. However, companies like Milwaukee, Ridgid, and DeWalt now manufacture drill bits specially designed for impact drivers. The industry is transitioning to enable impact drivers to perform all the tasks traditionally assigned to drills. However, exercise caution! Impact drivers possess significantly more torque than drill bits, and some applications recommend using impact-rated drill bits rather than the standard ones commonly found in $19.99 kits.
Many impact drivers on the market maintain single-speed functionality. Yet, as numerous accessories are being manufactured to broaden drilling capabilities, several companies now offer impact drivers with multiple speed and torque settings.
Introducing the Rotary Hammer
Hammer drills adopt a traditional drilling action and employ the same type of chuck as regular drills. In fact, most models allow you to switch between drill and hammer drill modes. Hammer drills can operate at multiple speeds. Unlike impact drivers, which strike in the same direction as the chuck rotates, hammer drills "hit" the bit forward by rotating it, mimicking the force transmission of a hammer. Think of it as hitting the back of a drill swiftly with a hammer while in use.
Rotary hammers excel when working with concrete, masonry, stone, and similar materials. However, utilizing a hammering action on wood or drywall provides no discernible benefits, as it tends to damage these softer materials. All percussion drills operate with the hammer mechanism turned off when drilling into materials that don't require it.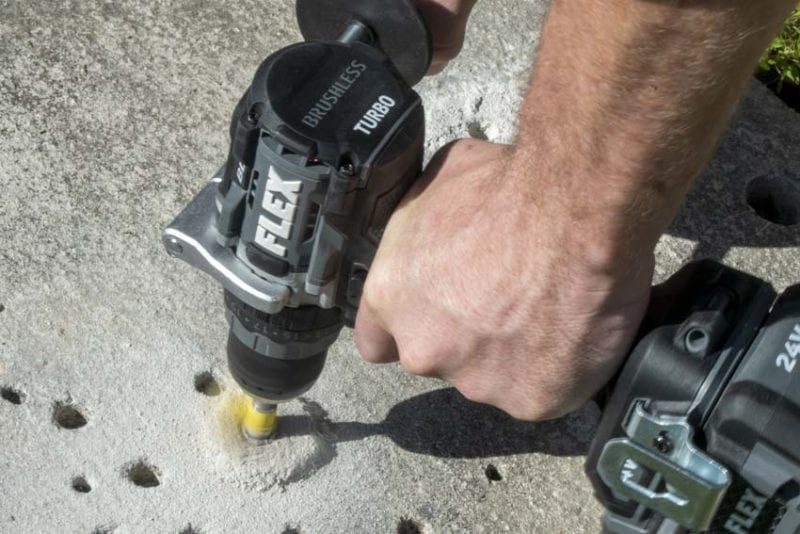 Choosing the Right Tool for the Job
When to Use a Drill
Driving screws into wood, drywall, and other soft materials
Tightening/loosening bolts that don't require extreme torque
Drilling holes in wood, drywall, and other soft materials
When to Use an Impact Driver
Driving screws into wood or metal (you can use it for drywall if you have the lower speed/torque option)
Driving large diameter screws or lag bolts
Tightening/loosening bolts, especially those that require a tight fit or have seized
Drilling holes in wood, drywall, or metal using specifically designed impact driver bits
When to Use a Hammer Drill
Drilling holes in concrete, masonry, or stone (in hammer drill mode)
Driving screws into wood, drywall, and other soft materials (drill mode only)
Tightening/loosening bolts (drill mode only)
Drilling holes in wood, drywall, and other soft materials (drill mode only)
Making the Right Choice: Drill, Impact Driver, or Hammer Drill?
Deciding which tool to purchase can be challenging due to the diverse needs of individuals. If you can only afford one tool, we recommend investing in an impact driver. It offers the same functionality as a traditional drill, albeit without the hammering action optimized for concrete or masonry materials.
However, if you have the means to purchase a two-tool kit and anticipate drilling holes in concrete or stone, we suggest opting for an impact driver/hammer drill kit. Even without specialized drill bits, the hammer drill should possess a drill-only mode, enabling it to function like a regular drill. Additionally, the impact driver will provide the necessary torque for nuts, bolts, and lag bolts. If you do not require these masonry applications, a drill/impact driver kit should suffice.
Impact Drivers, Drills, and Hammer Drills in Real-Life Scenarios
We've had the opportunity to utilize these tools extensively in recent projects. For instance, we assisted a local church in constructing a wheelchair ramp. For drilling pilot holes and driving screws, we solely relied on a drill. Hence, for ventures such as deck construction or erecting a wooden fence, a power drill proves invaluable.
However, when anchoring the ramp to the concrete, we turned to a hammer drill to create the necessary holes, subsequently inserting Tapcons to secure the structure. On the other hand, impact drivers are excellent for drilling smaller holes in concrete, particularly when using multipurpose bits. It's crucial to limit their usage to holes smaller than 3/8″ in diameter.
Additionally, I recently assembled a grill and utilized my impact driver to ensure each connection was incredibly tight. Mechanics often rely on impact drivers to tighten and loosen bolts in engines. Moreover, gas-powered machines like lawnmowers and trimmers necessitate the use of an impact driver or impact wrench for properly fastening and unfastening bolts. Whenever you're working with metal bolts or screws, an impact tool is indispensable.
Our Personal Recommendations
As avid tool enthusiasts, we primarily rely on impact drivers in most instances. Personally, I always have an impact driver/drill kit at my disposal, catering to all my drilling and driving needs.
Still have questions? Feel free to ask! We love imparting knowledge about our favorite tools and how to utilize them effectively!
Follow Pro Tool Reviews on Facebook, Twitter, and Instagram!