The Husqvarna 450 chainsaw is a remarkable combination of professional quality and versatile performance. As a midsize chainsaw in Husqvarna's landowner category, it offers exceptional power and functionality. Whether you're a tree serviceman, forester, or homeowner in need of a reliable tool for maintenance and storm cleanup, the Husqvarna 450 is a top choice.
Advantages of the Husqvarna 450 Chainsaw
Fuel-efficient X-Torq engine: The 50cc X-Torq engine is designed to deliver impressive fuel efficiency and low emissions. With 3.2 horsepower, it provides ample power for various cutting tasks.
Excellent strength: The Husqvarna 450 boasts remarkable strength within its class, allowing you to tackle even the toughest jobs with ease.
Extremely low vibration: This chainsaw minimizes vibration, providing a comfortable and steady grip, even during extended periods of use.
Inertia start chain brake: The internally activated chain brake enhances safety during operation. This is particularly useful when working alone without assistance.
Air jet cleaning system: The centrifugal air system effectively removes dust and debris before they reach the air filter. Cleaning and changing the filter are made easy with the quick-release feature.
Few Shortcomings
No major disadvantages have been identified with the Husqvarna 450 chainsaw.
In summary, the Husqvarna 450 chainsaw comes highly recommended. It caters to the needs of professionals in the field of tree services and forestry while also serving as a versatile tool for homeowners. Its outstanding features and capabilities make it a reliable and efficient choice for a wide range of applications.
The Impressive X-Torq Engine
The Husqvarna 450 Chainsaw is equipped with a 50cc X-Torq engine, specifically designed for fuel efficiency and reduced emissions. It generates 3.2 horsepower, with an idle speed of 2,700 RPM and a maximum power speed of 9,000 RPM. For those seeking even greater power, Husqvarna offers the 545 professional chainsaw, featuring a 50cc engine with 3.35 horsepower and an RPM range of 2,800 – 9,600.
The Importance of Air Jet Cleaning
The Husqvarna 450 chainsaw incorporates a highly effective air jet cleaning system. This system ensures that dust and debris are eliminated before they reach the filter. Additionally, the saw is equipped with a convenient quick-release feature on the lid, facilitating easy cleaning and filter replacement.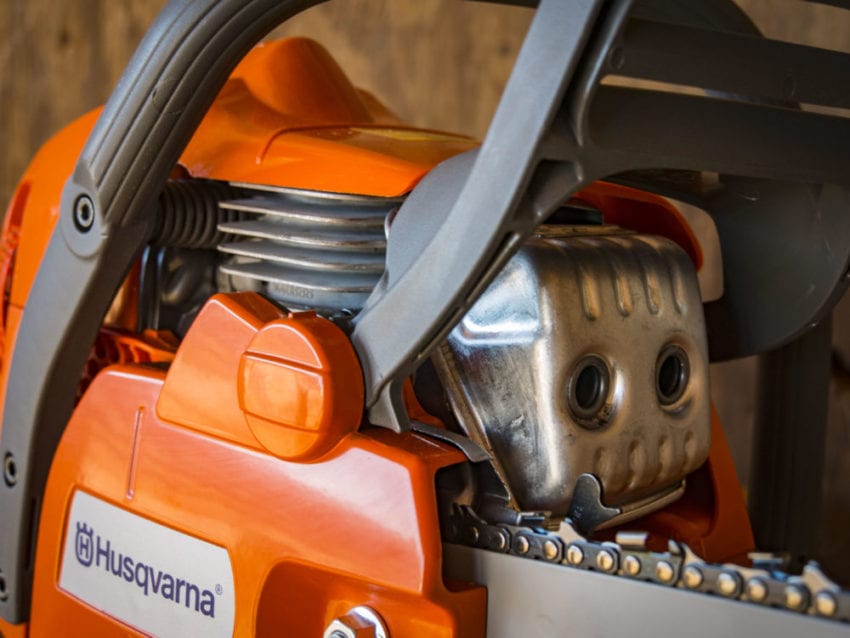 Reduced Vibration for Enhanced Comfort
When it comes to vibration levels, the Husqvarna 450 chainsaw sets a new standard. The front handlebar vibration measures at 3.1 m/s², while the rear handlebar measures at 4.9 m/s². These levels are impressively low, ensuring a smooth and comfortable experience for the user. The saw's handle design, featuring slight rubber overmold on the right side, enhances grip and control. Unlike cordless chainsaws, which often add handle overmolding, professional-grade pneumatic saws, like the Husqvarna 450, prioritize functionality and assume users will be wearing gloves while working.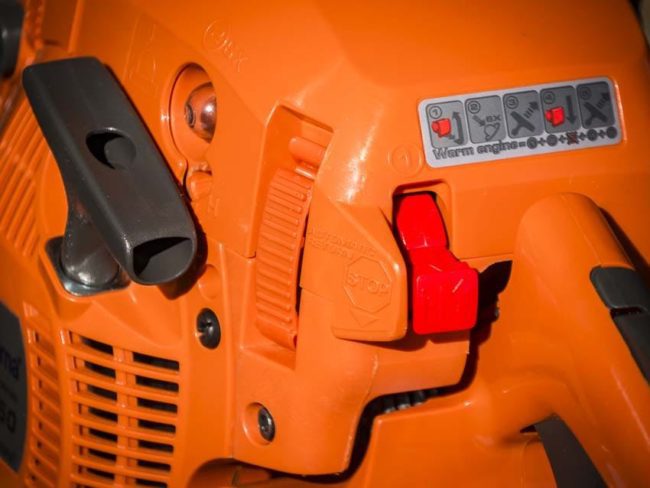 Safety First: The Chain Brake
Safety is a paramount concern, especially when working alone. The Husqvarna 450 chainsaw features an internally activated chain brake, providing an invaluable safety advantage. Although careful handling remains essential, this safety feature adds an extra layer of protection.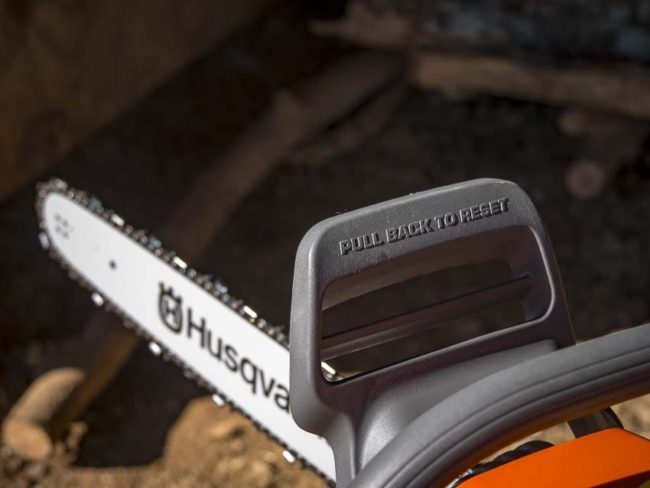 Additional Features for Enhanced Performance
The Husqvarna 450 chainsaw boasts several additional features that enhance its performance and functionality, including:
Logging marks
Air purge for easy start-up
Combination Choke/Stop
Spring lock cylinder head
Three-piece crankshaft
Visible oil level
Performance That Sets the Bar High
To put the Husqvarna 450 chainsaw to the test, I ventured into our family's 50 wooded acres in Georgia. The chainsaw effortlessly tackled storm-downed birches, pines, and other trees along the estate's bridle path. Equipped with the standard 18″ Pixel 0.325 laminated pole, which accommodates poles ranging from 13 to 20 inches, the saw proved its power and fuel efficiency. Starting on the first or second pull, it quickly completed the task at hand.
During the test, I first cut a 30-foot birch and a 50-foot pine into 18-inch logs. Despite the 2-foot diameter of the pine's base, the chainsaw effortlessly cut from different sides. The saw's power and efficiency were unmatched.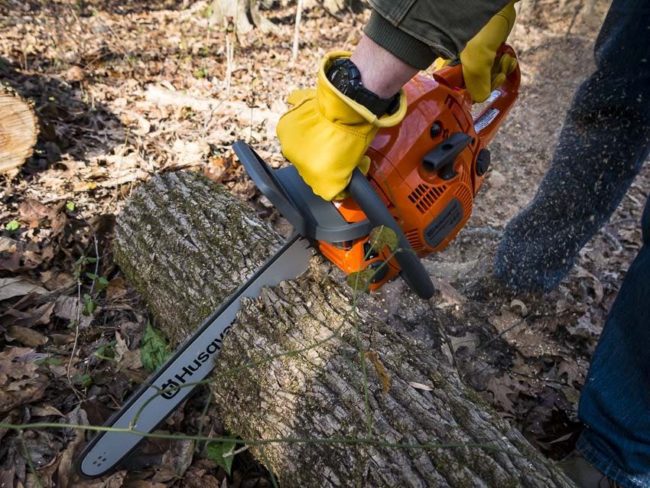 To further assess its capabilities, I used the chainsaw to split the heartwood of a 4-foot-tall, 16-inch-diameter pine stump. The Husqvarna 450 chainsaw exhibited a smooth, low-vibration performance, thanks in part to its well-designed auxiliary handle, which provides optimal balance. Both felling and cutting wood became effortless tasks.
Fuel Efficiency with the X-Torq Engine
The X-Torq engine significantly contributes to the Husqvarna 450 chainsaw's efficiency. I ran tests with birch and pine, fully utilizing the saw's 0.95-pint tank capacity. Afterward, I let the saw idle for some time before resuming cutting. The fuel efficiency of the Husqvarna 450 chainsaw is truly impressive and adds to its list of strengths. Additionally, a translucent window displays the remaining fuel level, allowing for easy monitoring as you move from tree to tree.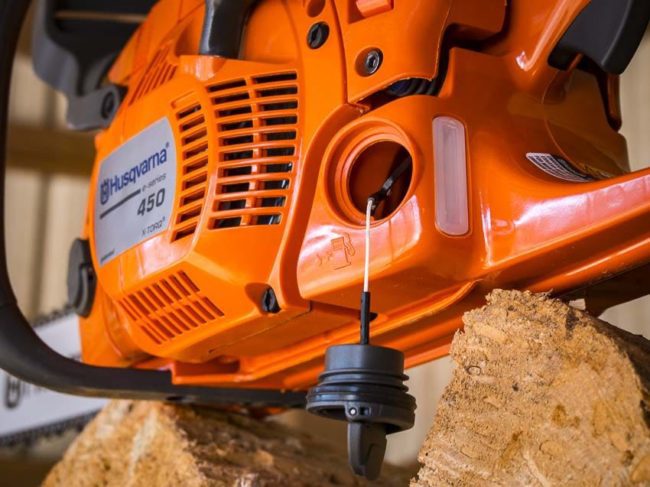 Convenient Features for Maintenance and Handling
Refilling the saw with oil and fuel is a breeze, thanks to the flat right side of the Husqvarna 450 chainsaw. The flap is user-friendly, accommodating both gloved and bare hands. Tightening the chain is a simple task with the single bolt on the right side. Manufacturers of gas chainsaws prioritize functionality, ensuring there are no unnecessary squeaks or surprises during operation. Before heading out, make sure to store the chainsaw securely in your truck, bag, or box.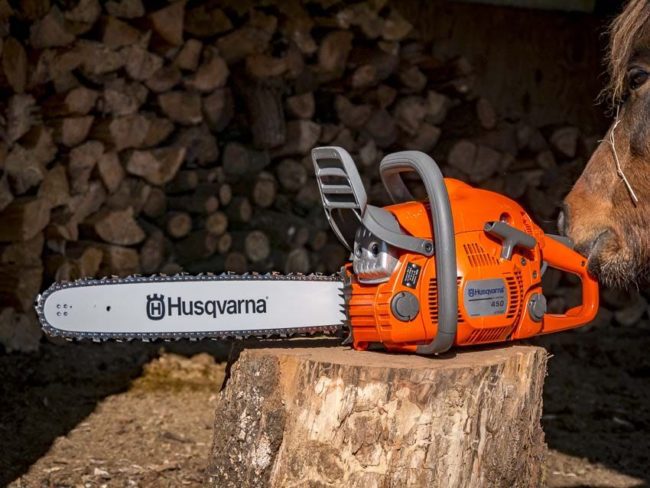 The Price Point
The Husqvarna 450 chainsaw is priced at around $399. Stihl's MS 271 Farm Boss, a competitor to Husqvarna, is slightly more expensive at $410. If you're considering a slightly larger handlebar size, Husqvarna's 545 is available for only $500. Makita's DCS5121REG, priced at $429, offers higher revs but similar power.
The Bottom Line
For those in need of a mid-length chainsaw, the Husqvarna 450 stands out with its exceptional power, ergonomic design, and competitive price. While there are numerous options available in the pneumatic chainsaw market, the Husqvarna 450 offers an outstanding balance of power and quality, making it an excellent choice for professionals and homeowners alike.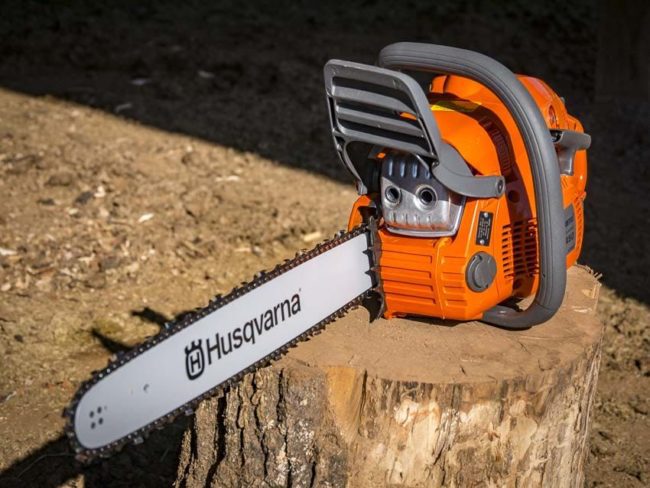 Husqvarna 450 Chainsaw Review Specifications
Cylinder displacement: 50.2 cm³
Output: 3.2 hp
Maximum power speed: 9,000 rpm
Fuel tank capacity: 0.95 US pints
Fuel consumption: 504g/kWh
Idle speed: 2,700 rpm
Spark plug: NGK BPMR7A, Champion RCJ7Y
Electrode gap: 0.02 in
Maximum torque: 2.6 Nm
Recommended Pole Length, Max: 20 inches
Recommended pole length, minimum: 13 inches
Chain speed at max power: 56.76 feet
Weight: 10.8 lbs
Fuel tank capacity: 0.55 US pints
Oil pump:

Type: fixed flow
Maximum capacity: 13 ml/min
Minimum volume: 13 ml/min

Sound:

Guaranteed power level (LWA): 115 dB(A)
Measured power level: 113 dB(A)
Pressure level at operator's ear: 104 dB(A)

Equivalent vibration level (ahv, eq) front handle: 3.1 m/s²
Equivalent vibration level (ahv, eq) rear handle: 4.9 m/s²
Price: $399.99