In our range of woodworking measuring and marking tools we cover a variety of measuring methods. This time, we want to focus on how we can get our accuracy down to 0.001 inch or better using precision measuring tools like calipers and feeler gauges. When I studied joinery at university we made a wooden toolbox. We drop one letter grade for every 1/64th of an inch that our toolbox deviates from any overall dimension. If you're a mechanic, you're laughing at how sloppy those tolerances are right now!
Table of contents
Calipers – The Ultimate Precision Measuring Tool
Four methods of caliper measurement
1-2-3 Building Blocks – Precision Measuring Tools?
How to use a brass height gauge as a precision measuring tool
Feeler gauge
iGaging
Dial instructions
Precision Measurement Tools – Conclusion
Most of the tools used in this article came from a machine shop. The first is a caliper that takes precise measurements of objects. Calipers are precision measuring tools that come in three variants. You have vernier calipers, dial calipers and digital calipers. I learned to read vernier calipers in science class, but once I got past physics, I quickly forgot how to use them. My metal tech class is already using dial calipers, which I really like.
When shopping for a new set, I recommend going digital. Once you enter the digital age, you can never go back, especially as you get older and your eyesight deteriorates. All three types are accurate to 0.001 inch. The numbers feature memory recall and can display both metric and imperial measurements. You don't need expensive carpentry models. There are many highly rated models on Amazon for less than $25, but my favorite set is the iGaging.
Four methods of caliper measurement
You can place the caliper in one of four positions, each of which allows precise measurements: outside, inside, depth, and steps (see image below).
I use my calipers as a precision measuring tool when measuring drill bits to see what diameter they are if they are not in the index. I also measured the depth of the holes I was drilling. Another use is to measure how thick my board is to see if I planed it thin enough. Calipers are great when you need to measure tricky objects like pipes inside or outside. You can even measure a small sphere with them.
New woodworkers will be making their first dado on 3/4" by 3/4" wide plywood. Then they would put the plywood in, but it wouldn't fit because the plywood wasn't the size it claimed to be. Intermediate woodworkers know that 3/4" is actually 23/32". Advanced woodworkers know that every sheet of plywood is different in thickness. The only way to know is to measure it with a caliper. then your dado will be very suitable.
External measurements using calipers
The simplest and most direct measurement you can make with a caliper involves taking an external measurement. You simply slide the jaws open and close them again around the object under test. You want to slide the jaws until they make firm contact with the workpiece, however, don't feel the need to try and apply too much pressure. All you need to do afterwards is read the measurement on the dial or LCD screen.
One thing you need to consider is the angle of the caliper to the measurement you are taking. For example, if you're measuring pipe, the caliper needs to be perfectly perpendicular to the length of the pipe. If not, you actually end up with "ellipse" measurements. You also want to make sure there is nothing between the jaws of the caliper and the material. Even a small amount of grease or dirt can affect your accuracy.
take internal measurements
On the back of most calipers, you'll find "reverse" jaws. You can use these smaller jaws for internal measurements. The manufacturer has precisely placed these jaws so that the outer distances line up exactly with the measurements between the larger main jaws.
Measure in the same way as external measurement. This time, close the jaws so they're small enough to get into whatever you're measuring. After placing the smaller jaws inside, open the calipers until they make contact with the inside of the material and do not extend any further. At this point, take a measurement.
Similar to how external measurements can be out of balance, when taking internal measurements, take extra care to be exactly at right angles to the material.
Depth measurement with calipers
Calipers include a depth gauge that extends over the very end of the tool when you open the jaws. You use this extended gauge for depth measurements. By holding the machined end of the caliper against the edge of the hole or the area where you want to read the depth, you open the jaws until the depth gauge bottoms out. After bottoming out, read the dial or LCD screen and record the measurement. Be sure to keep the caliper perfectly perpendicular to the hole when measuring the depth.
Step measurement with calipers
Most people don't realize that you can use calipers to take step measurements. Step measurements give you measurements from the bottom of one "staircase" to the next. For example, you can use it to measure the depth of a notch.
To take a step measurement, open the caliper about 1/8 inch or so. Place the sliding jaws on the material you want to measure. All you need to do now is open the caliper until the fixed jaw touches the bottom step. Record your measurements and you're all set!
At first glance, you might not think of the 1-2-3 block as a precision measuring tool. They look more like paperweights. Again, these come from a machine shop and are highly machined solid blocks of steel. They are 1″ x 2″ x 3″, hence the name. Most of these blocks are finely machined, sized and squared to within 0.0005 inches.
They will speed up your setup, especially around your table saw. Need to set your table saw blade to 90 degrees? Just stand a 1-2-3 block next to the blade as a guide and line it up with the block. Need to set the saw blade to 1"? Lay down the block and then raise the blade height to it's height. Need to adjust the fence to a variety of even sizes? The photo below shows you how to easily position the blocks instead of using a ruler or tape measure. It is more accurate and faster to use this method.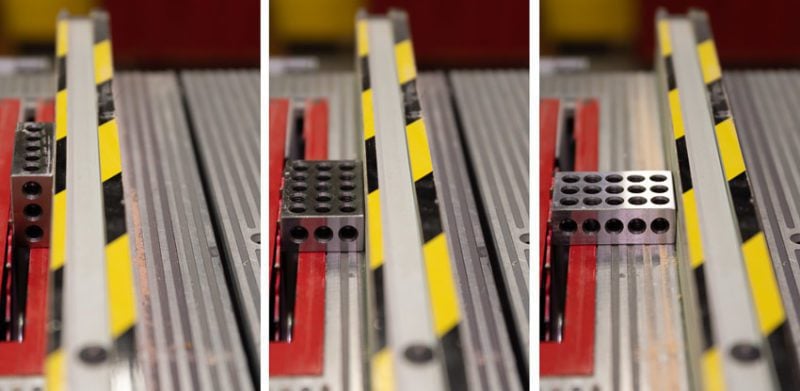 Similar to the 1-2-3 block are brass height gauges. These are a set of five rods, about three inches long. Each one is available in different thicknesses from 1/2" to 1/8" with 0.002" accuracy. For reference, most human hairs are 0.004 inches thick. I use these bars to set the height of my router bit or table saw blade. Using these bars is one of the fastest and most accurate methods available. Most people's fingers can feel about a 0.001" difference in height if objects are placed side by side, so it's easier to feel if your drill or blade is at the correct height than to see it. These strips can be placed next to the wood you are planing, or as reference samples if you want it to be one of these precise thicknesses.
Where brass height gauges really shine is when you combine them with 1-2-3 blocks. This will allow you to add a 1/2" piece of brass, plus a 1/4" piece of brass, by using a 1-2-3 piece of 2" size. The only thing to watch out for is not to trap dust between the blocks.
And don't put the brass block between the gaps around the table saw blade or it will get stuck in the dust collector hose – ask me how I know!
A word of warning: brass is very soft. If you dented the height gauges, they would swell like mushrooms and give incorrect readings. There are aluminum kits, but they're not much better. Brass protects the teeth of saw blades, drills and milling cutters. Use them carefully and don't drop them.
Feeler gauge
Auto mechanics use feeler gauges as precision measuring tools when working on car engines. Unlike calipers or 1-2-3 blocks, these allow you to take precise measurements in very small, tight areas. They're a series of gradually smaller, thinner blades that you slide into tiny crevices to measure the exact size of the crevice. This allows you to adjust the depth of cut the same way you would to close a gap in the wood joint you are cutting. I find that I don't need them very often, but when I do, they're the only measurement tool that does the job.
Another use for feeler gauges is with plunge routers that do not require fine adjustments. Feeler gauge blades can be fine tuned. Do this by sliding them between the insert mechanism stops as you go up and down to get the perfect height.
iGaging
If you've read this article or my article on how to measure and mark lumber, you know that I prefer iGaging tools. The reason is that they have the accuracy of Starrett and Woodpecker, but not the price. iGaging doesn't have the polish and high finish of those companies, but it's good enough. If Starrett and Woodpecker are Lamborghini and Ferrari, then iGaging is Toyota – good, reliable and safe.
Another precision measuring tool that I highly recommend is the iGaging Magnetic Angle Cube. The full name of the tool is too long-winded, but it explains what it does in the title. You can attach it to your table saw blade and see the exact bevel angle in real time.
In the photo below, I inserted a long screwdriver bit into the drill press and snapped the iGaging Angle Gague Level Cube onto it. The reading is 0.95 degrees. Then I put it on my desk and tilt the desk until it also read 0.95 degrees. This ensures that the table is perpendicular to the drill. I can use a cube to accurately level my drill press. Once it's level, I use the cube to measure the angle when tilting the table instead of the inaccurate built in scale on the drill press. You don't, need to get your drill press or table saw perfectly level to use it. The accuracy of the cube is better than 0.2 degrees.
iGaging produces another precision measuring tool, the iGaging Digital Multi-Gauge. They market it specifically for woodworkers and welders as a 3-in-1 tool for measuring height, thickness and depth.
In my opinion, this is the best tool on the market for measuring the height of milling cutters. The key to this tool is the shape of the yoke. Unlike calipers, this allows you to get a reference point on open areas such as the opening of your router. At $20, it's an excellent value for something that reads metric and imperial measurements digitally.
Dial instructions
One thing I haven't needed since I was machining as a sculptor's apprentice is a dial gauge. They have a rotating dial and are attached to a detection arm. The feeler gauge lightly touches the workpiece or tool, such as your drill press chuck. You rotate it by hand and it will tell you how much it is out of alignment. Woodworkers will find these most useful if they suspect a problem with their fixing tools.
A good example of how to use a feeler gauge is to feel if a table saw blade is warped or if the arbor is bent. Attach one to the magnetic base, and touch the tentacles to the side of the blade. Rotate the blade by hand and watch the indicator to see how much it is wobbling. If it's wobbly, remove the blade and place it on a completely flat surface, such as a thick piece of glass. If the blade is flat, the arbor of the table saw is curved.
When precision is important, machinists use more precision measuring tools. Because of the expansion and contraction of wood, woodworkers feel they don't have to be as precise as mechanics. In most cases, they don't. But when you want to up your game and work your best, precision is an absolute must.
With today's trends, many woodworkers use more than just wood. They also handle plastics, casting epoxies, 3D printing, metalworking, and more. Knowing how to work with more precision is always a good thing.