We've assembled our team of professionals to give you some tips on how to use an angle grinder, from the basics to some advanced techniques and shortcuts. Angle grinders are controlled by triggers, paddles or switches. They spin discs at incredible speeds with the express purpose of sanding, grinding or cutting.
Due to the rapid development of lithium-ion battery technology, the uses of many angle grinders have expanded dramatically. This makes it a versatile tool used by a wide range of professionals. Angle grinders have so much flexibility compared to many other tools, but they also have a steep learning curve.
Table of contents
1 – When using an angle grinder, protect yourself!
2 – Ring test the wheel
3 – Keep the sparks away from your body
4 – When surface grinding and using louvered discs
5 – How to hold an angle grinder when using a cut-off wheel
6 – Protect Yourself Against Kickbacks
7 – Use a sander for light work or sanding
8 – Your accessories need to match the RPM of your grinder
9 – Never use a toothed blade on a grinder
Additional Pro Tips on How to Use an Angle Grinder
1 – When using an angle grinder, protect yourself!
Before using an angle grinder, you will need some personal protective equipment. The reality of an angle grinder is that it's a loud tool that kicks a lot of debris around. Plus, you're not always sanding or polishing. Often, this work requires cutting. If you are sloppy or unlucky with your cutting wheel, the wheel can turn into high-speed shrapnel.
For these reasons, you're doing yourself a favor if you bring hearing protection, long sleeves, gloves, and something that covers your entire face. After all, you don't want to be taking the hot shards of your cutting wheel to where your money is going. Grinders can also ruin your clothes, so wear a protective jacket if you don't want hot metal splashes to leave pinholes in your clothes.
Pro tip: Letting a cutting wheel fly off at 10,000 RPM is no joke. When it happens, there's nothing you can do about it. Therefore, you want to always wear a full face mask when using a cutting wheel – even when using a shield. Grinding and using fins usually do not pose the same level of danger, so guards and adequate eye protection are usually sufficient.
2 – Ring test the wheel
We recommend doing what is called a "ring test" on any grinding wheel before attaching it to your grinder. You can actually do this on a bench grinder as well. You're basically hanging the grinding wheel from a pencil or other project. Then, tap it lightly with the handle of a screwdriver or similar tool (anything not made of metal). Rotate it 180 degrees and do it again. A wheel in good condition should have a distinctive metallic "bell" sound.
That metal ring indicates the integrity of the wheel. A wheel with internal or external cracks will usually stop vibrating at the point of damage – preventing a clear ring from appearing. While a ring test is a good way to get an idea of the integrity of your wheels, you also need a quick visual inspection.
Once you are fairly sure of the integrity of the wheel, go ahead and install it. The last thing we recommend before starting is to let that wheel run on its own (point away from your face) for 15-30 seconds. This helps you know (by feel) if it is centered and mounted correctly and if there are any issues with wheel balance.
3 – Keep the sparks away from your body
Since angle grinders remove large amounts of material quickly, minimize risk by positioning the tool correctly. Using an angle grinder in different applications and using certain accessories requires different angles. Keeping sparks and debris flying away from your body can reduce your chances of injury. Your work clothes will last longer too!
4 – When surface grinding and using louvered discs
For flat grinding, use the flat part of the wheel, maintaining an angle of 20°-30° between the tool and the work surface. Place the blade guard back toward your body. Use a smooth back and forth motion to guide the flap over the material. Let the wheels do the work, but feel free to apply enough pressure to keep you productive.
You can sand down welds really quickly in preparation for painting with this method.
5 – How to hold an angle grinder when using a cut-off wheel
You should tackle cutting directly, since you want to cut into the work surface with the edge of your wheel. Be careful not to bend the cut-off wheel in any direction. In this mode, the wards are always on top to protect you from shards. Wearing a face shield can also prevent premature disc failure. Remember – if the guard is not between the cutting disc and your face – move it until it is.
Also – and this is probably self-evident – NEVER "cut" the cut-off wheel into the material. Cutting in at the 12 o'clock position can cause kickback and loss of control. Instead, cut downwards as shown above.
6 – Protect Yourself Against Kickbacks
Kickback occurs anytime the grinding wheel stops suddenly. This forces the grinder to rotate in the opposite direction at the pinch point. Knowing how to use an angle grinder in a way that avoids this can keep you safe. For cut-off applications, this can happen when the scrap material sags under its own weight—squeezing the blade suddenly and causing the tool to divert all of its rotational energy into the kickback event.
Prevent this by using a blade guard properly and supporting your material properly so it doesn't sag when making abrasive cuts.
You may also experience kickback when grinding material with a grinding wheel. Corners, sharp edges and other areas present possible kickback points that could damage and/or stop the wheel suddenly. Use the assist handle carefully so you can protect yourself if this happens. Never use the grinder with one hand!
7 – Use a sander for light work or sanding
For grinding applications, hold the tool at a 5°-10° angle to the work surface. For almost all grinder applications, apply only minimal pressure. You want your tools and grinding attachments to do the hard work.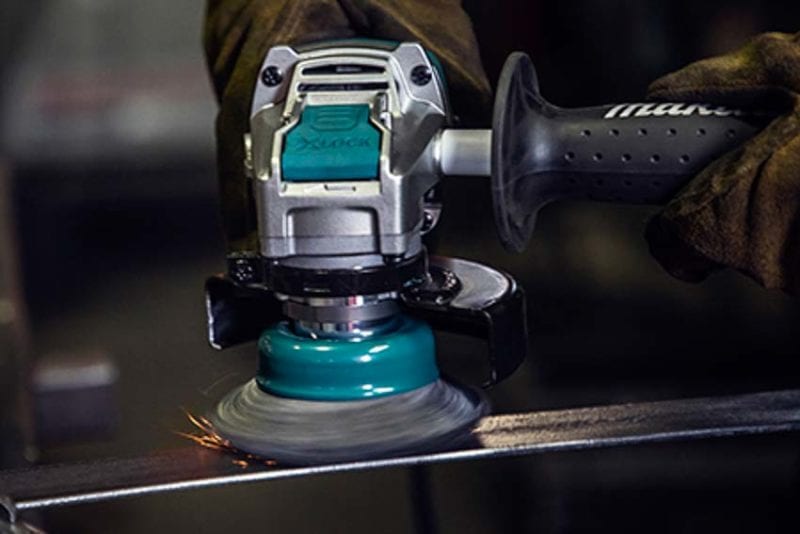 8 – Your accessories need to match the RPM of your grinder
When installing wheels, discs or cups, check the manufacturer's specifications. The maximum RPM on the attachment should meet or exceed the maximum RPM of the grinder you plan to use. If the attachment is rated for a lower speed than your grinder, you run the risk of wheel flying.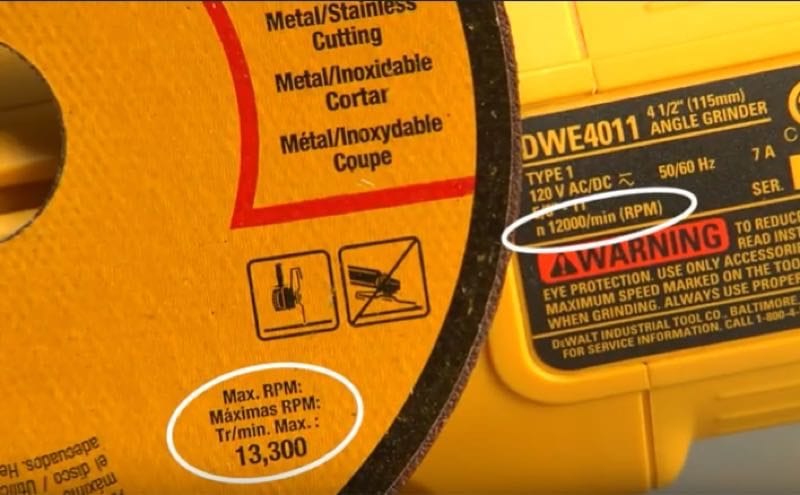 9 – Never use a toothed blade on a grinder
I don't care if the company offers a circular saw style blade that fits your grinder. These tools run at significantly higher RPM than any handheld circular saw. You never want to use a toothed blade on a grinder. This includes those "carved wood sprockets" that use chain saw teeth as well as anything with carbide blades. Just don't do it.
Additional Pro Tips on How to Use an Angle Grinder
Let the tool come up to full speed before applying the grinder to the work surface. You'll be better able to maintain the consistency of your cuts and grinds.
For grinding and sanding applications, keep the tool moving to avoid gouging like with a sander. You end up with smoother, more professional results.
Some grinders have a lock switch. As long as they are powered on, they have the potential to start. This means that if you change batteries, connect extension cords, or reset circuit breakers, you need to get in the habit of turning off the grinder first. Some grinders have a built-in "zero voltage" safety device to avoid automatic starting, but not all grinders do. This is a nice security feature.
Make sure everything stops spinning before putting down the angle grinder. Even a slightly spinning blade can damage work surfaces and catch loose clothing. Braking grinders (those with electric or mechanical braking systems) really help avoid these problems.
Sometimes you'll want to remove the guard when it's in the way. Many professionals have at least one story of a broken cut-off wheel. Most shrouds spin to make life easier. Most of these tools spin over 10,000 RPM. In general, you want to be vigilant no matter what!
If you have any other tips or tricks on how to use an angle grinder, feel free to leave a comment below.