When you need to fasten sheets of metal or plastic together, one of the more viable methods on the market is a rivet gun. This tool really comes into play when accessing the backend of a joint proves problematic. Additionally, rivets tend to be relatively inexpensive and are available in a variety of sizes and materials. So, how do you use a rivet gun? it's actually really easy.
First things first – what is a rivet gun?
Both rivets and rivet guns come in a variety of styles. For the purposes of this article, we'll stick with blind rivets. These get their name because you can "blindly" secure them from one side of the material without touching (or even seeing) the other side. We also intend to avoid any application that requires air guns or heavy riveting. In this article, we focus more on DIY applications. These require a hand riveter or one of the newer battery powered tools.
Manual rivet guns and battery-operated tools do the same job. More expensive battery-operated tools save your hands and automatically collect the spent post after applying the rivets. With a manual rivet gun, you often need to activate the handle several times to get the job done. When you pull the trigger, the battery-powered tool does the whole thing. Hand tools are great when you don't have a lot of work to do. Autotools are really helpful when you tend to do a lot of riveting in the process.
Types of rivets
All blind rivets consist of a mandrel and a body. The riveter pulls the mandrel through the body, causing it to expand to lock the material in place between the head of the body and the new "mushroom" end.
Once you have decided on blind rivets, the next question comes down to size, style and material. Standard blind rivets are great for fastening metal pieces that don't need to support a lot of weight. Rivet manufacturers usually list the weight tolerances that the rivet can withstand on the back of the package.
Beyond that, we found that there are many different types of rivets available in the market. These include:
Standard blind rivets
Most tasks can be accomplished with standard blind rivets. They are available in domed or flush styles and in a variety of diameters, materials and lengths. In general, match the material to what you're going to fasten. Aluminum to Aluminum, Steel to Steel. This prevents you from what is known as galvanic or bimetallic corrosion. This happens when certain dissimilar metals remain in contact and electrons are transferred from one material to another.
Button rivets (a type of blind rivet) will cover most of your base. They work well when working with steel and when it is necessary to place the rivet close to the edge of the material being fastened.
Flat head rivets can be a good choice when you need a flush, tight fit. They are best for softer materials as they require countersinking. Try these guys when you need to rivet materials that are often deformed by extreme temperatures.
Sealed or closed end rivets
Sealed or closed-end rivets consist of a "mandrel" (post) inside a sealed barrel. This keeps the entire rivet sealed from moisture. When you need a watertight seal, you'll find sealing rivets. You can find them in marine applications as well as some automotive and pump applications. They cost more than standard rivets, but can be a good help to avoid potential problems caused by water ingress.
multi handle rivets
Multi-shank rivets support more material thickness options than standard blind rivets. The bodies of these rivets appear almost segmented. Any part that sticks out of the material and is exposed during the riveting process will act like a mushroom. The end result is a single rivet capable of firmly gripping thicker and thinner materials.
Interlocking or Structural Blind Rivets
Interlocking rivets or structural blind rivets provide a wide range of grip for versatility. Manufacturers design them for high-strength applications because of their excellent clamping force. Structural blind rivets also include a mechanical locking feature to ensure 100% mandrel retention and the mandrel is filled with the rivet for increased shear strength.
In more structural applications where high-strength fastening is required, interlocking or structural rivets may be your best choice. They close large gaps and keep the sheet metal from moving.
Different rivet material compositions
As we mentioned above, before you start grabbing any rivets and using a rivet gun, choose the proper material for your rivets. Since you can choose rivets made from the same or similar materials as the ones you plan to join, take the time to make sure you have the materials you need. Also, you may wish to avoid steel rivets when riveting anything with a high moisture content, such as leather, as they will rust quickly. Instead, choose copper, aluminum or brass.
Start with drilling with a rivet gun
Often, you'll need to actually drill holes to hold the parts together. There probably isn't much to say about this step, but the drill size you choose will determine the size of rivets you can use. Here's a helpful form, taken from the good folks at navyaviation.tpub.com.
You will also need to attach the appropriate size nozzle attachment to the riveter. Typically, riveters come with several different nozzle attachments that can be stored on board, and a wrench to lock and unlock them from the storage port. Find the size you need and tighten it with a wrench.
Insert, push and squeeze the handle or trigger of the rivet gun
So, at this point you should pick out your rivets, drill the holes, and install the correct nozzle on your rivet gun. All that's left is to actually start riveting.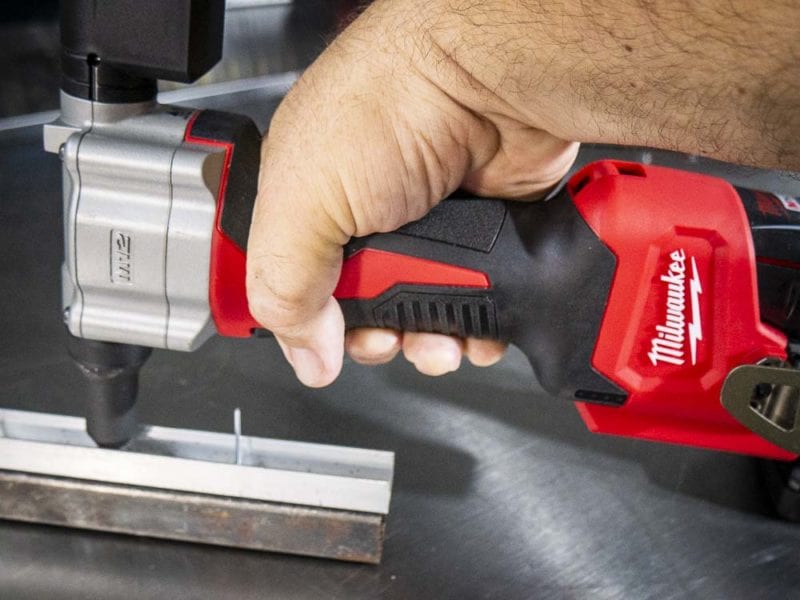 Slide the rivet's pin (mandrel) all the way into the nozzle of the rivet gun. The shorter, thicker body of the rivet is the business end. Insert the section into two or more pieces of material that you wish to join together.
With the rivet through the hole and the nozzle of the rivet gun pressed flat against the surface with consistent pressure, go ahead and start pulling the trigger. With a manual riveter (not pictured), each squeeze of the handle pulls the metal pin or mandrel through the body of the rivet. This compresses the two pieces of material between the head of the rivet and the body of the mushroom.
Continue squeezing until the rivet pops out and the pin or mandrel snaps off. Presto, you installed a rivet!
If you have more tips and tricks on how to use a rivet gun, feel free to leave them in the comments section below.