I recently stumbled upon a fascinating idea while browsing YouTube. People were making their shop vacs quieter by constructing a muffler around them. Instead of resorting to a simple insulated box, they used acoustic mineral wool, which is commonly used to absorb sound in concert halls, music studios, and gymnasiums. Intrigued by this concept, I decided to give it a try. The results were astounding – my shop-vac's noise level dropped from 87dB to 61dB at a distance of 24 inches. To put it into perspective, each 10 dB decrease cuts the perceived volume in half. In other words, the noise was reduced to less than that of a microwave.
Table of Contents
Who is this program for?
But what about overheating?
A quieter vacuum cleaner! I am sold. How do I build it?
How to Size a Shop-Vac Muffler Box to Reduce Noise
Lay out your clips
Assemble the box
Cut holes
Insert mineral wool
Add the top cover
Additional features make it even better
Conclusion: The Quieter Shop-Vac
Who is this program for?
This Shop-Vac muffler is designed for individuals who use their vacuum cleaners primarily as dust collectors in their workshops. If your shop-vac remains stationary, attached to your miter or table saw, then this project is perfect for you. However, it is not suitable for those who require a portable vacuum or dust collector. If you regularly move your vacuum around, whether to the car or basement, this project may not be the right fit. Our guide focuses on reducing Shop-Vac noise for tools that you don't mind leaving in place.
That being said, if you have a small shop, investing in a shop-vac to attach to your saw and adding an automatic switch is definitely worthwhile – the quieter vacuum will greatly enhance your working environment.
But what about overheating?
Of course, reducing the noise of your shop vac is pointless if it overheats and becomes damaged. However, after extensive research and personal experimentation, I can confidently say that overheating is not a significant concern. Users who have built shop vac mufflers have reported no issues with overheating. Personally, I allowed my vacuum to run for 15 minutes, and although it did feel warm – as expected – it did not overheat. It's important to note that shop vacs are not designed for continuous operation. If your dust collection system needs to run continuously, consider investing in a dedicated dust collector.
A quieter vacuum cleaner! I am sold. How do I build it?
To build your own shop-vac muffler, you will need the following materials:
1 sheet of MDF or 3/4″ plywood (or 2 for larger vacuums)
2 tops, each 8′ long
Four 2-inch thick Roxul Rockboard 60 mineral wool boards
Wood glue
Screws, biscuits, pocket holes, or your preferred method of box assembly
2 1/2″ hole saw (size may vary)
Initially, we need to minimize the size of your shop-vac. Remove any unnecessary parts such as wheels, handles, and accessory tool holders. Once your vacuum is as small as possible, measure its width and add 4 inches on each side to determine the total dimensions of the box. This additional space accounts for the 2 inches of mineral wool inside the box and allows for ventilation and airflow around the shop-vac.
Lay out your cuts
Arrange the cutouts on a sheet of plywood, aligning them with the dimensions of your shop-vac. For this demonstration, I used a genuine 16-gallon Shop-Vac brand vacuum from around 2015. To save material and height, I did not include a bottom for the box. Instead, the vacuum sits directly on the floor surrounded by the boxes. However, feel free to add a bottom or even casters if desired.
Assemble the box
Now, assemble the box using your preferred method – biscuits, screws, pocket hole jigs, or any other technique. Ensure that you apply glue along all the seams to create an airtight seal.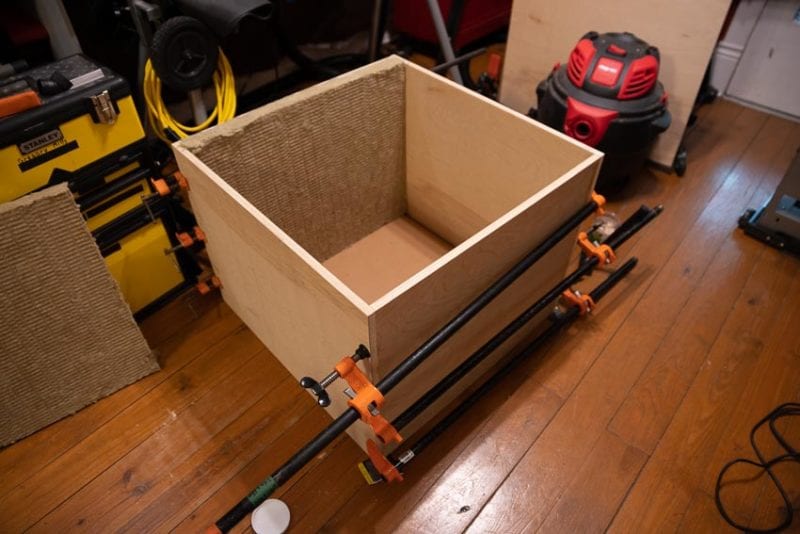 Cut the holes
Next, carefully cut holes in the box for the vents, hoses, and power cords. The air enters through the hose and exits through the vents. You can position the vents anywhere you'd like, but I recommend placing them where you can feel the air coming out to ensure proper ventilation. It's essential to avoid obstructing the vents inadvertently.
To accommodate the power cord, place it alongside the hose so that you don't need to drill a large hole. Thread the cord through the hose hole first before attaching the hose. To determine the size of the hole for the hose, remove the hose from the vacuum, position the vacuum inside the box, and insert a pencil into the hole of the vacuum hose. Trace the circular outline of the hose onto the box. In my case, a 2 1/2″ hole saw was necessary to create the holes. I then drilled a 3/8″ hole on one side and chiseled away the excess to accommodate the power wires.
Insert the mineral wool
Cutting the mineral wool is a straightforward task, albeit it will dull your utility knife. Cut the wool tightly so that friction holds it in place. Use a hole saw to create holes in the mineral wool that align with the vent and hose holes.
Remember, mineral wool is the key to making your shop vacuum muffler quieter than other boxes.
Add the top cover
We're almost done with the process of reducing noise in your Shop-Vac. It's time for the final assembly. Connect the power cord, thread the hose, and attach it to the shop-vac. Turn on the vacuum, unplug it from the power source, and then attach the top cover, ensuring it is centered.
To create a seal around the top cover, cut the scale strips to length and attach them vertically around the circumference of the top. Start from one side and work your way around from below. Once completed, the top should be able to open and close, providing a relatively airtight seal.
Plug in the vacuum and give it a try. The muffler, or quiet box, should make your shop vac significantly quieter. While it may not be completely silent, it should be much quieter than before.
Additional features make it even better
But wait, there's more! You can enhance this project with two additional add-ons. The first is a cyclone filter, which increases the efficiency of your shop-vac by collecting heavy particles in a bucket outside the box. This significantly reduces the need to change filters or open the box. A popular option is the Deputy Dust cyclone filter. Alternatively, you can opt for a more affordable Woodstock Mini 2-stage separator, which sits on a 5-gallon bucket.
The second add-on is the EToolCity auto switch. This device automatically turns on the vacuum every time you start a power tool and shuts it off approximately 15 seconds after the tool stops running. No more worrying about switching the shop vac on and off! Personally, I connected it to my miter saw, allowing the vacuum to run for short bursts. The automatic switch greatly contributes to a quieter working environment and is definitely worth the investment.
Conclusion: The Quieter Shop-Vac
Is this project worth your time? Absolutely! By following this guide, you've learned how to reduce Shop-Vac noise effectively. If you're focused on minimizing noise in your workshop, then this project is undoubtedly valuable. If you frequently work with tools and rely on a dust collection system, it's well worth investing your time in creating a quieter shop-vac. The noticeable reduction in noise will enhance your work environment and make your shop a more enjoyable place to be.