Table of Contents
What is a drill press?
How does a drill press work?
Choosing the right drill press for your needs
Adjusting drilling speed for optimal performance
Tilt table for angled drilling
Safety precautions when using a drill press
Pro tips to upgrade and enhance your drill press
Replacing the chuck for improved functionality
Must-have accessories for your drill press
Conclusion: Unleash the Potential of Your Drill Press
What is a drill press?
If you're unfamiliar with drill presses, let me introduce you to this game-changing tool. In simple terms, a drill press is a column-mounted drill head that allows precise and perpendicular drilling. Unlike handheld drills, a drill press keeps the drill perfectly aligned with the material, ensuring accurate and professional results.

My trusty floor drill press setup, equipped with a bench clamp, a roller stand, and a convenient foot switch for easy operation.
How does a drill press work?
All drill presses share the same basic components: a head and motor mounted on a column, with an adjustable table. The on/off switch and the drill chuck are located in the head. By rotating the handles, you can raise or lower the drill chuck, allowing you to drill holes with precision and ease. Most drill presses come with speed control options to match different drilling materials and sizes.

A diagram showing the components of a drill press and how they work together.
Choosing the right drill press for your needs
When it comes to drill presses, you have several options to consider:
Bench drill press
These compact and versatile tools are perfect for beginners. They offer all the necessary features in a smaller size, making them a great fit for any workshop. Bench drill presses provide reliable performance and excellent precision.

My bench drill press and my custom "hard drive wipe" jig – a handy setup for efficiently destroying multiple hard drives.
Full-size/floor models
Floor models are the heavyweights of drill presses. With their powerful motors and larger chucks, they can handle larger drilling projects with ease. These robust machines provide exceptional stability and throat clearance, making them ideal for drilling into the center of larger materials.
Radial drilling machine
For those seeking maximum versatility, the radial drilling machine is a fantastic option. It features both vertical and horizontal columns, allowing you to drill into the center of larger workpieces. While they can be costly and require ample space, these machines offer unparalleled flexibility.

A magnificent example of a radial drill press in a machine shop – an incredible tool for tackling various drilling tasks.
Magnetic Drill or Mag Drill
Popular in manufacturing, boat building, and installation industries, magnetic drill presses provide outstanding stability and ease of use. They feature a powerful electromagnetic base, allowing them to securely attach to structural steel. Just be cautious with your credit cards and ensure proper safety precautions!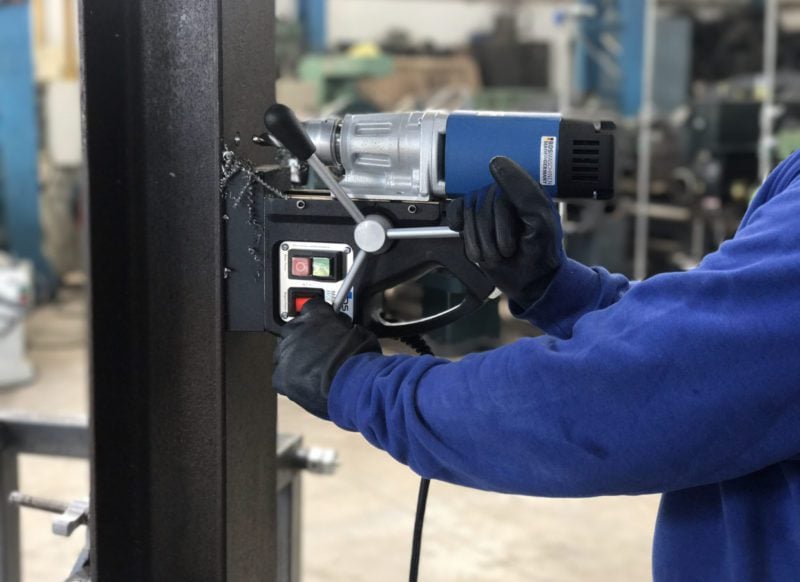 An impressive magnetic drill press in action – an indispensable tool for demanding industries.
Adjusting drilling speed for optimal performance
Drill presses offer adjustable drilling speeds to tackle various materials. Most models provide a belt-driven system that allows for speed changes. By adjusting the belts' positions on the pulleys, you can modify the drill's rotational speed.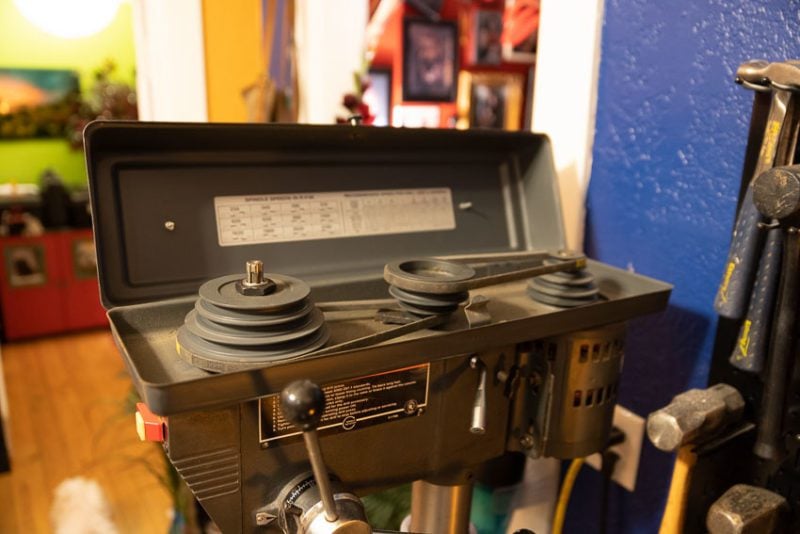 Adjusting the belt configuration to change the speed of your drill press.
Tilt table for angled drilling
Many drill presses come with tilt tables, allowing you to drill holes at different angles. By loosening the bolt beneath the table, you can tilt it to your desired angle. This feature is incredibly useful for drilling angled holes and ensures precise and efficient woodworking.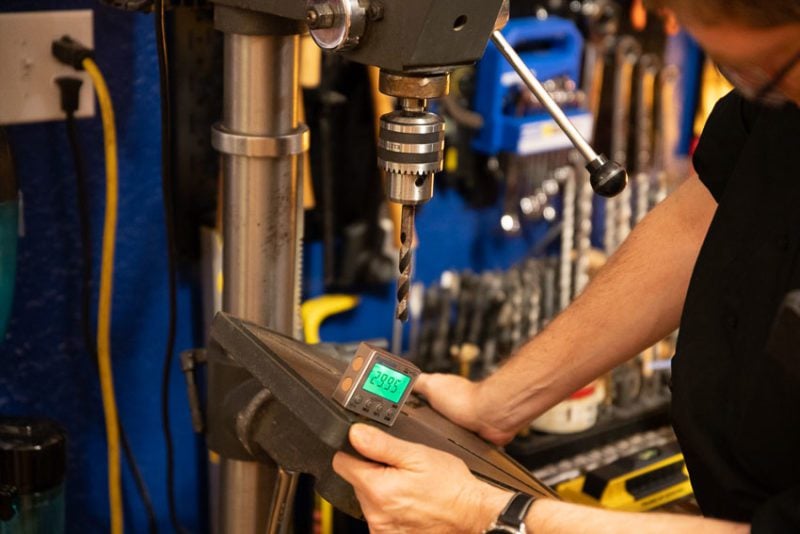 Easily tilt the table on your drill press and use a magnetic angle gauge cube to set the perfect angle.
Safety precautions when using a drill press
When operating a drill press, safety should be your top priority. Always wear protective goggles to shield your eyes from debris. Additionally, secure loose hair and remove necklaces to prevent accidents. It's crucial to clamp down your material securely, as a loose piece can lead to dangerous situations. Remember, a well-maintained and properly used drill press will enhance your woodworking experience.
Pro tips to upgrade and enhance your drill press
To maximize your drill press's potential, consider these expert tips and tricks:
Quick release clamp
Add a quick-release clamp to your drill press table for effortless and rapid clamping. This handy accessory streamlines your workflow, allowing you to secure materials with ease.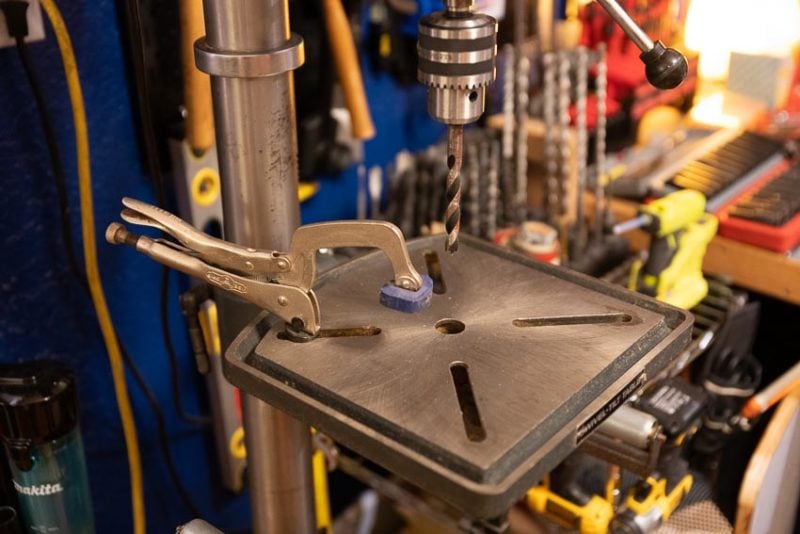 My trusty Vice-Grip quick release clamp – an essential addition that simplifies material securement.
Magnet
Attach a magnetic bar to the top of your drill press to hold chuck keys and other small accessories. This upgrade ensures that your essential tools are always within reach and prevents them from getting lost.

A strategically placed magnet on top of my drill press keeps my chuck keys secure and easily accessible, even when I open the lid.
Line the pillars
Make drilling safer by adding a line on the drill press post that aligns with a corresponding mark on the table. This simple visual cue ensures that your drill bit is directly above the intended drilling spot, preventing accidental damage to your work surface.
Drill mechanism
To enhance stability, place a weight on the drill press base. This additional weight reduces vibrations and improves overall performance. A barbell weight or a steel toolbox can work wonders in enhancing stability.

Organize your drill bits in a three-drawer toolbox and boost stability by adding weight to the base of your drill press.
Replacing the chuck for improved functionality
Over time, your drill press chuck may wear out or become less convenient to use. By replacing it with a new chuck, you can significantly enhance your drilling experience. Follow these steps to replace the chuck:
Lower the quill or drill head to its lowest position.
Locate the slots on the quill sides and insert a tapered punch tool until it rests against the back of the chuck.
While holding the quill down, tap the punch tool with a mallet or a wooden block and hammer to loosen and remove the old chuck.
Install the new chuck by sliding it onto the quill and aligning it with the tapered punch tool.
Apply pressure to the drill press handle to press the new chuck into place.
Open the collet completely to avoid putting pressure on the movable jaws.
Enjoy the improved functionality of your new chuck!

Comparison between a keyless chuck and a keyed chuck, featuring the Morse taper for secure attachment.
Must-have accessories for your drill press
Take your drill press to the next level with these essential accessories:
Drum sander attachment: Transform your drill press into a drum sander for sanding curves and intricate details.
V-blocks: Safely drill and saw into round materials like log dowels using V-blocks.
Drill press table: Upgrade your drill press with a larger, adjustable table for improved work area and enhanced precision.
Fences and blocks: Attach these fixtures to your drill press table for repeatable hole drilling without the need for measurements.
Woodworking lathe attachment: Turn your drill press into a woodworking lathe for creating intricate designs.
Conclusion: Unleash the Potential of Your Drill Press
A drill press is an essential tool in any workshop. Whether you choose a bench drill press or a full-size model, these versatile machines will revolutionize your woodworking experience. By following safety precautions and employing valuable upgrades and accessories, you can enhance the precision and efficiency of your drill press. So, unleash your creativity and embark on woodworking projects with confidence, knowing that your drill press will be your steadfast companion.