I love my drill press. This is my favorite tool. In fact, I have two. I bought a bench model in college and a large floor model shortly after graduation. The drill press is quiet. They are precise. Best of all, they are versatile. If you use the best drill bit, you can drill holes in almost anything as long as it fits. With the right accessories, a drill press can also be turned into a sander. It can even drill square holes in wood using the mortise attachment. I've been using these tools for decades and thought I could teach you how to use a printing press like a pro.
Table of contents
What is a drill press?
How does a drill press work?
Which type of drill press should you buy?
change drilling speed
tilt table
How to Use a Drill Press Safely – Follow These Tips
Upgrade your drill press
Supporting materials
Replace the chuck
Accessories
Summarize how to use a drill press
What is a drill press?
If you already know what a drill press is, feel free to move down to the next section for lots of tips and tricks on how to do it. In simple terms, a drill press is a drill head mounted on a column. The drill moves up and down while the workpiece remains stationary. The biggest advantage is that the drill press keeps the drill perfectly perpendicular to the material. No more bent holes! To the uninitiated, this may not seem like a big deal, but when you actually start trying to build something, you quickly realize how important it is.
If you're trying to make something better than a flower pot, having your holes perfectly vertical will greatly improve the quality of your project. It makes parts fit together easier and safer. Drill presses also allow repeated drilling of holes at a constant depth. This is much more difficult when drilling by hand.
How does a drill press work?
All drill presses have the same basic components. They consist of a head and motor mounted on a column. The column has a table that can be adjusted up and down. Most of them can also be sloped for use with sloped holes. In the head, you'll find the on/off switch, the arbor (spindle) with the drill chuck. This is raised and lowered by rotating a set of three handles on the side. Typically, the drill chuck can move up and down about three inches of travel. In other words, you can drill a three-inch-deep hole without adjusting the table height.
The material is placed on the table and secured or clamped by hand. The table is then raised up to the bit that snaps into the drill chuck. The speed of a turning drill is usually controlled by a series of steps in the head. Some high-end drill presses, such as the Nova Voyager, use variable speed motors. There are many speed charts online to help you determine the speed you need for the drill material and size you are using.
When you're ready to drill, turn it on and slowly pull one of the handles forward and down, feeding the bit into the material. The amount of pressure you use depends on the material you are drilling. For example, steel requires more pressure than wood. With a sharp drill bit, you should get shavings out of the hole as you drill, not dust. When drilling through metal, you're using the correct pressure when the shavings come out in a long spiral. Metal drilling is a process in itself. Find upcoming articles on drilling metal, wood and plastics.
Which type of drill press should you buy?
desktop
Drill presses come in several different form factors. You can get a drill guide that allows you to attach a hand drill to the guide rod. You can also get a drill press stand without a motor or chuck. Instead, you clip your own hand drill into it. Both options are less expensive and will work in a pinch, but they're by no means a replacement for the real thing. Most beginners are best off with a bench drill press. These smaller tools often have all the features of larger floor models, but are small enough to fit on a bench.
Full Size/Floor Models
Floor models are big boys. These powerful bits can drill almost anywhere without jamming. They will drill holes that are very dangerous or impossible to drill by hand. Floor models have larger motors and larger chucks for drilling larger holes. They have a much larger throat clearance than benchtop models so they can drill into the center of larger materials.
Drill press ratings are the distance from the column to the center of the chuck (radius) times two (diameter). In other words, what is the diameter of the largest circle you can fit on a drill press? This is called drill press wobble. A typical bench might be rated at 8 or 12 inches. This means 4 or 6 inches between the post and the center of the bit. The floor model may be 16 inches, so you will have 8 inches of clearance.
Radial drilling machine
In addition to the vertical column, the radial drilling machine also has a horizontal column. This allows you to drill into the center of larger workpieces, up to 34" on some small bench models. I've wanted one for years. They are quite expensive and take up a lot of space. Always bolt on these top-heavy tools to keep them from tipping over. The advantage, though, is that the uprights barely get in your way, so you can put all sorts of things that wouldn't normally fit into a radial drill press, like a whole bike or your pickup truck tailgate.
Magnetic Drill or Mag Drill
In the manufacturing, boat building and installation/construction industries you will find magnetic drill presses (magnetic drills). They have no central column or table. In its place is a powerful electromagnetic base. Place the magnetic drill press on an I-beam, plate or other structural steel. Then you turn on the magnet, and the bit locks itself into place, even upside down. In the event of a power outage, don't stand under it! That's why they should be on a safety harness whenever possible.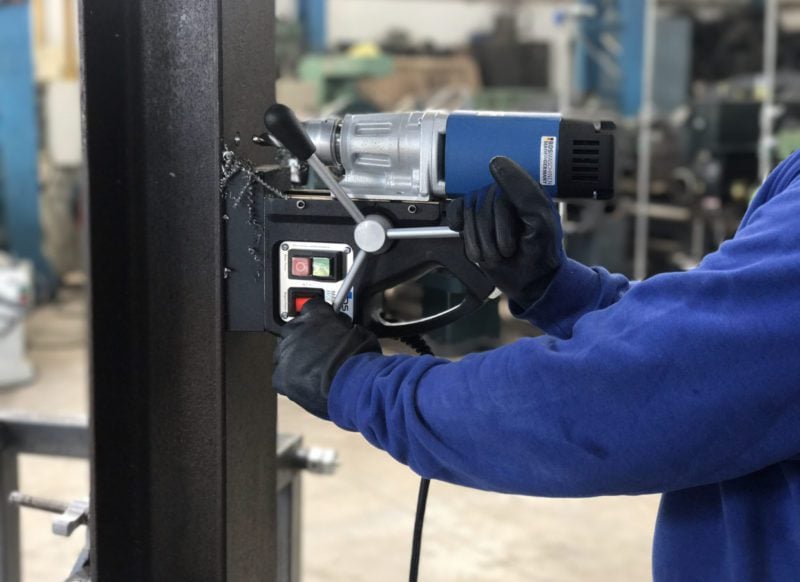 A warning about magnetic drill presses. They will delete your credit card! The first time I used it, my wallet in my back pocket was too close to the magnetic drill press when in use. It wiped everything in my wallet. Learned knowledge! If you absolutely need it, you can also opt for a battery-operated model, like the Milwaukee Cordless Magnetic Drill.
change drilling speed
Changing the speed of most drill presses requires adjusting the belt on the head. Open the top and you'll see a series of two or three stepper pulleys. There is also a diagram at the top of the drill press compartment showing every possible configuration of the belt on the stepper pulley. Each configuration results in a different speed for the drill press.
Behind the motor and to the side of the drill press, will be a handle. Once you release this handle, you can pull the motor forward. This will loosen the belts so you can adjust them from one pulley to the other. If they are very tight and the motor goes all the way, rotate the pulley/motor shaft while sliding the belt from one layer to the other. Our lawyers want us to remind you to always unplug your drill press when doing this so you don't lose your fingers!
With the belt in the correct position, push the motor back as far as it will go from the front of the drill. This creates tension on the belt. While pushing back, re-tighten the handle on the side. Close the lid to prevent frayed straps from turning into projectiles when they break.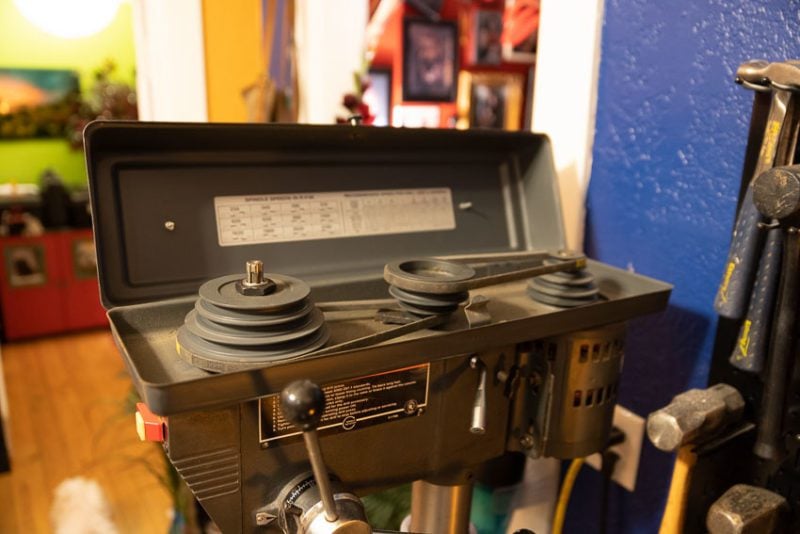 tilt table
Most drill presses have a table that can be tilted. Tilt tables are used to drill holes at an angle. There is usually a large bolt under the table that you can loosen to tilt it. I use an iGaging Angle Gauge Cube to set my angles, but you can also use a sliding tee and protractor to set angles. The gauge cube also helps you reset the table to a 90-degree angle to the drill.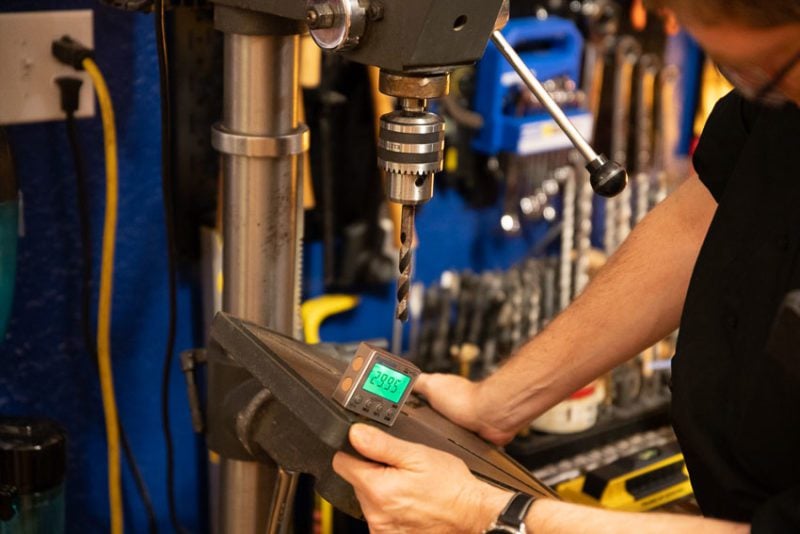 For years I've used the "hanger method" to reset tables because you can't trust the built in scales. Take a stiff wire, like the wire from a coat hanger, and cut/bend it into the shape shown in the picture below. Clamp one end to the drill press and the other end to float just above the table. Rotate the chuck and when you are at 180 degrees there will be the same amount of space between the wires and hangers on the left and right sides of the table.
Ironically, the most expensive drill presses usually don't have tilting tables. Found in machine shops, these are used to drill holes in metal. The metal drill press has no holes in the middle to prevent damage to the table when drilling too deep. If you can find a good deal on a metal drill press, go for it. They are durable and suitable for wood or plastic. Just make sure you can move it, as it could weigh 250 lbs or more.
How to Use a Drill Press Safely – Follow These Tips
Of course, goggles should always be worn when using a drill press. Aside from that, one of the great things about these tools is that there are some drill bits that you should definitely not try to drill by hand. An example is drilling with a circular cutter. Try this with a hand drill and you'll go crazy. By the way, it's not about challenge or guts. After you leave the ER with a broken arm, you don't do it again.
Things to watch out for with the drill press are long hair and necklaces. Loose hair is more likely to be sucked into the machine than a hand drill due to the proximity of your head to the rotating drill chuck. The drill press won't stop while your hair is being pulled in. Many people have indeed been scalped using this tool on loose hair.
Another thing that hurts is when the drill grabs the material and either blows it away or grabs it and starts spinning like a machine with shattered fingers and broken wrists. It goes on and on until you hit the power switch or the material ends up flying across the room. That's why it's important to either clamp your material, or make sure it's big enough that you can grab it. Due to its design, there are multiple ways to clip objects to the top. However, there are a number of ways we can improve the performance of your drill press.
Upgrade your drill press
quick release clip
Once I got the drill press, the first thing I did was add a quick release clamp. I keep mine on the table almost all the time. It makes clamping things really easy and fast. For smaller parts I also get a drill press vise. These can be bolted to the table, but usually, you can grab the vise while drilling. Better yet, use the quick-release clips to secure the vise for you.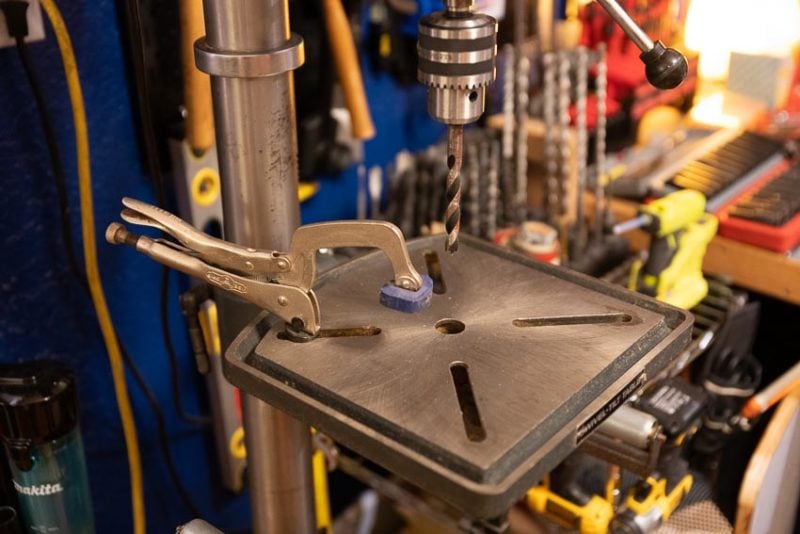 Magnet
So I never lose my collet key or conical punch (the tool used to remove the collet), I mount a magnetic bar on top of my drill press (like the kind used to hold kitchen knives). This is a great upgrade because I can reach in and remove my chuck keys from the magnets. It doesn't even come off when I open the cover of the drill press to change the speed.
line the pillars
A free upgrade I did was draw a line on the post with a matching guide on the table. When these two lines line up, my drill press table is right under the chuck, so the clearance holes will line up. That way I don't accidentally drill a hole in my table. This means that when I clamp a board, I can move the upright up and down without having to release the board to see if I'm going to hit my desk. As long as the lines meet, I'll never accidentally drill into my table, even if I can't see the clearance hole.
drill mechanism
Drill presses are top-heavy. The more weight you can add to the base, the more stable they will be. For my bench drill press, I just lay a 20 lb barbell weight flat on the base. You can usually find these for cheap at yard sales, sporting goods stores, or flea markets. For my floor mods, I put a steel tool box on top of the base and kept most of the drill bits inside. This provides extra weight and bit organization for my various bit indexes.
Supporting materials
Years ago I added extension arms that attach to the posts to support longer working hours. This is practically useless. I'd be better off buying a separate freestanding workpiece holder.
Perhaps the biggest upgrade you can make to your drill press is to make or buy a drill press table. The adjustable table on the drill press is small. Adding a larger one with more work area is a huge help. After I made mine, I no longer need the extension arm I used to buy. It also makes it easier to add fences, blocks, and other fixtures to the bench. These allow repeatable holes to be drilled without measuring.
Replace the chuck
what is needed to replace the chuck
At some point, your drill press chucks will either wear out, or you'll get tired of using the chuck key to manually tighten the chuck while putting the drill in it. Mine recently wore out after nearly thirty years, so I got my money's worth out of it.
To replace a floor chuck, you'll need the tapered punch tool that came with your drill press. Most people lose these. Put it in a safe place. You can always buy replacements for under $10 on Amazon. You also need a new collet. This chuck is what I chose for my drill press. It has a No. 2 Morse taper at the end where it enters the drill string. No. 2 Morse taper (2MT) is probably the most common taper size.
How to replace the chuck
With the new chuck in place, put the socket (drill head) all the way down. You should see a slot on each side of the quill. Insert the small end of the tapered punch tool until it stops. It will now rest against the back of the chuck. You may need someone to hold the handle in place so the quill stays down while you do the next step. Tap the butt end of the tapered punch tool with a mallet or plastic mallet. If you don't have a mallet, use a wooden block and a hammer. After a few taps, the chuck should pop out – get ready to catch it!
New chucks cost half or more of the desktop model, so it's not worth the upgrade. Also, the chucks on many benches are not designed to be replaced.
Accessories
If you search online for drill press accessories, you'll find hundreds, in addition to many types of drill bits. Some attachments will turn your drill press into a drum sander for sanding curves, especially inside curves. With a sanding wing wheel, you can hold the material and bring it to the sander, which is sometimes safer or easier depending on the size of the material you are sanding. V-blocks allow you to safely drill and saw into round materials such as log dowels. You can even turn your drill press into a woodworking lathe.
Summarize how to use a drill press
A drill press is an essential tool in any workshop. If you coat your cast iron table tops with a paste wax every 6 months to prevent rust, they will last for decades. The more you use your drill press, the more you'll want to buy a larger floor model. However, I've found a smaller drill press useful and keep a benchtop drill press in my office for "erasing" hard drives by drilling holes in them. This can be done in an office environment as the drill press is very quiet. In your store, you'll be able to find a variety of uses for your drill press, no matter what size you choose.