Pneumatic nailers have revolutionized the construction industry since their introduction in 1950. These tools are a common sight on construction sites, from the early stages of breaking ground to the final touches. While traditional nailers are designed for wood substrates, what if you need to drive nails into concrete? This calls for a completely different set of tools. In this article, we will guide you on how to effectively use a concrete T-nailer, equipping you with the necessary knowledge before you begin.
Table of Contents
About Concrete T-Nailers
Concrete T-Nailers, such as the formidable Bostitch MIII Concrete T-Nailer, are designed specifically to drive 2-1/4-inch T-nails. With its robust and industrial design, the MIII stands out from its dowel-based counterparts.
One notable feature of the Bostitch MIII is its aluminum housing, which sets it apart from other nailers that often have plastic components. This aluminum construction makes it better suited to withstand the harsh environment that comes with nailing into concrete.
T-nailers are typically loaded with a substantial amount of T-nails. These nails are not as bulky as standard wood nails used in framing or roofing, making them more akin to finish nails. By mastering the use of a concrete T-nailer, you can also effortlessly utilize pneumatic or battery-operated finish nailers.
Understanding T-Nails
T-nails are versatile fasteners used to secure a combination of wood, concrete, and steel. While less common than their wood deck counterparts, concrete T-nailers prove to be suitable for a wide range of applications. Here are just a few examples of what T-nails can be used for:
Nail strip
Steel channel fixed to concrete
Scale strip
Joist hanger
Sheet metal to truss
Metal door and window frame
Plywood to concrete
Wire lathe installation
Steel belt
Deck
Fence
Cabinet frame
Sub-flooring

T-nails are not your typical paper or plastic fasteners. Similar to brad nails, they temporarily fuse together and separate upon firing with a nail gun.
Unlike conventional nails that come loosely bundled, T-nails are temporarily fused together, resembling brad nails. This allows for a more compact and densely packed arrangement of fasteners. It's worth noting that larger frames, coils, and finish nailers require different types of fasteners.
Various powder-actuated concrete T-nailers are available on the market, although some might require a license for proper usage in specific regions. However, there are also powerful aerodynamic alternatives, like the popular Bostitch MIII, that do not require such licenses. We find these models more convenient, even though they require the use of a compressor.
Before using a concrete T-nailer, it's essential to consider the age and density of the concrete substrate. These factors will dictate the length and gauge of T-nails required. Generally, longer nails are suitable for brittle concrete, while shorter nails may not provide sufficient grip and merely create holes.
For apprentices wondering how to use a concrete T-nailer, fear not! The process is remarkably similar to using any other nailer. Follow the steps below:
Load the Fasteners
Start by loading the fastener into the magazine. T-nails are usually side-loaded, just like most other finishing nailers. Pull back the magazine, place the peg in it, and ensure it is pointing in the direction of the firing mechanism. After inserting the nail, slide the magazine cover back into place until it clicks securely.
Prioritize Safety
Nailers incorporate built-in safety mechanisms to protect users. Pressing the nailer against the material grants you the freedom to pull the trigger and fire the nail. Most T-nailers do not require additional measures to protect the surface of your material, unlike staplers with plastic nose guards. However, if you wish to use a nose guard, be sure to disconnect the air supply to the tool before installation. Accidentally triggering a shot while installing the guard is not ideal!
Pull the Trigger
Next, pull the trigger to drive the nail. You may notice some impact when driving into concrete, so be sure to have a firm grip and apply firm pressure on the material. T-nailers typically use 14-gauge nails, providing more feedback than corner-head nails into softer woods like pine or oak.
When using a concrete T-nailer, it is generally recommended to drive one nail at a time. Collisions between fasteners are less common in these tools, and a slow and steady approach works best.
Check Your Work!
Lastly, we recommend checking the fasteners for a secure hold. This step is especially crucial when working with old, low-density, or brittle concrete.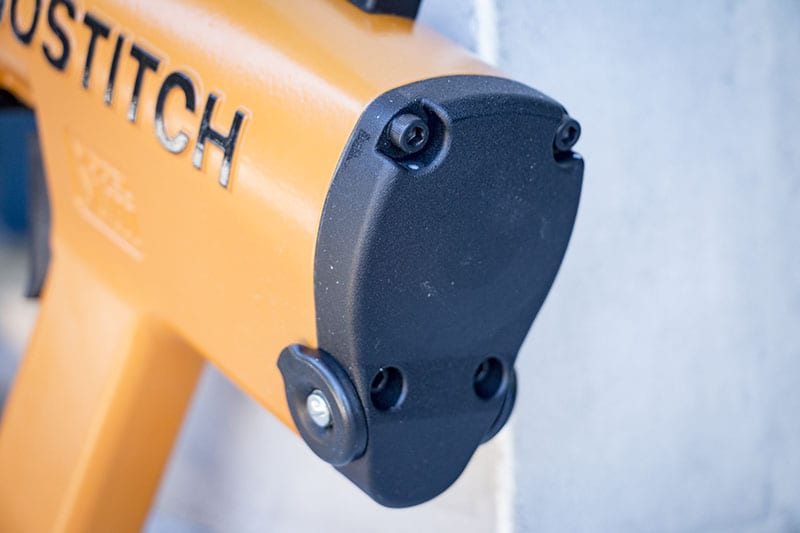 You may observe that concrete T-nailers share many features with other pneumatic nailers. Due to the nature of the work they handle, they may be slightly heavier in structure.
Wrap It Up
We hope this article has provided you with valuable insights on using a concrete T-nailer effectively. If you're a pro and have any concrete T-nailer tips to share, please feel free to leave them in the comments below. You can also take the conversation to Facebook, Instagram, or Twitter. Happy nailing!