When you own a 1920s bungalow, you quickly become familiar with renovations. Unfortunately, people don't always make the right choices. The home has been exteriorly renovated with HardiePlank® lap siding. However, they failed to use the same insect and anti-corrosion materials on the window treatments. Instead, the windows were trimmed in pine, then primed and painted. Over the years, the trim started to rot a lot. We chose to replace the pine trim with HardieTrim® boards, giving them the same decay resistance as these fiber cement products. If you find yourself in a similar situation, knowing how to replace wood window trim with HardieTrim boards can ensure you only do this type of renovation once.
Collect HardieTrim materials
We contacted James Hardie Building Products Inc. and they were kind enough to provide us with enough HardieTrim® panels to replace all of our window treatments. Since the previous windows had exterior sills, we needed to convert them to a more rain-resistant panel style. This also fits more into the traditional HardieTrim look.
PVC vs. HardieTrim Board <br>If you want rot-resistant window treatments, you have a few obvious choices: HardieTrim or PVC. The reason we contacted James Hardie instead of a PVC manufacturer had to do with heat. During the Florida summer, high temperatures cause PVC to expand significantly. In winter, it shrinks. In some climates, you can get as much as a 3/16" difference. While you can use a high quality window/decorative caulk to fix these issues, I prefer something like HardieTrim, which doesn't have as much movement and comes in a variety of texture and color options.
supplies list
For this project we used the following materials:
22) 3.5″ Wide HardieTrim Board 5/4 Smooth – Primed
16) 5.5″ Wide HardieTrim Board 5/4 Smooth – Primed
1) 11.25″ Wide HardieTrim Board 5/4 Smooth – Primed
HardieTrim 5/4 panels are approximately 1 inch thick, so they are ideal for use with HardiePlank lap siding. The thickness allows them to extend beyond the edge of the plank trim for a beautiful finished look. Each plank is 144 inches long and has a primed finish without any grain. We pick up directly from our local factory in Plant City, Florida.
About James Hardy
James Hardie is the inventor and foremost world leader of modern fiber cement technology and the European market leader in fiber gypsum products. James Hardie's products are found in more than 8 million homes and continue to set the standard for the manufacture, innovation, marketing and distribution of premium fiber cement products worldwide.
remove old or decaying trim
Removing old trim from this historic home required carefully cutting caulk joints with a razor, then prying them up with flat bars. Whenever possible, we use additional material to distribute the stress at the fulcrum. This helped us avoid breaking any existing HardiePlank siding. Doing so would result in a lot of unnecessary labor.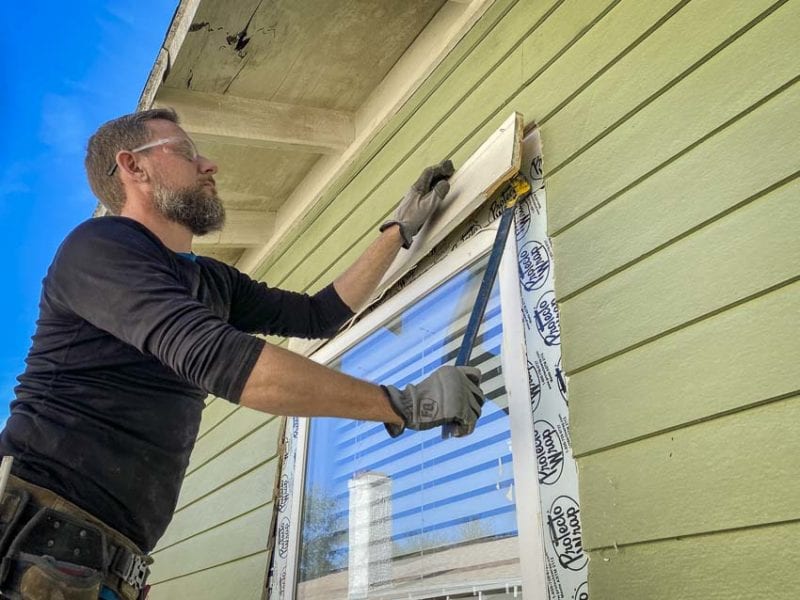 Typically, when you install HardieTrim boards, you do this before you install the siding. This allows you to rest the siding directly against the wood – giving the house a very nice look. Since it sits above the siding, the trim can also be easily painted. For our 1920's Craftsman bungalow, the siding was very prominent, so we used extra thick 1" 5/4 HardieTrim board to get the desired effect.
Cutting HardieTrim Boards
Once we removed all the old wood trim, we were ready to measure and cut the new planks to fit. Since each board is 144 inches (12 feet) long, we found we could create our decking boards efficiently. In the end, we had very little extra material left. For cutting the HardieTrim material we chose to use Diablo fiber cement blades. Named "HardieBlade," these blades have only four carbide teeth in the 5-inch, 6-1/5-inch, and 7-1/4-inch sizes. The 10" blade has 6 teeth and the 12" blade has 8.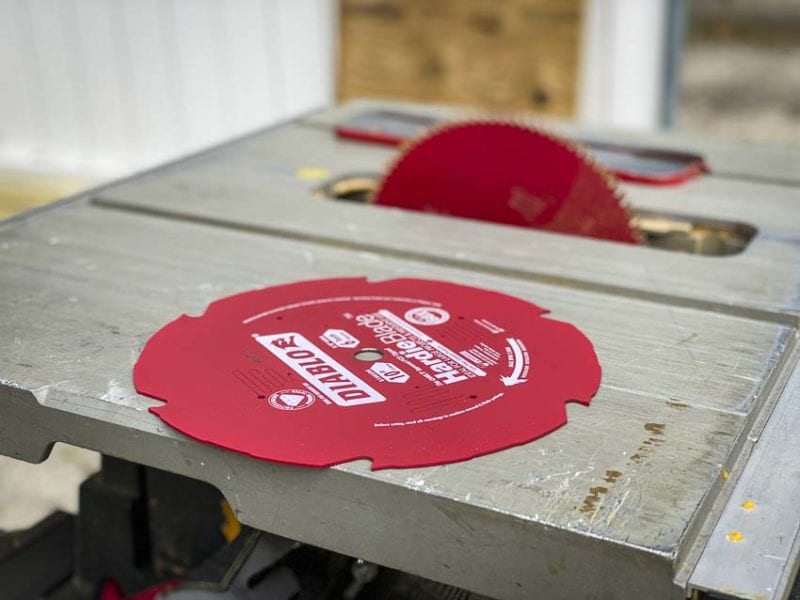 About Diablo HardieBlades
I've cut a lot of HardiePlank and HardieTrim. Over the years I've used every blade and every "trick" recommended by the pros. This includes using abrasive blades, flipping the saw blade backwards, etc. There's nothing like Diablo HardieBlades for a saw that cuts through James Hardie material quickly and consistently. While each blade costs between $41 and $90, they're worth the money. Your time is money, and these blades cut cleaner, faster, last longer, and create less mess than any other saw-based solution we've used.
Buy Diablo HardieBlades at Acme Tools
Mostly we do cross cuts on trim, and an old corded Ryobi circular saw is perfect for the job. HardieBlades will create some dust, but not as much as you'd see with a wheel saw. If you want to control dust, an adequate dust collector and a circular saw with a dust collection port should do the trick.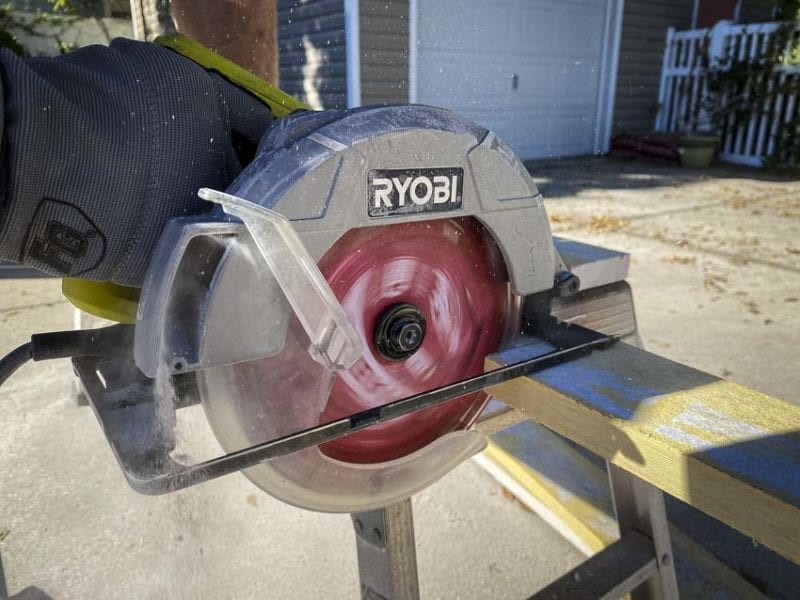 For a great circular saw that handles dust control, check out the corded Makita 5057KB here.
Rip the HardieTrim board with a table saw
While working on some corner pieces, we found that we had to do a slit to get the correct width. For that, we turned to an old Bosch 10-inch circular saw that we carry around for rough work that can get messy. I've had this saw for nearly a decade, and it has enough power to even rip through HardieTrim planks. The 6-tooth, 10-inch HardieBlade rips through each 12-foot HardieTrim like it was a 5/4 deck. If you haven't discovered our love for these blades yet – here's another use that made us fans for life.
Replace sills with Hardies
Since our old window trim had a wooden sill – most of which was rotting – we needed a solution to replace it with a standard piece of HardieTrim. The front sills are only 1.5 inches high, while the new trim is 3.5 inches high. We decided to use a 4.5" angle grinder to cut the HardiePlank siding so it could accommodate the new trim. We run a dust collector next to the blade to collect most of the dust as it cuts.
This turned out to be easier than we expected, and we had room for our new board in no time. We also found that we could make a shallower incision that helped us avoid going through the underlying peel and stick. Once the cutting is done, we snap off part of the board and move on to the next stage.
Install new HardieTrim plates
We opted to face nail the new board, a few nails every 16 inches or so. They lay flat and we lined them up so that the top "pillars" went through the two vertical pieces to the bottom of the framed trim. The bottom piece replaces the previous sill and sits between the two verticals.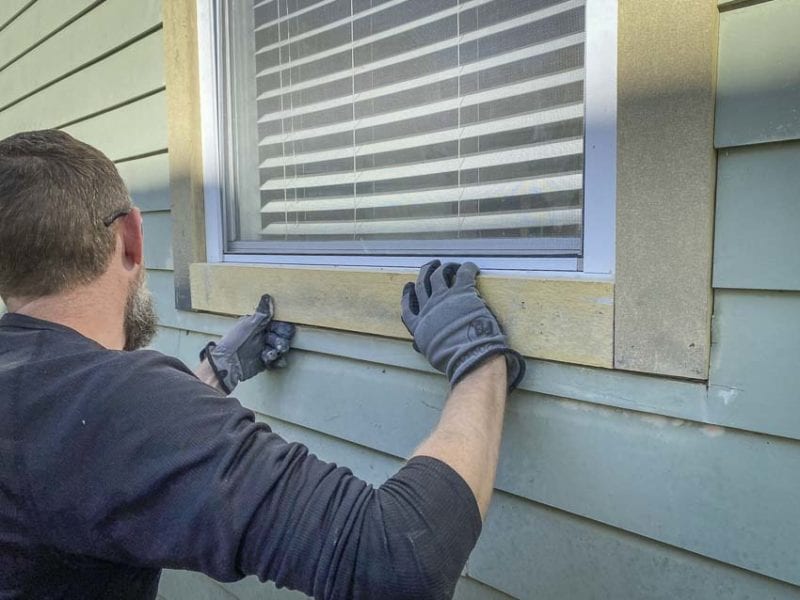 Using a 15-gauge pneumatic nailer, we nail in and move on to the next window.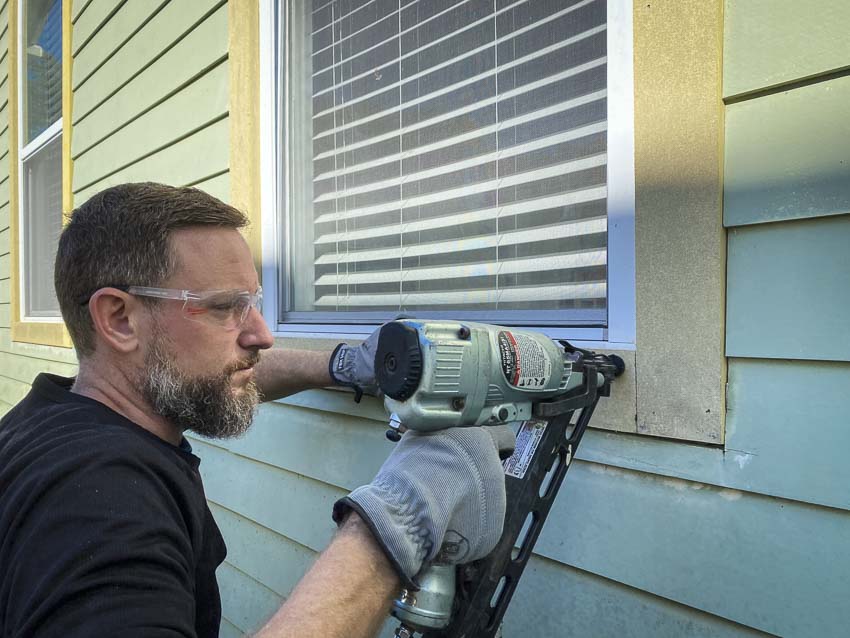 caulking
I don't like caulk a lot. We chose OSI Quad Max window, door and siding sealant. A pack of 12 tubes sells for about $99, though there are occasional discounts. This special sealant is paintable, offers exceptional durability, and flexes with temperature expansion and material movement.
The downside is that it takes more force to get it out of the tube — all the more so if the tube isn't at room temperature. Our recommendation is to use a battery-operated tool such as the Milwaukee Cordless Caulk Gun. It will make your life easier in the long run, and as a painter or home renovator, you should take full advantage of this tool.
Draw Hardie Trim
After caulking around your new Hardie tracery, the next step is painting. We used the same colors as before, however, we switched to a stronger paint from Florida Paints (their Seaside line). The paint should hold up better to the hot Florida sun and weather.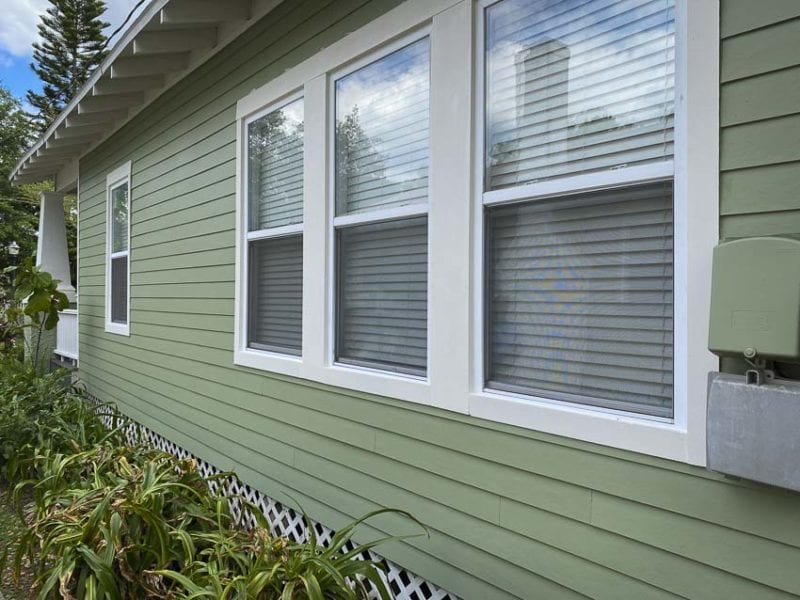 wrap it up
If you want a durable material, HardiePlank and HardieTrim should be your first choice. HardieTrim boards are a fiber cement product so they will not rot or be eaten by termites or carpenter ants. In addition to the wide variety of available colors*, we also love the durability that Hardie products provide for those in hurricane-prone areas. Using HardiePlank and HardieTrim is like wrapping your home in a thin layer of concrete! It also won't burn or melt.
* James Hardie's proprietary baked ColorPlus® Technology finish resists fading, discoloration, chipping and cracking and is backed by a 15-year limited warranty.
As a building product, it has many advantages over wood or PVC. Builders want products with the flexibility and appearance to match the building design. Hardie does a great job of providing the options and sizes needed to address almost any architectural style. Given its use in historic homes as well as contemporary homes – it's a testament to the material's flexibility and durability.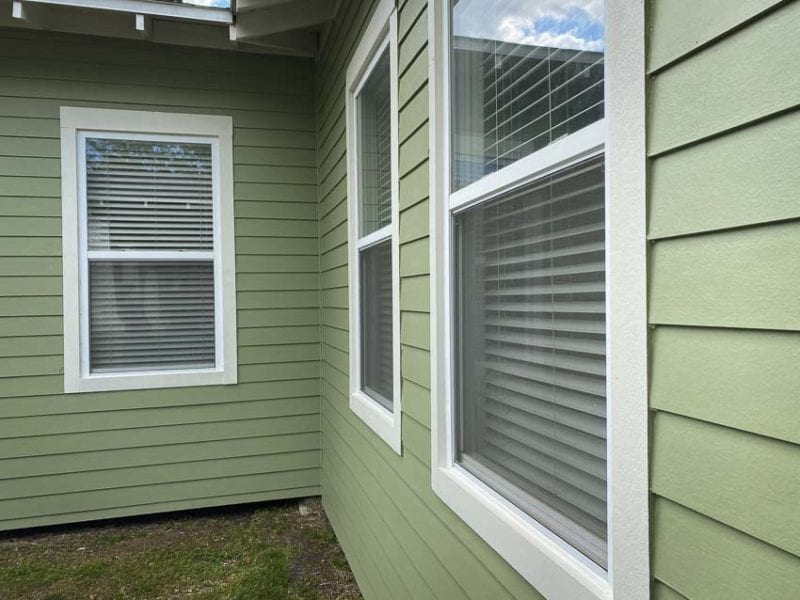 We think the end result speaks volumes and we look forward to not having to worry about further decay or degradation around the windows of this beautiful historic downtown bungalow.
thank you
James Hardie provided the HardieTrim plate for this article, but no other compensation is involved. If you would like to learn more about James Hardie building products, please visit their website.