There is probably no more economical way to cool a large store than installing commercial exhaust fans. Let's face it, once you get past 2400 square feet, the options are limited. You could install an AC unit, but that involves huge upfront costs in hardware and insulation. It also involves the ongoing costs of operating and maintaining the system. Large "ceiling fan" solutions like Big Ass Fans (which we haven't reviewed) also exist. Sometimes, however, simply getting the warm air out of the store can make a huge difference. This involves installing exhaust fans high up on the eaves to draw air out of the building while drawing in cooler air from below. We'll cover how to install a commercial wall exhaust fan to help reduce the overall temperature in your workshop or large garage.
Companies like Canarm and others make standard exhaust fans to work efficiently and with minimal installation. Pricing also adds to the attractiveness of these products. Most wall-mounted exhaust fans are single-speed, single-phase 120V, but you can also buy two-phase and variable-speed exhaust fans.
Table of contents
Choose Your Commercial Wall Mount Exhaust Fan – AirFlow

Canarm Wall Mounted Exhaust Fan Features

ready wall
wiring
in conclusion
Choose Your Commercial Wall Mount Exhaust Fan – AirFlow
To make sure you're getting the right fan for your needs, you first need to know how many fans you need to circulate the air in your space. To do this, divide the cubic feet of the room by the number of minutes each air change takes. Here's the required CFM (cubic feet per minute) capacity the fan must have:
Room size (cubic feet)/air change (minutes) = CFM —or—
Room size (cubic feet)/CFM = air change (minutes)
Our stores are 2,400 square feet with an average ceiling height of 14 feet. This yields approximately 33,600 cubic feet. If we wanted to change air every 10 minutes, we would need a fan with a CFM rating of approximately 3,360 CFM (assuming 1/8" SP (static pressure)).
Now, we're going a little crazy here, we have room for a bigger fan, so we settled for a Canarm 36" Standard Exhaust Fan (Model SD36-G1D). This model can move 8000 CFM at 0.125 inches of static pressure. Doing the math, this fan cycles the room every 4.2 minutes:
33,600 cubic feet / 8,000 CFM = 4.2 minutes
Canarm Wall Mounted Exhaust Fan Features
Available in 8" to 48" sizes (150 – 15,300 CFM)
Available in single speed, two speed and variable speed models.
All fans use fully enclosed, thermally protected motors.
Rugged steel welded box housing has a durable powder-coated finish.
Aluminum louvers are supported by long-life nylon bushings (30", 36", 42" and 48" have PVC louvers).
8" – 24" models have thick line chrome OSHA guards on the intake side of the fan (30", 36", 42" and 48" models have gray powder coat guards.)
All fans come fully assembled.
ready wall
Because our attic doesn't have insulation, we can more easily prep the area. We chose to cut the hole from the inside. Turns out the last guys nailed the exterior vinyl siding on the bottom. This makes removal and cutting very difficult. Before cutting, we drilled four 1" holes using a Bosch Daredevil spade bit. Then, using a thin metal blade with fine teeth, we grab our Milwaukee M18 Super Sawzall and "attach the dots".
Once our square hole was the right size we cut a top flat header and bottom saddle out of some 2×6 pine. This gives us the clearance we need for the fan body. We want it to be securely attached to the frame of our shop without protruding out of the way. The Makita 18V Brushless Circular Saw shortens the work time for these boards.
Then we cut the middle stud. This allowed our newly made flat head and saddle 2×6 to nest perfectly into place. Once leveled and nailed down, this gave us a very secure attachment point.
Next, we reinstalled the J-channel from the inside and slid the siding back into place. Once that was done we secured the fan to the stud frame using screws and washers.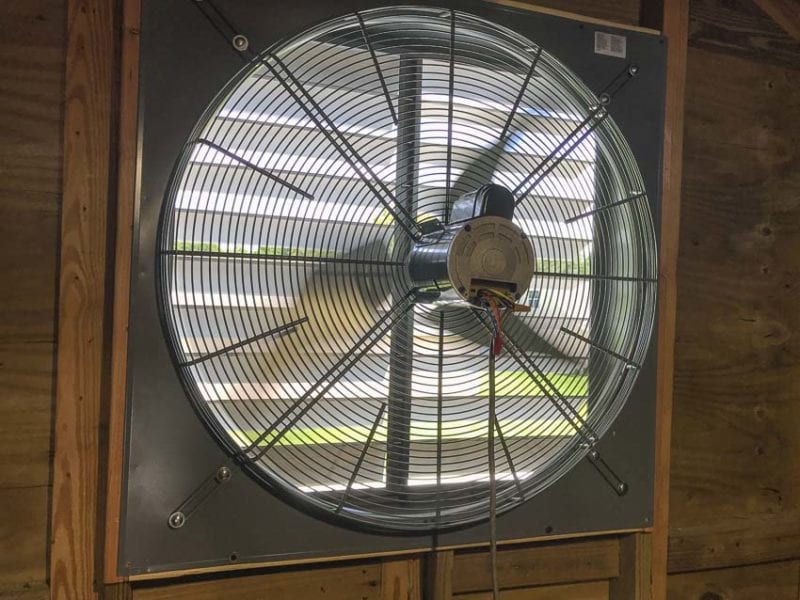 Moving outside, we used DAP DynaFlex Ultra window and door sealant to caulk the J-channel to the frame of a commercial wall exhaust fan. Given the height of our shop, luckily we had a Little Giant Hyperlite Ladder on hand to get us to the top with ease. That's one of the best ladders in our store.
wiring
Our fans only require about 6.6 amps of 120V power. Once everything was installed we ran the wiring to the fan location and passed a 2 hour timer switch. This allows us to turn on the fan without worrying about leaving it running overnight when we close the shop. It also prevents anyone from operating the fan for too long with the oversized 14×18 shop door closed, cutting off the main source of air.
in conclusion
While air conditioning equipment can cool a store down and make work enjoyable, consider the cost. Wall-mounted exhaust fans keep costs down while providing much-needed airflow. A properly sized system can quickly move hot air out of your store while drawing in cool air from below. Installation may seem daunting, but the right tools and attention to detail will get you on the right track.
Additional considerations for mitigating heat in large unconditioned spaces include:
Install radiant barriers to control heat buildup in the space
Adding insulation (this can also include elements of radiant barrier systems)
Consider limited air conditioning solutions that bring airflow directly to your workplace
For drier climates, a "swamp cooler" system may be of some benefit to your workspace, depending on the type of work you do and the materials you use.
For more information on Canarm exhaust fans, check out their website here.