So you have a piece of metal and need to punch a few holes in it. You think it's no big deal. You grab your drill. After five minutes, when you've barely made a dent in the metal, you decide it's time to head to the hardware store and buy a new drill bit. After a few minutes, the tip of the new drill turns blue and you still haven't finished the hole. You take it to a friend's house. The one who seems to be omnipotent. He drills all the holes in seconds. If this sounds familiar, read on to find out the techniques and tips you need to know about how to drill through metal.
Table of contents
Start punching (find your center)
Drill pilot holes into metal
How to drill through different types of metal
The right bit selection determines how well you drill through metal
Drilling with heating and cutting fluids
How to Vary Speed and Pressure to Drill Through Metal
How to Drill Through Metal: Breakthrough
How to Drill Through Metal – Clean Up
final thoughts
Start punching (find your center)
Before drilling holes in metal, you need to find the center and start drilling. Without this, you may not be able to drill holes exactly where you want them. This is usually done with a center punch or something called a jab. You've probably already used a center punch. You just place the dot where you want the hole to start and hit the end with a ball peen hammer.
It is important not to use claw hammers as they are already hardened – the same goes for the center punch. Never collide a hardened tool with another hardened tool, or you risk splintering. Serious eye injuries are caused in this way every year. That's why hammers always come with the warning to wear safety glasses.
A jab is like a center punch, only with a sharper tip. Use it to locate more precise points, then follow up with a center punch to make deeper, wider holes. Note that the piercer should only be used on softer metals such as mild steel and aluminum to avoid damaging the tip.
Many people swear by the automatic spring-loaded center punch favored by woodworkers. These are very useful in aluminum and other alloys. They work well on mild steel, but due to the thinner tip, they wear out faster than single hole punches and center punches. To use them, just line up the dots and push the handle down. An automatic internal mechanism triggers the punch.
Once you've found the starting point for your drill, you'll need to drill a pilot hole. Pilot holes are smaller holes for your final drill to follow. The pilot hole removes some material, making it easier for larger bits to drill straight through. With my drill press, I skip the pilot hole if the hole is less than 1/2" in diameter. When using a hand drill, I make pilot holes for 3/8" and larger holes.
There are many different types of metals out there. Most of us usually only use a few: carbon steels like mild steel and stainless steel, aluminum or alloys like brass or bronze. Machinists handle each metal differently and want to know the exact type of steel or alloy they are working with. Because of the stress a particular joint needs to withstand, they may specify 6061T6 aluminum for one part of the project and 3003H14 aluminum for another. They usually try to achieve tolerances of 0.0001 or greater.
For the average person, think of three broad categories: steel, stainless steel, and aluminum/alloys. If you're having trouble from there, do a Google search for the specific metal you're using. Metals such as titanium or armor plating require special techniques. Again, Google is your friend.
There are many types of drills out there. We recently wrote an article about the best metal drill bits. Here are the most important parts of your metal tool bag.
High Speed Steel Twist Drill
High speed steel or HHS drills cost less than many other metal drills and you get what you pay for. When I was a hungry young artist, I bought a set of cheap drills. The first time I used them in metal they actually unraveled on their own. I've since purchased Black & Decker Bullets, which are now labeled as DeWalt bits with pilot points. They excel in all but the hardest metals like stainless steel.
I recommend titanium coated drill bits for the best value on mild steel. Black Oxide also works very well and costs less. The coating helps these bits perform better and last longer. The downside is that you can't sharpen these bits as they dull and retain their coating.
Most HHS auger bits come in a variety of tip designs, usually 118 or 135 degree angled. While 118-degree bits have historically been manufactured for softer steels such as mild steel, aluminum, and other alloys, some manufacturers are converting more bits to 135-degree split bits. If you want to drill into harder metals like stainless steel, turn to cobalt bits.
cobalt drill bit
Cobalt bits are twist bits with 5% to 8% cobalt added to help them stay sharper longer and be more heat resistant. They look just like HHS bits, but the color may vary slightly. It is important not to mix them up with regular twist drills. They also cost more than HSS bits, but you can sharpen them because the cobalt is not a coating but part of the metal itself.
I don't use cobalt bits for wood or plastic. At a cutting angle of 135 degrees, they don't actually cut these materials either. DeWalt Pilot Point Bits also drill through aluminum faster than cobalt bits in my experience. The beauty of cobalt bits is their longevity in harder metals. They can keep cutting other parts where it will get boring and stop production.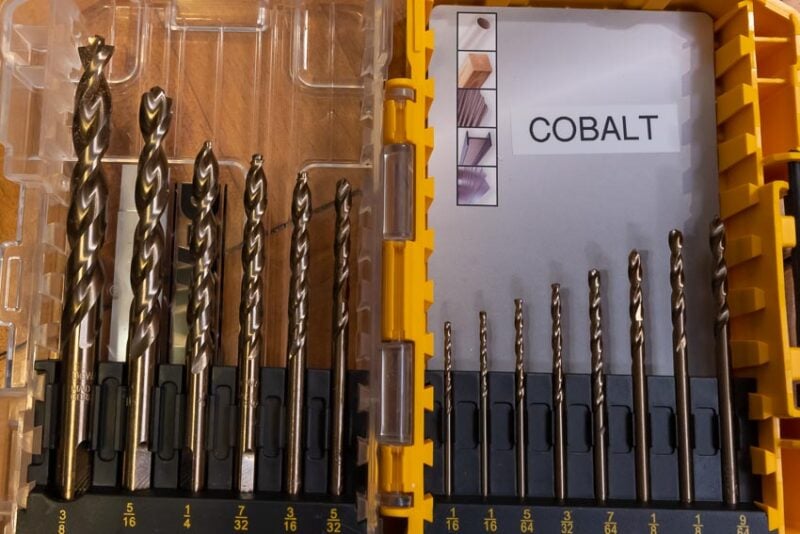 Silver and Deming Bits
Many people know how to drill holes up to 1/2 inch. The question remains, how to drill through larger diameter metals? The secret is the Silver and Deming bits. They're named after the company that invented them, and that name sticks regardless of the manufacturer (sort of like Kleenex or Xerox). Most Silver and Deming bit sets range from 1/2" to 1" or even 1.5". To be on the safe side, you should only use the larger size with a drill press that clamps the workpiece securely.
step position
If you've never seen unibits (also known as unibits), they look like small metal Christmas trees. Single-step drills can cut holes of multiple sizes in thin metal. To use one, look at the scale on the inside of the tool to see how many "steps" you need to feed the drill in to get the proper size hole. For example, if you are using a step with 10 steps to achieve a 2 inch diameter hole, start your hole and carefully count the steps as you drill.
If the job is critical, stop at eight or nine steps and double-check the hole size. If you drill one more step, you will ruin your workpiece. Also, make sure you use the proper lubricant when drilling with a step drill.
Drilling holes in metal with ring cutters and hole saws
Ring cutters are like metal hole saws. You can also use a bi-metal hole saw to make a few holes here and there in the metal, especially on softer metals like aluminum. However, the experience is not ideal. These metal saws are very loud and hole saws wear out faster. This task can also be quite dangerous if you don't clamp the job to the drill press.
I once used a drill press to drill 3" holes in aluminum pipe with a hole saw. Unfortunately, I'm in a closed building. Someone came up about 300 feet away and told me to stop because it was so loud their teeth hurt. Imagine how I would feel in the same room only 3 feet away! Using a hole saw on metal should only be done on very thin and firmly held metal panels such as electrical panels. Using a hand drill to drill large holes in metal will only hurt your wrist.
Use a ring cutter with a drill press. A bench drill press may not be powerful enough to cut large holes in metal. This works for ring cutters or metal hole saws. Ring cutters have more in common with milling machines than hole saws. They melt almost any type of metal and are a joy to use.
Ring Cutter and Hole Saw Applications and Pricing
Previously, ring cutters were very expensive. Now they are affordable. In the days of cheap Chinese tools, one can find good quality sets of six that drill holes up to 2 inches in diameter for less than $250. Your drill press will need a Morse Taper MT2 adapter to use ring cutters, as most cutters have 3/4" square shanks for magnetic drill presses.
Magnetic drill presses have powerful electromagnets at the base that allow them to stick to ferrous metals like I-beams. They'll even hold upside down grips. You can guess that if the power goes out or someone kicks the cord, the tool will drop to the ground. Therefore, it is crucial to have them tied or tethered as a backup. Just a warning, I deleted all my credit cards the second time I used it, so keep my wallet away from these tools now!
Drilling with heating and cutting fluids
Once you've chosen your drill, there's one thing you need to do to maximize the life of your drill—keep it cool. Cutting fluid helps to remove heat and flush away chips/shavings. Whenever I drill or cut metal, I add cutting fluid. It's as simple as dropping some on the metal and bit before and during the drilling or cutting process.
One of the best ways to apply it is with a chip brush in a container of cutting fluid reserved just for this task. In machine shops, their equipment has hoses, nozzles, and pumps that constantly spray cutting fluid/coolant onto drill bits and workpieces. Cutting fluid is not used when drilling and cutting cast iron as it is the exception.
There are a variety of cutting fluids on the market today. Years ago, people would even use bacon grease! Not in my shop because I don't want to attract cockroaches, rodents, or my dogs (Editor's note: Also, we know there are better uses for bacon grease!). Some people use 3-in-1 oils or even WD-40. When I leave my shop I use WD-40 a lot and have to drill holes in metal because I always have some in my truck. Now we have more effective modern cutting fluids. My favorite is Tap Magic cutting fluid. If you use a lot of aluminum, Tap Magic makes cutting fluids specifically for aluminum. Beeswax is also suitable for aluminum, but may be harder to find.
So far we've discussed what it takes to drill holes in metal. The next part of how to drill through metal is all about technique.
Technology makes all the difference.
The speed of the drill and the amount of downward force exerted on the drill is the skill that really comes into play and will help you successfully drill through metal.
First, let's talk about drilling speed. As a rule of thumb, take your time. On your hand drill, set it to low (usually indicated by the number 1). On the drill press, slow down. More precisely, there are numerous drilling speed charts on the internet that will tell you exactly what speed you need to set your drill for for which material and the size and type of drill you are using. Most hand drills won't set the speed so accurately, but a drill press can. When in doubt, you can't go wrong drilling through metal at the slowest speed your drill will run. It may not be the most efficient method of drilling, but it won't damage the bit.
As far as pressure goes, the shavings will tell you if you're doing it right. If you get dust or flakes of metal, you didn't push the drill hard enough to cut properly. You know you're using the right amount of pressure for making long, continuous strands of shavings that are several inches long. I often get foot long shavings. Because they are so long, they end up snapping off and whipping through the air. Safety glasses are a must.
The most dangerous part of drilling in any material, especially metal, is when you finally break through. So when you're about to come out the other side, slow down and take the pressure off. Hangs tightly (if not clamped) on the workpiece. There's a good chance the drill will grab it and try to yank it out of your hand. This is why it is so important to always clamp the workpiece. It's a "thrilling" moment when a piece of steel spins at 300 rpm and tries to break something!
When you're done drilling, don't sweep your hands over the workpiece to remove metal shavings as you would with wood. If you do, your hands will be itchy for a week from the microcuts in your skin. Instead, use a chip brush. That's their name! They should not be brushes. Chip brushes are used in machine shops to brush away metal shavings.
After cleaning out the drill press, also clean the floor and shoe soles. You don't want to be tracking metal shards through adjoining rooms. They're a pain to step on with bare feet, and you'll never be able to get them off the carpet. You just keep stepping on them. Ask me how I know!
final thoughts
Learning how to drill through metal is not difficult. If you use a sharp drill bit, the right speed, pressure, and a good cutting fluid, you'll get a shave of 6 inches or more. That's when you know you're doing everything just right and drilling holes in metal becomes a joy…albeit still a little messy.