Thirty years ago, I learned how to drill into concrete and masonry. Back in college, I had to run microphone cables at my dad's church. It required drilling a 1/2 inch hole in 12 inches of solid poured concrete. At that time, all I had was the new Black & Decker 1/2″ drill – the one without the hammer function. After exerting immense effort for 40 minutes, I finally broke through. However, a few weeks later, I purchased a Bosch 1/2″ impact drill, and it completely changed the game for me. Nowadays, I have a collection of hammer drills and impact drills of various sizes to handle different situations and applications.
Table of Contents
Rotary Hammer and Hammer Drill
How to Drill Into Brick, Concrete, and Masonry Using a Hammer Drill and Impact Driver
Masonry Bit
How to Drill Into Brick, Concrete, and Masonry: Dusting
Techniques for Drilling Into Brick, Concrete, and Masonry
Cleaning Up After Drilling Into Brick, Concrete, and Masonry
Buying and Leasing Equipment
Summary
Rotary Hammer and Hammer Drill
Let's start by clarifying the difference between an impact drill and a rotary hammer since some tool names can be misleading. A hammer drill features an oscillating mechanism added to the standard bit, while rotary hammers use an actual hammering/impact mechanism to drive the bit back and forth deliberately. To understand each method better, check out our linked articles.
Editor's note: When shopping for your next cord drill, consider investing a few extra dollars in a hammer drill model. It is well worth it if you ever need to drill holes in brick or concrete. From installing Tapcons to inserting plastic anchors into concrete walls, a rotary hammer can significantly speed up your workflow compared to a regular drill.

Image source: toolsworking.com
Only rotary hammers allow you to switch off the rotary motion and utilize the impact motion alone. This feature comes in handy for breaking, carving, and scraping concrete and masonry using tools with pointed or chiseled ends. Among the two, rotary hammers drill through brick, concrete, and masonry much faster. However, it's important to note that using hammer mode on materials other than concrete or masonry can actually result in slower drilling.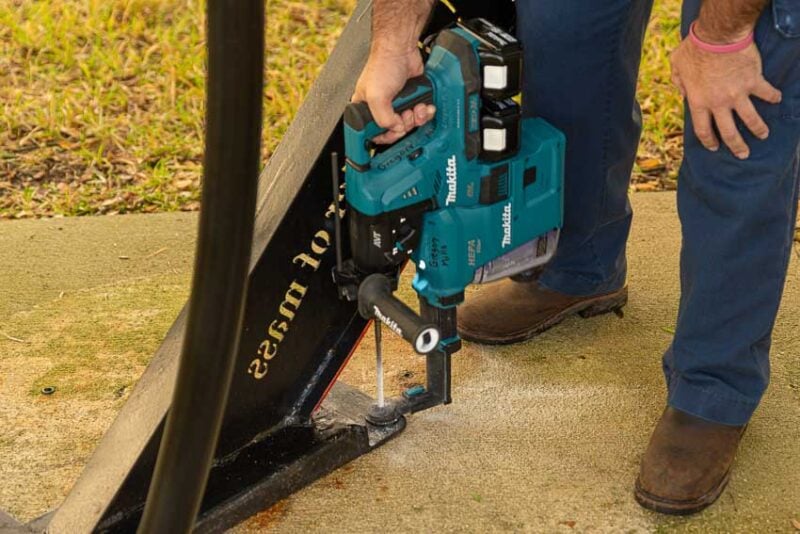 Image source: protoolreviews.com
How to Drill Into Brick, Concrete, and Masonry Using a Hammer Drill and Impact Driver
We often get asked about the difference between hammer drills and impact drivers. While impact drivers are not specifically designed for drilling into concrete, their impact properties allow them to drill into concrete just like a hammer drill does. In some cases, they may even drill faster due to their potentially higher RPM.
There are several factors that affect when an impact driver begins to kick in and slow down. These include the age and humidity of the concrete, the drill being used, and the make/model of the impact driver. If you prefer to use your impact driver, DeWalt offers a great masonry bit set specifically designed for them.

Image source: protoolreviews.com
Masonry Bit
Masonry bits are distinct from those used for wood, metal, or plastic because they have carbide brazed to the end. This characteristic makes them easy to identify. Remember, the thicker the carbide, the pricier the drill. The length of the drill bit also matters. Based on my experience, a high-quality set of 6″ bits like the Bosch Blue Granite Set should last you a long time and be sufficient for most applications, unless you need to drill deeper or use larger diameters.

Image source: protoolreviews.com
For larger sizes, however, I prefer using a rotary hammer drill instead of a hammer drill.
SDS and SDS Plus Bits
Rotary hammers typically require different chuck styles called SDS Plus (SDS+) or SDS Max for larger applications. These bits have a notch on the shank that locks into place when you pull back the release on the chuck. This prevents the drill from spinning or loosening in the chuck, unlike Jacobs keyless drill chucks found in regular drills.

Image source: protoolreviews.com
I recommend keeping a set of 6″ SDS Plus drill bits, not exceeding 1/2″ in diameter. You may also need a set of 12″ long drill bits, depending on the largest diameter your hammer can handle. While I occasionally require 18″ and 24″ long SDS Plus bits, I tend to purchase them as needed. I have used all of these tools in various setups, such as installing computer network cables or outdoor sculptures at the Polk Museum of Art.
Rebar Cutting Machine
Most concrete structures, especially those thicker than a few inches, contain some form of embedded reinforcement, including rebar. If you happen to hit rebar while drilling, you have two choices: either drill a new hole or drill through the rebar at a different location. Drilling through rebar using a regular masonry bit can be time-consuming. Fortunately, manufacturers have developed solutions for this issue. I particularly recommend the Bosch Rebar Cutter and the Diablo Rebar Demon SDS-Plus and SDS-Max bits. These tools last up to 7 times longer than conventional concrete drill bits, making them a worthwhile investment. Bosch rebar cutters are designed solely for cutting rebar, while Diablo bits can serve as an all-in-one cutter.

Image source: protoolreviews.com
Core Bit
A core drill functions like a hole saw made for concrete. While smaller diameter holes can be drilled a few inches deep using a hammer drill, larger holes require different accessories. To drill larger holes, you need a large diamond drill bit. These bits necessitate core drills capable of handling their torque and weight. The Milwaukee MX FUEL Core Drill, for example, essentially functions as a wall-mounted drill press. While it is more expensive due to its wireless features, there are cheaper wired alternatives available on Amazon for approximately $500. Keep in mind that a 6″ diamond drill bit can also cost a few hundred dollars. If you seldom require large hole drilling, renting these tools is a viable option. However, those in the trade who frequently drill large holes in concrete tend to purchase and maintain these tools accordingly.

Image source: protoolreviews.com
How to Drill Into Brick, Concrete, and Masonry: Dusting
One issue to be aware of when drilling into concrete and masonry is the presence of silica in the dust. Silica is a known carcinogen, meaning it can cause cancer. In response, OSHA has implemented regulations for dust exposure levels. To comply with these regulations, it is essential to vacuum the holes using a HEPA-compliant dust collector. Many modern hammer drills are equipped with a vacuum attachment or a built-in vacuum cleaner for this purpose.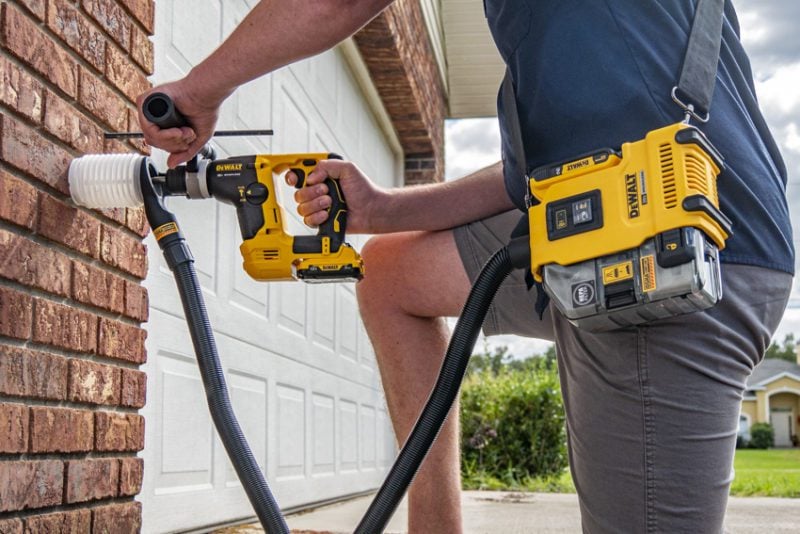 Image source: protoolreviews.com
For cases where you need to drill a hole in concrete using a regular drill bit without the hammer function, there's a trick you can try. "Accidentally" spill a drink inside the tool's opening and inform your significant other that you need to buy a new power drill, this time a hammer drill. Of course, if your spouse is watching, you'll have to take the hard route. Push hard—push as much as you can without binding the drill. Who knows, you might get lucky and burn out the drill motor! Just kidding. Let's move on.
If you feel stuck while drilling, which can occur when you encounter a rock, pull the drill back a few inches and then swiftly jerk it forward while the drill is running at full speed. Repeat this several times to break up any stones obstructing the drill's path. If you still feel stuck, inspect the drill bit's tip for metal shavings. This indicates that you may have hit some rebar. In such cases, start a new hole and keep up the good work!
When using a hammer drill, there is a common mistake people make—they tend to push too hard. This is the opposite approach from regular drilling. If you apply excessive force, you hinder the vibration mechanism from functioning properly. Moderate pressure is ideal, avoiding the point where you hear the tool slowing down. By doing so, you will drill the hole faster and extend your battery life as a secondary benefit.
Before I bought a rotary hammer, I used to drill 5/8″ holes in concrete using a percussion drill. To drill a hole of this size, start by creating a 3/8″ pilot hole. Then, use a 1/2″ drill bit to enlarge the hole and remove more material. Finally, use a 5/8″ drill bit to complete the hole. However, in most cases, we do not recommend using a hammer drill for making holes larger than 1/2″ in concrete unless absolutely necessary. A rotary hammer can accomplish the task much faster.

Image source: protoolreviews.com
When using an electric hammer drill, you don't need to press down as hard while drilling. The weight of the tool alone is sufficient to drive it forward. You want the impact mechanism to move freely back and forth without resistance from the concrete. This ability is what makes a rotary hammer effortlessly chew through concrete. Your only responsibility is to maintain the drill at the correct angle. To help me achieve perfect centering, I always use pilot holes when drilling holes larger than 5/8″ in diameter.

Image source: protoolreviews.com
Clean Up After Drilling Into Brick, Concrete, and Masonry
After drilling, avoid blowing the hole out. In the past, I used to attach an air bubble to my hammer drill so I could blow the dust out without getting a face full of dust. Nowadays, OSHA mandates that holes be vacuumed using a HEPA-compliant dust collector. A small cordless duster that meets OSHA's standards can be a great help and should be on everyone's shopping list.
Buying and Leasing Equipment
In my personal opinion, everyone should own a cordless hammer drill. Period. If you own a power drill, make sure it's a hammer drill, not a regular one. You never know when you'll need to hang a hook on a cinderblock wall, install a Christmas light stand on brick, or secure a pad to your garage floor.
If you work in the trade, it's likely that you'll need to invest in a decent hammer drill. However, homeowners can usually rent a hammer drill from a local rental center or Home Depot. Smaller hammer drills are not too expensive, with 7/8″ hammer drills (without batteries) often costing less than $200. Many contractors buy small rotary hammers for regular use and only rent larger rotary hammers when they have to drill large holes.

Image source: protoolreviews.com
How to Drill Into Brick, Concrete, and Masonry – Summary
Drilling into concrete is not a difficult task as long as you have the right drill bit and follow OSHA's dust regulations. It has become less messy compared to the past. Remember, having the appropriate tools makes all the difference when drilling into brick, concrete, and masonry.