If you're new to welding, the wide array of equipment available on the market might feel overwhelming. Just like the automobile industry has Ford, Toyota, and Mercedes Benz, welding equipment also has its major players, including ESAB, Lincoln, Miller, and Hobart (currently controlled by Miller).
Similar to car manufacturers producing sedans, trucks, sports coupes, and SUVs, there are different "models" of welding equipment that serve specific customer bases and functions.
But don't worry, choosing the best multipurpose welder for you doesn't have to be a daunting task. This article will guide you through the process.
Types of Welders
Let's start with the most commonly used welders:
MIG (Metal Inert Gas)
TIG (Tungsten Inert Gas)
Stick (Shielded Metal Arc Welding)
Oxyfuel welders that use oxy-acetylene (also known as "gas" or "oxyfuel")
There are also more expensive multi-process machines that offer flexibility by using multiple welding processes. Additionally, there are engine-driven welders that run on fuel, perfect for working remotely. We'll explore these more complex welders in future articles.
For now, let's focus on the basics of MIG, TIG, and stick welders. If you're unfamiliar with these welding techniques, refer to the primary welding processes handbook.
Mastering the fundamental procedures is essential for any beginner or aspiring welder. Understanding the qualities and benefits of different types of welders will greatly enhance your job opportunities.
For instance, knowing which filler rod, wire, or stick electrode complies best with code requirements, and which model is suitable for a specific assignment, can qualify you for roles such as supervisor, project assistant, weld technician, or buyer at your organization.
Starting with the basics of selecting a machine, this article will guide you through interpreting the specifications provided in product sales material and teach you how to compare important aspects.
Step 1: Determine the Type of Metal You'll Be Welding
Carbon Steel
Most welds involve carbon steel pipes or sheet metal. Carbon steel, also known as regular steel, is highly heat-resistant. This makes it forgiving for beginner welders who may inadvertently apply too much heat, unlike other metals.
Carbon steel can be used with most welding techniques, and you don't require advanced machine capabilities to create beautiful welds.
Stainless Steel
Stainless steel (SS) poses more challenges in terms of heat management. This alloy, made of steel, chromium, and nickel, is commonly used in the production of food and beverage containers and various other goods due to its corrosion resistance.
MIG or TIG welding equipment is typically used to weld stainless steel. Due to its lower thermal conductivity, stainless steel welds require less current compared to carbon steel welds. Achieving a perfect arc and puddle with most stainless steel welds requires a welder with precise controls.
Aluminum
Aluminum is a whole different ball game for welders. It conducts heat so effectively that you need to keep adding more heat to maintain the molten puddle, as it is a non-ferrous metal. Additionally, if the workpiece gets too hot, it can easily distort.
Aluminum can be welded using MIG welders, particularly those equipped with a pulse welding option. However, feeding aluminum filler wire through many wire-feed systems can be challenging. A separate add-on called a spool gun must often be purchased.
TIG welders designed for aluminum should have an AC power out option (sometimes referred to as "AC-TIG"). Other useful features include inverter-based electronics, square wave technology, balancing management, and a pulse option. Naturally, these added capabilities increase the price of the TIG welder.
Although stick welding can be used with aluminum, it is not the recommended method. The base metal must be thick enough to withstand the high heat, just like stainless steel.
Titanium
Welders working with exotic metals like Chromoly and titanium face unique challenges due to their sensitivity to heat. These valuable metals require highly advanced TIG machines with precise controls, extensive setup and fitting, and experienced welders at the controls.
Related – Choosing a Miller Welder Machine
ESAB Rebel 215ic
The ESAB Rebel 215ic is a multipurpose welding machine packed with advanced features that make your welding jobs easier. It utilizes sMIG technology, a unique welding process that continuously learns and improves, ensuring repeatable and superior welds with high consistency. The machine's 4.3-inch TFT screen with high pixel density provides clear viewing, and its on-demand user manual and parts list facilitate easy maintenance and repair.
Designed for multiple welding applications, the ESAB Rebel 215ic features advanced welding technology and a 120/230-V power supply. It comes with an electrode holder, Tweco Fusion 180A MIG gun, earth clamp, and leads. The machine is supported by a 3-year warranty and includes a Tweco Fusion 180A MIG gun, electrode holder, and MIG welding electrode.
The ESAB Rebel 215ic can weld various metals, including steel, stainless steel, and aluminum. Its unmatched durability and arc quality make it stand out in the industry. While it may come at a higher price, the features it offers justify the investment.
The Rebel 215ic also has a three-year warranty and a color screen with a user-friendly interface in multiple languages. It comes with a Tweco Fusion 180A MIG gun, 200-amp electrode holder, and 13-foot cable. Compared to its counterpart, the Rebel 235ic, the 215ic is lighter in weight. Both models offer similar features, but the 235ic provides greater power and weighs more. Additionally, the 235ic is equipped with a dual-gas inlet valve.
Forney 200
The Forney 200 Multi-Process Welder is a versatile tool suitable for a wide range of applications. It incorporates unique features such as an All-Metal Drive System, Auto Torch Detection, and dual-voltage input power. The machine also includes a convenient foot control for quick adjustments. While it weighs twenty-four pounds, it offers less welding power compared to some of its competitors.
This welder is perfect for hobbyists and do-it-yourself projects. Its two-process technology allows for quick switching between welding processes using the same torch. Additionally, different gases can be used for each process. This makes it an ideal choice for light-duty home projects, but it may not be suitable for heavy-duty steel construction.
The Forney 200 Multipurpose Welder boasts impressive build quality. However, it lacks certain features, such as hooks for cable management, and its power button is located at the back of the machine. Overall, this welder falls in the mid-price range, offering a more affordable option compared to high-end models. It is slightly cheaper than models like the Multimatic 220 Multiprocess Welder and the Lincoln Power MIG 210 MP but more expensive than the YesWelder MIG205DS.
A budget-friendly alternative is the Forney Easy Weld, which has a maximum output of 200A. It can weld mild steel up to 1/4 inch and runs on either 110V or 220V power. The Easy Weld includes MIG and TIG torches and features a dual-digital display, an important attribute for a multipurpose welder.
Another option in the market is the Forney 200ACDC, an all-around budget machine. It offers the capability to weld a wide range of materials, including aluminum and PVC. It is user-friendly and comes with a solid warranty. However, it lacks the power of some top-end MIG welders.
YesWelder's MIG-205DS
The YesWelder MIG-205DS is a 33-pound multipurpose welder that comes with a convenient carrying handle. It can run on either 110V or 220V outlets with the help of a plug adapter.
One of its notable features is the adjustable arc, allowing users to modify the inductance setting for a smoother or rougher arc. The wire feed system on the MIG-205DS is made of metal.
This versatile welder is designed for TIG welding and MIG/MAG welding. It weighs just 22.0 pounds, making it easy to transport. It also offers a flux-cored gasless MIG welding option, eliminating the need for a shielding gas bottle. However, the user manual may lack clarity, leading to potential confusion.
Although the MIG-205DS offers some great features, it may not be as impressive as other models. Its build quality is solid, and its user-friendly design makes it easy to operate. The welder incorporates an ergonomic handle and a full metal wire feed system. It is affordable and offers versatility, including preset options.
YesWelder MIG-205DS is a compact MIG welder, thanks to its inverter technology, providing 200A of output power. Its power output is adjustable with a 60% duty cycle.
Related – The Best Cheap Tig Welder
Goplus' S7 TIG Welder
The Goplus' S7 TIG welder is a budget-friendly option for beginners entering the welding industry. It comes with a starter kit that includes wire, a brush, and a mask, making it ideal for those starting out. This welding machine features four adjustable speeds and weighs approximately 35 pounds. It incorporates Waves form control technology to ensure a smooth arc. With two air vents, the internal temperature of the machine remains at the desired level.
Another noteworthy feature is the 10 wire feed speeds, providing better control during welding. The welder comes with a long cord, facilitating maneuverability in tight angles and over a wider area. Users find the cord flexible enough to accommodate extension cords easily. While it may not match professional-level welders, it is perfect for smaller jobs.
Built to last, the Goplus' S7 TIG welder offers a solid design and four levels of protection, making it suitable for various welding applications. It incorporates an auto thermal safety feature to prevent burns and ensure safe operation. Additionally, it uses a flux-cored wire, reducing part oxidation during welding.
The S7 TIG welder is an excellent option for beginners who seek a high-quality machine at an affordable price. It is lightweight and sturdy, featuring a steel body that supports two different input voltages. It is easy to use and offers high-performance capabilities.
Eastwood Elite MP200i
Eastwood Elite series multipurpose welders are ideal for various welding applications. They include pro-grade torches for stick, TIG, and MIG welding, as well as wire-free flux core welding, providing users with numerous options.
The Elite MP200i multipurpose welder offers good build quality, cool features, and a three-year guarantee. It also provides an option to extend the warranty by an additional two years. Another excellent multipurpose welder is the Hobart Multi Handler 200, offering a five-year warranty and an extensive dealer network nationwide.
The Elite MP200i provides a maximum output of 200A at a 20% duty cycle. Its limitations include the absence of advanced features like a smooth start or dual gas feeds. However, it offers a better price-to-quality ratio compared to other multiprocess welders. Despite its limitations, it delivers excellent arc quality and solid build. This machine is suitable for light professional and hobbyist use alike.
The Eastwood Elite MP200i may not be a powerful industrial welder, but it offers great value for small and medium-sized jobs. It is a dual-voltage and dual-process welder with a spool gun. The lightweight design makes it easy to store and transport. Users can also opt for a larger model like the Eastwood Elite MP250i to handle multiple projects simultaneously.
The dual-digital display of the Elite MP200i allows for easy monitoring of multiple settings. It comes with a 90-day return policy for a refund if it doesn't meet your needs. It is perfect for DIY projects and automotive restorations, supporting 110V/220V input and capable of welding steel, aluminum, and stainless steel.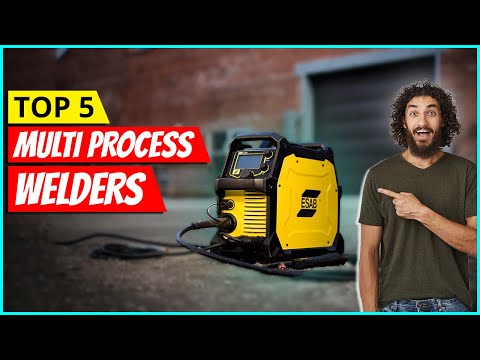 With these options at your disposal, selecting the best multipurpose welder for your needs becomes an easier task. Consider your welding requirements, budget, and the features offered by each model. Whether you're a beginner or an experienced welder, the right welder will enhance your welding experience and open up new possibilities.