Introduction
When it comes to tools, some may argue that a hammer isn't all that important. However, if you're serious about your craft or work as a professional in the framing industry, you know that your hammer is like an extension of your arm. It's a tool you rely on constantly. In such cases, the weight, functionality, and balance of a hammer become crucial. In fact, when you're constantly hammering nails, you realize that time is money, and choosing the right hammer can save you hours of labor throughout the year. With this in mind, we turn our attention to Hart's line of high-quality steel frame hammers.
Hart's Line of Steel Frame Hammers
Hart offers a range of options, ensuring there's a hammer that suits your specific needs. Their hammers come with milled or smooth surfaces and are available with steel, hickory, or fiberglass handles. Sizes range from 18 ounces to 25 ounces, with the 21-ounce size being available in both straight and curved handles. The following models are currently offered:
Hickory handle
18 oz. with a smooth surface and a straight handle
21 oz. with a milled face and a curved handle
21 oz. with a milled face and a straight handle
21 oz. with a smooth surface and a straight handle
23 oz. with a milled face and a straight handle
25 oz. with a milled face and a straight handle
Steel handle
21 oz. with a milled face and a curved handle
25 oz. with a smooth surface and a curved handle
Fiberglass handle
21 oz. with a milled face and a straight handle
Notable Features
One of the standout features of Hart hammers is the innovative side nail pull and side nail plate. These unique designs set them apart from other hammers on the market. Unlike other brands that have a limited nail-pulling range, Hart's side nail pull is positioned further from the head, providing superior leverage. The hammer lays flat on the side, allowing you to pull the nail at any angle up to 180 degrees. With just a little over 130 degrees, you can effortlessly remove a 3-inch nail from the wood.
The opposite side of the hammer head also offers excellent functionality. It allows you to hit the nail from the side, which is a technique many of us have done unintentionally over the years. Hart has acknowledged this common practice and made it more efficient. The 21 oz. Milled Face Steel model is well-shaped and provides ample leverage to remove nails effectively. Its head is narrower compared to the hickory model, and both are coated with a protective polyurethane layer designed to prevent rust and maintain a pristine appearance. Over time, scratches and dents may appear, but don't fret because a rusty hammer head can still drive in nails without any issues.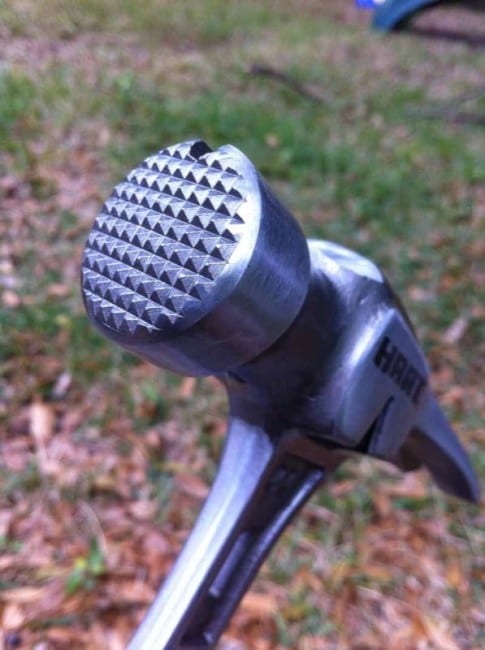 Another notable feature is the magnetic peg holder on top of the hitting face. The magnets securely hold the nails in place, making it easy to start hammering. The deep channel around the head prevents the nail from sliding sideways into the wood when struck from an angle. Additionally, there is a circular gap just behind the striking surface, perfect for bending 1/4-inch rebar, although this size is relatively rare.
Testing and Performance
To truly put the Hart hammer to the test, we used it on gauge lumber, pressure-treated 4×4, and a box of 10d hot-dip galvanized nails. The experience of hammering nails with the Hart hammer was delightful, though there was slightly more vibration in the steel model compared to the hickory handle version. Starting nails with the built-in magnet was consistent and efficient, allowing us to quickly establish a rhythm. The hammer's impressive size and balanced design enabled us to drive nails in rapidly. After driving several nearly flush nails, we experimented with the side nail pulls. It quickly became apparent that this hammer provides the best leverage for nail removal. Pulling out 3-inch nails was effortless, even for an 8-year-old, who managed to remove them with just a little bit of effort. The only limitation we encountered was having enough clearance to fully leverage the hammer's natural strength. However, we discovered that if we started driving the nail, then pulled the hammer straight up before using the claw end to remove it completely, we could overcome this challenge.
In Conclusion
We've extensively used both the steel and hickory handle versions of this hammer, and we can confidently say that Hart has produced a tool worth investing in. The balance and innovative features make it a professional-grade tool that you'll find useful. The price of $26 is reasonable for a high-quality steel-handled hammer. Although Hart is relatively new in the industry, they've proven themselves as experts in their field. If you see someone using a Hart hammer on the job, it's likely because they know its value. So, go ahead and try one for yourself. Once you feel it in your hand, you'll understand what all the fuss is about. You probably won't want to put it down.