Greenworks Pro 60V Self-Propelled Lawn Mower Mows Grass for Over an Hour
We consider the 60V product line to be Greenworks' most successful product line. The original mower was a nice upgrade and we've used the Greenworks Pro 60V 21" Self Propelled Mower for generations now. Upgraded features, a durable steel deck, and outstanding uptime underscore the outstanding performance of this all-rounder.
advantage
21" Steel Deck
Includes standard and high-lift blades
Runs for over an hour on two 4.0Ah batteries
Turbo mode calls up extra power when you need it
Includes everything needed for bagging, mulching or side discharge
Easy release handle for height adjustment and vertical storage
shortcoming
When reversing, you will need to roll the mower forward a bit to disengage the drive wheels
21" Steel Deck
Greenworks equips this model with a 21" steel deck and a 20" blade. With all the sand we have here in Florida, we prefer a steel deck, especially on self-propelled models where the extra weight isn't as much of an issue.
Single point height adjustment
Like many battery-operated models, the Greenworks Pro 60V 21-Inch Mower features a single-point height adjustment. Instead of setting the cutting height on each individual wheel, this conveniently allows you to adjust the height in 7 positions from 1.38 to 4 inches.
Greenworks Pro 60V 21" Self-Propelled Lawn Mower Update
dual port power supply
One of the more interesting new features of the Greenworks Pro 60V 21-Inch Self-Propelled Lawn Mower is its dual battery ports. Some push mowers have dual ports, but not all have automatic battery switching like the Greenworks. When the mower detects that one battery is dead, the mower starts drawing power from the second battery.
You'll know when the mower switches. There's a brief surge in drive speed as it shifts from one nearly depleted battery to another that's in a fully charged state.
We really like the battery gauge on the handle. It indicates which battery pack the mower is currently using, and how much charge each battery has at any given time. This feature is a marked improvement over bending over, opening the battery case, and pressing the button on the battery to figure out how much charge you have left to use.
Greenworks didn't play a game with their kit options on this mower. It comes with two 4.0Ah Ultra Power batteries, so you can use both ports without buying a second battery. They also include a dual-port charger, so you can set it and forget it until it's time to mow the lawn again.
turbo mode
When you encounter thicker grass, the new Greenworks Pro mower adjusts blade speed to maintain cutting performance. This is another benefit of brushless motors. However, this mower also has a Turbo mode.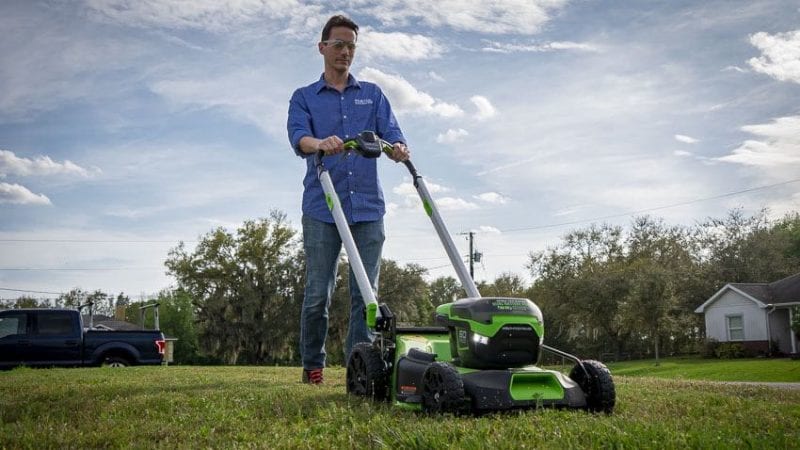 Let's say you're running over a septic tank, where the grass tends to grow thicker. The automatic speed adjustment may increase the blade RPM, but there is a regulator limiting the top end to help you maintain optimal runtime. Turbo mode acts like a manual control, telling the mower to reach its full cutting potential, regardless of efficiency.
For those of us who clean our lawn regularly, this might not be a feature we'll likely ever need to use. In fact, we were able to complete all the tests in Bahia and San Agustin without being involved. But it's a great feature if the weather or holidays keep you from keeping to a fixed schedule. Extra functionality will reduce your runtime, so use it only when you need it.
Vertical Storage/Handle Adjustment
Older versions of this mower are fully capable of vertical storage. The new 60V lawn mower has significantly improved this feature by changing the handle mechanism. Instead of having to bend over to the mower base to loosen or adjust the handle, Greenworks now provides two latches on top of the side bars. Simply pull the latch with your finger, move the handle to your desired position, and release. The handle locks into place. The same mechanism lets you fold it completely down for storage.
Greenworks Pro 60V 21" Self-Propelled Lawn Mower Performance
Blades and Self Control
The handle and control system are new for this version. Instead of using the standard twin levers to engage the self-propelled mode and blade, Greenworks opted for a pair of levers. They work independently of each other, so you can press and hold on one or both to engage the blade and drive system.
The new levers engage with very little effort compared to the bimetallic levers on many mowers, making them a bit easier to use. The downward-sloping handle combined with the two handle heights also seemed to help everyone on our test team find a comfortable grip.
The speed range is just right. The lowest let us slow down to cut very thick patches without cutting half strips, while the top was fast enough to keep our tallest testers on the lightest grass.
Like we saw on the 25-inch version, the rear wheel doesn't disengage as soon as you let go of the drive lever. You need to push it forward a bit to unlock them. This can be a bit frustrating if you have a lot of areas that require you to enter forward and then exit.
Power and Runtime
Overall, mowing with this mower has been a pleasant experience. The 60V mower runs smoothly, and the self-propelled drive is full of confidence in the dense grass. While it feels solid, it doesn't necessarily feel heavy. Of course, it's much quieter than a gas mower, and you don't have to deal with emissions, pull cords, or gas tanks.
We cut the lawn to 5 inches before starting the test. With the mower set to 3" deck height, it gave us a range of grass from light to medium thickness, and the mower did a good job of keeping its RPM high enough for a good cut. We didn't have to kick it into Turbo, but we did pick certain parts for the best coverage.
In terms of runtime, we were able to cut 35 minutes before the first battery was switched. The second mowing took us 1 hour and 4 minutes total—a little more than Greenworks' estimate of 60 minutes.
cutting quality
Greenworks packs everything you need for bagging, mulching, or side discharge. It's effective in mulching and bagging, and they've improved in Turbo mode.
Side discharges don't spread the grass as widely as gas mowers, though. It seems to keep most of it within the width of a lawnmower or two.
If you don't need an hour of run time, consider swapping out your spare blades for the high-lift blades included with Greenworks. You'll lose some run time, but gain more efficient bagging and mulching. We recommend conversion for most lawns 1/4 acre or smaller. You don't need any extra batteries to complete a lawn set.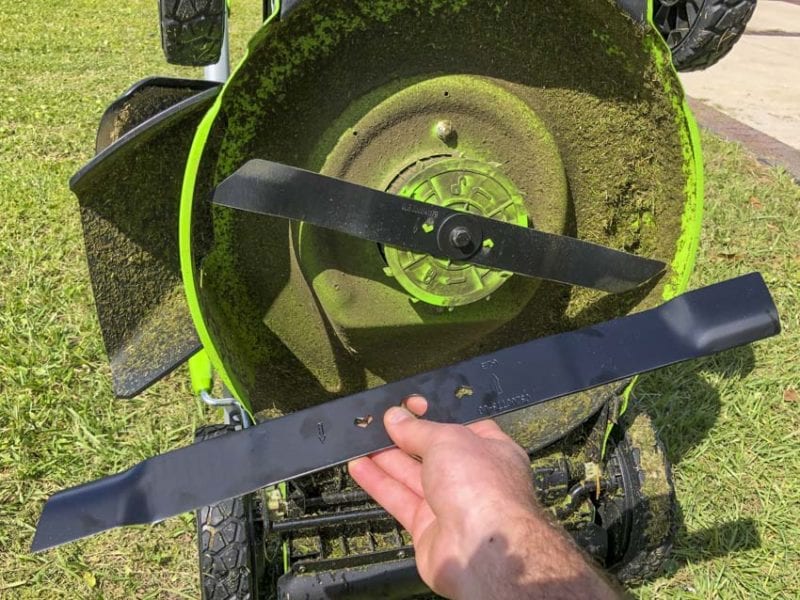 This blade should also help with the evenness of your cuts. While we had some stragglers pop out with standard blades, the high-lift blades did a better job of pulling them up and leaving a cleaner look.
We weren't disappointed with the cut quality results, but this is an area Greenworks could improve to match the top electric lawn mowers available.
Greenworks Pro 60V Self-Propelled Lawn Mower Prices
The Greenworks Pro 60V 21" Self-Propelled Lawn Mower is available at Tractor Supply or directly from Greenworks. It's a kit that includes two 4.0Ah batteries and a dual-port fast charger for $599.99, and both the mower and the battery come with a 4-year warranty.
the bottom line
Greenworks have done a good job with the design of their 21-inch self-propelled lawn mower, and it's a good all-around option, although releasing the wheels when you're backing up can be frustrating for some. If your lot size is between 1/4 and 1/2 acre, the 2 x 4.0Ah kit is perfect. If you're pushing the top of the range or just want to get the job done faster, consider the 25-inch model.
Greenworks Pro 60V 21" Self-Propelled Lawn Mower Specifications
Model: Greenworks 2531702 (MO60L424)
Voltage: 60V
Deck Size: 21"
Deck Material: Steel
Height adjustment: single point
Cutting height: 7 positions
Front Wheel: 8 inches
Rear Wheel: 10 inches
Vertical Storage: Yes
Discharge features: plastic film, bagging, side discharge
Battery capacity: Equipped with 5.0Ah high-capacity battery
Warranty: 4 years on tool and battery
Price: $599.99
Learn more on Greenworks' website.