Greenworks 60V CrossoverZ Zero Turn Lawn Mower Available at Tractor Supply
We had the opportunity to test the final production model of the Greenworks 60V CrossoverZ Zero Turn Lawn Mower, a product that we've been eagerly awaiting since we first saw prototypes a few years ago. In this review, we will delve into the mower's advantages, shortcomings, performance, and other key features to help you make an informed decision.
Advantages of the Greenworks 60V CrossoverZ Zero Turn Lawn Mower
Cut with Confidence: The Greenworks 60V CrossoverZ Zero Turn Lawn Mower offers precise and confident cutting performance.
Impressive Battery Life: This mower can cover up to 2 acres on a single charge, providing extended operation without interruption.
Gas-like Acceleration: Enjoy the swift acceleration typically associated with gas-powered mowers.
Efficient Charging: The six batteries can be fully charged in just 90 minutes, thanks to the quick-charging capabilities.
User-Friendly Controls: The Greenworks 60V CrossoverZ features intuitive and easy-to-use controls, making it ideal for beginners.
Battery Compatibility: It utilizes the same battery as other Greenworks 60V tools, allowing for convenient interchangeability.
Versatile Functionality: This mower offers additional application-based features, increasing its usefulness for various tasks.
Bagging Options: It can be equipped with bagging tools for hassle-free collection of grass clippings.
Shortcomings of the Greenworks 60V CrossoverZ Zero Turn Lawn Mower
Lack of On-board Charging: Unlike some other models, this mower does not have an on-board charging option, requiring the use of three dual-port chargers.
Check out our top lawn mower recommendations!
Experience the Greenworks Difference
Greenworks has a long-standing reputation for manufacturing high-quality battery-powered lawn equipment, including zero-turn mowers. What sets the Greenworks 60V CrossoverZ apart is its use of a 60V battery as the power source. With six 8.0Ah batteries included in the kit, this mower performs optimally.
The twin blades, operating at a confident 3000 RPM, deliver the equivalent power of a 24 hp gas engine. While the blades may slow down when tackling thick grass, the Greenworks 60V CrossoverZ remains an excellent choice for regular lawn maintenance rather than heavy-duty overgrowth.
Impressive Runtime and Performance
Greenworks boasts a runtime of 1 hour for the 60V CrossoverZ. To validate this claim, we put it to the test. Mowing continuously for 52 minutes and 5 seconds, we covered 1.5 acres before the battery reached 5 percent and the mower entered limp mode.
The 2-acre estimation provided by Greenworks is accurate, assuming your mowing deck size and pace are taken into account. To extend runtime, it's advisable to adjust the blade speed and drive at a slower pace, especially when dealing with challenging terrain.
Charging Made Easy
Charging the batteries may require some compromise. While on-board charging would be more convenient, the Greenworks 60V CrossoverZ kit includes three dual-port chargers. Surprisingly, it only takes 90 minutes to fully charge all six batteries, thanks to the 10 amp fast chargers. Note that you should connect the chargers to separate power sources to avoid overloading a single power strip.
Transitioning to Battery Power
Greenworks understands that transitioning from gas-powered to battery-powered equipment can be a significant step. To ease this transition, they've implemented a few features with user experience in mind.
The Greenworks 60V CrossoverZ is equipped with a spring-loaded key starter, similar to those found on traditional petrol models. While it may feel unusual not to hear the sound of a gasoline engine starting up, the spring-loaded key adds a sense of assurance that the mower is ready for action.
The acceleration of the lap bar has also been fine-tuned to resemble the experience of driving a conventional gas-powered zero-turn lawn mower. The extra focus on replicating the quick acceleration found in electric cars is commendable.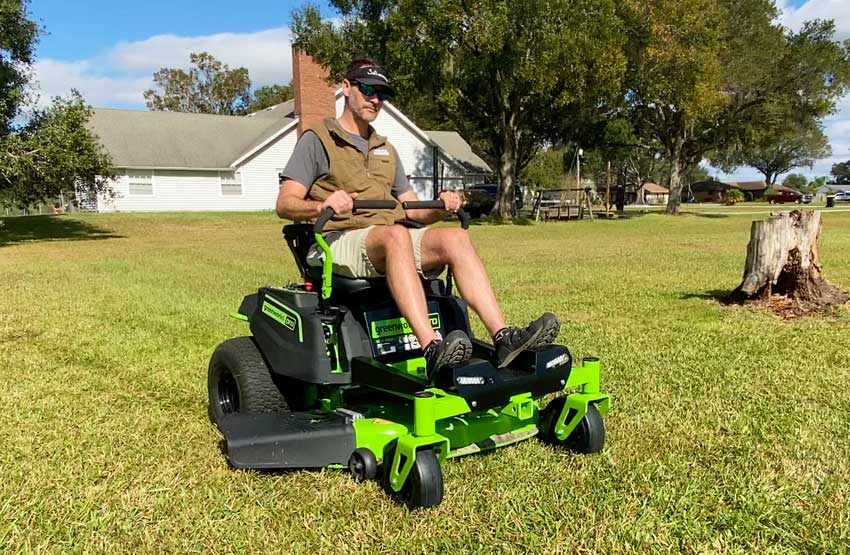 Overall, it takes just about 5 minutes to familiarize yourself with the operation of the Greenworks 60V CrossoverZ. Once you get a feel for the lap bars and turning, the transition becomes effortless.
The App Experience
While the mower can be operated without the app, there are some additional advantages to using it. Simply scan the QR code on the quick start guide, download the app, create or log in to your account, and pair the mower using the serial number and pairing code. This process takes less than 10 minutes. For more detailed instructions, consult the manual.
Once connected, the app provides access to the following features:
Fault codes (also displayed on the mower's LCD screen)
Speed monitoring
Battery power monitoring
GPS location tracking of the last connected session
Other Noteworthy Features
The Greenworks 60V CrossoverZ Zero Turn Lawn Mower offers several additional highlights that enhance its overall appeal:
Reinforced stamped 12-gauge steel deck with a hose adapter for easy cleaning
Adjustable deck height ranging from 1.5 to 4.5 inches
Rear bucket with a 200 lb weight capacity, in addition to the rider weight
Towing capacity of up to 300 lbs
Maximum forward speed of 7.5 MPH and maximum reverse speed of 3 MPH
20″ rear wheels and 15″ front wheels for maneuverability
Suitable for slopes up to 15°
Simple LCD screen display with battery charge status and fault codes
Dual LED headlights for increased visibility in low-light conditions
Compatibility with front and rear universal attachments
Optional Bag Attachment (Model 42BAG2B, priced at $499.99)
Pricing and Availability
The Greenworks 60V CrossoverZ Zero Turn Lawn Mower, along with its lawn tractor sibling, is available at Tractor Supply. The kit includes six 8.0Ah batteries and three dual-port chargers, all at a discounted price of $3,999 (originally $4,999). This makes it an exceptional value in the realm of battery-powered zero-turn mowers. The warranty covers four years or 200 hours of operation, whichever comes first.
The Bottom Line
The Greenworks 60V CrossoverZ Zero Turn Lawn Mower excels in simplicity, seamless transition from gas-powered mowers, battery compatibility, fast charging, and an additional rear haul bucket. While there are some trade-offs compared to other options on the market, our overall impression is that the Greenworks Pro 60V CrossoverZ Zero Turn Mower is a success.
For a comprehensive view of the Greenworks 60V range, visit their website.
Greenworks 60V CrossoverZ Zero Turn Mower Specifications
Model: Green Engineering CRZ 426
Power Source: Greenworks 60V batteries (six 8.0Ah batteries recommended)
Deck Size: 42 inches
Blade Speed: 2400/3000 RPM
Towing Capacity: 300 lbs
Rear Bucket Weight Capacity: 200 lbs
Maximum Forward Speed: 7.5 MPH
Maximum Reverse Speed: 3 MPH
Warranty: Four years or 200 hours of operation
Price: $3,999.00